I hope everyone's week is off to a wonderful start!
I had fun reading about everyone's comments on Eat In Month. You guys learned some cool lessons and I can't believe how much some of you saved!! Nice job!
Here are some more Eat In Month recaps by:
And be sure to click here to view the other comments with lessons learned.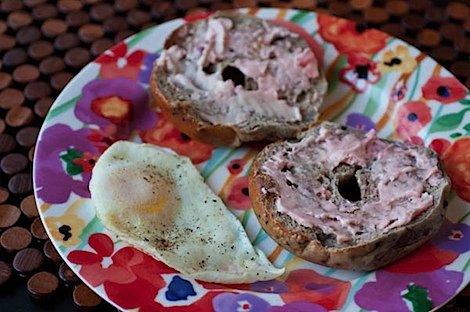 I was feeling 10 grain cereal this morning, but when hubby brought home bagels after his workout, I couldn't turn them down! I made a fried free-range egg for extra protein to go with my blueberry bagel and strawberry cream cheese.
***
I taught a fabulous Zumba class tonight! I'm still getting over being sick…I think it's become a cold now. So, it was a little tough teaching, but I had a great time.
My favorite songs tonight were:
Run the Show
The Power
Baby Come Back
I asked my twitter friends for inspirational quotes so I could share one with my class and I ended up sharing this one from @SweetToothRunnr
"Believe deep down in your heart that you're destined to do great things." ~ Joe Paterno
Thanks for the quote Emma…the class loved it!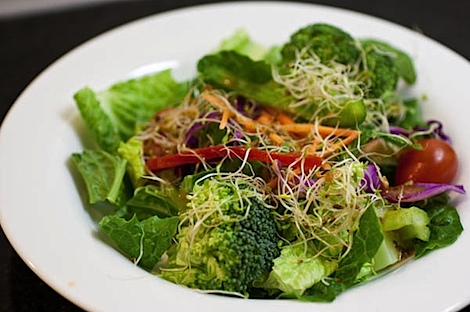 Hubby made dinner again tonight since I came home late from Zumba.
A fresh salad with organic romaine hearts and mixed veggies, plus sundried tomato vinaigrette.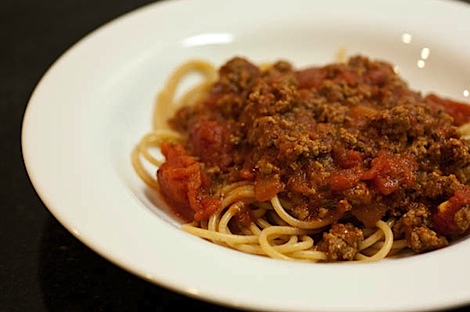 He even made beef spaghetti sauce with grass-fed beef!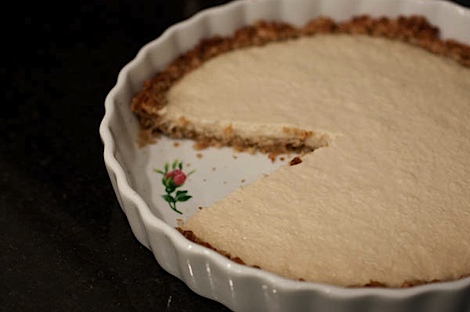 And for dessert…vegan coconut cream pie.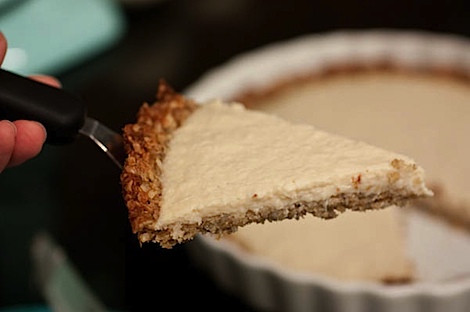 Delish.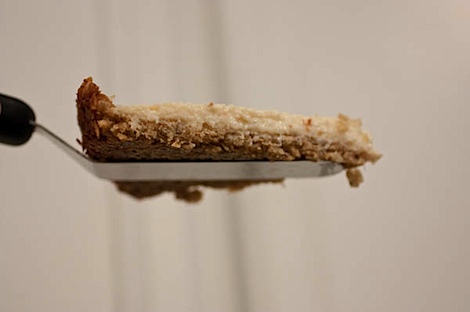 I've found that the pie is best served by using a sharp knife to cut out the pie pieces and an off-set spatula to remove the piece, keeping the crust intact.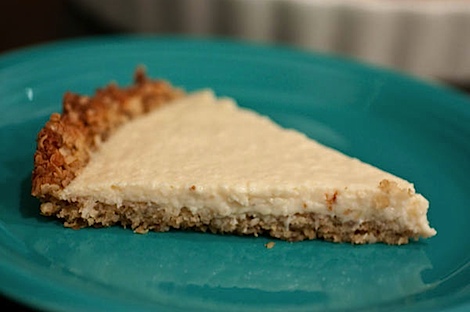 I know I've left you hanging on this recipe and I apologize. I would have posted it sooner, but the first time I made it, I made these quirky variations…half a pie and half mini tarts with 2 different crusts. I needed to re-do it so I had something legitimate to put together. lol
BUT, I have good news. I am posting the recipe for my vegan coconut cream pie, with a fabulous oat crust, tomorrow! Yes, promise! I'm going to write it right after this post and schedule it for 11 am ET. The recipe is headed your way soon!
***
And now for some randomness…because I am…well…random. 😉
I've been really, really into hip hop videos on youtube lately. Seriously, they're addicting to watch. I can't stop myself. I'd really like to take a hip hop dance class in town some time, but they're hard to find as far as matching my schedule and price point. So, for now, I enjoy hip hop dancing vicariously through the videos and dancers online.
Here are some of my favorites:
Those kids can dance!
Dejan Tubic is really popular on youtube and has a few tutorials on some of his dances if you want to learn to move like him and his dancers.
Possibly my favorite at the moment, Miguel Antonio choreographs songs that are not only beautiful and but hit hard, too. His style is amazing and most like my style…I mean…if I knew how to dance like a hip hop dancer. lol I loved this song so much, I choreographed a new Zumba routine to it. I debuted it in class last week and plan to do it again later this week.
I'll continue sharing more videos as I find them. 🙂
What types of videos do you usually watch on youtube?