As promised…here is the vegan coconut cream pie recipe I owe you. This is version 1. I made 2 versions because silken tofu is widely available in 2 sizes: 1 pound (silken tofu – Nasoya is an option) and 12.3 oz (firm AND silken – Mori-Nu brand is an option).
This recipe is for the 12.3 oz firm silken tofu.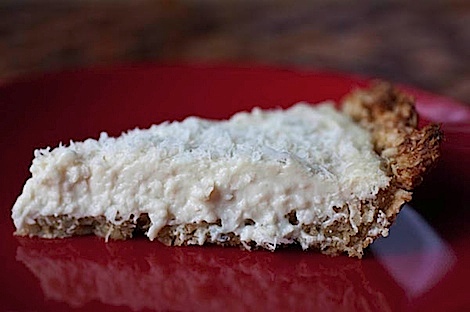 This will make two delicious vegan coconut cream pies.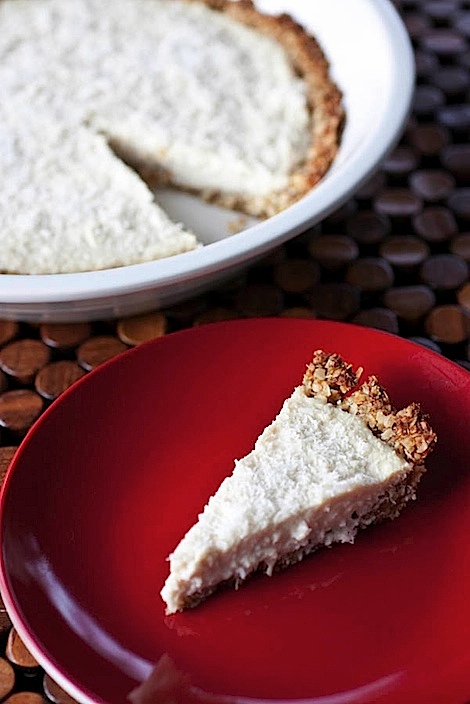 Now, the pies are not like normal pies. These pies will be very short / thin with a little more crust to filling than usual. But…I kind of like it that way.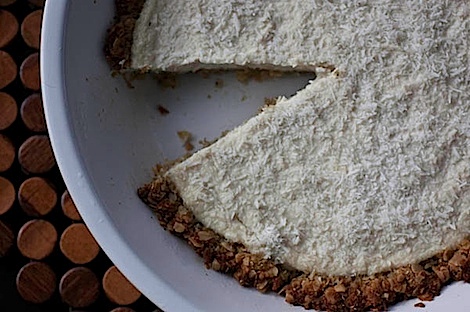 I'd like to work on a raw version next, but this one is definitely baked.
Print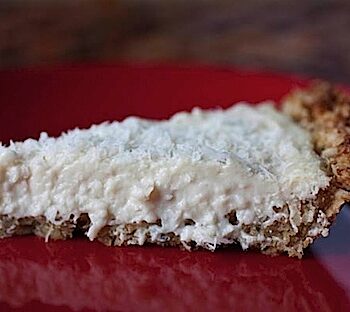 Vegan Coconut Cream Pie (for 12.3 oz Silken Firm Tofu)
Author:

Category:

Dessert
---
Description
This pie is one of my Not So Sweet creations, so feel free to go a little more heavy handed on the sweetener if you like a super sweet dessert. This dessert is also much lighter than tradition cream pies, not to mention since it's so thin, you look like you're getting more in your serving than you actually do.
The crust is also non-traditional – made with oats and chia seeds instead of flour and butter for a more chewy-crisp than tender-soft crust. The result is a totally different texture that I actually prefer over flaky pie crust. Also, the filling recipe for this originally made 1 pie and a tray of mini tarts, but I'm nearly certain it could make 2 pies. I haven't had the chance to test the crust recipe to see if it will make both a pie and a tray of mini tarts, but I know it will make 2 pies.
*Vegetarian, Vegan*
---
Oat Crust Ingredients (makes 2 pie crusts):
2 teaspoons

chia seeds

6 teaspoons

water

1 1/2 cup

instant oats

1/2 cup

flaxseed meal

1/4 cup

coconut flakes

1/2 teaspoon

salt

2 tablespoons

agave syrup

1/2 cup

oil (safflower, canola, or other non-flavored oil)

1/4 cup

hot water
Coconut Cream Pie Filling Ingredients (for 2 shallow pies):
12.3 ounce

package firm silken tofu (Mori-Nu is my suggested brand), excess liquid drained

1/4 cup

unsweetened coconut milk

1/4 cup

agave

1/2 cup

unsweetened shredded coconut, plus extra for topping (about

2

–

3

tablespoons)

1 tablespoon

arrowroot powder

1 teaspoon

vanilla extract

1/4 teaspoon

salt
---
Instructions
Oat Crust Directions:
Pre-heat oven to 350 degrees F and spray 2 pie dishes with non-stick spray (if you don't have 2 pie dishes, try 1 pie dish and tart dish, or 1 pie dish and a mini tart tray – I haven't tested those sizes with this recipe yet, though, but it will probably work).
Mix 2 teaspoons chia seeds and 6 teaspoons water and set aside to gel up for at least 5 minutes.
Whisk together oats, flaxseed meal, coconut flakes, and salt till evenly combined.
Stir in agave, oil, and hot water until well combined and ingredients are evenly distributed (but don't overmix)
Divide mixture into halves and press each half into the prepared pie dishes, pressing mixture up sides of dish. It won't fill the whole pie dish since this pie is very shallow. Rather, the mixture should come up about or just over half the height of the pie dish sides.
Bake for 14-16 minutes or until top edge just starts to turn golden brown. Set aside to cool to room temperature.
Coconut Cream Pie Filling Directions:
Combine all ingredients in a food processor (I find putting the dry ingredients in first helps them from spraying all around your food processor bowl).
Process until mixture is well combined – about 2-3 minutes.
Pour, evenly distributing, into two baked, cooled Oat Crusts (see previous recipe above). Sprinkle tops with a little extra coconut flakes.
Bake at 350 degrees F oven for 10-15 minutes, until center is more set, but not browned.
Set on cooling racks and cool till pies come to (or close to) room temperature.
Move to the refrigerator and chill for at least 4 hours or overnight, until center is set.
Use a sharp knife to cut pie slices and an off-set spatula to serve.
Enjoy!
---
Notes
Be sure to cool the pie at least 4 hours, but it would best be made the night before you want to serve so you can chill over night…or you could make it first thing in the morning. The chill time helps it set.
Makes 2 shallow pies
Recipe Card powered by
***

Mmm…sweet…err…not so sweet coconut cream pie. 😉