Happy Monday friends!
I hope you all had a wonderful weekend and an even better start to your week!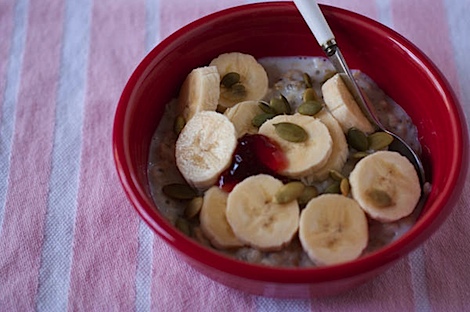 I stayed up a bit too late blogging after our super fun Super-Dance-Bowl party, so this morning was rough.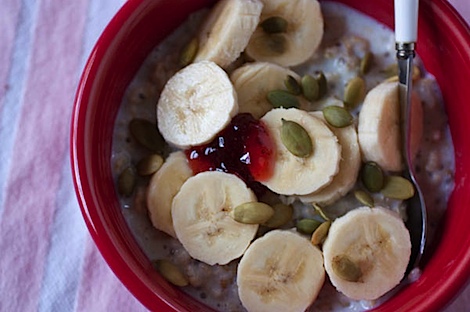 Nothing a little coffee and some oatmeal can't fix, though.
And I'm glad to hear I'm not the only one who likes bananas on top of my oats.
Today was a loooong day at work. I got in around 8:45pm but didn't leave until just before 7pm! Luckily, I at least took a real lunch break today (as in I didn't eat at my desk…hooray!). I'm going to work on getting away from my desk during the day more. I think it's healthy to try to balance your work day.
Two fortunate things happened on my way home:
I made it through almost every stoplight! That never happens. I feel like I usually catch them. lol
Hubby was ready to make dinner at home as soon as I got back.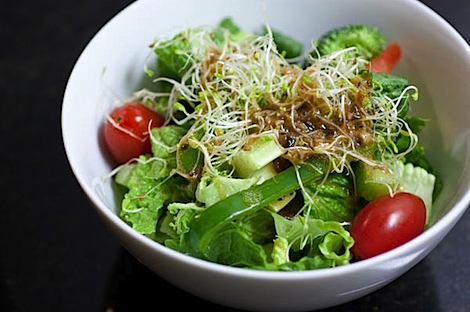 Hubby started us with a side salad with organic romaine hearts, cherry tomatoes, celery, bell pepper, and sprouts. I used sundried tomato vinaigrette on top.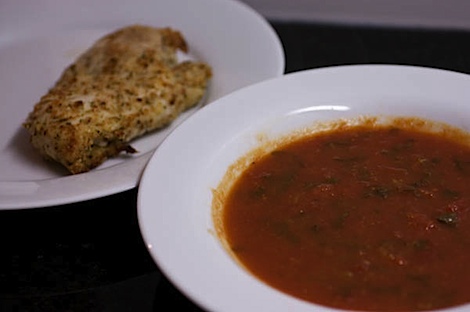 And for the main event – breaded chicken parmesan and tomato basil soup. Plus some buttered whole wheat toast that I was simply too exhausted to photograph. After staring blankly like a zombie for awhile eating a balanced meal, I was feeling much better.
I caught a couple episodes of Anthony Bourdain: No Reservations. Have you seen it? I think it's my new favorite TV show! If there are any No Reservations marathons coming up, you let me know, kay? 😉 I think a day spent eating yummy snacks and watching No Reservations sounds like a pretty awesome day to me.
***
Eat In Month Recap
So, Eat In Month 2011 officially ended a week ago, and I'm feeling pretty relieved. Just like last time, I think it was a great experience, and I learned some lessons, but I prefer to live my life sans rules. I prefer guidelines.
So what did I learn? Well, there were some things I remembered from the 2010 challenge and some new ideas from 2011.
I learned that inside and outside of a challenge month:
A well-stocked pantry will encourage eating in, on a regular night or when you're in need of a quick fix meal.
You can get a lot of satisfaction by pushing past your fatigue/laziness/whatever when you feel like taking the easy way out by preparing something tasty at home.
Meals IN don't have to be perfect or gourmet – sometimes the simplest ones are best.
Sometimes it's about making a better choice, not the perfect choice. While I think you should always eat whole foods as much as possible, if your choice is fast food versus some healthi-ER but not from scratch food at home, go with the latter.
You shouldn't "not eat out" for the sake of it, if you're in a situation where you need food and wouldn't be able to eat in. For example, say you're on a road trip. Now, if you can…definitely plan ahead and pack food ahead of time to enjoy later. But if you meant to pack food in the morning but spilled your entire container of oatmeal in the kitchen thereby making you late because you had to use your food-packing time to clean up rolled oats, by all means, eat something out! Don't starve yourself!
Don't skip social events just because you "can't eat out." You can always go after dinner and just have a drink. Or, if you're not doing the challenge, go out to eat! Live a little.
Of course, you can very easily enjoy social events in the comforts of your home. Have a pot luck. Host a game night. Put on a movie marathon. Enjoy the company of your friends and eat in, too.
You don't have to go out to eat to celebrate a birthday or other special event. Try cooking a special meal at home. Hubby and I celebrate in all the time, like how we celebrated his January birthday dinner IN during the month of the challenge.
Keep healthy snacks at work so you aren't tempted to buy snacks out. It's usually healthier and more cost-effective.
Check out this awesome recap by Brie Fit (click). Did you write a review? Let me know and I'll link it up. 😉
***
And because I haven't shared a good quote in awhile, this one seems somewhat fitting at the moment:
Character cannot be developed in ease and quiet. Only through experience of trial and suffering can the soul be strengthened, ambition inspired, and success achieved.
~Helen Keller
***
Did you participate in Eat In Month? What did you learn?