I had so much fun reading the comments from yesterday's posts. I loved reading about the different things that have astonished you lately. And if you're feeling uninspired and sad that you haven't been able to look at things as though you had the wonder of a child in you, don't fret. Make a conscious effort to allow yourself to open up to every day beauty. Here's what I posted on my Facebook page:
Notice the small things today. Allow yourself to look at things in wonder. Be astonished by everything.
You may not see it at first, but keep looking. It's there. I promise!
Here are the new workout clothes I purchased yesterday. A local store, Asana Activewear, is sadly closing. I loved shopping there when I could afford it because they had some really cute clothes and sold Margarita athletic wear (one of my fave work out brands when I'm not in Zumbawear).
I had a Living Social deal to the place, so I decided to hurry in to cash in my deal before the shop closed forever and to give one last browse. Everything was 50% off with the exception of the jackets, which were 75% off.
I ended up getting:
a green light weight jacket
a black sweat-wicking jacket
2 boxer bottoms (to go under pants)
and a really pretty sports bra
After the discounts and Living Social deal, my total was about $80. I consider that a real steal, especially since one jacket was full price $95!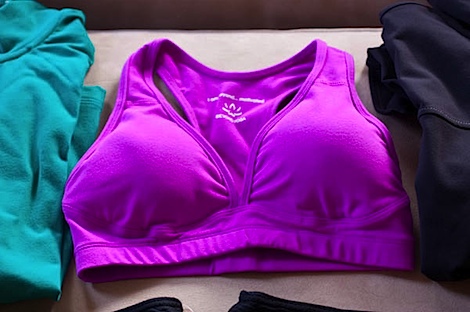 The spree savings were bittersweet since it was really sad to see the store close. Asana was a locally owned company, and as someone with an entrepreneurial spirit myself, I find it especially hard to see someone's dreams and hard work go under. I wish the store owners the best of luck in their future endeavors.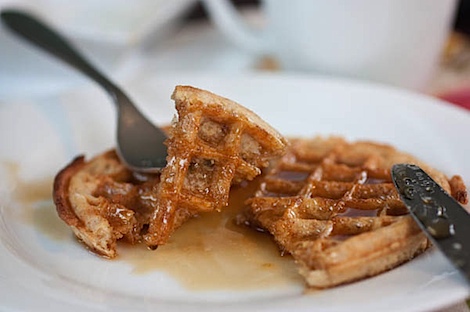 I really been craving oatmeal for the last couple days, but when hubby proudly came home last night with a box of "healthy" waffles and real maple syrup (he prefers Aunt Jemima), I couldn't turn down his waffle breakfast suggestion.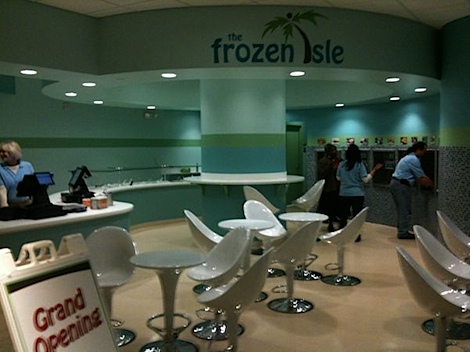 There are a handful of new froyo places getting ready to open up around town. I mean, literally, there are about 4 or 5 new businesses about to open.
I decided to hit up the latest – The Frozen Isle.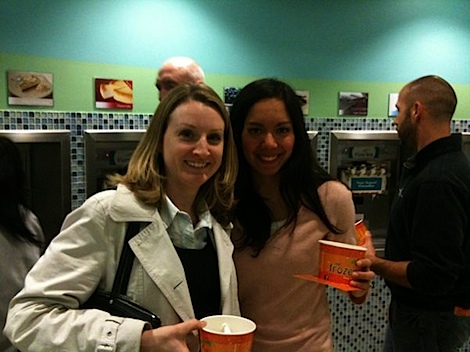 Lucky me, Brittney was able to meet me last minute so I had fabulous company.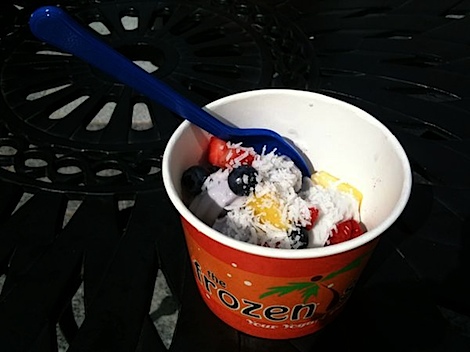 I tried the California tart and blueberry tart. I thought the California tart was just ok. I think I expected it to taste like Yoforia, and I really shouldn't have had those expectations. It's like when you accidentally drink soda when you think you're drinking water. It's just not what you expect, but it doesn't mean it's bad.
Now, the blueberry tart is another story altogether. That stuff was freakin amazing! More? Yes please!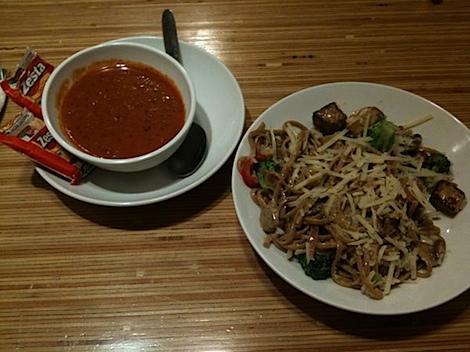 I worked till 6pm today before heading home. Hubby and I had a Groupon to a local noodle shop, Noodles & Company, so we decided to hit them up on our way to Lowe's for some house shopping. Unfortunately, I guess we went to the wrong noodle restaurant! The Groupon was actually for a different restaurant. Doh!
Anywho, I had the Trio – with tomato basil soup and whole wheat linguine noodles with veggies and organic tofu.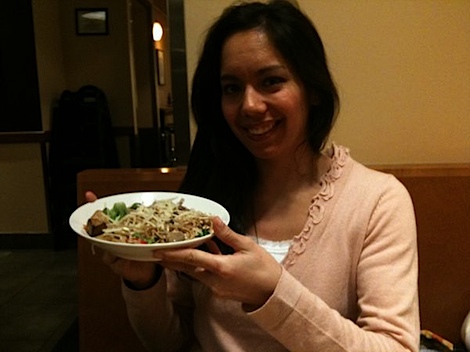 Nom!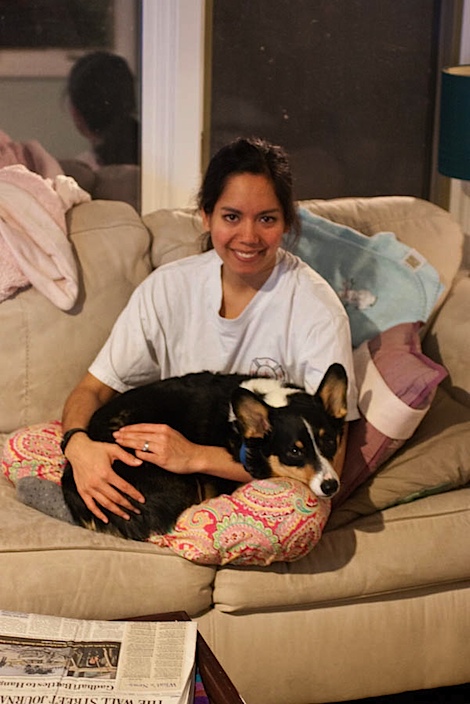 And look at this crazy little guy.
I mean…seriously…I sat down on the couch and he literally crawled into my lap. My WHOLE lap! I don't think Bailey knows he's not a lap dog! lol
***
Is My Schedule Making Me Crazy
I've been hesitant to say anything about this on the blog, because I wasn't sure how you'd all react. But, thanks to some inspiration from a fellow blogger…here goes nothing…I've never said it here on the blog before, but every once in awhile, when I'm blogging at 1am and I have a big day at work the next day, and I'm stressed and tired…I start to wonder…why am I doing this? Btw, this = blogging. I spend a large portion of my day blogging and since I work a 40+ hours a week job, and teach Zumba, and have a husband and dog wanting my attention, I don't exactly have a lot of free time. I usually come to my senses and remember how much I just LOVE blogging and snap back. But, I know I'm not the only one who shares similar thoughts.
Brittany of Eating Bird Food recently wrote a fabulous blog post titled, "Is Blogging Making Me Unhealthy?" (which you should totally read!) She posted her daily schedule and talked about her own frustrations with blogging. I thought it would be fun to share my schedule with you guys. My schedule is actually pretty much different every day, but on average, it looks something like this: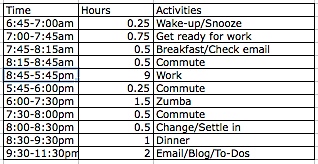 As you can see, it's pretty jam-packed. It's also not my ideal schedule. Sometimes I wonder if my schedule is making me crazy?! It would be easy to point the finger to blogging and say it is the culprit, but I think my time issues are greater than just blogging. And beyond schedule constraints, general lack of time, and blogging at the middle of the night, I have other frustrations. I normally like to keep TCL a positive place and not talk about "negative" subjects. But, at the same time, I think that if I can fix some of my frustrations, and take you guys along my journey, maybe I can turn these negatives into positives and "make lemons out of lemonade"? 😉 I mean, I can't be the only one who's frustrated once in awhile, right?
Life isn't a constant. Life is full of change. And I think it's necessary to change with life instead of trying to fight against it. My schedule from college won't work for my schedule now. When you find something that works (from planning, to scheduling, etc), you may find that it no longer works based on other things that change in your life over time. I think it's important to observe, evaluate, plan, and execute change. I like to take a look at things around me – what's working, what's not, and change what I can. And I don't mean just scheduling. Work load, organization, and other areas of life can be changed.
Right now, I'm at the point where I'm seeing that things in my life aren't working, and I'm trying to make plans for improvement.
For me, the first step is identifying the issues.
Schedule/Time Frustrations:
Feeling like I'm rushing around all the time
Blogging after 11pm (hey, it's only 10:20pm right now…not too shabby!)
Not having time to read
Not spending as much time with hubby as I'd like
Not spending as much time with Bailey as I'd like
Working through lunch and eating it at my desk
Not taking breaks/breathers during the work day
No time to paint nails (not enough down time to wait for them to dry!)
Being so busy that when I finally have down time, I get extra lazy and forget about some easy to-do's I could be tackling
Lack of me time
Lack of QT with friends
Lack of relaxation time
In general, my schedule is nowhere near as organized as I'd like it to be. I always feel pressed for time and never make time to relax. I would like to get more organized, balance out my work-life and spend more time with hubby and Bailey.
House Frustrations (so embarrassing!):
Not having any finished projects in the house from when we moved in over a year ago!
Not finishing the last 5% of our kitchen renovation (we just need a backsplash, hardware, curtains, and paint – the heavy lifting was done around this time last year and it looks the same!)
No curtains in most rooms…still
No art or photographs on any walls
Disorganized linen closet
General disorganization
In general, I feel like I haven't paid any attention to my house in the last year. I've always had some other project to work on or something else to do. I've neglected my poor home, when there's been so much I could have been doing. I want to make my house a "home."
The next step is to make a plan on how to correct/improve these frustrations.
So, is blogging making me crazy? Maybe. But blogging also helps keep me sane on many levels. Blogging is not only my creative outlet, but has become a way of finding fun, inspiration, and friends – near and far. So, if I'm not willing to give up blogging, what then happens to my house? To Zumba? To Bailey? To Hubby? The truth is…I don't want to give any of them up, but I don't want any of them to suffer by me being pulled in so many directions.
The solution is…well…I'm not sure. But, I think better organization, prioritization, and time management will help. Really, only time will tell. I'm hoping to make some changes, see if things are working better, and just keep living my life.
Are you experiencing any frustrations recently? What are your tips for organization, time management and balancing out your life?