Firstly, I must thank you all for your supportive comments, Facebook comments, tweets, IMs, and emails. I'm blown away by how supportive everyone has been about my most recent post, Is My Schedule Making Me Crazy? I really feel like I've gotten one big, giant, bear-hug from all of my virtual and real life friends. I don't think I can say thank you enough, but I'll try. THANK YOU!!!
Besides all the encouraging notes, I also received some fantastic time management/schedule tips. I've been reading through them all and am trying to figure out which ones best fit my lifestyle and when they can be applied.
So, many of you were probably wondering…will she blog tonight? Obviously, you're reading this post so the answer is yes. lol. I'm not planning on giving anything up immediately. For now, I plan to continue my life style the way it is and observe. I don't think I can really correct things until I pinpoint what's not working. I do like the idea of cutting back on blogging, whether it be with shorter posts, scheduled posts, or blogging on less days, but…we'll just have to see how things pan out.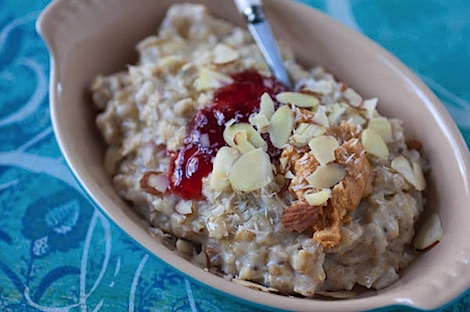 I wasn't sure what to eat for breakfast but was really craving oatmeal and whipped up a quick bowl.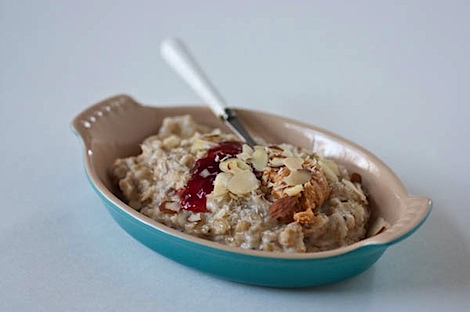 I just did a simple AB + J bowl with chia seeds, almonds, Barney Butter and Bonne Maman strawberry preserves.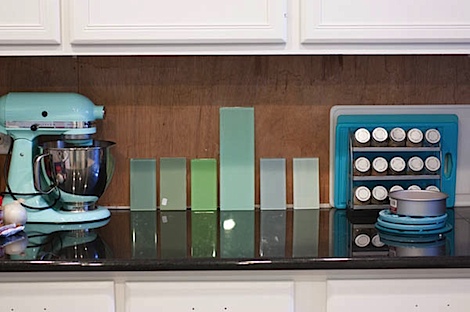 Now, about those house frustrations. I'm planning to put more attention to some of my frustrations with the house so I can really make this "house" into a "home." One thing I've been consistently frustrated with is our kitchen. Long time readers may remember the kitchen renovation we did on our house between October 2009 and roughly January 2010. You can click here to view some of the "before" and "after" photos of our kitchen.
At a high level, we did the following:
Repainted the cabinets white
Removed a roughly 8ft section of wall between the kitchen and living room
Installed an island
Installed a pantry
Replaced countertops with granite
Painted window frame
Moved door between kitchen and dining room
Replaced wood paneling with dry wall
Replaced large, bulky overhead light with recessed lighting
Replaced 3 layers of linoleum floor with tile
Installed pendant lights over island
As you can see, we did quite a bit of work and think we just sort of burned out both time wise and budget wise. Now that we've had some time to save, we think we're ready to finish. Our contractor joked that the last 5% of a project takes 95% of the time. This is at least true for us.
We really don't have much left until I'd consider our kitchen finished:
Install backsplash
Add hardware to cabinets
Add curtains to window
Paint walls
Finish small details, like transition pieces and borders under cabinets
New appliances…though we will probably wait until the ones we have go kaput
So, I'm making it a priority to try to get this finished. We're so close to the end of this project…I just want to cross that finish line!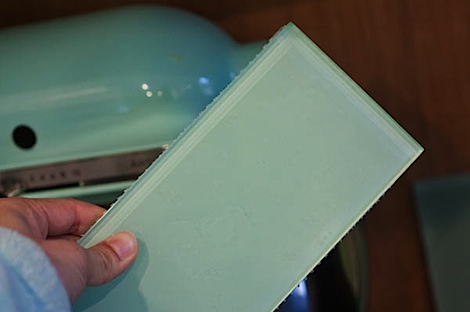 My friends recently ordered a new backsplash and let us borrow their tile samples they ordered online. The one pictured in my hand is the current front runner. It looks like my signature TCL turquoise, no? 😉
Really, I like this one because it looks like the tile in Giada's Everyday Italian kitchen, and many of you may remember that I was trying to basically replicate her kitchen in my house.
Anywho, I went ahead and ordered 5 more similar samples today so we can be extra certain we get the right color.
I'm just thrilled we're finally making progress on the house again. Hazzah!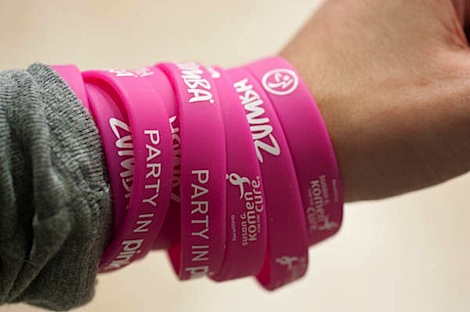 I know you guys probably think I'm crazy, but with all the madness of my schedule I ended up subbing a Zumba class for a fellow instructor tonight. I went straight to a second dance class afterwards (it's kind of a secret, but I'll explain later). This put me leaving my house at around 8:45am this morning and returning at about 9:30pm…but hey, at least I had take-out pizza in hand.
***
One lifestyle/schedule change I'm hoping to effect immediately is one I've been trying to do for awhile – make some "me time" in my schedule every day. I'm hoping to spend at least 5 minutes per day doing something I want to that relaxes me. Tonight, I read a home style magazine for about 10 minutes and took a couple deep breaths. It felt good. Really good. I'm definitely looking forward to more of those!
I'm not sure if anyone is interested, but it did seem like others were having similar schedule challenges. Perhaps I can pick one change to focus on every week and encourage others to do the same?
If you're interested, then this week's challenge is "5 Minutes for Me". Try to carve out 5 precious minutes of your schedule to do something you want that makes you feel better. Read, take a bath, whatever. Make you a priority, even for just 5 minutes, every day.
***
So, another long day in this TCL life, but I must say, busy as it was, I'm really feeling good about the progress I'm making towards a more organized and balanced life. Cheers!