I've got a new kind of Green Monster muffin in store for you guys…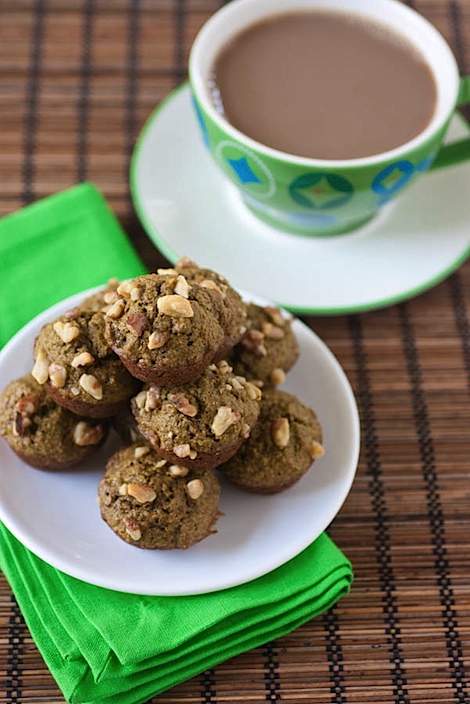 Ok, there's no spinach in these, but they are tinted with green thanks to a special ingredient.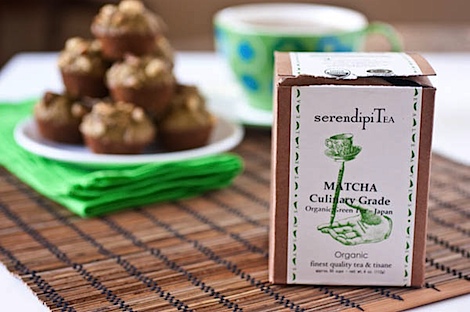 Mini Matcha Green Tea Banana Nut Muffins
These Not So Sweet muffins have all the tastiness you'd expect from traditional banana nut muffins with a little twist – matcha green tea flavor. The matcha powder won't overpower the muffins, but does add a little something extra.
NOTE: I used some extra healthy ingredients that most people may not keep on hand. If you don't have these ingredients, I encourage you to go buy one or two of them and try them out, but I've also added notes for substitutions in case you need them.
Also, I didn't mix the nuts into the mix because I like how they get toasty on top. You could probably mix in a bit of chopped nuts if you like your muffins extra nutty. Or omit the nuts altogether if you'd like.
Makes 24 mini muffins
Ingredients:
1/2 cup whole wheat pastry flour (or sub AP flour)
1/2 cup spelt flour (or sub AP flour)
2 tablespoons flaxseed meal (or sub flour of choice)
2 teaspoons matcha green tea powder
1/2 teaspoon baking soda
1/4 teaspoon salt
1/4 cup butter
1/3 cup plus 2 tablespoons sucanat (or sub brown sugar for sweeter flavor)
1 egg
2 overripe bananas, mashed
1/2 teaspoon vanilla extract
small handful finely chopped walnuts (enough to top the muffins – can sub nut of choice)
non-stick spray
Directions:
Preheat oven to 350 degrees F. Lightly coat a mini muffin pan with non-stick spray
In a large bowl, combine both flours, matcha green tea powder, baking soda, and salt. Whisk to combine.
In a separate medium bowl, cream together butter and sucanat. Blend in egg, bananas, and vanilla extract until well combined (but try to not overmix).
Pour web mixture into dry mixture and stir to combine (try to not overmix).
Using a mini ice cream scoop, fill mini muffin pans just over 3/4 full.
Sprinkle walnuts on top.
Bake for 11-13 minutes or until edges just start to brown and a toothpick inserted in the middle of a muffin comes out clean.
Let cool for a couple minutes before serving.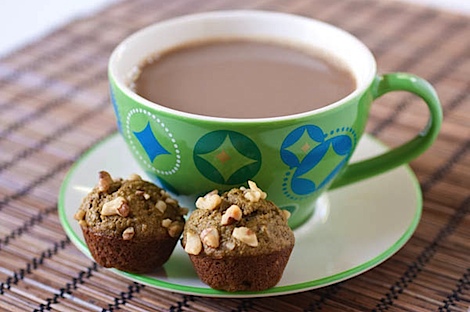 Enjoy!