TGIF! 🙂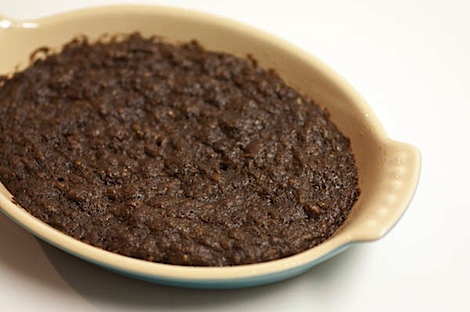 I think I have something you guys want…but first…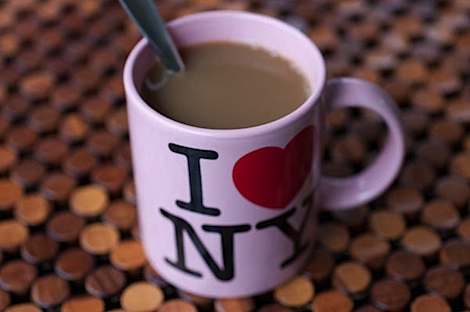 Some breakfast photos! I probably should have taken a sick day today from work, but I had due dates to make, so I muscled through. I at least got to work from the comfort of the hizzy.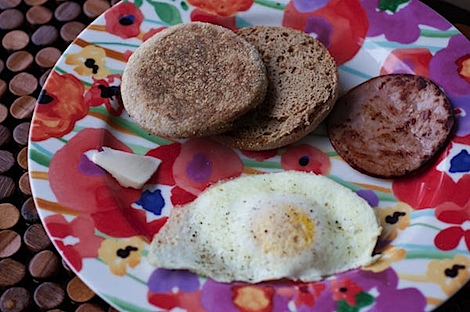 Hubby was a doll and made breakfast – a fried, cage-free egg, Canadian bacon (this stuff rocks!), and a WW English muffin.
Work was tough today. All I wanted to do was lay down on the couch and rest my eyes and head, but I made it through the day. I was really sad to miss Zumba tonight though. I've had quite the dancing bug lately!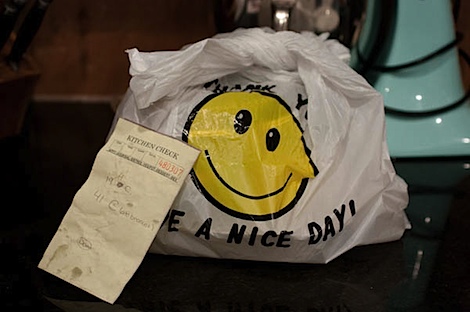 Since we were both feeling lazy tonight, we got Thai take out.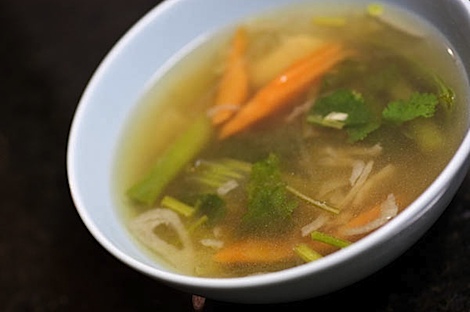 I figured a brothy soup would be good for me.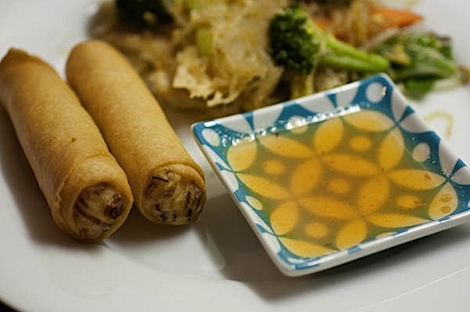 And those crispy little spring rolls are too tasty to skip.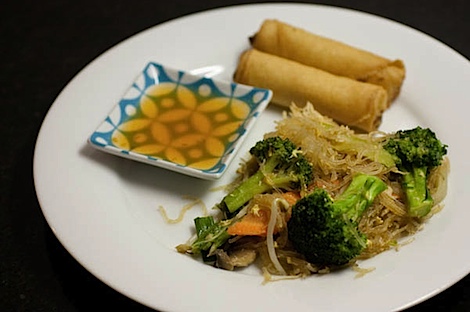 For the main event, hubby and I split Pud Wood Sen. We bot agreed that the Pud See Ew is still our fave.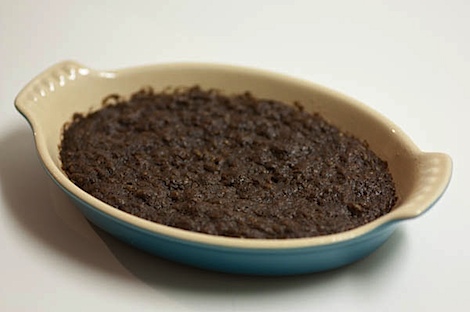 Not So Sweet Brownie Bakes for Two (Fudge-y Version) – Vegan-able
These are probably one of my sweeter Not-So-Sweet desserts, but I made a version last night that was less sweet and it was just not quite right in flavor. Last night's version was more cakey, too, so I'll be sharing that recipe later, since I know some people have texture preferences. This version is rich and fudge-y in texture and also has a slightly larger portion size than the cake-y one, if you want a bit more on your dessert plate.
I used the ole chia-seed-egg-replacer trick because eggs are kind of hard to reduce in size. Half an egg what? The chia seeds are noticeable and provide a nice crunch, much like poppyseeds on a bagel. A flaxseed egg made with the same proportions would probably work, too, if you don't want the crunch of the chia seeds. I also think the oil could be substituted with apple sauce, and will be trying that soon! Feel free to make two for yourself and save the second for later. 😉
*Vegan Substitution listed*
Serves 2
Ingredients:
1 teaspoon chia seeds
3 teaspoons water
3 tablespoons flour
2 tablespoons unsweetened cocoa powder
1/8 teaspoon baking powder
pinch salt
2 tablespoons room temperature / softened butter or vegan butter substitute
1/4 cup sucanat (you can use sugar, but it will be much sweeter)
1 tablespoon granulated sugar (use less for a less sweet flavor)
1 tablespoon canola or safflower oil
1/2 teaspoon vanilla extract
2 tablespoons mini chocolate chips, optional
2 tablespoons nuts, chopped, optional
Direction:
Stir together chia seeds and water and set aside to gel up.
Pre-heat oven to 350 degrees F. Prepare 2 individual baking dishes with non-stick spray. (Ramekins may work, but the cooking time may need to be adjusted)
Whisk together flour, cocoa powder, baking powder, and salt till well mixed.
Whisk together butter, sucanat, and granulated sugar till creamy (it won't be as creamy as butter and all-sugar usually are). Stir in chia seed mixture, oil, and vanilla extract.
Stir wet ingredients into dry until just combined. If using, stir in chocolate chips and/or nuts.
Evenly distribute between your 2 prepped baking dishes. The batter will be thick, so you may need to use a spatula to spread the batter into the dish.
Bake for 14-17 minutes, until a toothpick inserted in the center comes out clean. There are no eggs in this, so you could really eat it at any time, but I like mine baked like a brownie.
Serve with a spoon and enjoy!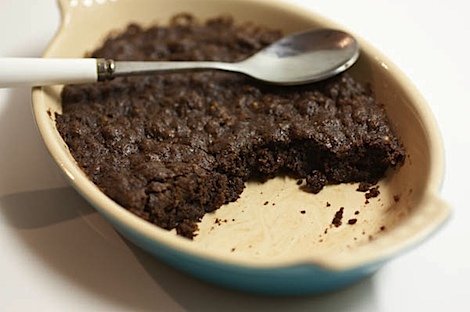 I like to scoop each bite out with a spoon. Mmm…
Hello decadence!