Here's a riddle for you…What do you get when you mix burgers and sushi?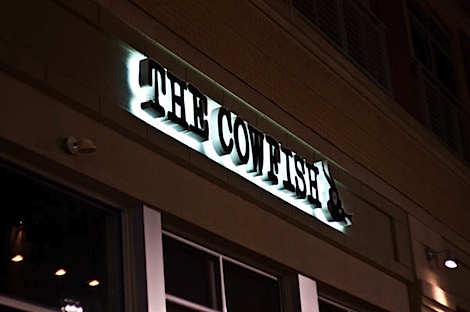 More on that in a minute…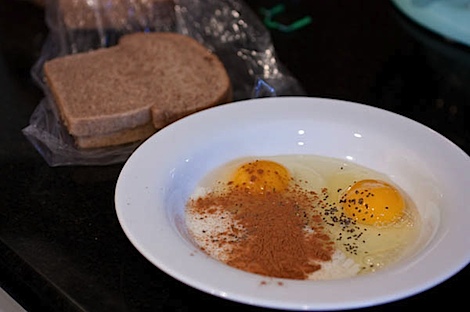 I decided to make French toast for breakfast. I mixed up 2 eggs, a dash of milk, a sprinkling of cinnamon and chia seeds to give some Honey Whole Wheat a bath.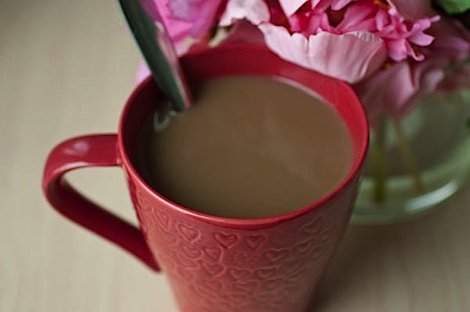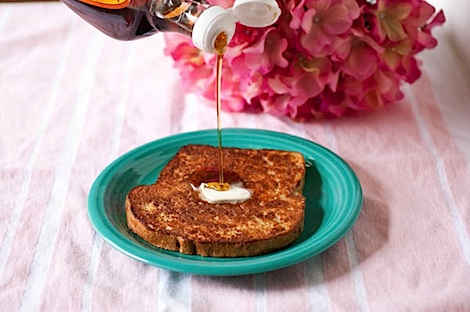 Hubby requested we stick with the traditional toppings – butter and syrup.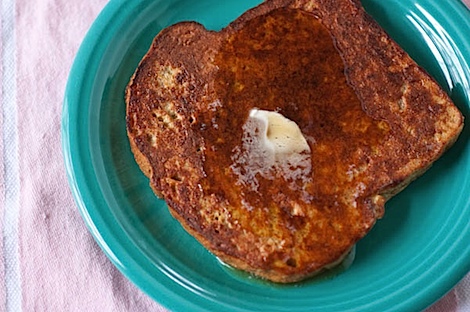 (No delicious raspberry sauce this time)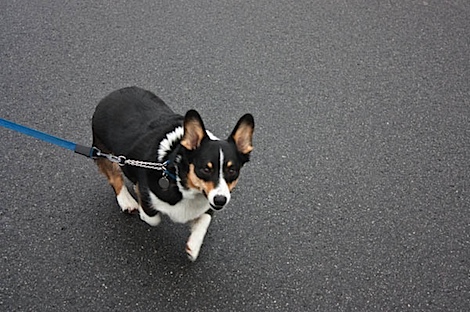 Just before lunch, we took Bailey out for a walk. It wasn't raining any more, but it was still pretty damp outside.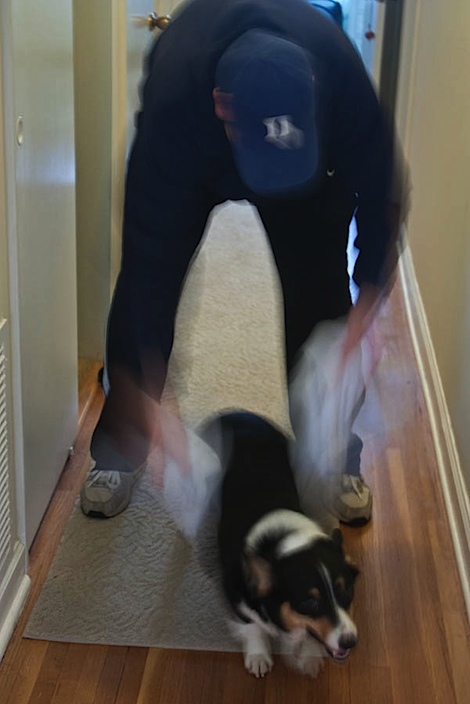 So Bails got a towel-rub-down when we got home. He used to fight hubby on these, but we think he really likes them now. 😉
I re-heated some frozen cannellini-kale soup and made buttered toast for lunch.
Lunch was pretty good, but I've been looking forward all week…ok, since Sugar Mountain…to going to The Cowfish. Michelle and Jen, who were also doing Eat In Month, and I decided during our mountain trip to go out to eat at Cowfish to celebrate the end of Eat In Month.
I met Brandon (I'm pretty sure that's his name!) when I was taking pictures of the Cowfish bus. They actually pick up people with this bus…cool, no? I thought it was just decorative. lol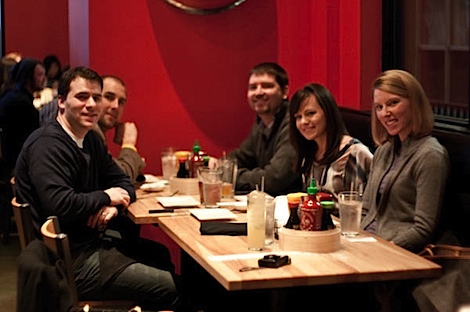 Around from the left: hubby, Jeff, Ben, Michelle, and Jen.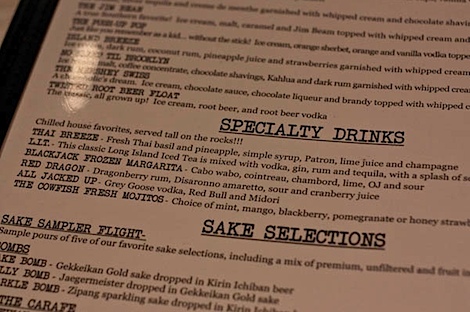 For my drink, I ordered the Thai Breeze – Fresh Thai basil and pineapple, simple syrup, Patron, lime juice and champagne.
It was a very strong, very tasty, very unique drink. I recommend it. Yum!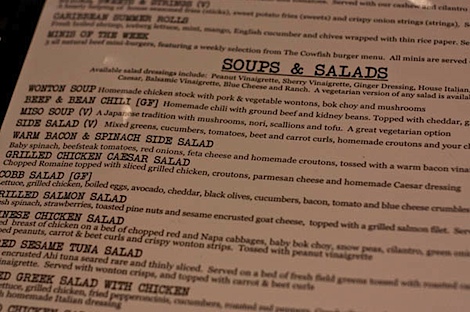 Hubby and I skipped apps and split this Warm Bacon and Spinach Side Salad instead – Baby spinach, beefsteak tomatoes, red onions, feta cheese and homemade croutons, tossed with a warm bacon vinaigrettte.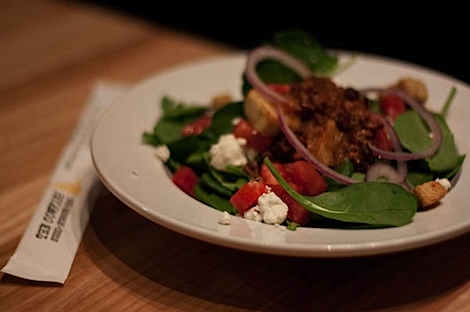 Delish!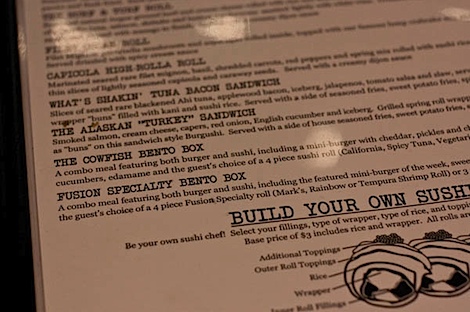 What happens when you go to a restaurant that specializes in both burgers and sushi? Get BOTH! 🙂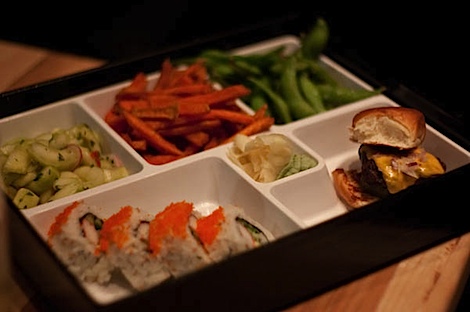 I ordered The Cowfish Bento Box.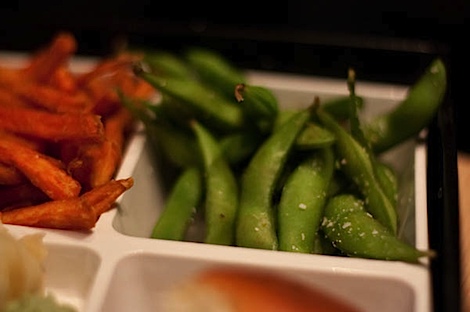 This is my favorite type of entree to order – I call it a "party on a plate" because you get to experience lots of different flavors. I guess this is really a party in a bento box. lol
You get edameme…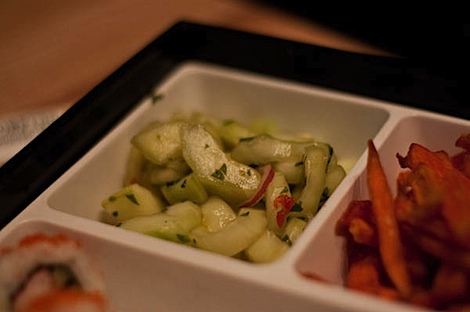 …a spicy cucumber salad…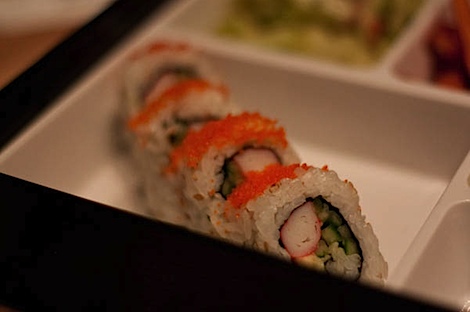 ….sushi (I chose the California roll)…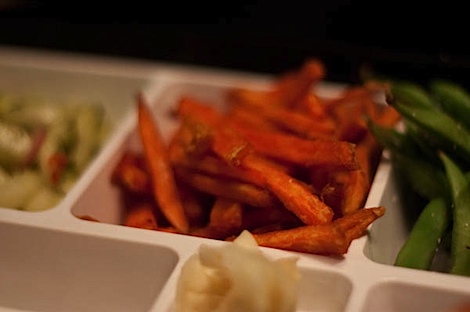 …sweet potato fries…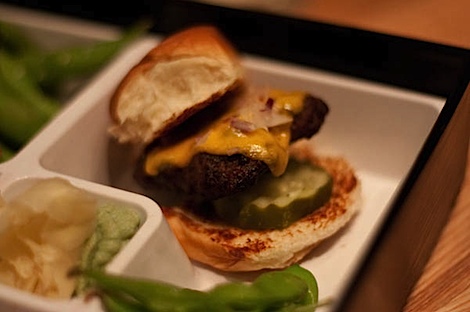 …and a mini burger.
I absolutely loved my bento box, though I did have a hard time finishing it. There was a lot of food there!
Somehow Michelle scored free onion rings and shared with us. I had a half of one because they were HUGE! I loved the crispiness of them.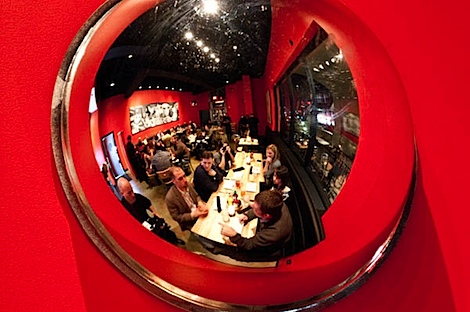 Here's my favorite photo of the day. 🙂
I'd also like to add that besides awesome food, Cowfish has a very friendly and attentive staff. I love great customer service, so that means a lot to me. Thanks Cowfish for the fab dinner and thanks to Jeff, Jen, Ben, and Michelle for the fabulous company!
How do you like to order at restaurants? Do you prefer to stick with one main entree or try as many flavors/dishes as possible? I love the latter, which is why I always try to talk people into sharing food with me if the restaurant doesn't already have a "party on a plate" option. I make my own!