Wasabi! I hope everyone is having a great week so far. We only have one day left now so make it count!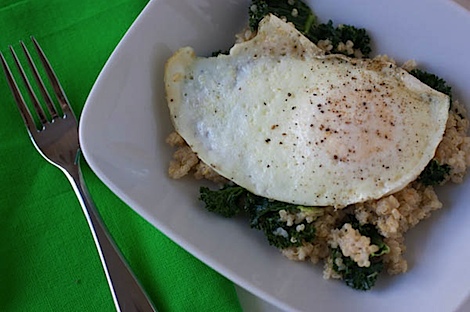 I returned to an old fave for breakfast today.
I started by cooking up a medium sized batch of plain quinoa.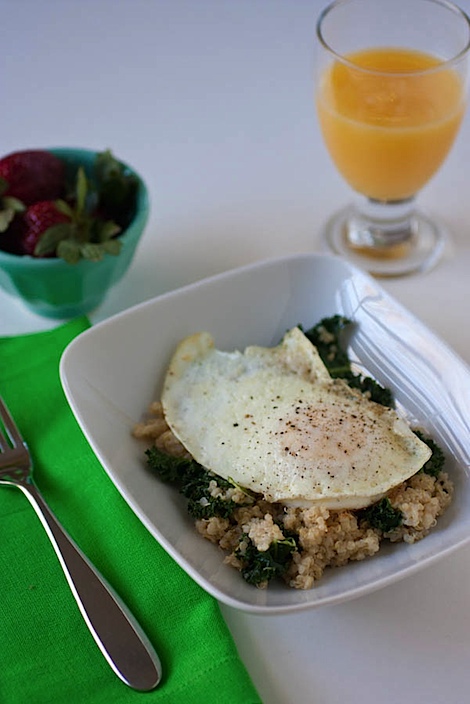 I made a Breakfast Quinoa Bowl (similar to this one) to enjoy first thing this morning.
I plucked a single kale leaf from the garden from some greenery, and I made a quick garlic-tahini sauce for the quinoa. On top – a cage-free fried egg.
Nommmm! I love quinoa over eggs. Have you tried it yet? Dooo ittttttt!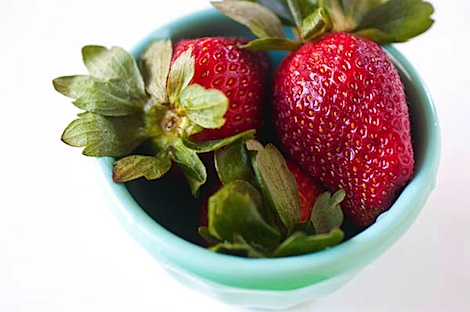 I also had some fresh organic strawberries. I'm so excited that the good season for produce is coming around now. I can't wait for fresh berries and other veggies at the local farmer's market.
I'm also hoping to make it to a strawberry farm this year! I haven't been in too long.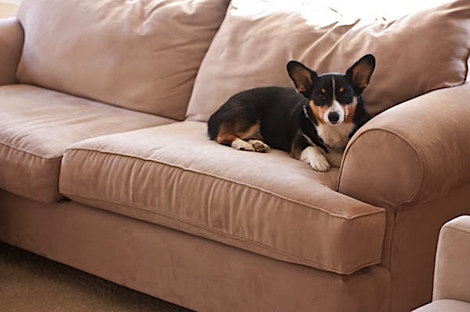 Guess who found a new favorite spot in the house. Bailey has moved over to this couch. Don't you just want to curl up with him?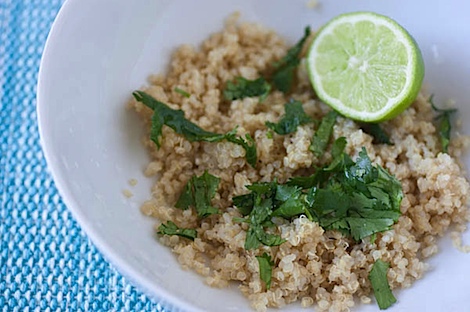 Since I had so much quinoa already cooked, I decided to utilize it in lunch, too.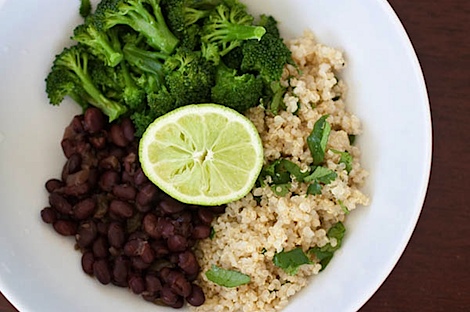 I heated up a can of TJ's cuban black beans, steamed some local broccoli and made a quick herbed quinoa pilaf with cilantro, lime juice, extra virgin olive oil, salt and pepper.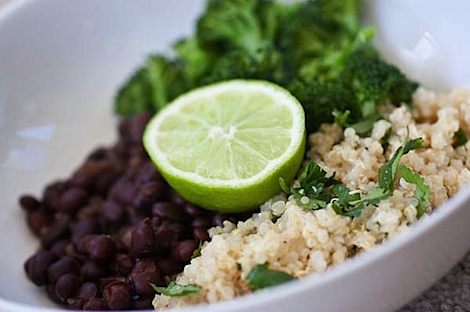 This meal was quick, easy, and made almost exclusively from the pantry. Gotta love that! I sure did and gobbled everything up in a matter of minutes. I especially liked the local broccoli – it was more tender and flavorful than the regular stuff in the grocery store.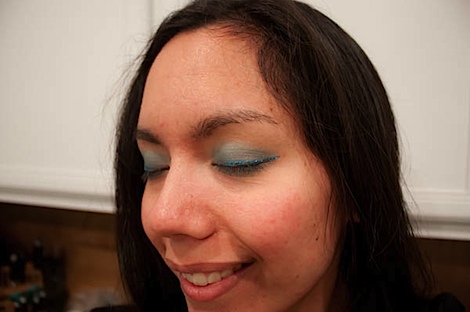 After work, it was time to get glam with my glitter eyeliner to teach Zumba tonight!
I had another energy-charged class with lots of fun girls!
My favorite songs tonight were:
Crazy Little Thing Called Love
Battlefield
Born This Way
Ok, no "true Zumba" songs in there, but we don't do 100% Latin songs in class. 😉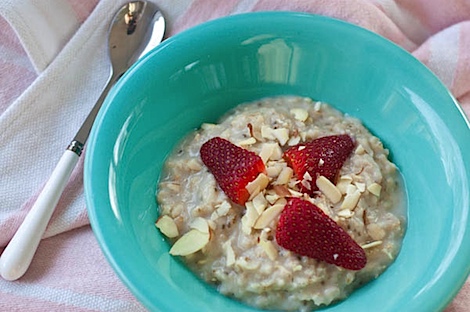 Oh and don't let me forget this blast-from-the-past pre-workout snack.
Growing up, my family always had the Quaker Oats variety packs in the house. My sister and I would fight over who got the best one – the strawberries 'n cream (duh!). There were only 2 precious packs of the strawberries 'n cream and we'd work hard to earn one of the packs, often getting into silly sisterly arguments over who deserved it and why. Usually I won because I was the oldest. 😉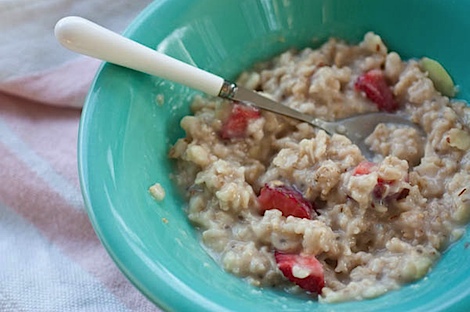 Anywho, today I decided to add some organic strawberries to my oatmeal snack since I had them in the fridge. After cutting them up a bit and stirring them into the oats…oh-em-gee…it tasted just like my old-school fave – strawberries 'n cream…only BETTER! The chewy texture from the rolled oats, the bright strawberry bits, and the creaminess that gave off that melt-in-your-mouth feeling. Yum! I was sad when it was gone, but it was the perfect portion for a pre-workout snack.
Strawberries 'N Cream Oats
This freshened up version of a classic gives you all the sentimental flavor with more wholesome ingredients and fresh, crisp berries.
Serves 1 (small portion – double recipe for large portion)
Ingredients:
1/4 cup rolled oats
1/2 cup vanilla rice milk (use milk for that creamy consistency)
1-3 organic strawberries, rinsed, tops removed, and chopped into small pieces
1/2 tsp chia seeds, optional
sliced almonds, optional topping
Directions:
Combine oats, rice milk and chia seeds (if using) in a small pot and mix up. Cook over medium low heat until mixture is thickened up to your liking, stirring occasionally. NOTE: Try to keep the oatmeal hot but not boiling.
Stir strawberries in and cook until they're warmed through, about 1-2 minutes.
Serve in a bowl and top with sliced almonds if you'd like.
Enjoy!
Did you eat oatmeal as a kid? What was your favorite flavor (of pack or with random mixins)?