I've mentioned before on my blog, but as I get older, I find myself returning to my roots. For example, I grew up with a "health freak" dad, ate healthy in my youth, ended up eating crappy-food in college, and have been re-learning about healthy eating over the last few years. Long time readers will probably be familiar with that story.
But beyond eating habits, sometimes I feel a bit like I'm losing other aspects of myself over time that need to be reclaimed. Most recently, I've been thinking about style as it relates to self-pride.
Sometimes I wonder…where did that silly girl who used to laugh at everything and know how to have a good time in college go? What about the shopaholic-fashion-diva who used to wear a different outfit every day? I think she's inside me…somewhere. I think somewhere in the shuffle of that thing called "maturing" (or "getting old"), she took a wrong turn.
I was talking with my friend Erica the other day about how somewhere in our twenties we decided to be "real adults." We thought, "Ok. Now we're grown up and need to be serious." Not that we made this decision together (I didn't know her at the time), but I think a lot of people go through this change. But who said you need to be serious just because you're an adult? I'm starting to think the crazy eccentric old ladies with the crazy make-up, funky hats, and wild clothes are on to something.
This all reminds me of those characters I've seen on Anthony Bourdain who remind me to act like a child. (check out the post for some interesting quotes)
Or that quote from Van Wilder: "You shouldn't take life so seriously. You'll never get out alive."
So what does being too serious have to do with lack of style or self-pride? I guess it depends on the person. Personally, I've found myself getting so caught up in adult-y things (work, bills, the house) that I've forgotten to take care of myself. I've gotten into the mindset that things like style don't matter when I have more important things like a mortgage to think about. I guess in general, I feel I've become a little apathetic towards my appearance. I throw together random outfits without really caring what I'm wearing. I find myself many days leaving the house without having taken a look in the mirror to see what I actually look like. It's not so much that fact that I don't look like I should be in an outfit straight out of a magazine spread that bothers me. It's the fact that I don't care either way what I look like. Maybe you're familiar with this habit? It happens to the best of us from time to time. Perhaps you've recently had a baby, taken on a new job, or moved across the country? Whatever the case may be, if you've found yourself in neglect, then now is the time to send some attention back to fabulous-you. And while I don't think looks are all that matter, I think there should be some priority placed in caring about them. It's not about being superficial, it's about having self-pride.
One of the best examples of self-pride I can think of is the most memorable Sartorialist post I've ever seen. Click here to view the man featured and read a bit about his story. It's short, but Scott talks about how the price of the man's clothing weren't what mattered. It was the way he polished his shoes, rocked his suit, and had his own stylish way of doing things that showed his pride.
Enter Project Get Glam. I have some monthly challenges coming up over the next several months, covering various topics, but instead of making PGG a monthly challenge, I just want to kick it off now and see where it goes. PGG could simply be something I think about once in awhile over the next year or so. Who knows?!
PGG is not about having the most expensive clothes, accessories or beauty products, but rocking out the ones you do have with confidence and class.
So what is Project Get Glam (PGG)? It can be whatever you want it to be. PGG is not about having the most expensive clothes, accessories or beauty products, but rocking out the ones you do have with confidence and class. It's almost more a frame of mind. For me, PGG will be a reminder to take pride in myself via my style.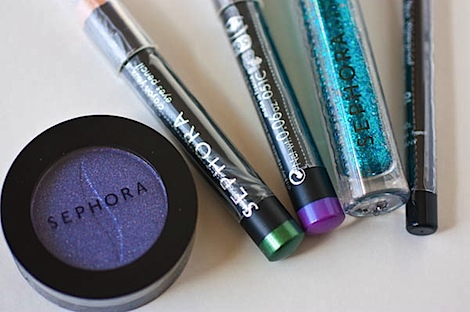 Now, maybe I've seen Clueless one too many times, but when I think about getting glam, I think about make-overs. I hope you don't read into this too much. I'm not saying you need to look like someone else, that you need to pile on even wear any make up, or that you need a bunch of beauty products to feel your self-worth. I just have blast getting make-overs and pampering myself a bit. I love playing with the new products and colors. It's f-u-n! 🙂
I'm generally not a big beauty product kind of gal, but I do like getting a few essential items once in awhile. I think makeovers are a good way of finding them.
Last week, I hit up Sephora in search of new make-up for two things:
Teaching Zumba class
Just for fun / going out
I actually didn't get a makeover that day. I just bought products to give myself a bit of a makeover later.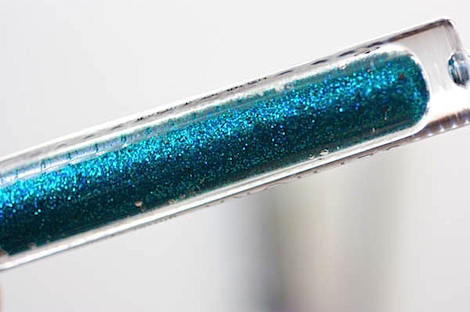 When I used to go out in college, my favorite products all contained a magic ingredient of sorts – GLITTER! It's sparkly, pretty, and reminds me of fairy dust. There's nothing like a dusting of glitter to put you in the mood for fun.
One of my favorite products was glitter eyeliner. And would you know it…I guess it's coming back in style because several brands make it now! So, I happily picked up a pretty turquoise sparkle eye liner.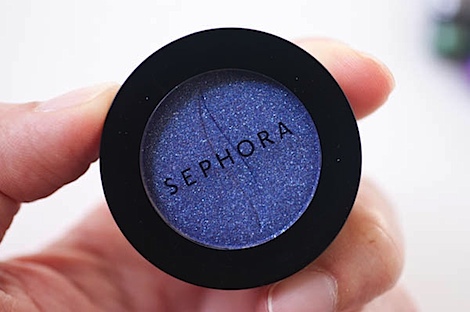 I also picked up some colorful eye liners and a sparkly eye shadow.
A little over the top? Yes! But I'm planning on using these for special occasions. I would never wear this stuff to the office! lol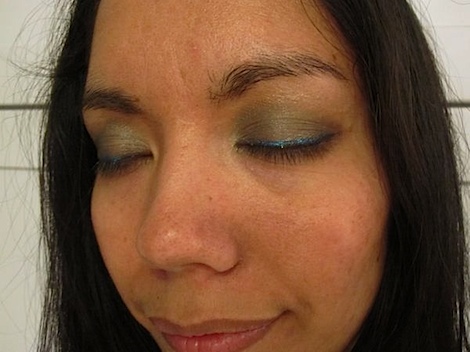 When I went out for Megan's birthday this past weekend, I went ahead and rocked that glitter eye liner.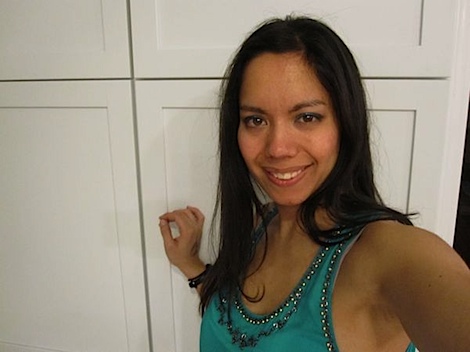 Do you need to spend a bunch of money to get glam? No. But for me, if $20 of eye make-up can make me feel like a million bucks, than it was $20 well spent. 😉
I'll be posting more of my Project Get Glam stories as I go. You're welcome to join in the fun with your own challenge, tailored of course to suit your preferences, if you'd like. And like I said…hopefully you don't take this lil challenge too seriously – it's meant to be light-hearted FUN! 🙂
Reader question: How do you get glam?