I'd love to tell you all that daylight savings swung around and my snooze button was no challenge for me. That I popped right out of bed ready for the day. But…I snoozed for 30 minutes on Monday. The daylight savings time change proved to be a struggle for me. lol. I know that forcing myself out of bed as soon as the alarm goes off is both the easiest and the hardest thing to do. Easiest, because even though I feel incredibly groggy, getting straight up develops the habit of waking up at the first sounding of the alarm and makes future waking up easier. Hardest, because even though I know better…I'm sometimes just so darn comfortable that I don't want to move. Oh the dilemma!
Sigh…how was your first (or first work day) morning after daylight savings?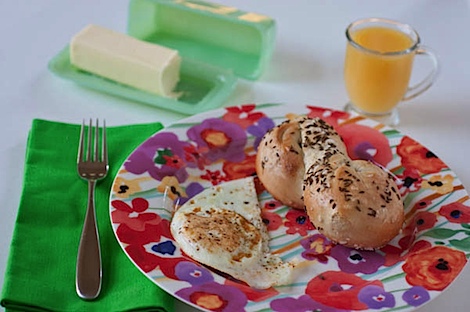 After picking up all those fresh Twisted Sista bagels, I'm sure you could only guess what I'd be having today, right? 😉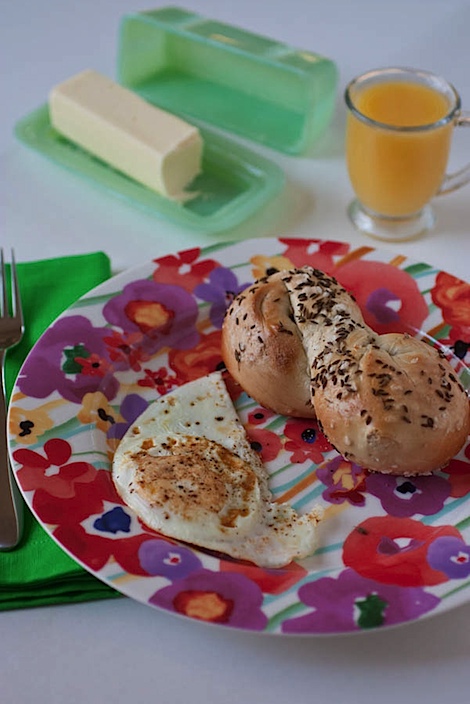 Rye bagel, fried cage-free egg, OJ, coffee. Yum!
Want your own bagels? Click here to find out where I got them!
***
Work today was a little rough. My internal clock was definitely off, but I survived.
I went to a fabulous Zumba class after work and totally re-charged my batteries in class. My clothes were absolutely soaked after class, though! lol
I helped lead a couple songs:
Chillin
Let Me Think About It
Sabor a Melao
FUN!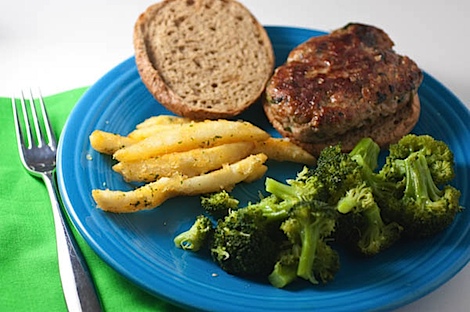 Hubby was working on dinner when I got home:
An Earthfare Turkey spinach feta burger on a WW bun
TJ's garlic fries
Steamed broccoli
I picked up these TJ fries on a whim last week, but I didn't really care for them. We had to bake them way extra long to get them close to crispy and the flavor/smell was weird because of the garlic sauce. I think I'll stick with TJ's sweet potato fries or try regular potato ones sans garlic sauce.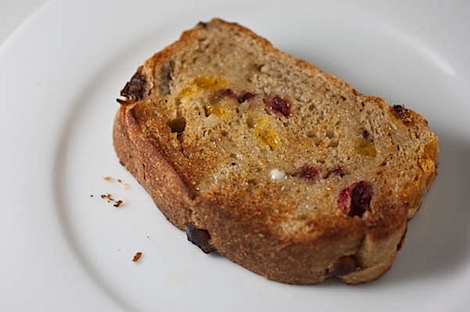 \
Mom's fruit and nut bread for dessert.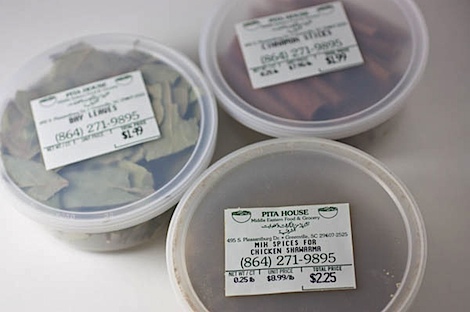 Check out some of the goodies I brought home from Greenville.
The Pita House is both a restaurant and exotic grocery store. I picked up a few things to experiment with back home:
Bay leaves (ok I just needed these)
Cinnamon sticks (love these guys!)
Chicken Shrwarma seasoning (can't wait to play with this – I'm thinking grilled chicken kebabs)
More goodies: date molasses (also from Pita house – I'm thinking this will go in oatmeal and baking experiments) and large-flakes of coconut (from The Fresh Market – I love the shape of these flakes!).
***
Reader Question: How did you do with the daylight savings time change this year?