I don't know about you, but I'm not quite in the swing of things yet with the "new time" (thanks daylight savings). I am however absolutely loving all the sunlight at the end of the day!
Today was super busy. I had an early morning meeting, so I just packed up some Great Harvest honey whole wheat to take to the office. I just toasted it and slathered on some Barney Butter for a quick and filling breakfast.
Work was crazy busy, per the usual.
And I went to Zumba after work. I was feeling really tired right after work and almost skipped class, but I'm so glad I didn't. I felt so much better after 1 hour of dancing cardio fun. Yesssss!
Post-Zumba, I headed out with some friends to Amelie's – a local French bakery. I was really excited to get food there because I've only ever stopped in for pastries. I've never eaten a meal there, but I've always heard good things.
I didn't have my DSLR on hand, so I just snapped a couple quick (and grainy) photos using my iPhone.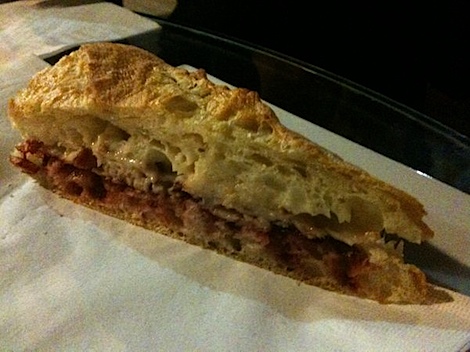 My friend Erica and I are amazing food-share friends. We almost always choose the same things to eat and therefore can just order up a bunch of stuff to split.
We shared this turkey/brie/cranberry relish on baguette sandwich.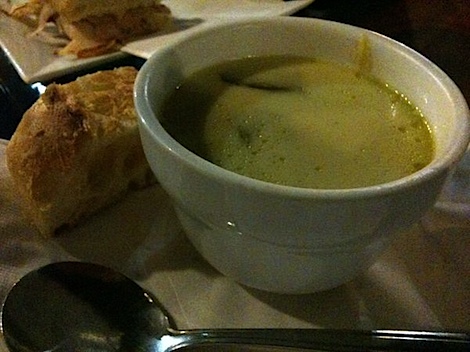 I also had some spinach, asparagus, and leek soup (yum!) with some fresh baguette on the side.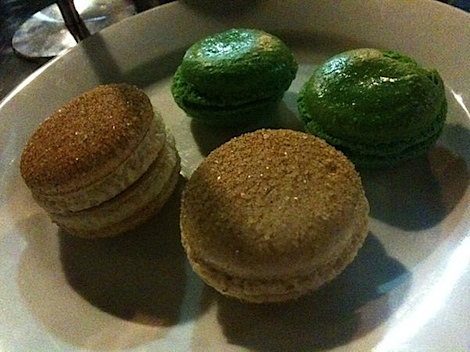 Plus we shared a small plate of macaroons – cinnamon chocolate and pistachio! Love!
I definitely want to come back some lazy weekend afternoon with my laptop and kick back and get some good blog work and blog reading done. Maybe even some book-reading, too. Yeaaaa let's get "crazy." lol 😉
***
There's less than 2 weeks left in my Time Management Challenge month. How are you doing with your time management skills? Seeing any improvement.
And I have a couple other tricks up my sleeve.
Details soon. Kay? 😉
***
Do you like to share food or do you prefer to order all meal items just for you?