Is it just me, or does it seem like every time you have something important to do the next day you simply CANNOT sleep! What's up with that?! I had a big day at work planned, and I was actually done blogging almost an hour before my usual time. But, I just kept finding random things to keep me busy. Maybe now's a good time to filter through my jam-packed email inbox. And hey, look at this awesome eye-make-up tutorial on Youtube. Wonder if anything interesting is happening on Facebook. Hmm…Funny how that works out. Then, my stomach decided it didn't want to play nicely any more and then next thing you know, I'm standing in my kitchen at nearly 1am eating brown rice to try to calm an upset stomach. Oy vay! lol
My late night certainly put a kink in my plans to skip the snooze, but not too much. I only snoozed about 3 minutes. Not too shabby. But when I was running late for work and I had plans to meet a friend for coffee, you can bet I was wishing I had those 3 minutes back! Darn you snooze button! lol
How's everyone else doing with their snooze button challenge?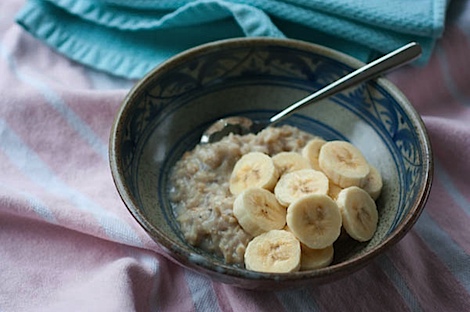 Thanks to my crazy stomach, I tried eating something as bland as possible for breakfast. I made oatmeal with vanilla rick milk and simply added sliced banana on top.
The rest of the day was super busy!
Coffee with a friend
Follow up on about 100 emails
At one point I had 20 excel files open…and a database. Yes, I'm a geek.
Lunch with Megan!
Dinner at a local restaurant for a friend's birthday (luckily they had $5 happy hour eat specials, so dinner only cost me $10! A steal considering their entrees averaged $30!)
Dance class
And now blogging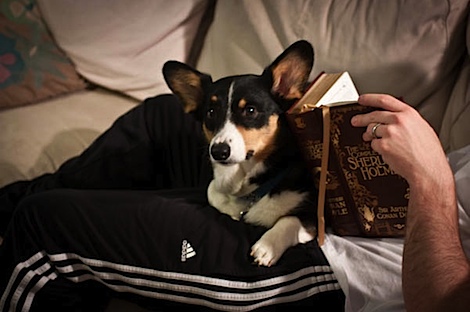 Look at our little cuddle-monkey. Aww.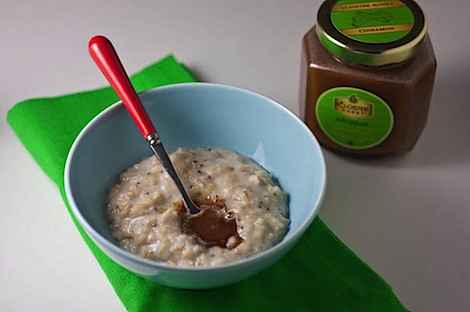 Dinner was on the light side, so I decided on a snack when I got home. I was considering baking an Emergency Blondie on my drive home after dance class, but my loopy stomach was calling for more simple oats.
So I had more oatmeal cooked with vanilla rice milk and water with just a small spoonful of whipped cinnamon honey for a topping. It hit the spot!
***
Snooze Activity Responses
I wanted to recap some of the amazing answers you guys had for my snooze activity yesterday.
The activity was to list 5 productive things you could do with the time you waste getting sub-par quality sleep during snooze time.
Here are some of the responses:
Make dinner if we are having a crockpot meal
Pack lunch
Yoga
I could actually take a shower and do my hair. That would make me feel a lot better about myself. Project Get Glam anyone?
Start a craft project and do a little every morning.
Do My Hair
Watch trashy tv for an extra hour
Read blogs
Do a quick 20 minute ab-cardio-strength training routine
Homework
Read my bible and devotionals
Empty the dishwasher and straighten the rest of the house a bit
Wow! Think of all the cool things we could do if we didn't use that snooze button! Reading everyone's responses makes ME want to wake up earlier so I can do some of these fun and productive things! lol
***
Quote of the day:
We should be taught not to wait for inspiration to start a thing. Action always generates inspiration. Inspiration seldom generates action.
~Frank Tibolt
***
Random Reader Request: I'd love it if you submitted The Chic Life for Women's Health Magazine's Blog Contest (click to view). You only have to fill out 5 fields and there's no registration required. It takes about 5 minutes. 😉 Pretty please?
***
Two Reader Questions:
1. What do you eat when your stomach is upset? I think I usually do plain toast (sans topping), rice, bread, chicken broth, brothy soups in general, Mom's Get Well Soup especially!, hot tea (especially ginger and peppermint), and ginger ale.
2. Have you been skipping your snooze button? What are your wins / success stories? I got to work earlier than normal – something I've been hoping to do for awhile now.
Cheers! 🙂