Cooking and organizing with sis continued right into Monday. I know most people like to do fun and relaxing things on their day's off, and I do, too, but lately, I've been feeling so behind, I feel obligated to be productive for most of the vacay-day. Luckily, getting things done gives me a great sense of accomplishment…like checking something off of your to-do list. It's stress-relieving and I actually enjoy it. And I do try to work some time for relaxing and fun into my days, by the way. I'm not all work and no play.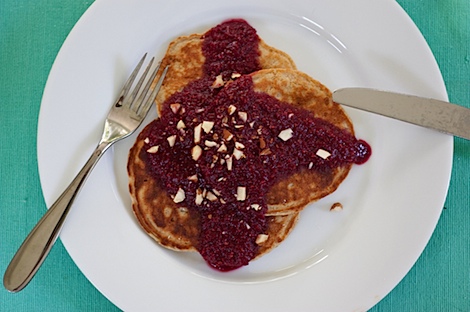 And just to clarify, being productive does include cooking up a yummy breakfast. 😉 I made my multigrain pancakes with easy raspberry sauce (click for recipe), except I used oat flour instead of white. (I'm already looking forward to raspberry sauce leftovers over oatmeal tomorrow!)
Clothes Organization – Part 1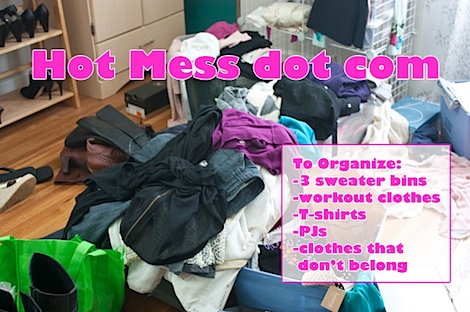 I continued our organizing spree by taking a first stab at one of the bigger projects going on at the Chic house – my clothes situation. As some of my long time readers know, I used to be quite the shopaholic. I never needed an intervention or anything, but let's just say I have more clothes than the average gal. (I know…I polled my fashion blog readers…whoops! lol)
When hubby and I moved into the Chic house back in fall 2009, I bid adieu to my giant walk-in closet and traded it for our first house – tiny closets and all. Our new house has such small closets because it's never really had much of a renovation and it's an older house. Since we've moved in, I've struggled to figure out what to do with all my beloved clothes. I like to purge my belongings regularly, so I knew that wasn't the main issue, though I did try to go through them again. In my opinion, my primary problem area is organization tools.
Hubby and I poured all our money into our kitchen reno and when that sputtered out (unfinished), it left nothing for my clothes. I made do with what I already had furniture-wise – a strange assortment of various types of shelves collected over the years – but it wasn't getting the job done.
Sis and I decided to take another look at my clothes to see if we could do anything with them without spending any money.
Step 1: Identify Mini Project
The major change we identified was storage of fall/winter clothes. I've always had the space such that I never needed to switch out fall and winter clothes, so I've never done that before…ever. I think that puts me in the minority, because I'm guessing most people do switch clothes out for the warm and cold weather seasons. We decided to take my 3 sweater bins (the best way I've found to store sweaters so far – I used to line the bottom of my closet with them) and separate them in fall/winter and spring/summer.
Step 2: Get Started – Tweak As Needed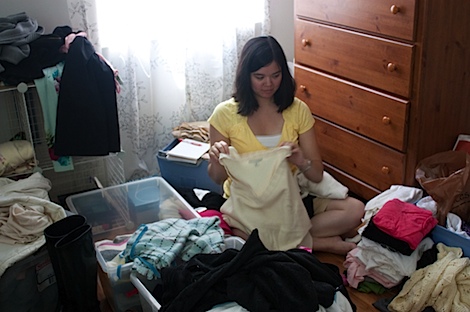 Remember in school when you'd dread the start of a new essay assignment? It was everything you could do to get those first words out, yet they'd flow pretty easy afterwards? I think sometimes the hardest part of organization is just getting started. Luckily, I had my sister to motivate me. We picked one bin and just started going through my sweaters one by one. What we found was that I actually had 3 types of sweaters – heavy, medium, and light weight. So, we separated the sweaters into 3 piles and decided to worry about folding later.
Step 3: Assess What You Have – Consider Better Solutions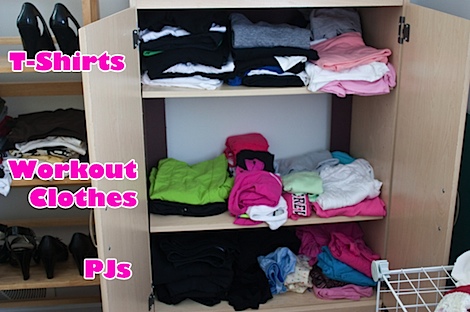 My sister managed to fill 1 1/2 bins full of heavy-weight sweaters. But, we decided to keep the medium and light-weight sweaters out…at least for now. I definitely like the lightweight ones for layering, even in the summer (it's still cold inside sometimes!). And I'm thinking I may wear the medium weight sweaters to work since they like to set their thermostat to "icebox."
We decided that it would be best if we could fill the 2 sweater bins and move them to storage and do something with all the medium and light-weight sweaters we wanted to keep out. Sis noticed that the shelves in this storage cabinet (that I bought in college! can't believe it hasn't fallen apart yet) seemed like they could be used more effectively.
At the time, I had the following in it:
T-Shirts (not fitting space well)
Workout Clothes (pants ok, but tank tops hard to stack)
PJs (not using space effectively – lots of lost vertical space)
I also noticed that I had a 4-box wire storage shelf (originally purchased for my craft room…back when I had one) that weren't really being used. So, we decided to pull a switcheroo.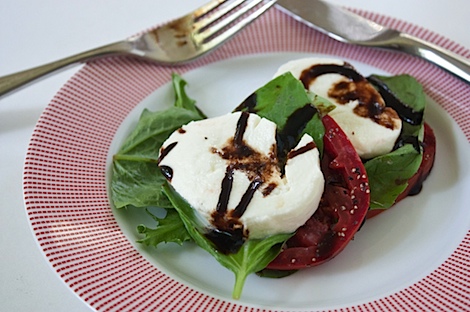 But not without making time to break for lunch. Hubby helped out by picking up food from Mellow Mushroom while we sorted away. We started with a tomato/mozzarella salad.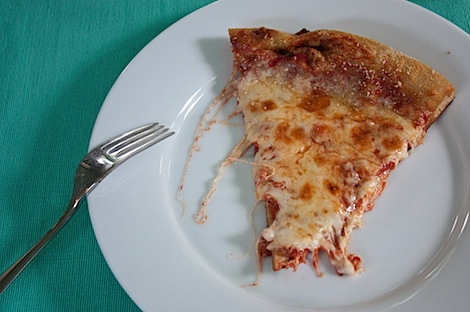 And cheese pizza.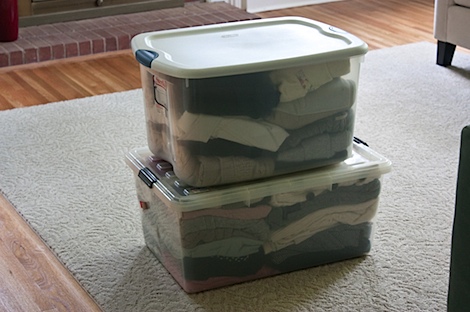 With happy stomachs, we were able to dig in and finish our Mini Project – Sorting the sweaters.
We filled two bins of heavy-weight sweaters and a couple polar fleeces, and these will be moved to the basement for storage till cooler weather returns.
The third bin contains athletic cover-ups, polar fleeces, etc., which my sister folded and re-organized. This one will stay upstairs since I wear these a lot for Zumba and around the house.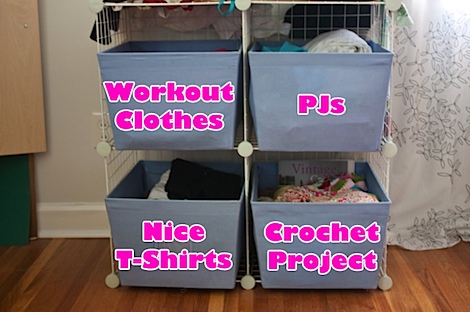 We moved all the clothes out of the shelf system and into the fabric bins:
Workout clothes
Nice T-Shirts (to wear out and about)
PJs (bottoms)
Crochet Project (leftover from when it was in my craft room – the project just fits too nicely to move…lol)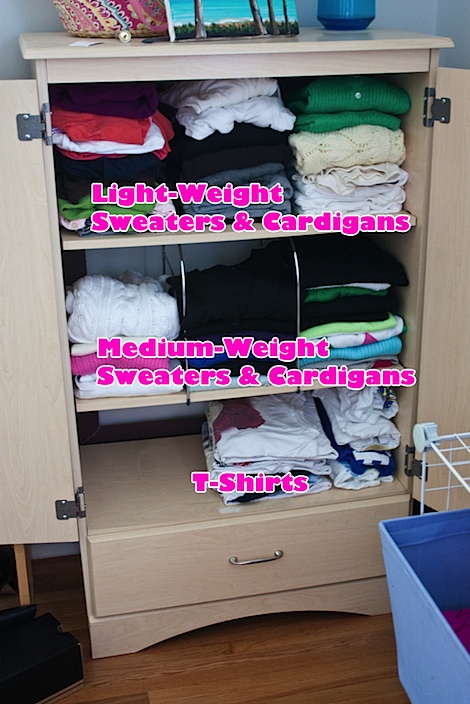 Into the newly freed space on the shelves, we moved:
Light-Weight Sweaters on top (left 2 piles are cardigans/cover-ups & right is regular sweaters)
Medium-Weight Sweaters in middle (left 2 piles are cardigans/cover-ups & right is regular sweaters)
T-Shirts on bottom (these are like sleep-wear t-shirts to wear around the house or in the yard – there are more than what's pictured, but they're in the laundry bin)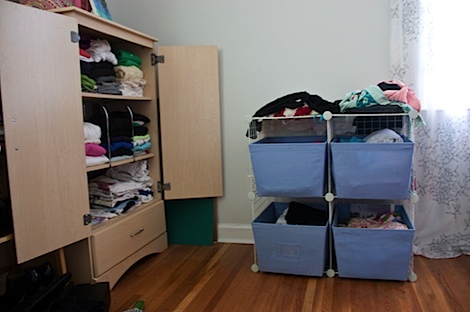 While the clothes-organization overall project is far from being done, I'm really happy with the progress we made.
Changes/Observations:
Less-used items are in lower/harder-to-reach spaces – frees up room for popular clothes
More-used items are in easier-to-access spaces – makes getting ready easier/faster since I don't have to work as hard to get to these clothes
Cardigans/sweaters are now visible instead of being piled in a bin – I forgot I had some of the items because they were so buried. Now that I can see them stacked in the shelf, I know immediately what I have and what my options are when I'm putting an outfit together
Clothing groups are better kept together – makes things easier to find and keep organized
More floor space – visually better already
We (I?) still have a lot of work to do with my clothes, but since I don't have large chunks of free-time to pull from, I plan to tackle everything one mini-project at a time. So far, so good!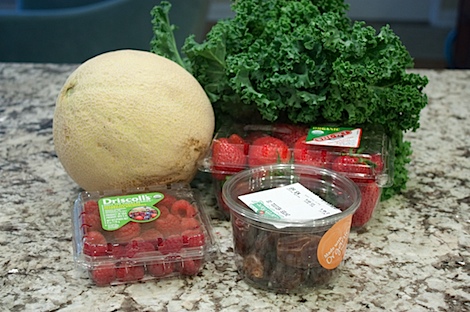 After wrapping up our organization project for the day and saying adieu to sis who had to return home, hubby and I went furniture shopping at a local consignment shop. We didn't find anything we liked, but we did enjoy our visit. The inventory is constantly changing, so we know we'll be checking back often.
Then, we hit up Earthfare to get goodies for dinner and for my next challenge for June – can you tell from the produce photo what it's going to be about?!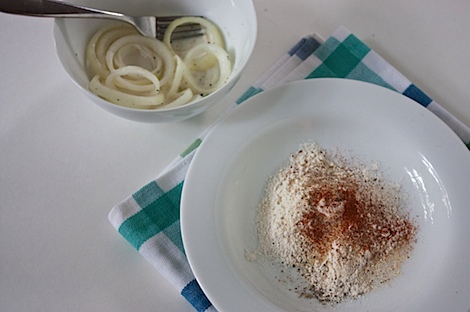 And for dinner, I decided to try something I've seen at many restaurants –
A crispy onion topping. Why?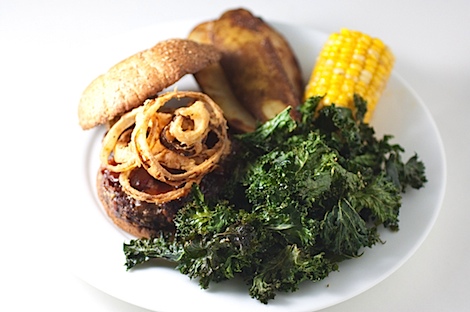 To put on this Earthfare burger, of course!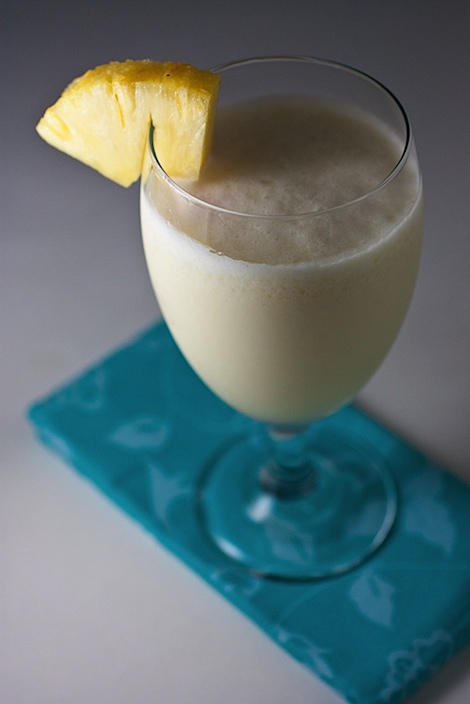 Hubby also requested pina coladas with the leftover fresh pineapple we had on hand thanks to the Pineapple Upside Down Cake Minis. I made ours using pineapple, coconut milk, sugar, and ice…and of course rum. I thought the flavor was ok, but it needs tweaking before I'm 100% happy with it.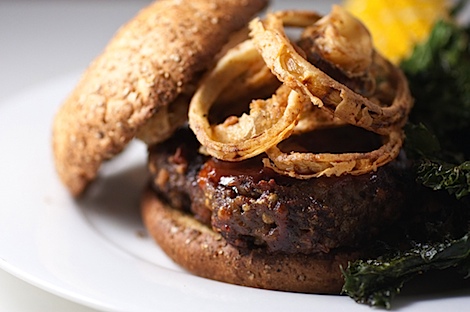 But the burger! The crispy onion rings were perfect on the burger!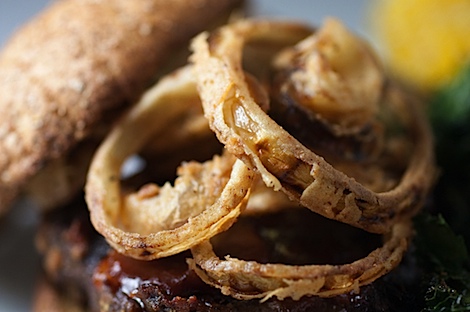 We also added leftover homemade-BBQ sauce on the burger, and the combination of it all was simply outstanding!
We also had kale chips, leftover potato wedges, and corn (that I made hubby eat since he put too much cayenne pepper on it – he likes it spicy!).
We enjoyed a casual and relaxing dinner whilst watching The Green Hornet. Nothing like a productive day followed by relaxing over dinner and a movie to cap off a fantastic day.
***
And since this blog was for Memorial Day – Sending a special thank you to those who have paid the ultimate sacrifice in the name of our continued freedom.
***
Next time on The Chic Life, I reveal the June Challenge (Hint: it's related to produce!) and blog about a fun dinner double date with new friends.
***
Reader question: How do you organize your clothes? Do you hang everything? Put sweaters in a special container? Do share your clothes-organization tips and ideas.