While I have many fun challenge ideas for you guys, with summer right around the corner, I figured what better challenge to do for June than one related to all the amazing produce on the shelves and in the farmer's markets. Like my other challenges, I want to keep this one simple – shoot to eat at least 5 servings of fruits and vegetables every day.
The Project Veg-Up Concept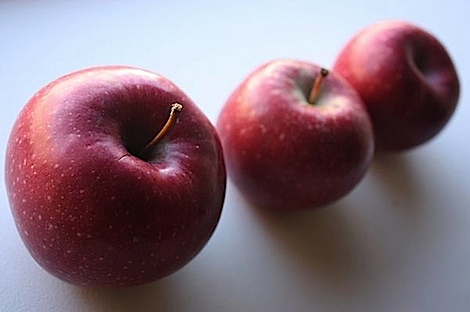 The American Dietetic Association recommends consuming at least 5 servings of fruits and vegetables every day.
My fave nutrition resource, Ellie Krieger, recommends eating 2-4 servings of fruit and 3-6 servings of vegetables (more exact numbers dependent on calorie ranges).
While a lot of us eat more than enough fruits and veggies, there are many, myself included, who sometimes struggle with getting enough produce in our diet. This challenge will encourage you to consume more fruits and vegetables every day.
How to Play
Goal: Try to eat at least 5 servings of fruits and vegetables every day for the month of June. (Really you should be doing this every day, but you know what I mean. 😉 )
Rules:
General: In the interest of keeping this challenge simple, I say make the rules as detailed or as loose as you want – whatever it takes to get you eating fruits and veggies.
What's a serving?: This is up to you. At it's simplest, you can just say, did I eat some broccoli? Yes. There's a serving. I'll be posting details about actual servings sizes over the month, but just play it by ear. If you want to measure your servings, go for it. If you want to be more lax, then just eye ball your servings.
How many servings should I eat? For the purposes of this challenge, we're saying just eat

at least

5 servings of fruits and vegetables. Actual serving amounts depend on many things: age, sex, activity level, target calorie consumption, etc. There are many calculators online that will tell you how many you should eat (check out the Free Tools section for one). Ellie Krieger basically says that you can't hardly eat too many vegetables, but you should limit fruit servings to no more than 4. Check out her book Small Changes, Big Results for more information.
Have fun: This challenge is meant to be a positive, supportive, and encouraging way to eat more fruits and vegetables. Have fun with it! Connect with other challenge participants. Use hashtag #projectvegup on twitter to tweet about your veg/fruit intake status or share useful recipes and articles with other challenge participants. Don't take yourself too seriously. Enjoy learning about new recipes and ways to eat your fruits and vegetables and connecting with others.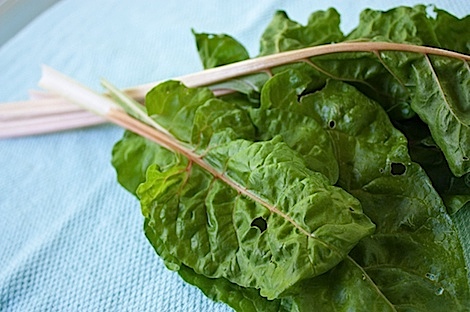 Tips
I'll be sharing tips in many ways:
Blog posts – I'll post my personal tips, my wins and losses, lessons learned, recipes, etc. Click here to get free updates.
Email newsletter – I'll share daily tips, offer encouragement, address issue areas (see next list), and send out easy recipe ideas (email thechiclife at gmail dot com with subject="Project Veg-Up Challenge Newsletter" and I'll get you added)
Facebook – I'll post updates on how I'm doing along with useful links. Be sure to check the Discussion Boards for recipes shared with each other and other support
Twitter – I'll be tweeting updates on how I'm doing with the challenge, recipe links, useful articles, etc.
Note: There will be some crossover between information in the various locations, but check each one so you don't miss anything. 😉
Your Challenge Areas
I'd also like to hear what types of problems you run into when it comes to consuming fruits and veggies. Here are some issue areas I've heard so far:
I buy fruits and vegetables, but I put them in the refrigerator, forget about them, and they go bad.

Since it's summer and HOT, I find it hard to actually want to eat veggies because all I want is cold fruit! Other than putting spinach in my green monster smoothies, I can't think of any other ways to cool myself down AND get my veggies in.

I already have a lot to do in the morning to get ready for work and don't have time to prep fruits/vegetables to take to work.
Fruits and vegetables can be expensive.
Fruits are messy to eat.

Sometimes it seems quicker and cheaper to go for packaged and frozen items.

Um, eating my strawberries WITHOUT heaps of Nutella. 😉




Eating raw veggies is hard on my IBS so I can't eat veggies until I cook them at home in the evening.

Do you have a challenge with eating fruits and vegetables that you'd like to share? Please leave a comment. 🙂
I'll be addressing your challenge areas via blog posts, Facebook, twitter, email newsletters, etc.
Free Tools
Serving calculator: The CDC has a neat calculator that tells you how many cups of fruits and vegetables you should eat based on your age, sex, and activity level. Click here to go to the calculator (note: 1 "cup" doesn't necessarily equal 1 "serving")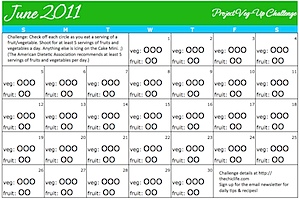 Calendar Tracker: I've created a calendar you can print out and keep with you to track your progress. Since Ellie Krieger recommends 2-4 servings of fruits and 3-6 of vegetables, I just put circles to represent the minimum numbers for each group (feel free to draw more circles to fit your goal servings if you want). Print out this calendar and check off the circles as you get your servings in for the day. It will feel so rewarding! Just like checking something off your to-do list!! 😉
Click here to download the Project Veg-Up Calendar
The Badge
I'm working on the badge. Work has been crazy, so I'm hoping to get one created this weekend. I'll let you know via the tip methods listed in the previous section.
The Players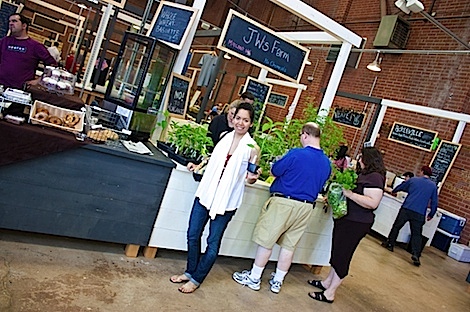 Are you playing along in the Project Veg-Up Challenge? If so, leave me a comment, whether you're playing for the whole month, a couple weeks, a single week, a couple days, etc. and your URL if you have a blog.
Questions? Leave me a comment on my blog or Facebook wall/discussion boards, mention me on twitter, and I'll answer you there. 🙂
Who's In? It's never too late to join! If June is halfway over and you just found out about the challenge, feel free to join in on the festivities! Better late than never! 🙂