Just as I thought my work schedule was starting to calm down a bit, it's actually going to get worse than ever…at least for a little while. Even still, I'm going to try even harder than ever to work some time for organization into my already-hectic schedule. Over the last year or so, I've sort of let my schedule get the best of me lack-of-organization-wise, but I function best when there is order around me. So, I need to put some attention to getting a handle on a few house projects. Lack of money is also an issue, but we're going to make the best with what we already have and what we can afford.
I considered putting together an organization challenge for the month of June. I started to plan one today and began jotting notes down on different categories. What I realized is that there are far more categories and topics than there is time in the month of June. So, instead, I will have a different June-challenge and I will work on mini-organization projects throughout the year!
Any guesses what the June challenge will be about? Hint: it's related to eating healthier. No cheating twitter and Facebook friends!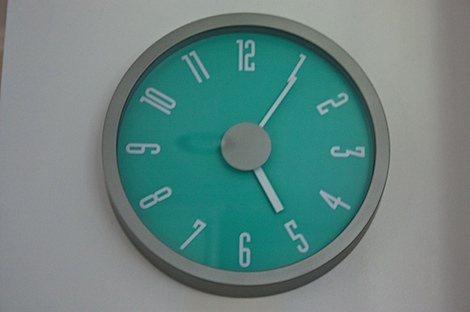 Anywho, as far as organization, some of ours crosses into the decoration realm. Either way, check out this new clock we got at Crate and Barrel for the kitchen area. Hubby put it up this weekend, and it's already made such a big difference. No more squinting at the microwave (which may be getting it's own "organization" soon).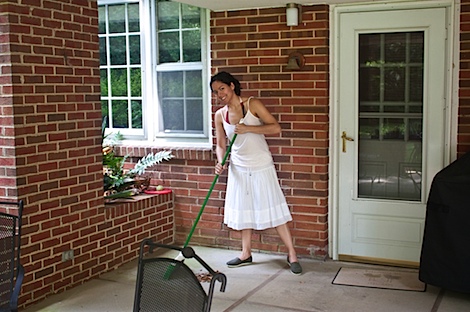 And since we have more projects than time/money, Sis suggested we stick to just one. We wrote down and reviewed several and decided that the patio would be the easiest and wouldn't cost anything.
First up, we swept all the leaves away.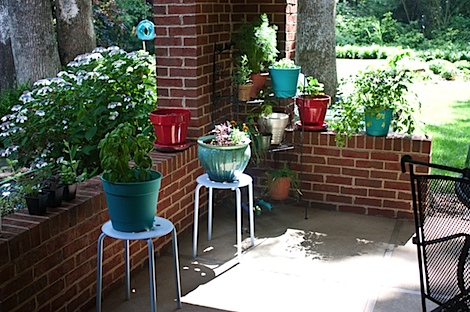 And then we organized my herbs. I told my sister that I wanted to put a shelf on the porch somewhere so I could get my herbs off the ground to help protect them from pests. We actually had a small shelf on the porch already but were using it to store garden supplies, citronella candles, and other yard randomness. We re-organized some of the tools to the garage and cleared the whole thing off. Then, we moved it closer to the natural sunlight and placed the plants on it.
I still have some temporary plastic pots that need to be replaced with nicer ceramic ones, but it looks a lot better already.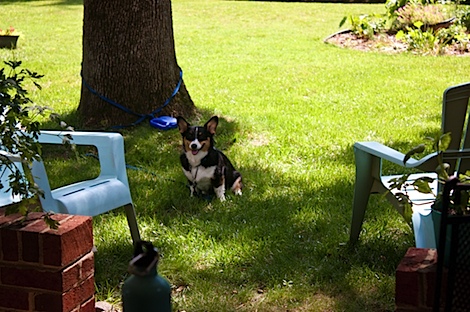 Bailey even got to hang out for the cleaning action.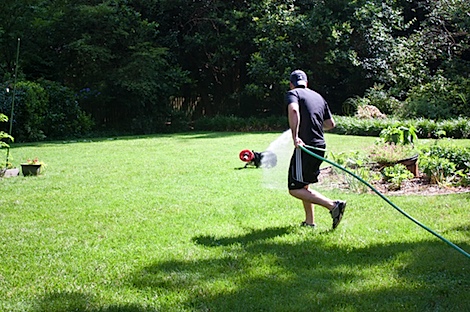 And then hubby played frisbee with him and chased him around with a sprinkler.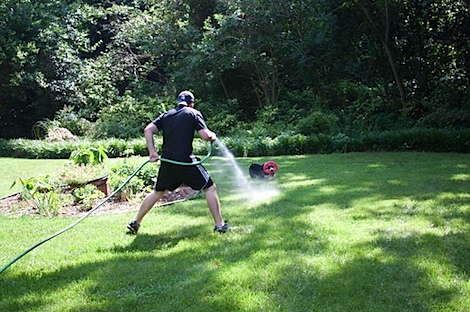 Run!
Bailey!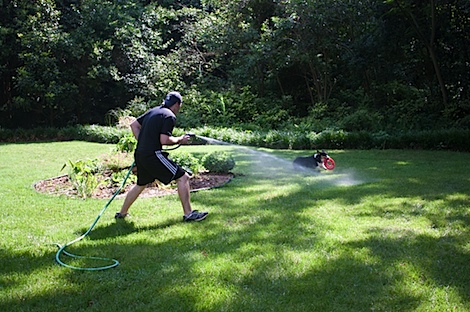 Run!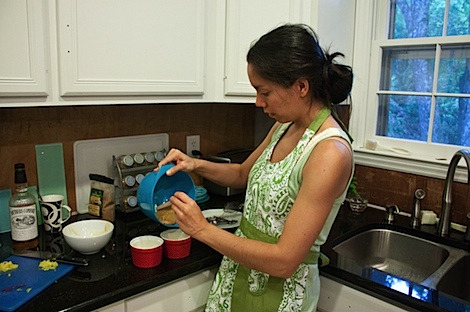 After a quick breather and lots of water, we got started on dinner. First up, Sis and I worked on a new Cake Mini flavor – an idea we came up with together.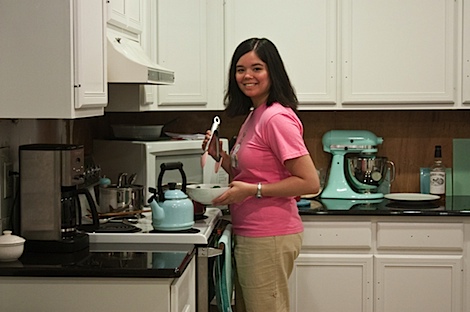 And we also worked on something fun…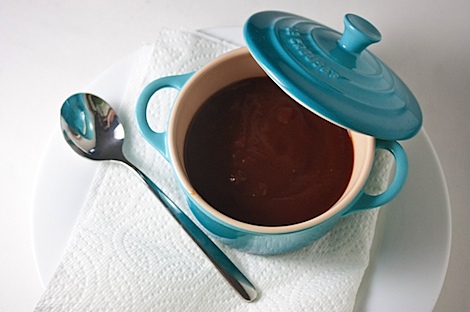 Homemade BBQ sauce! We used this version, which came out pretty tasty.
I'd really like to test out a few different ones and then figure out our own special formula. This was a good start. Do you have any BBQ sauce recipes you recommend?
Click here to check out an easy Vegetarian meal I made with this BBQ sauce.
Click here to check out my full recipe list.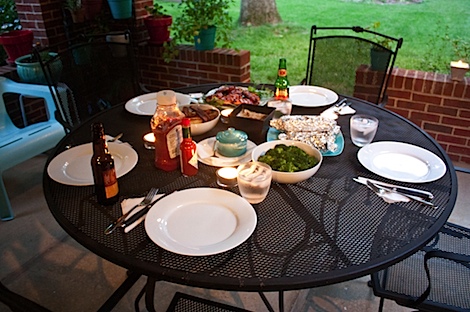 We ended up inviting the neighbors over for dinner. It was awesome having the porch all nice, clean, and ready to go. We just had to add food!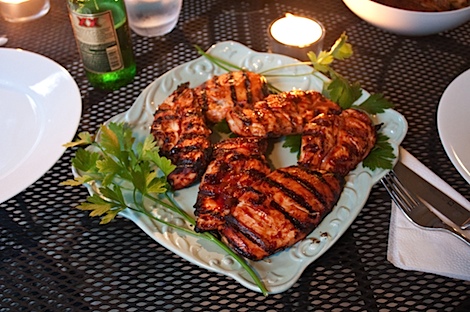 We made grilled BBQ chicken breasts using our homemade BBQ sauce and Earthfare chicken.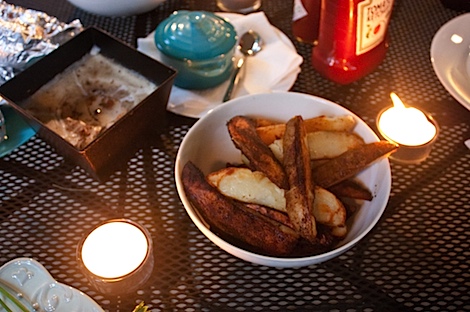 Hubby has come up with his own grilled potato wedge recipe! I'm so proud. Once he perfects it, I'll help him write it and publish it here on TCL so you guys can check it out.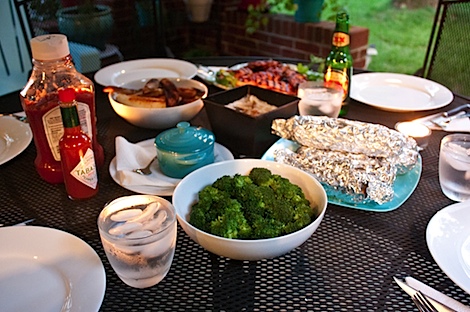 We had quite the feast.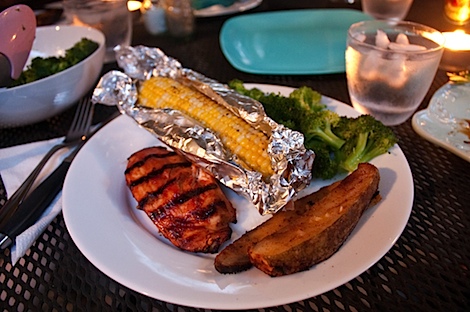 We had the chicken, potato wedges and also corn on the cob and steamed broccoli.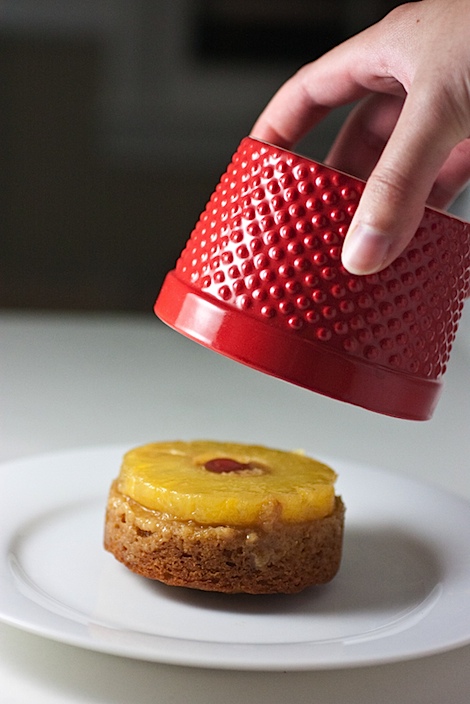 And as for those Cake Minis…we made…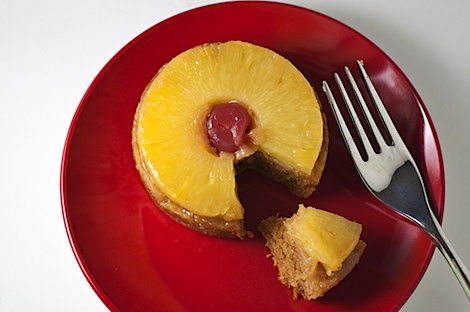 Pineapple Upside Down Cake Minis!! Aren't they cute? The pineapple rings are almost the perfect size for the 3 inch ramekins I use. The recipe will be publishing soon. I think so far the Carrot Cake Minis are my fave flavor, but there are lots of fun ones ahead! 😉
***
Lookie! I'm organizing the blog, too. I'm making TCL easier to use! 😉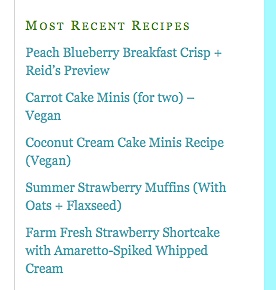 I've added a list of my 5 most recent recipes where you can get the newest TCL recipes. You can find the others on my Recipes page.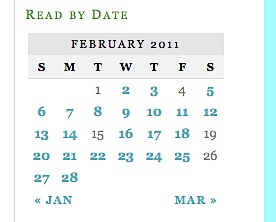 I've also added a archive calendar for searching for old/archived blog posts. It will display whatever the month is for the current post you're viewing (so if you're viewing a post that was published on 2/20/11, it will display February 2011). You can click on a particular day to see a list of posts published on that day.
***
Like this post? Then click here to get free updates!
***
Next time on TCL – another mini organization project (on clothes!) and a preview of the June Challenge.
***
What are your organization strategies? Do you use any particular plans, guides, checklists, etc.?