There's a new food truck in town, and I'm loving it.
The Roots food truck has a great slogan – Good Local Food. And that it is. They feature a small menu with a big list of farms where they source their ingredients. We need more restaurants in town sourcing local ingredients, so I really support what these guys are doing.
(pardon the iPhone photos on this post…I don't always drag my DSLR around with me lol)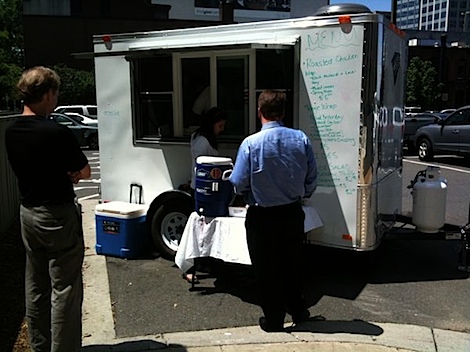 Hubby and I first spied the Roots food truck at the farmer's market this past weekend where I signed up for the newsletter. The menu popped up in my inbox this morning, and I decided to swing by to check things out.
I already had Chana Masala leftovers from last night waiting in the office fridge, but I wanted more veg, so I decided on the vegetable wrap.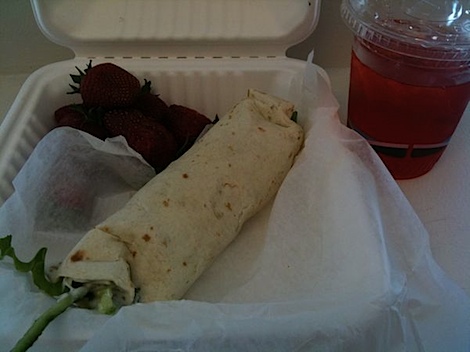 For $5 I got – a wrap "with shaved daikon and red radish, cucumber and creamy herb dressing."
For $2 I got a side of strawberries.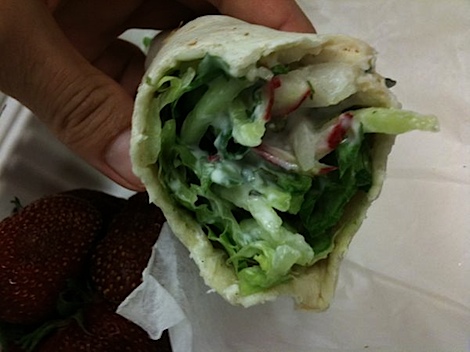 The wrap was really tasty – lots of crunchy, fresh veg. I've often wondered what to do with radish since I rarely eat it and pretty much never buy it at the store, but I really enjoyed it in today's wrap. This hit the spot.
Thanks for being awesome Roots. I'll be back…hopefully with friends. 😉
Click here to check out their web site, view sample menus, and see their locations.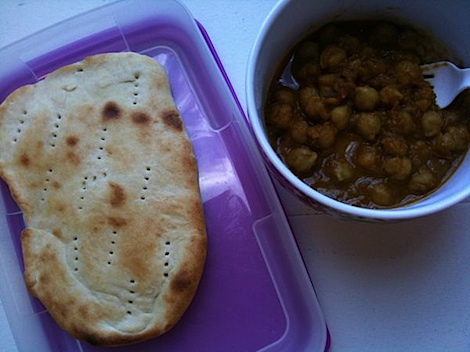 For lunch #2 I had leftover Chana Masala and homemade naan from last night's dinner. It's been a long time since I've been this excited about leftovers. I was actually looking forward to lunch today after dinner last night! I re-heated the naan in the office toaster oven for a better (than microwave cooked) texture. It was almost as good today as it was last night. I loooved it!
Question #1 – What's your favorite food truck and why?
Question #2 – What types of leftovers do you look forward to?