I don't know if it was the ghee that I just purchased on a whim or the fact that I've slowly become a serious Indian-food-lover, but on Tuesday night, I decided that tonight would be the night I tried my hand at cooking Indian food chez moi. I was a late bloomer when it came to Indian food eating, so I guess it's only natural that I'd wait awhile to attempt to recreate one of my favorite dishes at home.
I knew I wanted to make Chana Masala (the famous chick pea dish), but I also tossed around the idea of making another fave of mine – Chicken Tikka Masala. However, at the top of my priority list was making the homemade naan I saw on Cooking Channel awhile back. Ultimately, I decided to not bite off more than I could chew so my first Indian-food-cooking experience would be a pleasant one.
And pleasant it was! I had a major Indian Food Cooking WIN! 🙂
I watched the video for naan before starting. It looked simple enough. And it really was. Mix dry ingredients. Mix wet ingredients. Mix the two together…get your hands a little messy…let the dough rest. Form and roll out.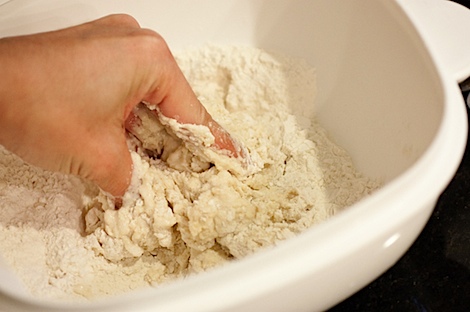 I kicked festivities off by starting on the naan since it needed 1 hour to rise. I figured I could cook the rest of the dinner while the dough rested.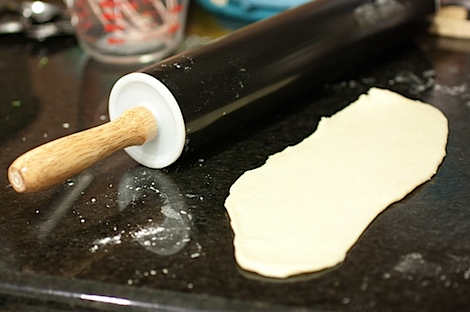 Soon enough, it was time to shape and bake. I love how the shape of naan doesn't have to be perfect.
By the way here's the recipe I used to make the naan. I didn't see any information about baking temperature, so I put my oven on broil and used the bottom third rack. I watched it carefully so as to not let my precious naan burn. I worked too hard to let it burn!
The naan baked quickly and I brushed it with melted butter after removing. I also covered the naan with a kitchen towel to keep it warm.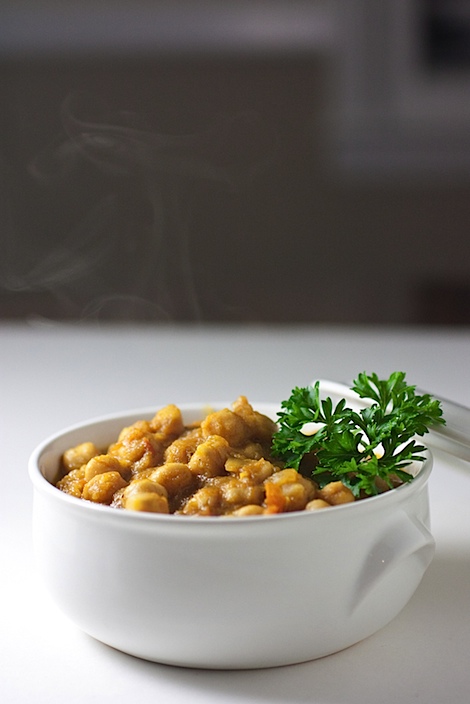 One of my proudest moments of the evening was seeing real Chana Masala in my own pot in my own kitchen.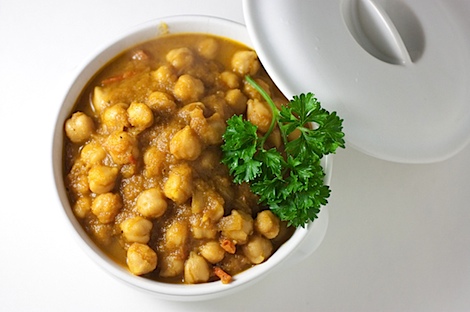 My Indian friend gave me a super easy recipe, and I can't wait to share it with you!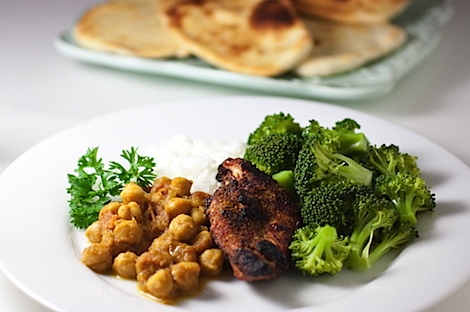 Instead of doing Chicken Tikka Masala, I did something faster and simpler – Indian-Spiced Grilled chicken. I have a recipe for this, too!
I also made some white rice and steamed broccoli to complete the meal.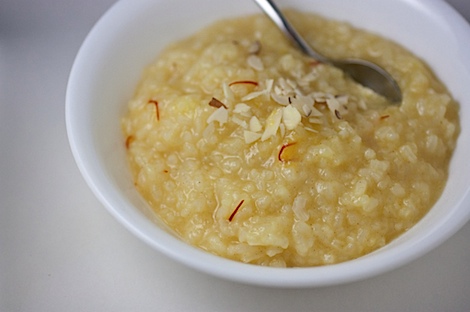 And because my sweet tooth was calling, I whipped up a quick bowl of Indian-Inspired rice pudding with saffron. Nommmmm! I'll share the recipe for this, as well, if any one is interested.
I was so happy with the successful night of cooking. Another plus? Hubby ended up loving the Chana Masala, which totally surprised me. But, I'm happy about that, because it will make for a delicious and affordable vegetarian dinner for us in the near future. Woohoo!
Reader question: What's your favorite Indian dish? Have you ever made it at home?