So the last couple times hubby and I have been to Durham, something has been missing.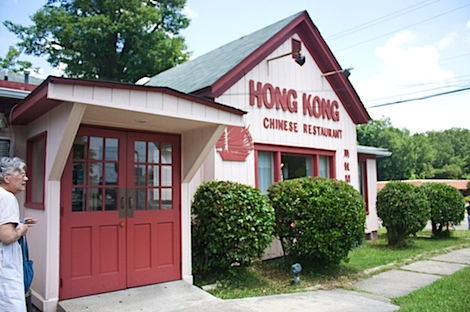 I haven't been getting my occasional dim sum fix! And you guys know how I feel about dim sum. 😉 So, this weekend I managed to talk hubby's family into visiting my Durham-fave – Hong Kong Chinese Restaurant.
Have you guys ever tried dim sum? I'm thinking of writing a pocket-guide or how-to for dim-sum-newbies. It is a bit intimidating if you don't know the ropes. But, I'd be happy to help you navigate your first experience with confidence.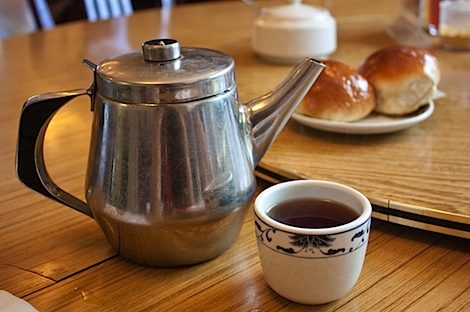 I always get hot tea with my dim sum. But if you can't drink hot tea without sugar, you may want to skip it. Hot tea here is served sans sugar.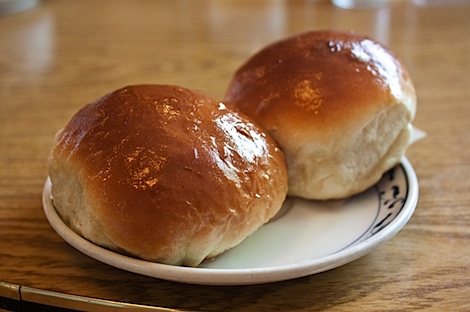 We normally go to the restaurant right at opening, but hubby and his brother were watching the new X-Men at 10:30am. So, we met at the restaurant at 1pm.
Normally, I have to wait for one of my faves – roast pork bun, but today, since we were there later, we got it first!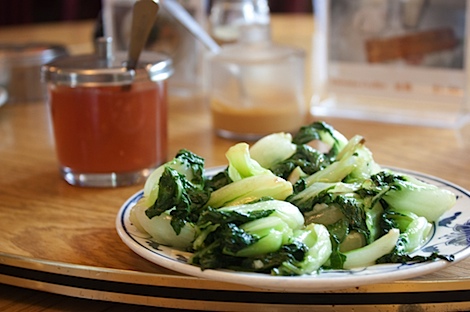 And though I normally get Chinese broccoli, we decided to try something new for our veg – baby bok choy. Aren't they cute?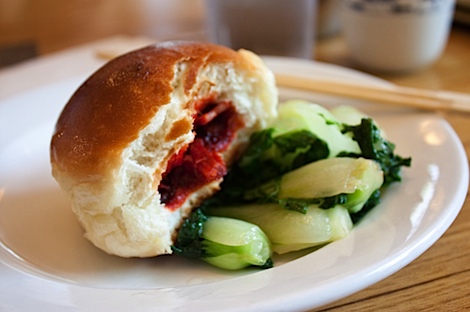 Yes…cute…and tasty!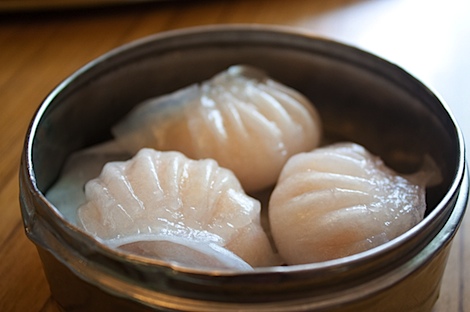 Another fave of mine – har gow (shrimp dumpling).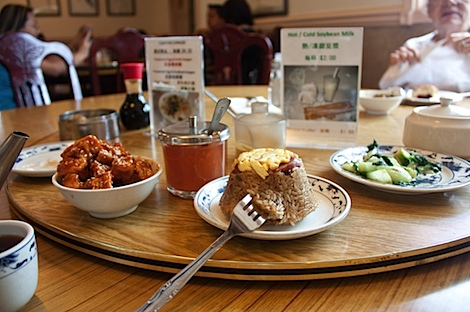 And with a couple more orders, our lazy Susan was really filling up.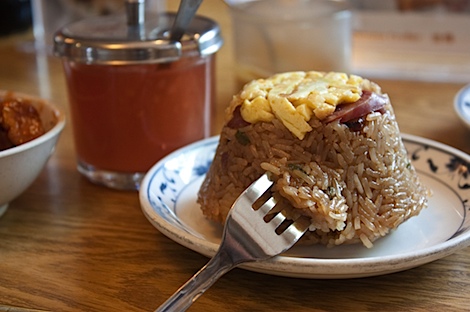 Sticky rice (I usually either get this or the lotus leaf version).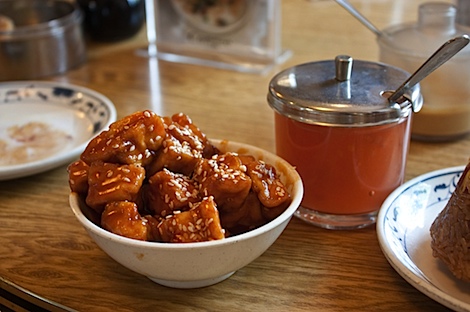 And hubby's brother requested this tofu, which was really tasty (never seen this one before!).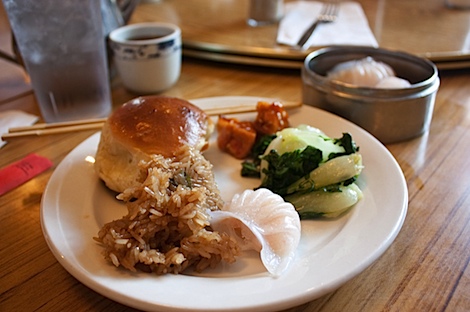 At this point, I was pretty much done. lol But we still ordered a couple more things for hubby and his fam…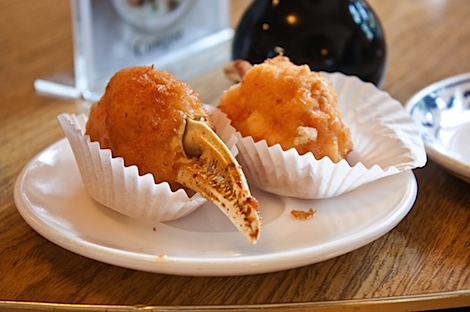 Fried shrimp/crab balls.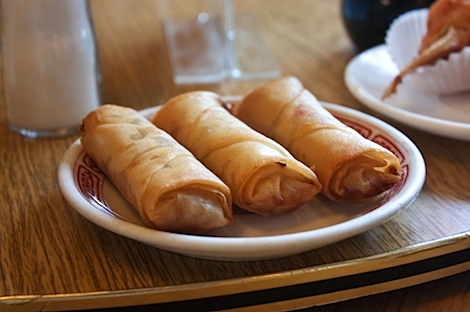 Spring rolls (I never eat these at dim sum since they're so readily available at every.single.Chinese restaurant – why waste the stomach space when you can try something new?), but hubby loves them, so he got them.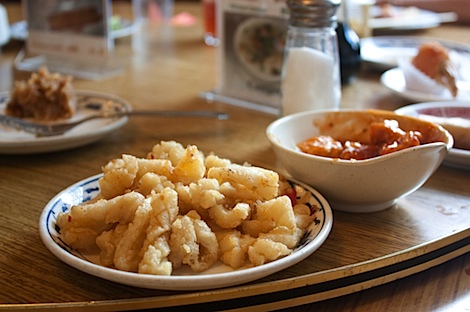 And another hubby fave – calamari. I must admit, they have a wonderful calamari here, though I still only end up eating a couple small bites.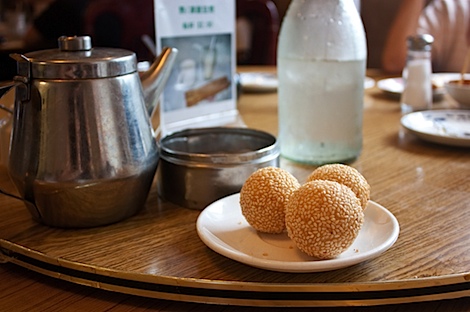 And for dessert, I split these sesame balls for dessert with hubby's mom.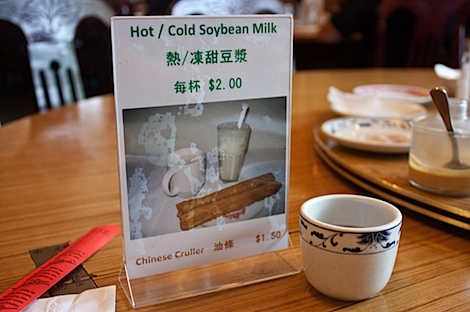 I'm totally eying this for next time – hot/cold soybean milk! I wonder if they make it themselves here? That would be cool!
This little Durham dim sum restaurant is turning into a favorite. The food is always wonderful and the servers are so helpful and nice. 🙂
***
After lunch, I went with hubby's mom to a consignment shop. As we started browsing the goods outside, they stepped out to tell us they weren't open, but they were still working and to let us know if we saw anything. Since there were a couple baskets of plateware, I had to take a look.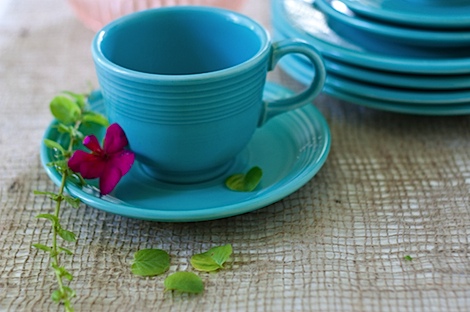 And wouldn't you know my eye was drawn right to a brilliant, TCL-blue plate at the bottom of a heap of (beat-up) glassware.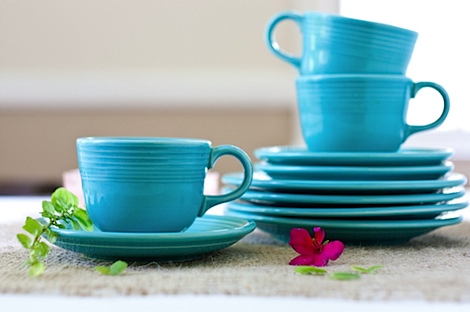 Turns out it was a cup and saucer of vintage fiestaware! And upon inquiry of the price, I found out there were 2 more sets, plus 4 plates! Shibby! 🙂
I also scored a small pink Depression bowl.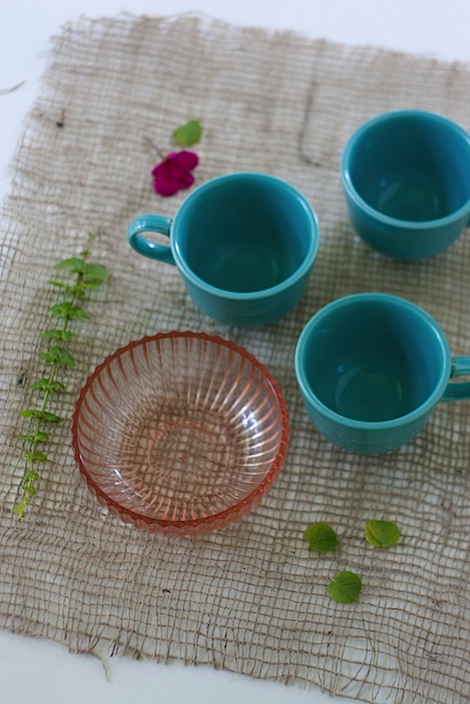 Yes, only I would manage to purchase stuff from a closed consignment shop. lol. Actually, hubby's mom bought the plate-goodies for me. Thanks!
***
Hubby and I came home, packed up and headed home. We had grand plans to grill out, but we got rained out instead by a giant storm with lots of scary lightning. We're planning to raincheck the meal for Monday night. Instead of BBQ, we had pizza.
***
Do you like to shop at thrift/consignment shops? What do you look for there?