When I think "Cookies 'N Cream", I'm taken back to long days of my childhood spent at the local pool. One of my favorite parts of the pool (besides the diving board and being able to touch the deep end) was the snack bar. There I enjoyed all kinds of candies (Sour lemon candies anyone?) and ice creams, but none more beloved than "Cookies 'N Cream."
Naturally, I typically associate milkshakes (made with ice cream) with this chocolate-y flavor.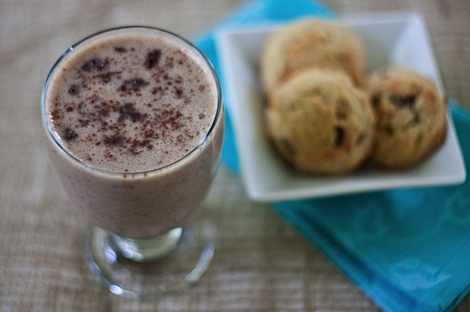 But, the other day, I decided I wanted to try to make a healthy version sans ice cream – a smoothie! So, on Saturday, I set out to concoct just that…but not before hitting up the farmer's market.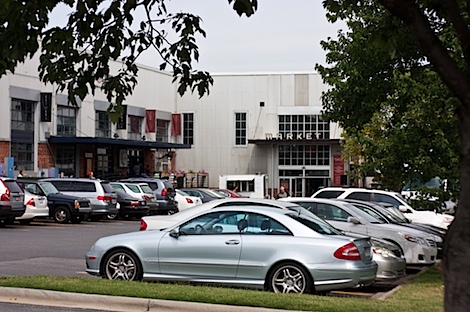 We slept in but still made it to the market while there were tons of produce left.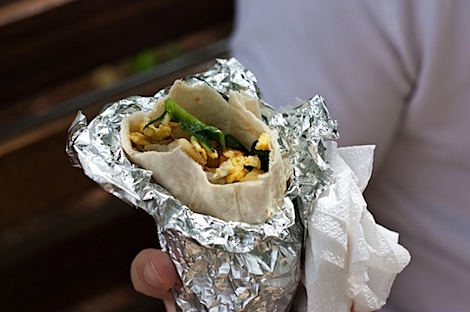 We even managed to get a breakfast burrito at the Roots food truck, which was tasty, as always.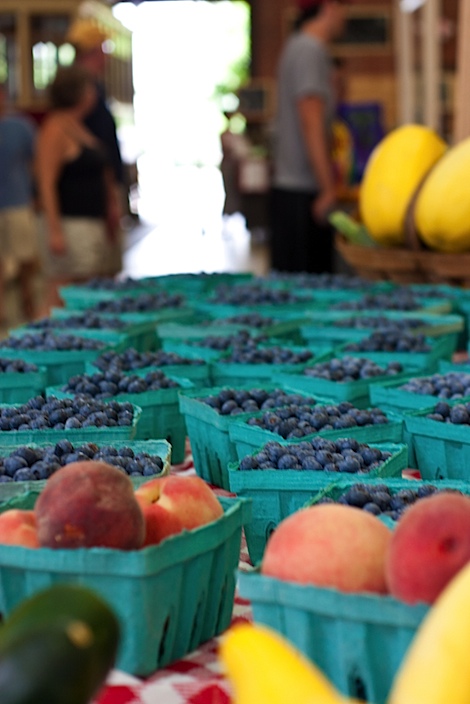 And though I was afraid they'd run out since we were getting there late, we even got blueberries!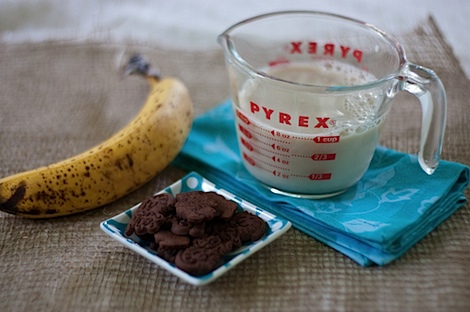 Once back at the Chic house, I gathered ingredients for what I hoped would be a successful recipe: a banana, vanilla soy milk, and chocolate cookies.
I really like the chocolate "cat" cookies at Trader Joe's, which I learned about when I made Mama Pea's Cookies 'N Cream vegan ice cream last year. Thanks Mama Pea! 🙂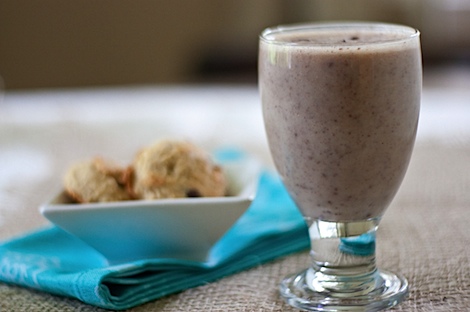 Healthy Cookies 'N Cream Smoothie
This smoothie is made without ice cream, so it's great as breakfast or a healthy afternoon snack. I believe all good smoothies have at least a bit of fruit in them, so I added banana to this one. You can barely taste the banana (thanks to the cookie flavor), but feel free to omit if you would like. Also, if you can't find plain chocolate cookies, you can use chocolate-sandwich cookies (like Oreos, or this healthier version), but you may want to use non-sweetened milk to cut back on the sugar. In fact, you can use regular milk in this recipe if you don't have vanilla non-dairy milk, but you'll want to add a drop of vanilla extract and your sweetener of choice, to taste.
*Vegan if you use vegan cookies*

Serves 1
Ingredients:
1 banana (a frozen banana will give you a thicker consistency, but non-frozen works, too)
1 cup vanilla non-dairy milk, sweetened (or use unsweetened milk, dairy or non-dairy – just also add a drop of vanilla and your sweetener of choice, to taste)
2 cubes ice
1/4 cup chocolate cookies (or sub chocolate/vanilla sandwich cookies and use non-sweetened milk and vanilla extract – see notes)
Directions:
Place banana, milk, and ice in the blender.
Cover and blend until banana/ice is processed and smooth, about 1-2 minutes.
Add cookies to the blender, re-cover, and blend until cookies are chopped finely, about 30-60 seconds. Optional – sprinkle an extra cookie, crushed into crumbs/small pieces, on top before serving.
Enjoy!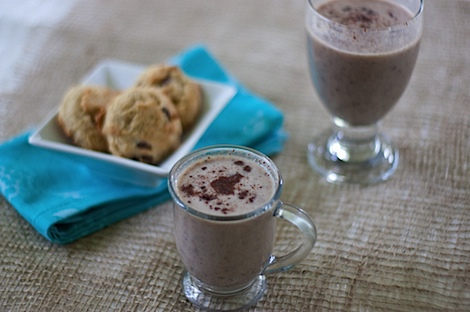 As Borat would say, "Great success!" I only wish this healthier version was available at the pool when I was a kiddo. 😉
What's your favorite way to eat "Cookies 'N Cream"?