Do you ever take the time to un-plug? I mean…do you ever step away from the internet, computer, cell phone, and other modern technologies? I wasn't expecting to stay away from the blog as long as I did (not that it was that long), but since I was on vacation, I decided to just do whatever I felt like doing. And what I felt like doing was enjoy the beautiful nature around, take in the peace and quiet, and do some old-fashioned things like read a book.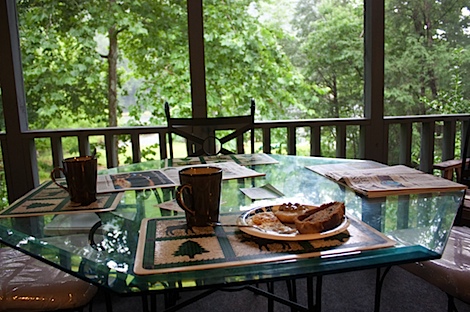 I came well-equipped for some quality reading time with 3 magazines and 3 books.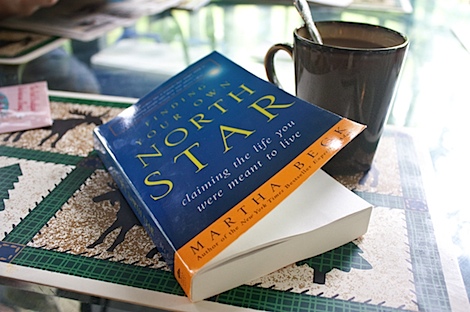 And over breakfast on our first (and only) full day at the lake, I dug into one – Finding Your Own North Star. I found out about this book from The Fitnessista who is always reading fun, inspirational books. This book, by Martha Beck, is about figuring out your path to happiness by finding your own "North Star." Just like explorers use the North Star in the sky to determine which way they're going, by figuring out your "North Star", you can better navigate your way to your ideal life.
Here's a great snippet from the book:
Right in the middle of my life, I realized that I wasn't where I wanted to be. It was like I'd wandered off the right path into a very, very bad neighborhood. I don't even want to remember how scary that space was – makes me feel like I'm gonna die or something. I'm only telling you about it because a lot of good came of it in the long run. So anyway, I don't even know how I ended up so far off course. I felt like I'd been sleepwalking." – Dan, age 41
If you can relate to that paragraph, then you just may get some good use out of this book. As for me, since I'm such an analytical person, I'm constantly evaluating things, my life included. Sometimes I wonder where I'm going. Am I doing what I'm meant to do? Could I be doing more to help more people? I don't have the answers, and I'm not sure I ever will, not all of them at least. But, I think life is more about evaluation and re-evaluation and less about getting every single last life-question answered. I think the process of thinking through deep questions has the power to open your eyes and make you a better person. And this book definitely has me thinking. 🙂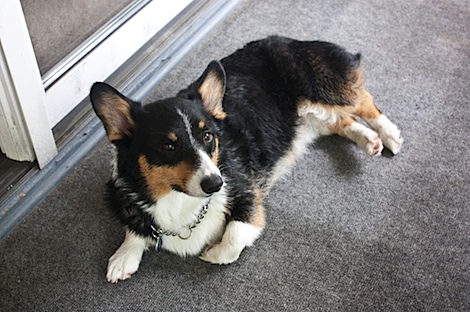 Besides spending a few glorious hours poring through my new book, I also snapped these funny photos of Bailey just after he got out of the lake from his first swim of this trip.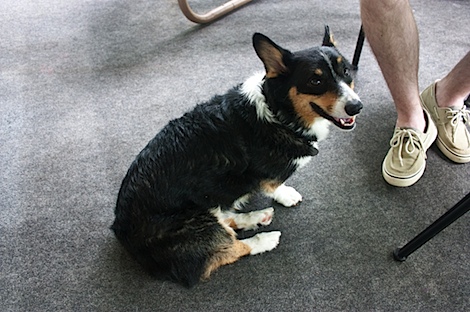 His fur always looks so funny after it gets wet! 😛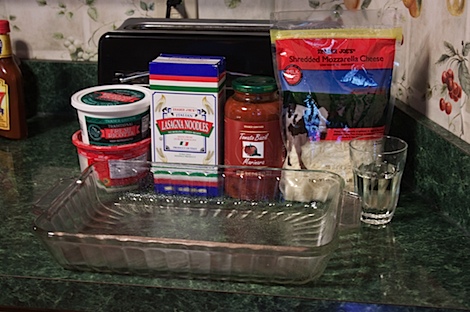 Later in the day, I offered to make one of the family meals of the vacation.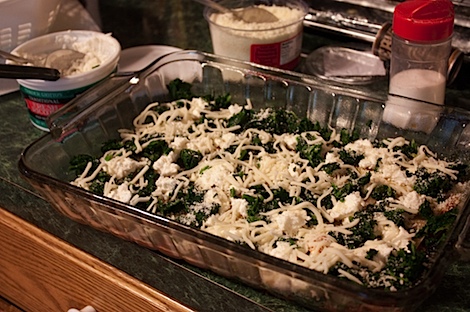 Since hubby's sister's family is mostly vegetarian, we decided on a spinach-ricotta lasagna.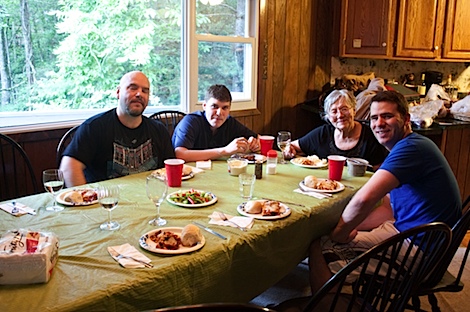 Family dining at the table.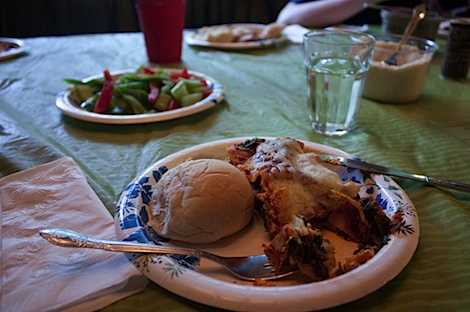 The lasagna was a hit…especially served with with yummy Great Harvest Virginia rolls. Nommm!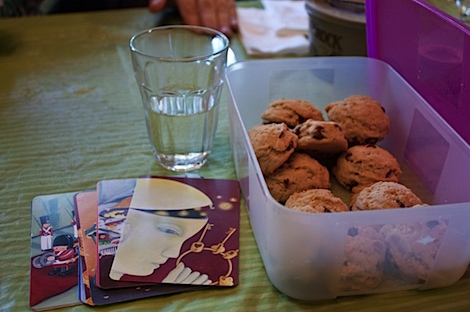 And post dinner, we played a new card game with wine and chocolate chip dough balls.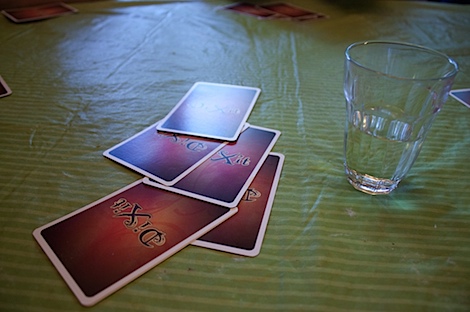 Hubby's sister's fam brought the card game – Dixit. The game is a lot like Apples to Apples, except it's more for the creative/artistic soul since you use art work instead of words. This game is also great for younger kids since it's completely visual – no words required! Fear not adults, the game is fun for grown-ups, too. I had a blast playing it!
Wow, what an "old-fashioned" day! We:
Read books
Ate dinner at the dinner table
Played board games
I had a great day un-plugged from the rest of the world. 😉
***
Next time on TCL, wait till you see the photos of Bailey on his first boat outing!
***
Do you like to un-plug when you go on vacation? What about during regular weeks?