After visiting the Savory Spice Shop and Vin Master (click to view), we headed back to the farmer's market to visit some of the vendors and learn more about what they do.
Tip for newbies: The great thing about the farmer's market is that you're not talking to a sales representative of some large corporation. Oftentimes, you're talking to the creator, grower, or artisan themselves. You can really learn the stories behind the products and ask all the questions you want. That's the best part – the conversations! Don't by shy, talk to these vendors and learn what makes their product so special.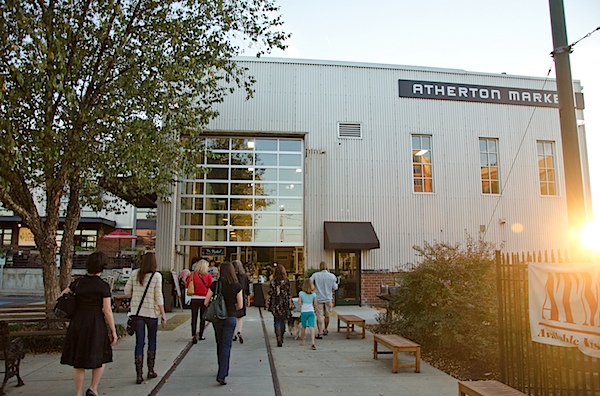 I have my favorite vendors at the market already, but I was looking forward to meeting some of the newer (potential future favorite) vendors.
We first spoke with Microfarm Organic Gardens.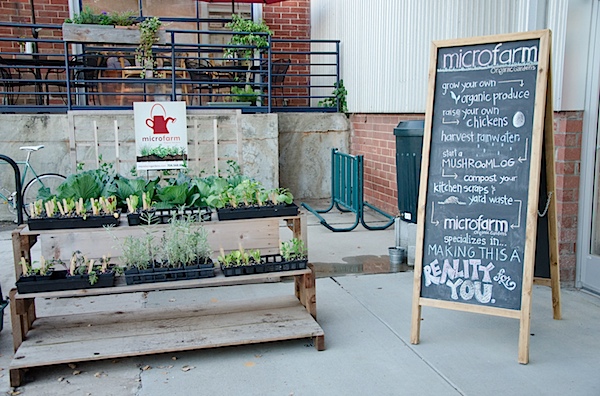 Microfarm will help you with all your gardening needs. They'll help you grow gardens in your back yard or even on your balcony. They can set up a chicken coop for you (hello fresh eggs!) or even help you with a mushroom log. They also assist with composting, greenhouses, and general maintenance.
Personally, I kind of want one of those chicken coops! You think hubby would go for it?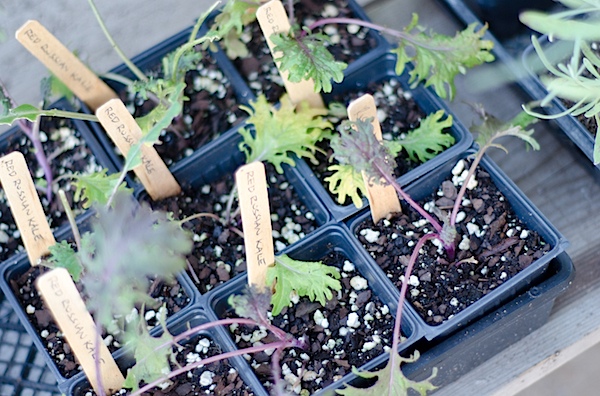 They were kind enough to offer us a couple seedlings, so I snagged two baby kale seedlings. So cute! And delicious.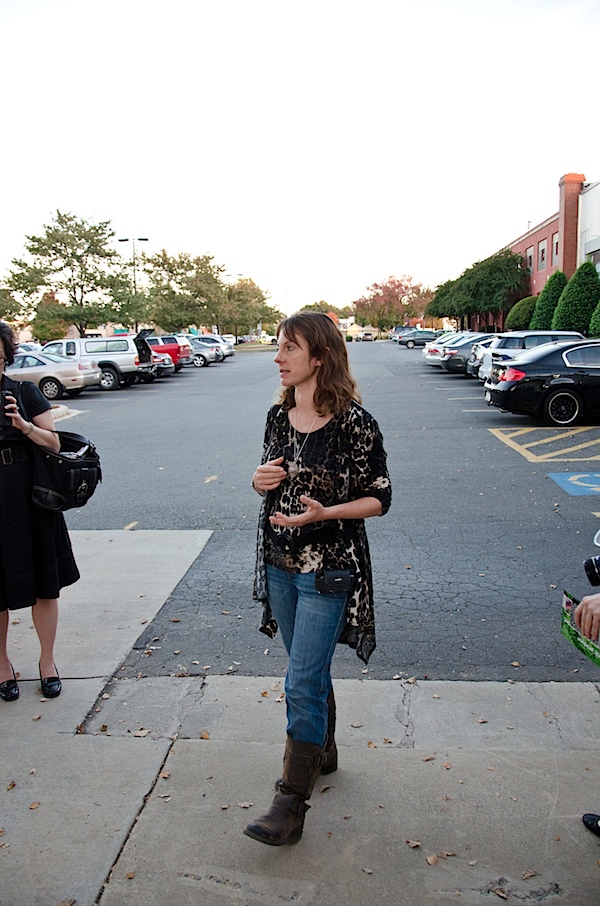 Lynn told us more about the market, as well as, some stories from a recent convention she attended.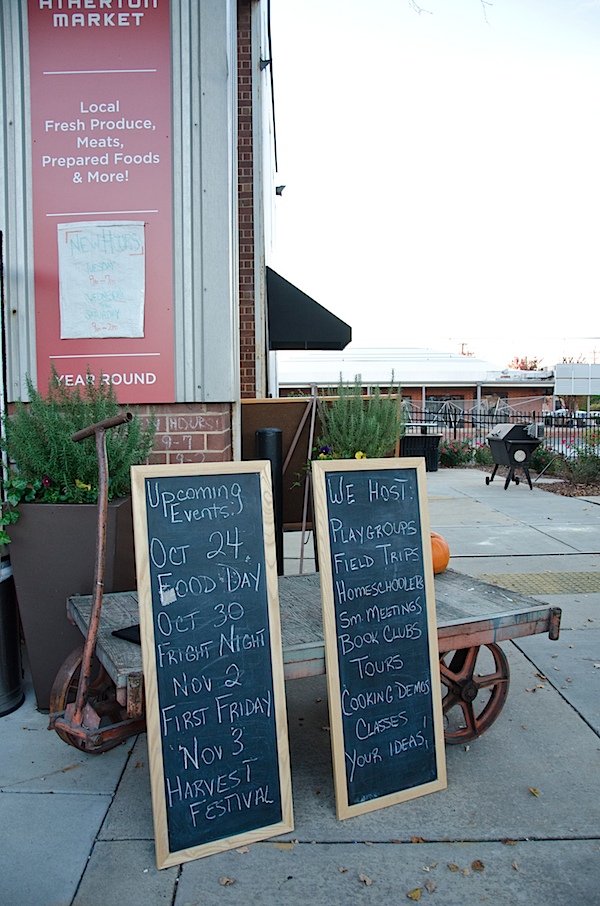 The market has a lot of events coming up, so be sure to check them out on Facebook to stay in the loop. Their web site will be up soon, too.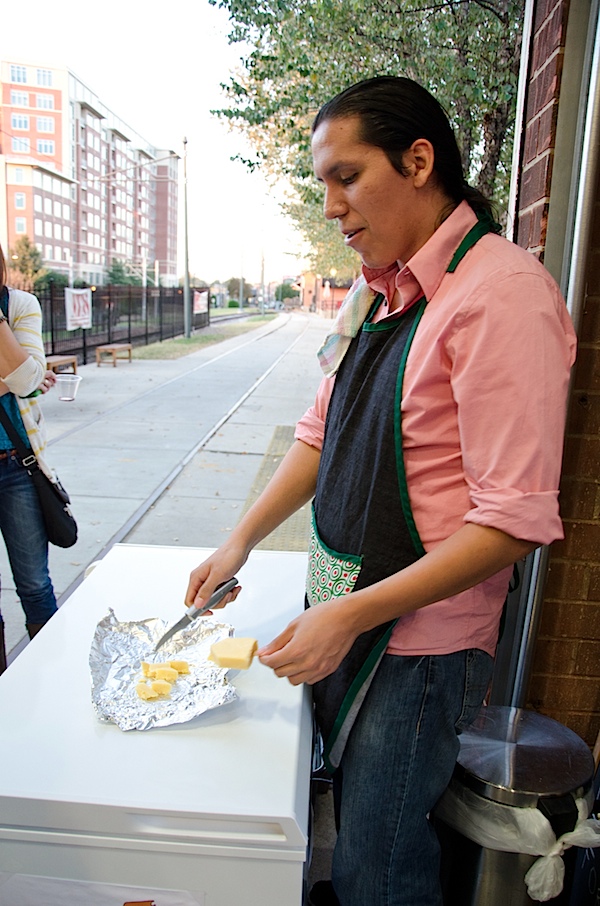 As we headed into the market, we were greeted by Señor Pops. Unlike boring grocery store pops, these are made with fresh ingredients like actual pineapple ginger root. Just check out their Facebook page to see photos of the raw ingredients. You don't have to see the photos to know, though. One bite, and you can tell that these pops are made with real deal ingredients. The passion fruit and coconut are my favorites, that I've sampled so far. I really want to try Greek yogurt and avocado next! The last time I had an avocado popsicle, my family made it for Thanksgiving last year!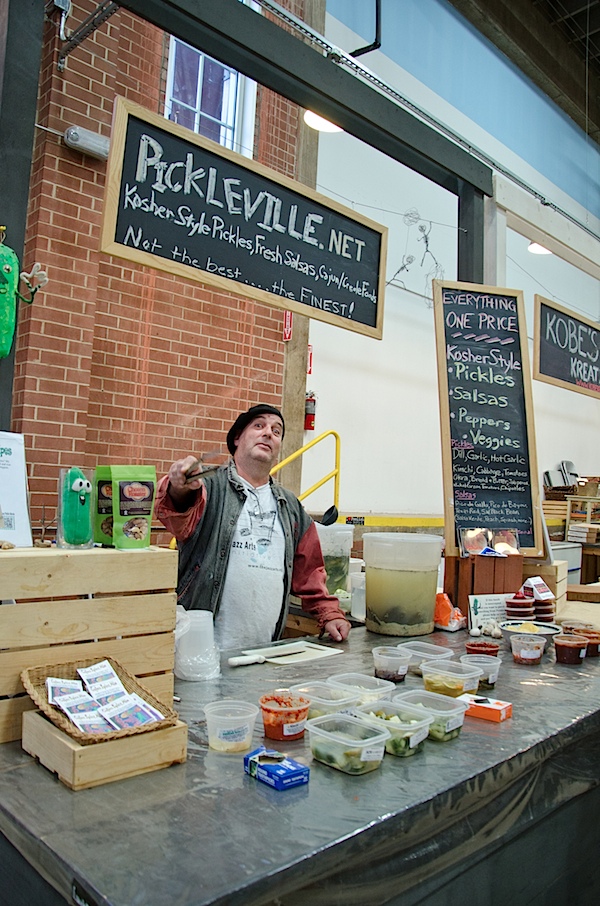 Next up, we visited the pickle man of Pickleville.net. I've enjoyed these pickles since he was back at the tail gate market back in the day, and I'm glad to see he's still an integral part of the market. He makes various flavors of traditional (cucumber) pickles, but he also pickles other things. And, he makes delicious salsas! My favorite flavor is the garlic.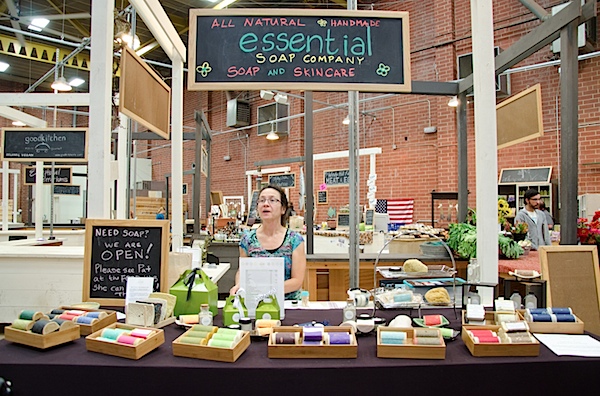 Here we have the Essential Soap Company, which features all natural, handmade soap and skincare. For years, I loyally used liquid gel soaps on those colorful plastic squishy things, but I've recently switched to more natural bar soaps (I've been meaning to do a post or video on this). Anywho, I need to try out one of these soaps because they smell lovely!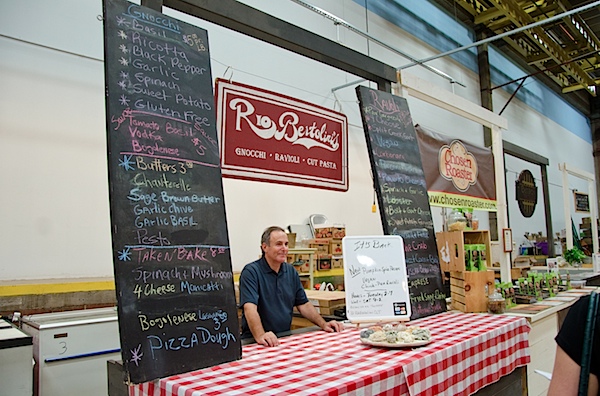 Rio Bertolini offers fresh pasta in North and South Carolina, and we're lucky enough to have them available at this market. They offer a wide variety of fresh pastas – from squid ink pasta to gnocchi. They even have prepared "take n bake" dishes available for only $8, as well as, pizza dough!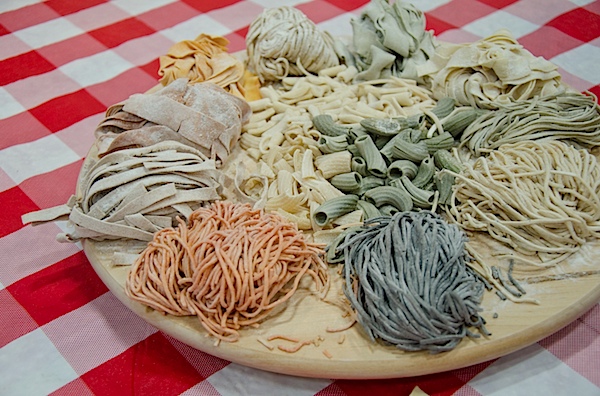 Rio Bertolini offered us a ball of fresh pasta on the house, so I got one of the saffron pastas for later! Woohoo!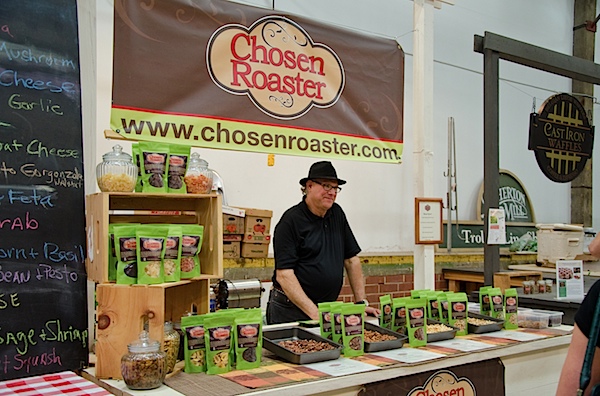 Chosen Roasters features premium roasted nuts.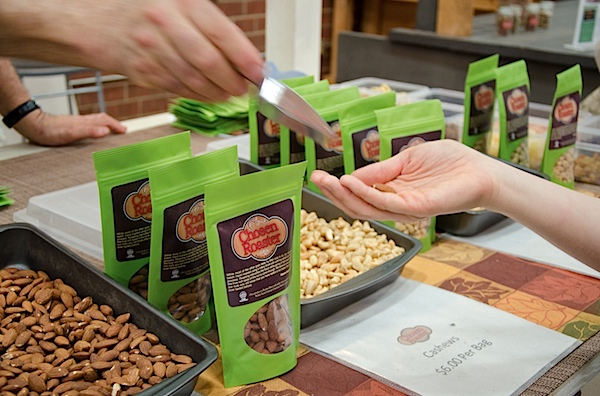 From their web site:
The peanuts are super, extra large, and the cashews are jumbo size. Our nuts are roasted in a unique fashion. We use their own essential oils and roast them slightly darker than what you have seen in the past. This provides a taste unlike anything you have experienced before. We can produce them with, or without, salt.
They recently added a make-your-own-trail-mix bar, which features a variety of roasted nuts and dried fruit. Hit them up if you need a quick & healthy snack for later.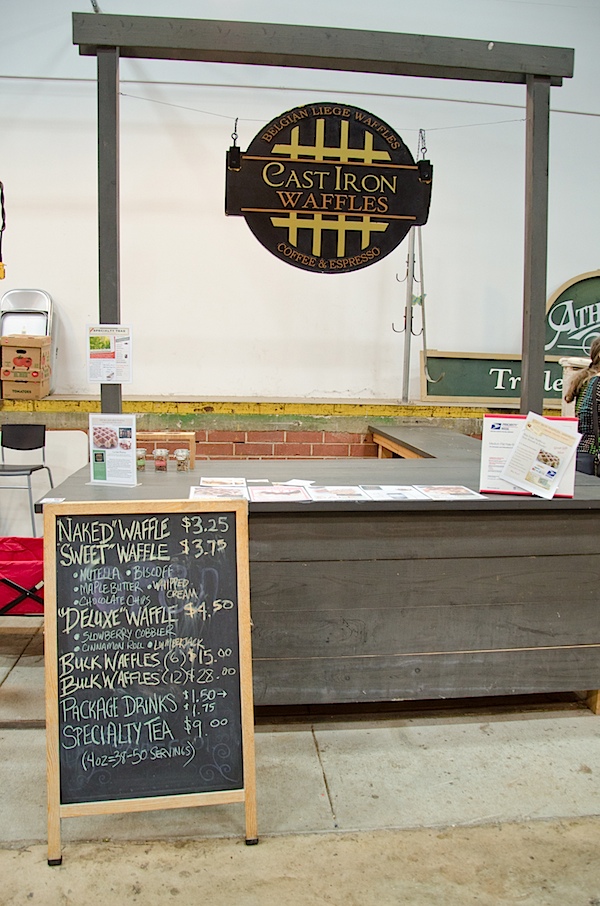 The Cast Iron Waffles guys weren't there, but their sign intrigued me! Must. get. waffles. soon! The nutella one has my name all over it!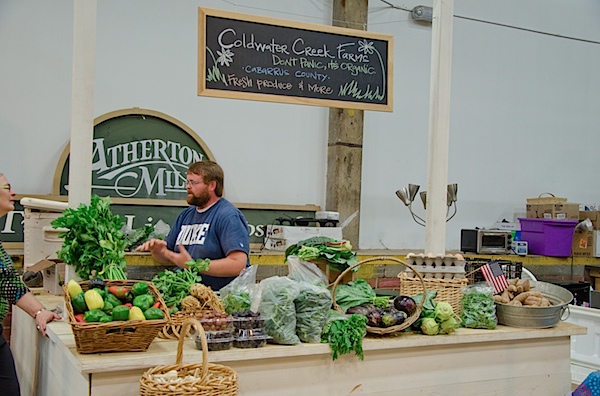 And here we have my favorite vegetable vendor, Coldwater Creek Farms. Their slogan – Don't panic, it's organic!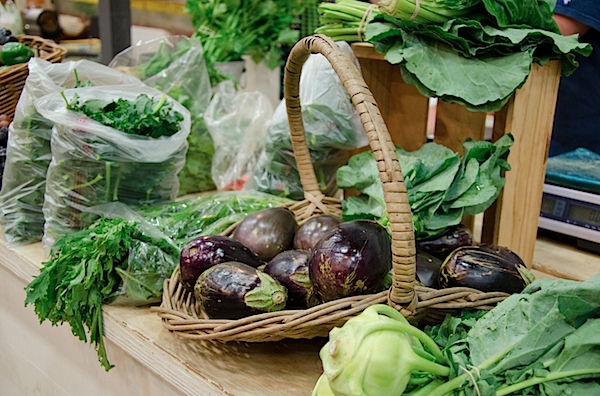 This farm features a wide variety of organic and oftentimes heirloom fruits and vegetables. I've found some pretty cool stuff here, plus most of the usual suspects.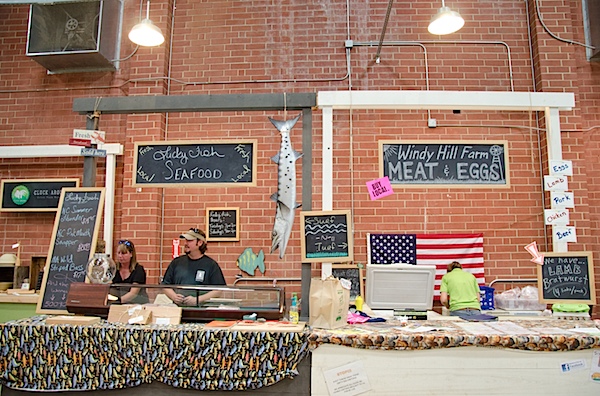 And here's the Surf N Turf area!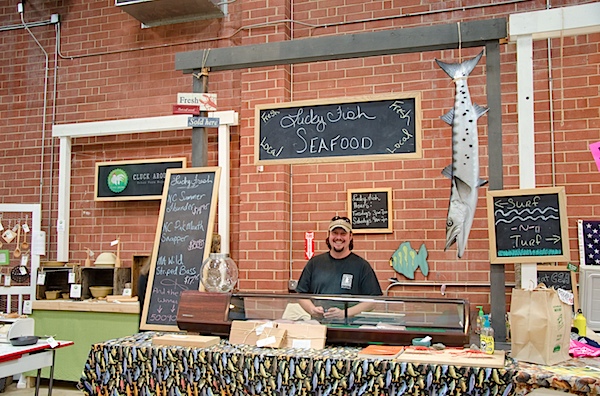 For surf, we have Lucky Fish Seafood, which features fresh & local seafood. They sell out fast, so if you want seafood, get to the market early! Even though we aren't big seafood eaters, hubby and I have gotten a few things from these guys and have always been happy.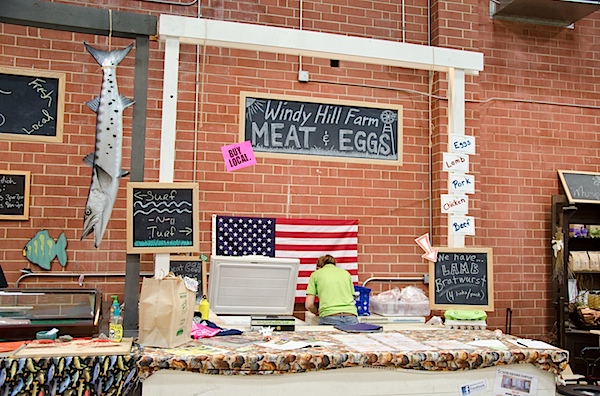 For turf, we have Windy Hill Farm Meat & Eggs, which offers a variety of local products – from eggs to lamb and chicken to beef. And according to their sign they have Lamb Bratwurst! I'm not a big sausage person, but I've never really heard of that before, so it sounds like a cool and unique offering!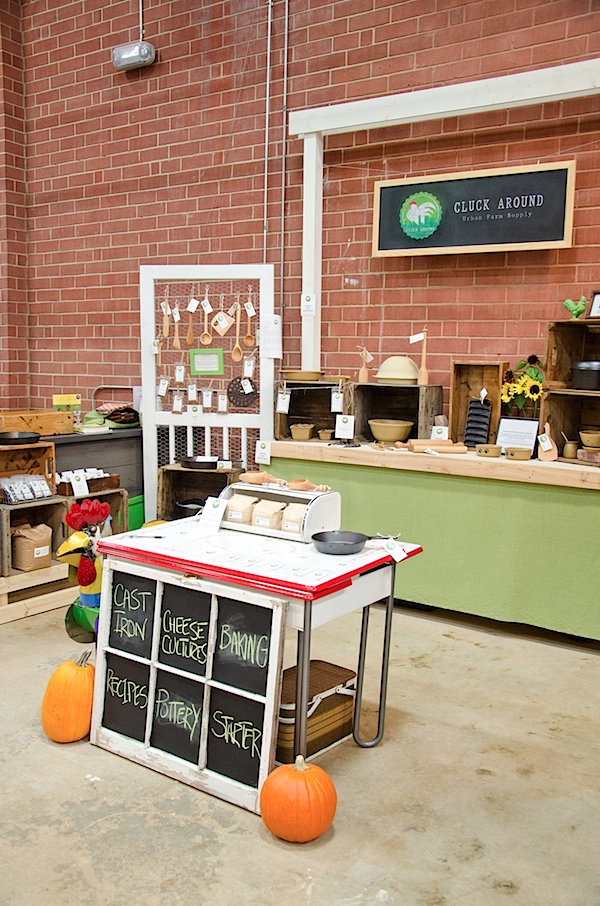 Cluck Around Urban Farm Supply was one of the newest vendors for me, but I really liked their style. Talk about getting back to basics!
From their Facebook:
Sustainable supplies for crafting food in the city. We dig chickens, cast iron, cheese-making, preservation, brewing, baking & fermentation.
Yes, please!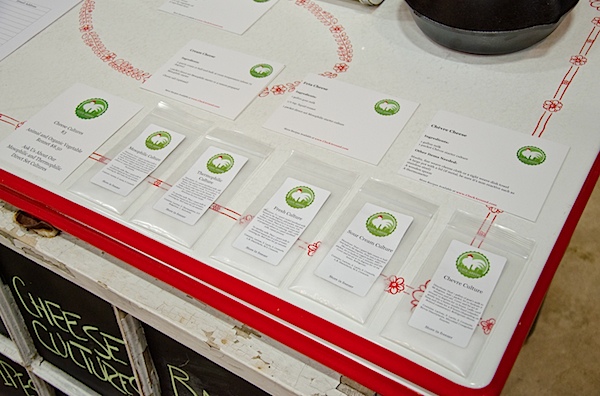 I loved seeing all their cultures for things like yogurt and cheese! I've always wanted to try making my own yogurt. But, I would also like some of their beautiful wooden spoons or even a cast iron skillet. We have a large one, but they had a cute medium sized one available!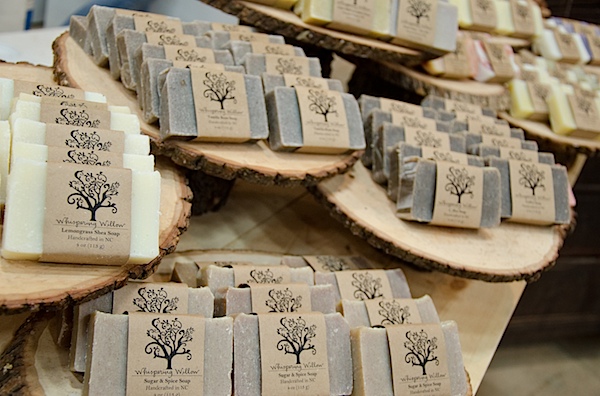 Whispering Willow was another one of the newer-to-me vendors, but I found their booth full of lots of fun things. The handmade soaps were fun to smell, but I was most interested in their handmade and natural house cleaning products.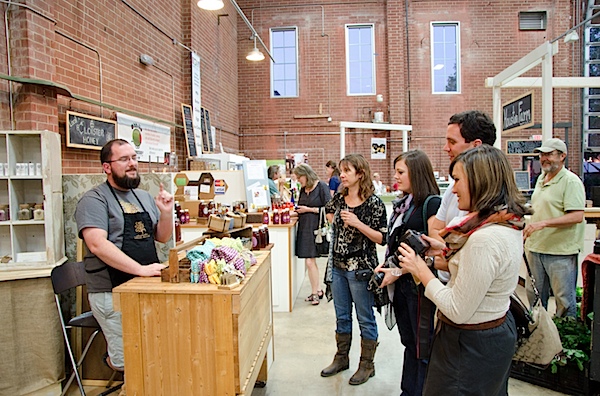 From their web site:
"Whispering Willow is a purveyor of natural, handcrafted soap, lip balm, laundry detergent, and related products. We use only organic oils in our products, we use minimal and recycled packaging, and we commit 10% of our profits to charity.

All of this means you can enjoy our products with peace of mind, knowing that not only are they great for you, but they are also helping to create a cleaner and healthier world for everyone."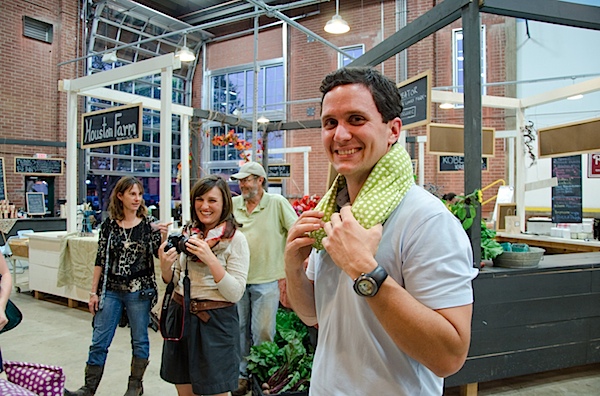 Here's John modeling the lavender neck warmer.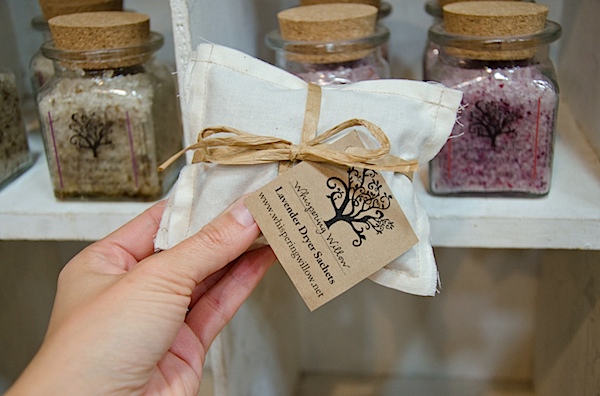 And here's what I really want to get – Lavender Dyer Sachets. This two pack sells for $6, contains two sachets, which will work for approximately 30 loads of laundry total to make your clothes smell lavender fresh. The best part, when you're done with them, you can add a couple drops of lavender oil to them and put them in a clothes drawer. Or you can even throw the whole thing (yes, the bag, too) in your compost.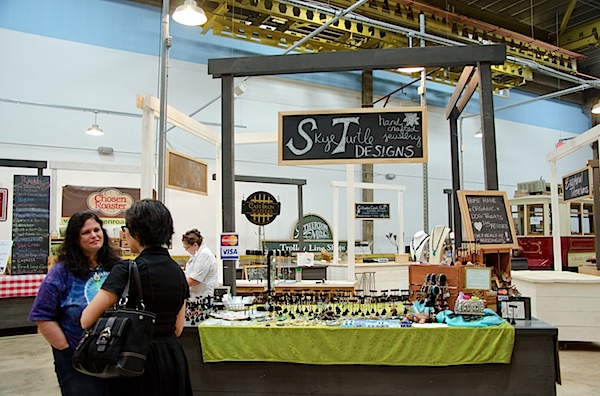 Skye Turtle Designs features beautiful, handmade jewelry. It may be a good time to check them out seeing as how the holidays are right around the corner. *hint-hint*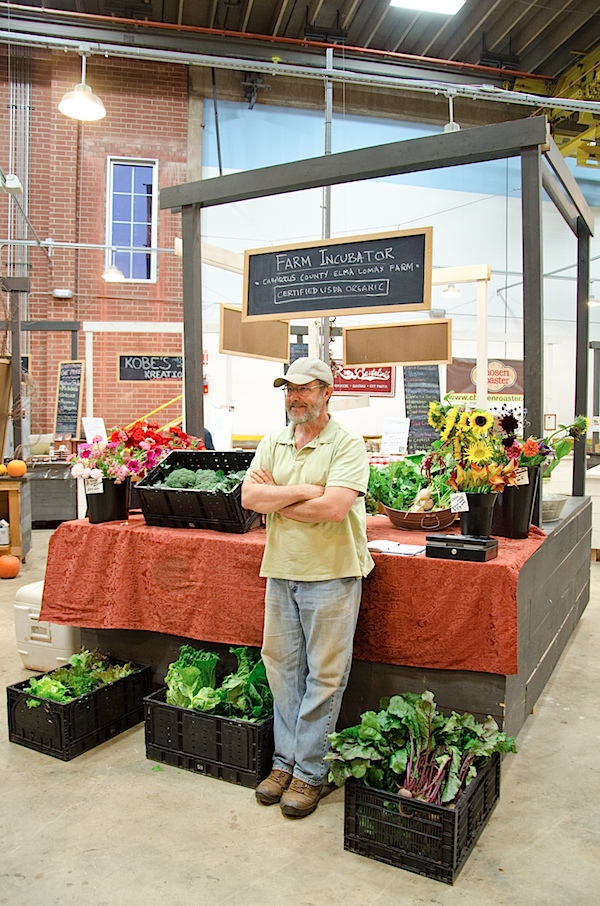 And here we have Farm Incubator. I have to be honest, I didn't get a chance to speak with this vendor, but they clearly feature USDA certified organic product, which is right up my alley. I wanted to make sure I at least took photos of the vendors who made it a point to be there Tuesday night, even if I didn't get to speak with them as in depth as I would like. have plans to return and get to know this booth better, as well as, some of the others.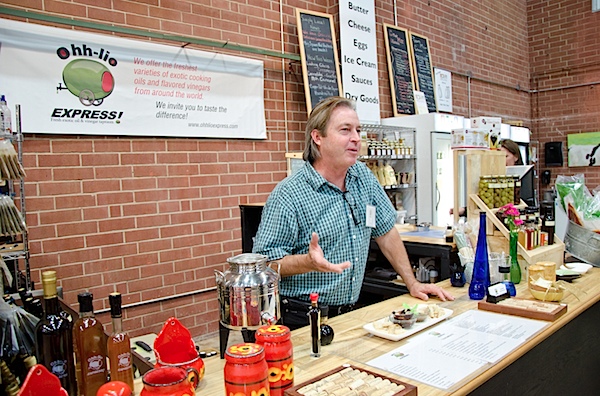 Ohh-lio Express features a nice selection of olive oils and vinegars. This guys is pretty cool (and different) because he actually travels to Italy to locate the vendors he wants to source his product from, trying to utilize the smaller businesses whenever possible. Talk about quality control, eh?
We have been enjoying one of his balsamic vinegars over our salads for a clean eats salad dressing. Yum!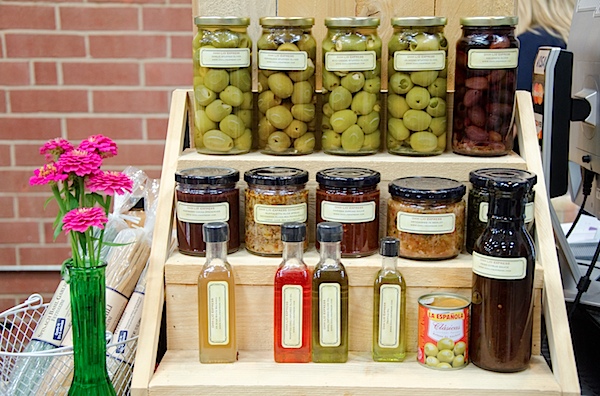 Ohh-lio also offers cool sampler boxes should you need a gift idea for your favorite foodie in your life. You can get 4 mini bottles in a boxed gift set for the holidays.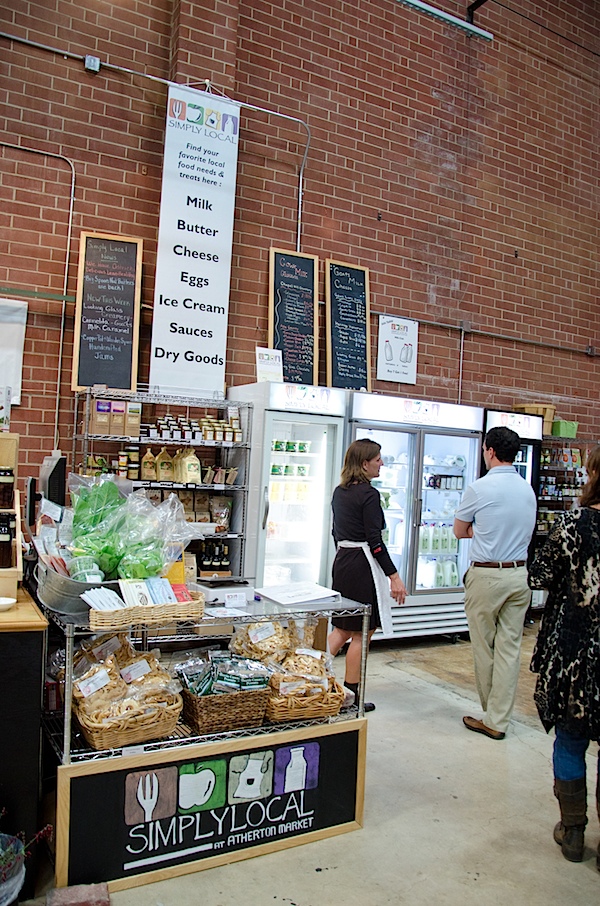 Simply Local features a collection of local products.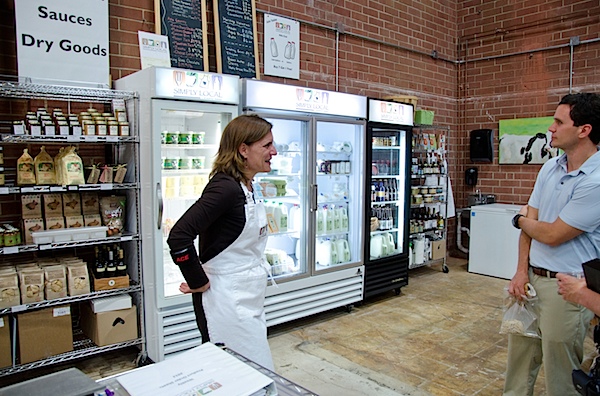 I hear the milks (Homeland Creamery!) are especially popular. From bulk rice to almond butter to milk to wine. There are a slew of products available for your local-loving self.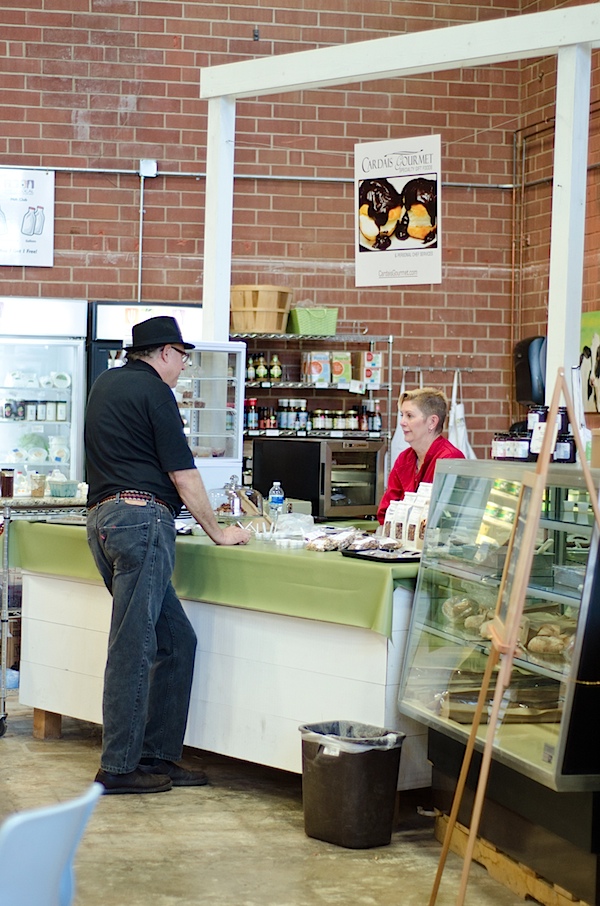 Cardais Gourmet probably has a sweet for you. From granola to cupcakes to cinnamon rolls, there are lots of goodies to choose from at this booth. And many of the treats available are gluten free!
From their web site:
"My specialty foods include homemade granolas, baked goods, chutneys, and many other delectables, all of which can be ordered online or by phone. Whether it's a gift for yourself or someone else, everything is made with the freshest ingredients – no preservatives or additives here. Don't see what you want in my Specialty Food section? No problem. Just give me a call, and we can customize an order to your tastes."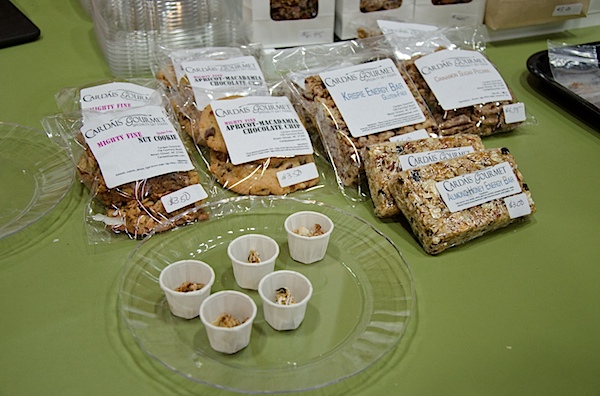 I sampled quite a few of the goodies, and they were all delish. I especially liked the Almond Honey Energy Bar, which reminded me a bit of the granola bars I like to make (without all the elbow grease!). Hello delicious convenience!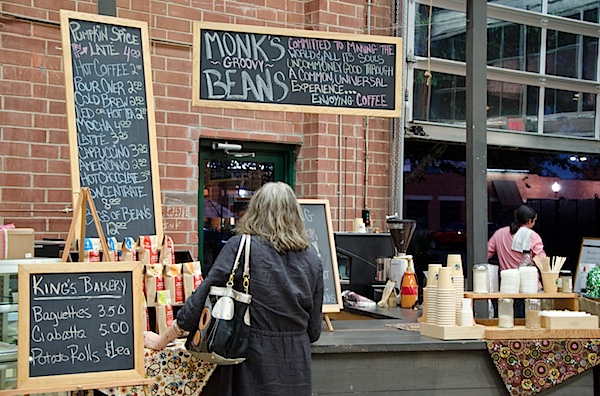 And last but not least, we have the Monk's Groovy Beans. We've purchased their coffee a couple times in the past and really enjoyed it. But, they have recently added additional coffee offerings featuring an espresso machine! I hear the barista even learned how to make coffee in Washington (state, not DC), so she knows her coffee! I'm really excited to come back to the market for a waffle and a latte!
***
Phew! And now that I'm done with this post, I'm thinking I could have split it into 3 posts!
Anywho, you can click here to view the first post of this feature on Atherton Mill & Market, featuring Savory Spice Shop and Vin Master.
Be sure to check out The Chic Life on Facebook for more great content.
I hope this post has inspired you to check out Atherton Mills. Or, if you don't live in Charlotte, I hope you'll consider visiting your local farmer's market. These are great places to support your local small business owners and get some of the freshest fruits and vegetables and neatest products, snacks, and treats.
Thanks for reading!
Reader question: What item on this post would you most like to have (or eat!)?