Hello everyone! I hope you're having (or have had) a great Halloween this year.
I must take a moment to send out some thoughts on Hurricane Sandy. I've been watching the news and looking at the related photos over and over again, and it's mind-boggling how devastating this storm has been for some parts of the country. My heart goes out to all of you struggling post-Sandy. From those of you who lost power to those of you dealing with flooding or home damage. I hope you all stay safe and strong, and I wish you a speedy recovery.
If you would like to help those recovering from Sandy, TIME wrote a great article with lots of ways you can give and volunteer. Click here to view the article Sandy's Aftermath: How to Help
Please note: This post contains affiliate links. If you make a purchase from one of these links, I may make a small commission at no extra charge to you. Please feel free to reach out if you have any questions. 
Three Halloween Costumes You Can Wear to Work Out
Since it is Halloween, I thought I'd share some of my holiday experience from the week. When I was kid, Halloween was all about the candy. When I was in college, it was all about the party. And now, it's all about…Zumba. I guess it's sort of unexpected, but it works. My dance fitness company decided to celebrate Halloween for a couple days leading up to Halloween, and not just on the holiday, itself. Thusly, I ended up attending two Halloween-themed Zumba classes and hosting one. This required multiple outfits (or the time to do laundry every night, which was unlikely), which was okay for this Halloween-lover.
Here are the three outfits I wore to class. I centered them all on things I could work out in, so they're all exercise-friendly Halloween costumes. Lululemon wunder unders were a staple for me. Not only are they great to work out in, they're easier to work into costumes than Zumba cargo pants. Of course, you can wear any work out leggings.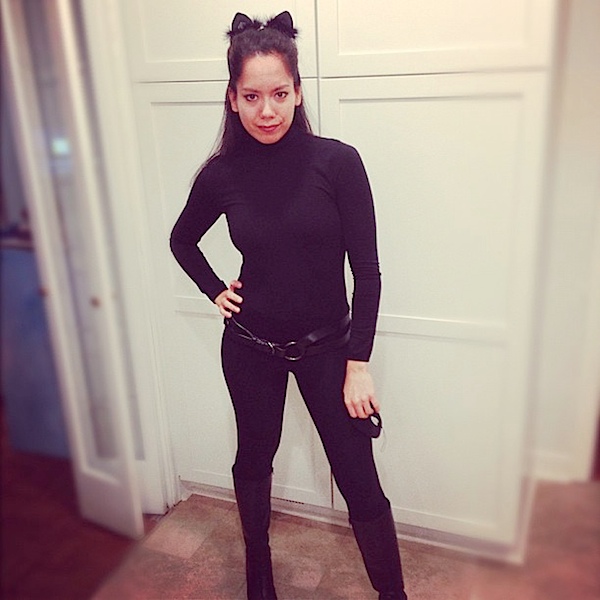 Exercise-Friendly Costume #1 – I went as Catwoman à la Anne Hathaway
Everyone thought I was wearing a one-piece body suit, but it was black wunder unders with an old black turtleneck I got from a Victoria's Secret catalog back in college (yeaaa, I used to rock it at the bars back in the day). I added a black leather belt I already had (Vince). And I got some cheap accessories at Party City. The mask was $1.99 and the ears were clip-ins and only $3.99. I wore some black dress boots for the class intro and then changed into black tennis shoes to dance. So, basically, I wore stuff I already had and only had to get about $6 worth of extras. Not too shabby.
Shop This Look (Similar Items):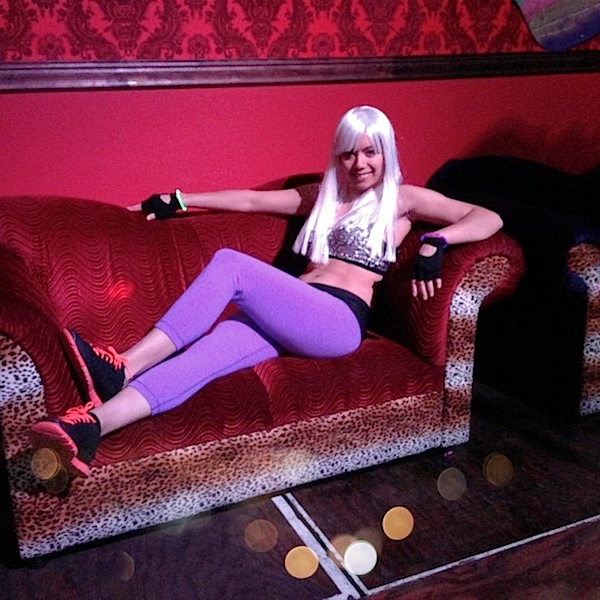 Exercise-Friendly Costume #2 – Lady Gaga
I bought this wig for my friend's birthday party earlier this year, and since then, I've tried to wear it as much as possible…basically, any chance I get. I mean, it wasn't cheap! Anywho, this outfit was a combination of my Lady Gaga concert outfit, regular Zumba clothes, and the wig. I wore purple wunder unders, American Apparel shorts, a Zumba sports bra, and a sparkly-sequin bra on top. The sequin-bra is fun, but I wear it over the sports bra for back-up and support. Can you believe I already had all of this crazy stuff? Cost = $0. Oh, and in case you're wondering, I've now worn the wig 3 times!
Shop This Look (Similar Items):
Rhinestone Bustier Top (different looking than the above photo, but it def has Lady Gaga vibes – I couldn't find any silver sparkle bras on Amazon over 4 stars, so I'm sharing this as an alternative option)
White Wig on Amazon (other color options available)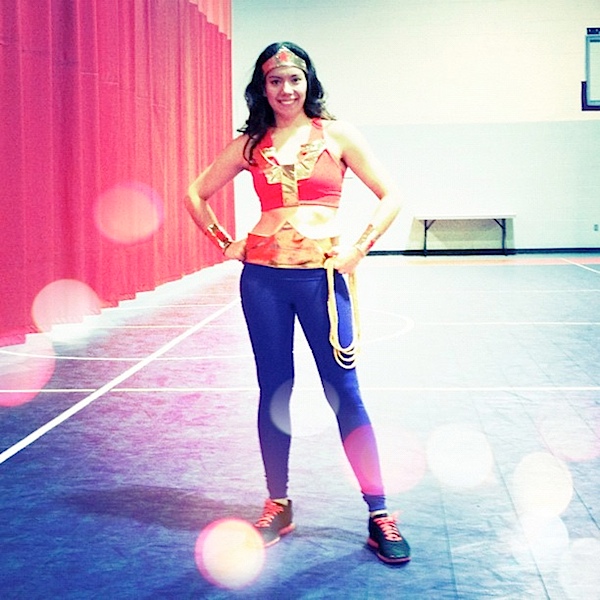 Exercise-Friendly Costume #3 was my class! I went as Wonder Woman!
This Wonder Woman outfit took by far the most effort. I actually made the gold accessories for this outfit, which I'm planning to blog about separately. But basically, I wore blue wunder unders, a red Margaritawear sports bra, black tennis shoes, plus all the gold, handmade accessories. Click here for more photos of my DIY Wonder Woman costume.
Shop This Look (Similar Items) – in case you don't feel like making your own costume:
More Fitness Fun
Click here to check out my Zumba page
Click here for my thoughts on "Sweating Happy"
Please Share
Did you like this post? Please consider clicking the Facebook-Like button or check out The Chic Life on Facebook by clicking here. You can also find TCL on twitter here.
You can also click on one of the social sharing buttons below to share this post with your friends and workout buddies.
Thanks for reading!
***
Reader question: What was your Halloween costume this year?