I love doing themed Zumba classes, and for two years, I've waited for one of my favorite holidays to fall on my class date. This year, Halloween was the same day as my class. Finally! I knew I had to come up with a good costume, and I wanted it to have a positive message for my participants. I decided to pick something that was a symbol of strength and empowerment…with a playful feel, of course. It was for a Zumba class after all. My decision was pretty easy. I was going to be a super hero. But, which one? That decision was actually pretty easy, too. Did you know that Wonder Woman's real name is Diana? Yup. Decision made.
Of course, there was still the task of figuring out the costume. I considered getting a pre-made costume at Party City, but they didn't look very exercise-friendly, and they seemed pretty pricey for a one-time wear. After some googling, I found this cool chick who makes race-friendly super hero costumes. Click here to view her Wonder Woman version. Pretty bada$$, right? And expensive. Not to mention that I didn't start searching for costume ideas till October, and she needed a few weeks notice since she makes the costumes by hand.
My next thought was to base the costume around things that were already exercise-friendly. I originally wanted to do the old-school Wonder Woman costume (blue shorts with stars on them, red boots), but my searches for blue shorts weren't turning up many good options, and I wasn't looking forward to sewing dozens of white stars onto a pair of shorts. So, I decided to turn to the newer Wonder Woman style (blue leggings, blue boots). I wondered if lululemon had blue wunder unders out since I already love teaching in them. Turns out, they did! If I was going to spend money on a costume, it may as well be something I could wear all year long. It seemed like a better investment.
As for the top, most of the photos I saw (I did a google image search on "Wonder Woman") featured a strapless, red top. That wasn't going to work for class, so I decided to just go with a red tank top. I considered making a racerback top (scary!) or sewing gold onto a red tank top (which I didn't have). But when I remembered I had a red sports bra, I decided to keep things simple and just wear that.
So, I had the basic colors down, but the key to the outfit seemed to be all the gold accessories. I found a lady on etsy who sells a set of gold Wonder Woman accessories made out of fabric. Unfortunately, she was all booked for October. So, what was a girl to do but try to make them herself? And that's exactly what I did. I remember standing in the fabric store with an arm full of fabric wondering if I'd be able to make anything usable or if it would be a huge train wreck. I was full of nerves but hopeful that I could pull it off.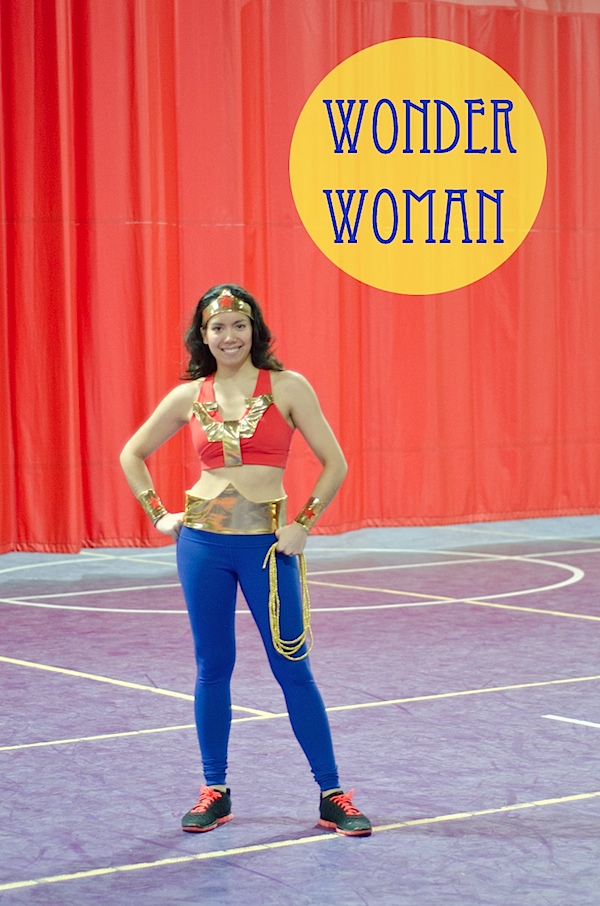 Thank goodness it worked out! Here's the finished result.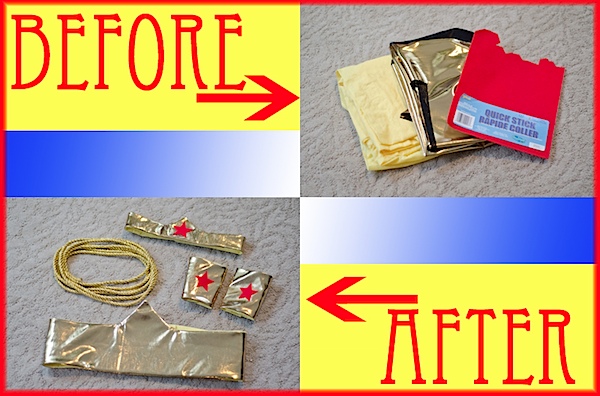 Somehow, I managed to turn a pile of fabric and felt into cool Wonder Woman accessories. Phew!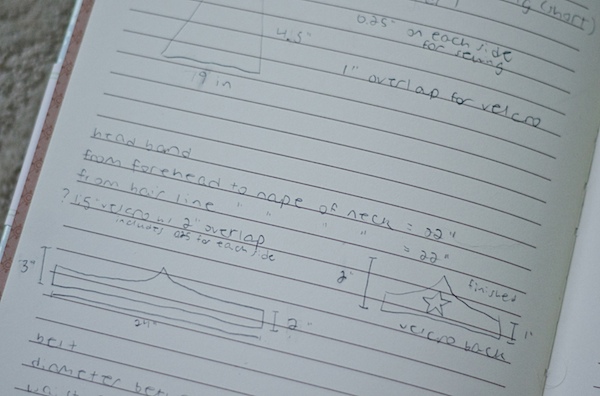 It started with lots of Google Image searches, followed by measurements and notebook sketches.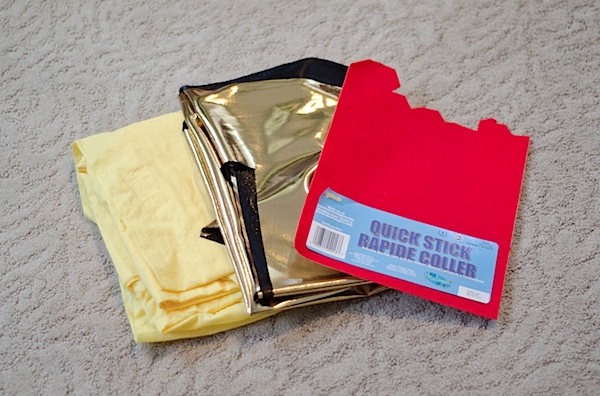 Then, I needed a trip to the fabric store. I decided to use shiny gold material for the front of each accessory piece and softer, cotton fabric for the back. I added some iron-on interfacing for stability and to make the pieces look more metal-like.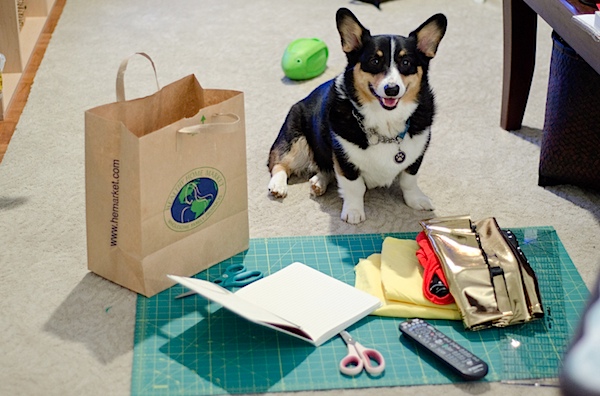 And I used almost an entire day for sewing these accessories together.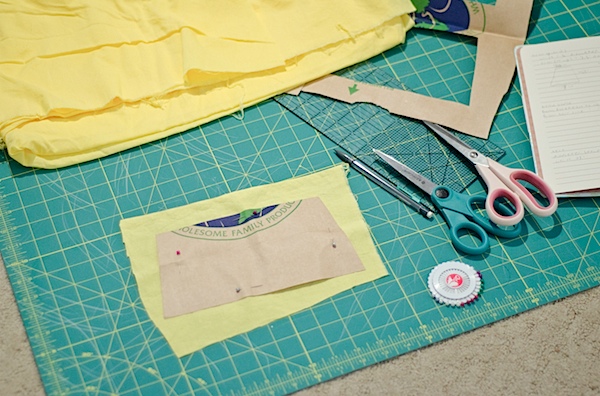 I used a paper bag to create a template for the arm bands, but the headband and belt were too big and had to be drawn straight onto the fabric.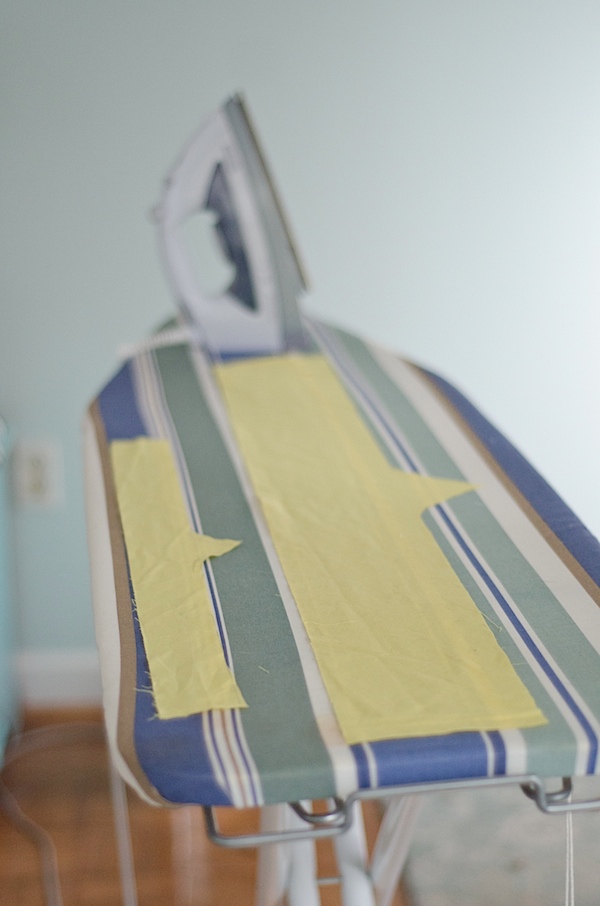 I spent most of the day measuring, drawing, cutting, and ironing.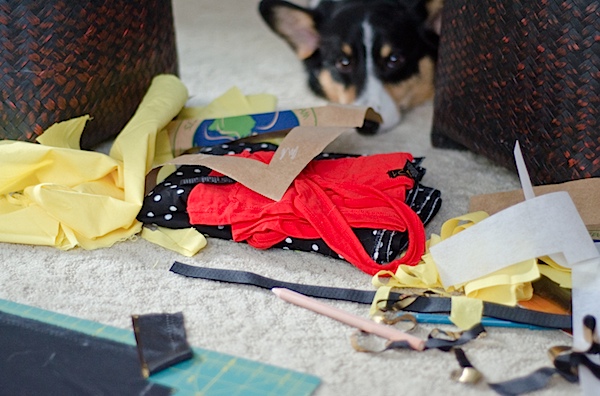 Bailey kept me great company.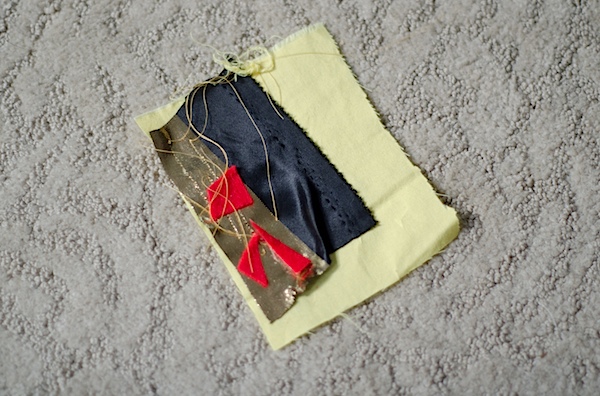 And since I hadn't used my sewing machine in awhile and I wasn't sure how the shiny gold material would work, I used some scraps to run tests. I tested whether I should iron the interfacing to the gold or yellow fabric, how the two materials would sew together (and if they would), how the velcro would work (never sewed it before!), and whether I should use felt & glue or use sticky-backed felt for the stars. I was so paranoid that I'd spend a lot of time on a piece and ruin it with one step, so I used this material to test nearly everything.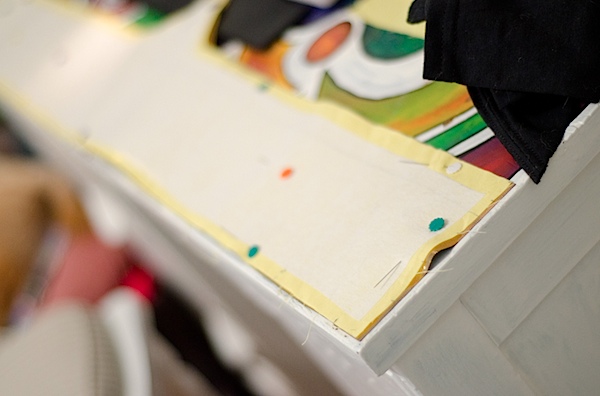 Pins were essential since the gold material was slippery.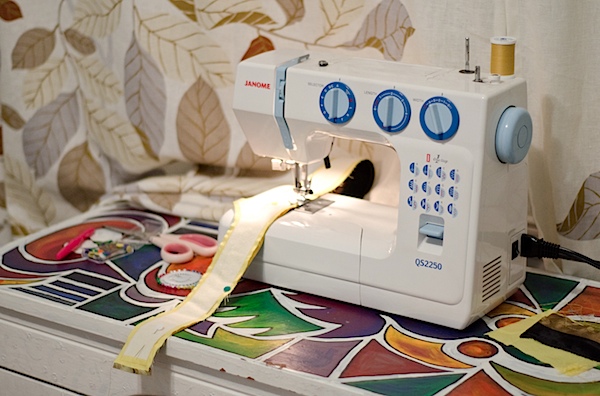 And though the project took awhile, the sewing was my favorite part.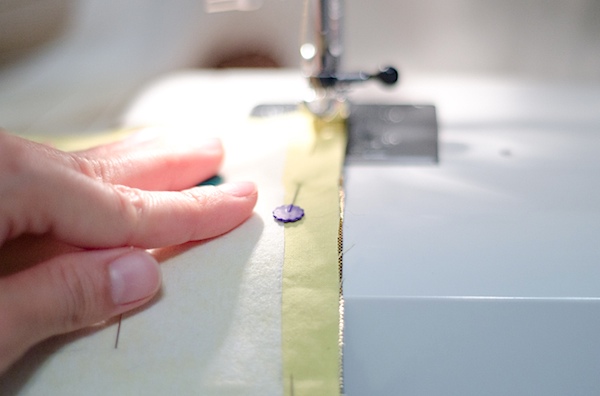 I think I'm even inspired to possibly try my hand at making a quilt. I made a baby one once for a gift, but I'd really like a full sized quilt for my house.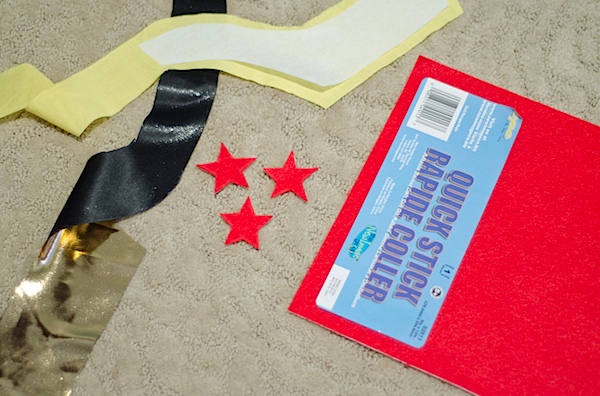 The glue I bought ended up not working with the gold material, but this sticky-backed felt was perfect. I was seriously worried about ruining the pieces by messing up the very last part – attaching the stars. So, I just utilized the sticky backs, and I didn't worry about sewing them on. Maybe I'll sew them later?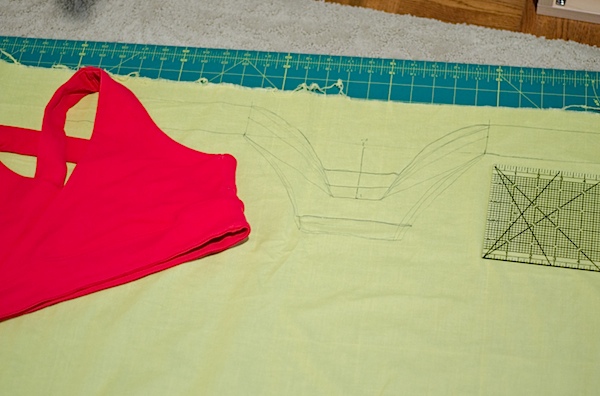 The night before my Zumba class, I got the bright idea to come up with a creative way to attach something gold to my red sports bra. I didn't want to sew anything permanent, but I came up with a couple pieces of gold accessories that I could attach to my sports bra temporarily using velcro. I ended up staying up till 1:30am finishing this project, but I really think it completed the look.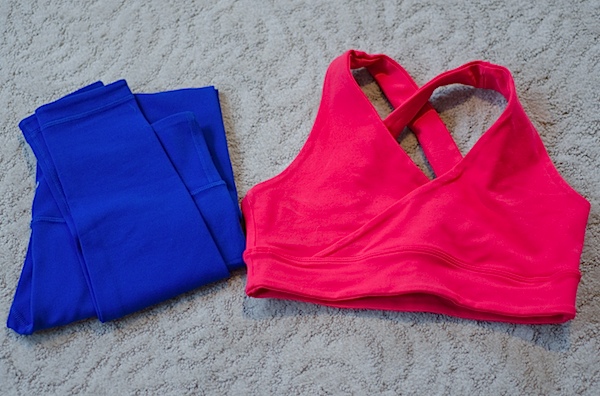 Here are my exercise clothing basics – blue lululemon wunder unders and a Margaritawear sports bra.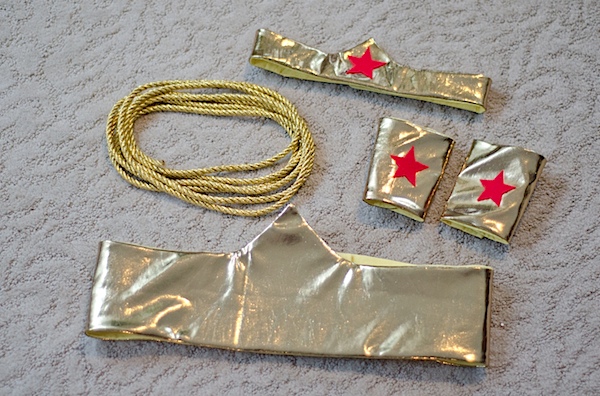 And here are my finished, handmade Wonder Woman accessories.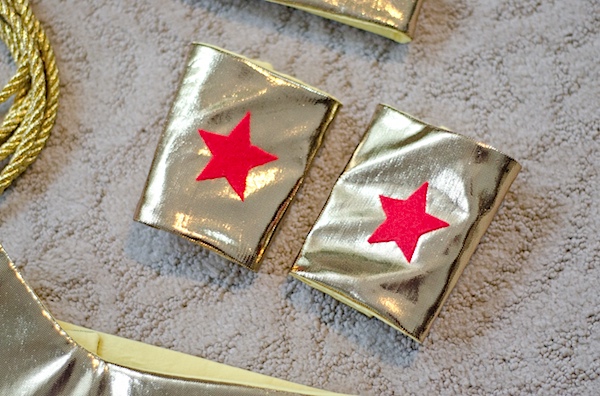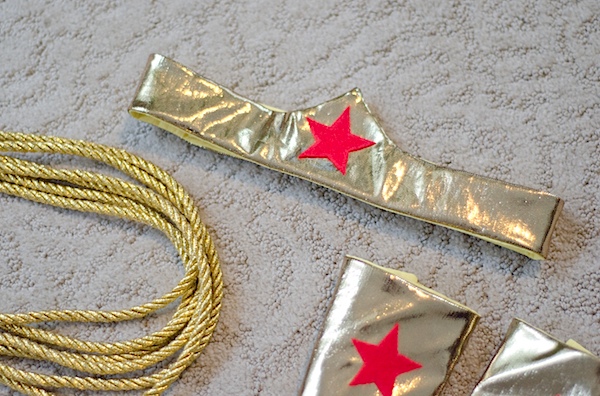 I got the gold rope from the fabric store, too, by the way!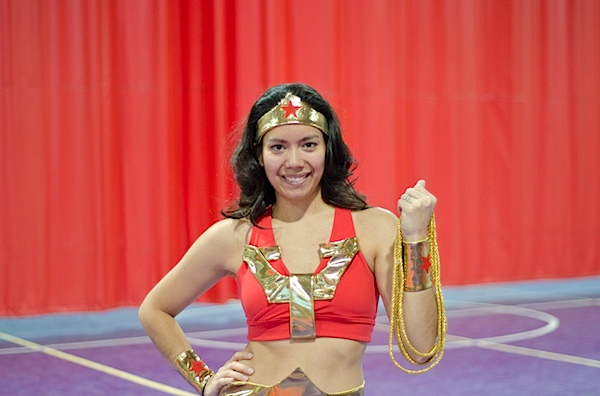 My Wonder Woman costume took a lot of hard work and time, but it was so worth it! I'm just so thankful that it worked out!
Click here to view two more exercise-friendly Halloween costume ideas.
Did you like this post? Please consider hitting the Facebook like button or liking The Chic Life on Facebook.
Thanks for reading! 🙂
Reader question: Have you ever made a Halloween costume? What did you make and how long did it take you?