Since we hosted Thanksgiving this year, we had more leftovers than ever. I knew I wanted to make a soup with the leftover turkey, but when I saw how many vegetables were leftover from our veggie tray, I thought…hey, why not throw those in there, too? I normally think of soup vegetables as being carrots, onion, celery, and tomatoes. I usually don't consider throwing standard veggie tray vegetables like broccoli or cauliflower into soups, but ya know what? They work.
So, I call this recipe: Turkey, Veggie Tray, & Barley Soup
It sounds weird, but it tastes fantastic. For leftover veggie tray vegetables, we had: celery, carrots, broccoli, and cauliflower. I also added onion since I consider that a soup essential for most recipes. Plus, I added some canned tomatoes and dried herbs to help take the flavor away from Thanksgiving in case you're over it and want to taste something different.
I considered making turkey broth with the leftover carcass, but my dad said he's tried that in the past, and it didn't work for him. I took his word at it and used boxed broths, but you could use your own turkey broth if you made some. I thought about adding rice to the soup, but that seemed too boring. Plus, you know me and whole grains. I wanted to use something with a little more nutritional benefit to it. I wanted to use farro, but I was out. But, I did have plenty of pearled barley on hand. Unfortunately, pearled barley is apparently not considered a whole grain, but it still seemed like a good choice. You could try using hulled barley if you want the whole grain benefits – just be sure to adjust the cooking time accordingly.
You can read up on the health benefits of barley at this site (click), but here's a high level snippet:
In addition to its robust flavor, barley's claim to nutritional fame is based on its being a very good source of fiber and selenium, and a good source of phosphorus, copper and manganese.
Hearty, healthy, and delicious. This one's a winner!
This recipe makes a big batch so you can use it to entertain guests staying with you after Thanksgiving or freeze the leftovers to enjoy well after the holiday.
Oh, and if you're vegetarian or vegan, I also think this soup would be delicious without the turkey. Barley Veggie Tray Soup. Yum. The barley will keep the hearty feel to the soup sans meat. See notes in the recipe below for details.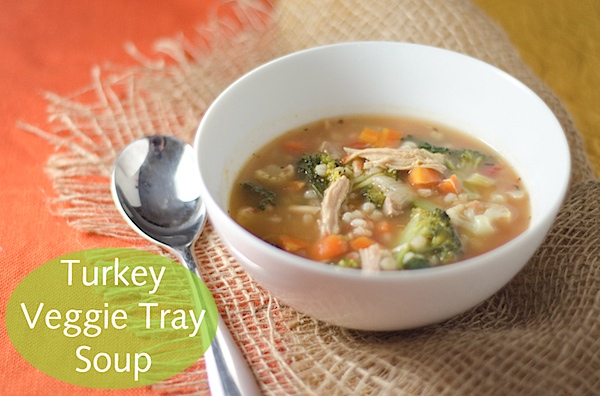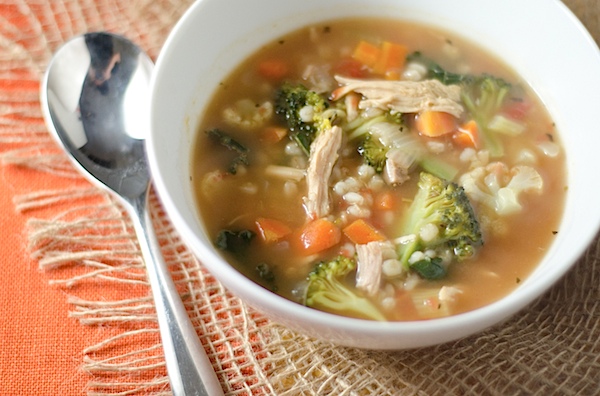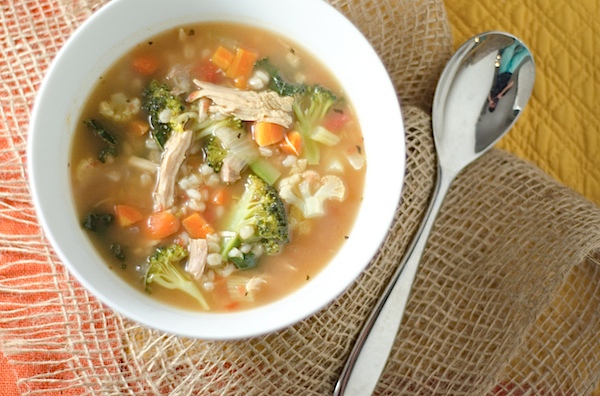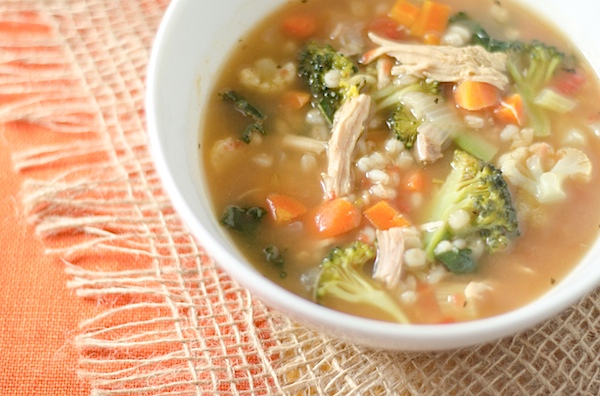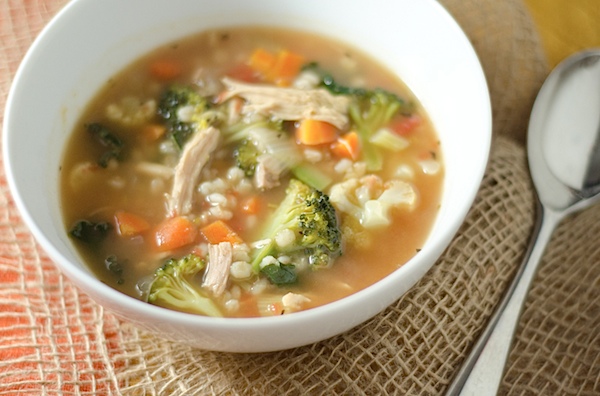 Turkey Veggie Tray Soup
Save your turkey leftovers, but don't forget about the vegetable tray. If your family doesn't eat all their veggies the first time around, they can with this tasty soup. Thanksgiving leftovers get a makeover complete with a new flavor profile to give your palate a change of pace. Feel free to substitute any vegetables you want. I gave amount ranges in the recipe in case you had more or less of each vegetable leftover, but feel free to use what you have. I also added in kale since I had some in the fridge, but feel free to omit or sub spinach. You can also switch up the barley with your favorite grain, but be sure to adjust the cooking time if needed.
Don't be intimidated by the long list. Many of the ingredients below are herbs. This is a super simple soup.
Cook time: about 45-50 minutes
Yields: approximately 8-10 servings
*Leave out the turkey for a delicious vegetable barley soup – vegan if you use the right broths and skip the turkey, too*
Ingredients:
2 tablespoons extra virgin olive oil
1 medium onion, chopped
1/2-1 cup celery, chopped
1/2-1 cup carrots, chopped
3 cloves garlic, chopped fine
1 teaspoon sage
1 teaspoon basil
1 teaspoon salt, plus additional to taste
1/4 teaspoon pepper, plus additional to taste
1/4 teaspoon oregano
2 32-ounce boxes broth/stock of choice (I used 1 vegetable and 1 chicken)
1 14.5-ounce can diced tomatoes (with juices)
2 bay leaves
1 cup pearled barley, rinsed
3-4 cups cooked turkey (white, dark, or combination works – I used a combination of equal parts)
2 cups kale (or spinach), cut/torn into small pieces, optional
1/2-2 cups broccoli (I used 2 cups)
1/2-2 cups cauliflower (I used 1 cup)
water, if needed (I used about 1 cup)
Directions:
Heat oil in a large pot over medium heat. Add onion, celery, carrots, and garlic and cook, stirring occasionally, until onions are translucent, about 5 minutes.
Stir in sage, basil, salt, pepper, and oregano and cook for 1 minute.
Stir in broth, tomatoes, and bay leaves and bring to a boil. Stir in barley, cover, reduce heat to simmer. Cook for 30 minutes, stirring occasionally.
Stir in turkey, kale, broccoli, and cauliflower and cook for 5-7 minutes, until vegetables are tender to your liking.
Add water, if needed. The barley will soak up a lot of the liquid, so you can add water if you want a more broth-like consistency. Taste test and add salt and pepper, if needed.
Serve and enjoy! This is great with leftover rolls from Thanksgiving or whole grain toast.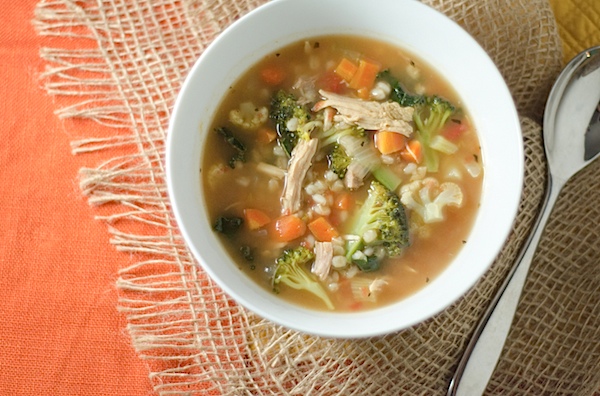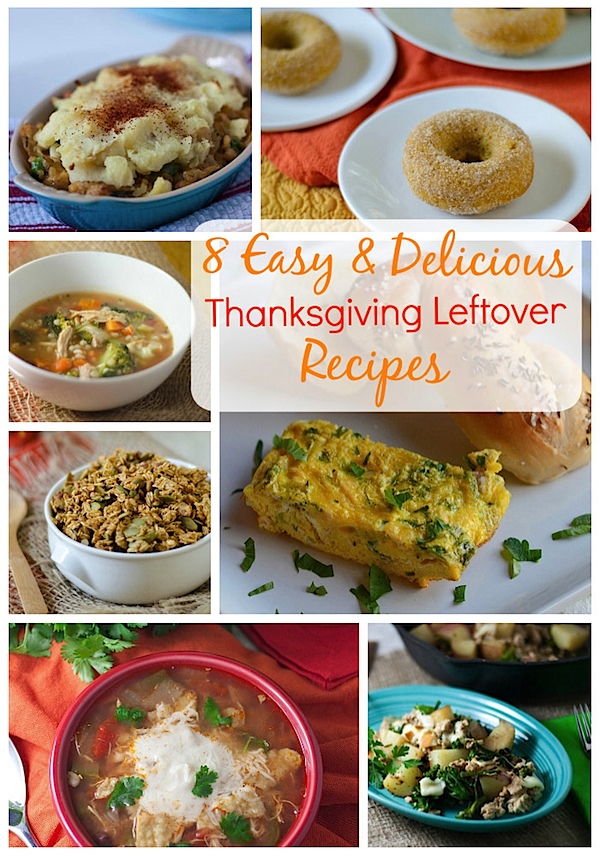 Click the photo above for 8 easy and delicious ways to transform your Thanksgiving leftovers into delicious new eats!
Did you like this post? Please consider sharing this with your friends using one of the buttons at the end of this post, like the Facebook-Like button. If you're hungry for more, you can click here to get free updates delivered to you via email or RSS Feed.
Reader question: What are your favorite soup vegetables?