You may have already seen on twitter, but The Chic Life has recently been featured on local news station WCNC for Eat in Month! When I found out they wanted to feature me, I first got really excited and wanted to tell everyone. Then, I got extremely nervous that I was going to do a terrible job, so I didn't tell anyone…not even my friends or family. The less people who saw it, the better, right? I guess that's flawed logic since it was obviously public and people would probably see it eventually, but…that's how it went down.
I'm definitely much more comfortable behind the camera than in front of it. Maybe if I practice making more YouTube videos, I'll get better? But so far, I feel awkward on camera, plus I don't like the way my voice sounds. Silly, right? There is a reason I keep procrastinating finishing that Zumba shoe review video.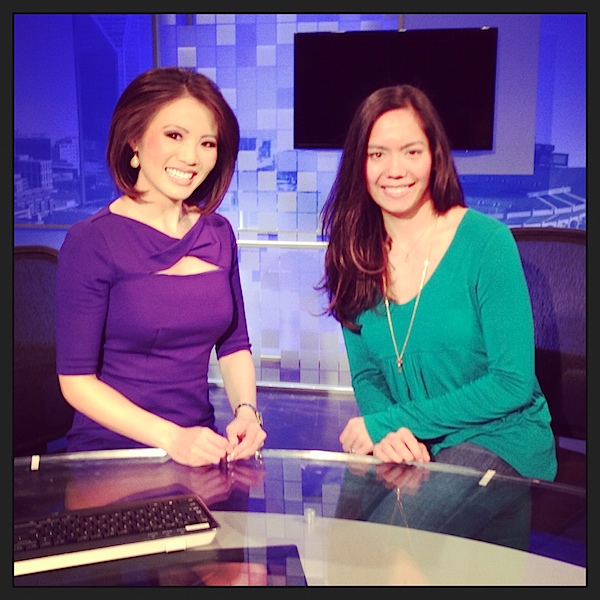 When I found out that the interview was definitely happening, I sought professional help from my friend Dion, who actually helped make this whole thing happen. She was a total doll and gave me tips on what to wear, as well as, a pep talk. Plus, she gave me all the photos I'm using in this blog post!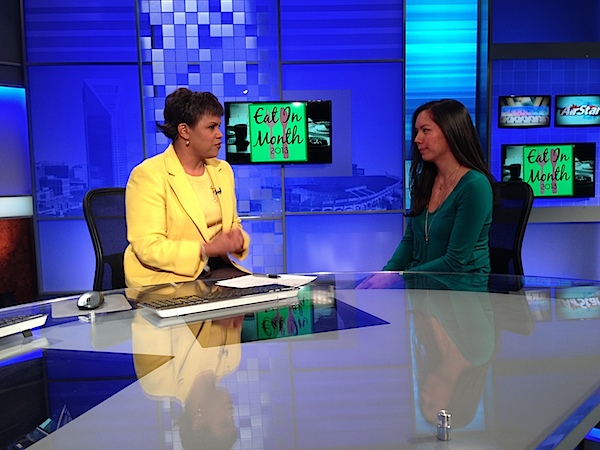 On the day of the interview, I was greeted at the station by Dion who took me back and introduced me to Sonja. Sonja was so friendly and personable, I instantly felt a little more at ease just talking to her. And she even read my blog before hand! Too cool! I had so much fun talking to her.
The newsroom was so cool to see in person, and I was honored that they put my Eat in Month logo on the monitors in the background.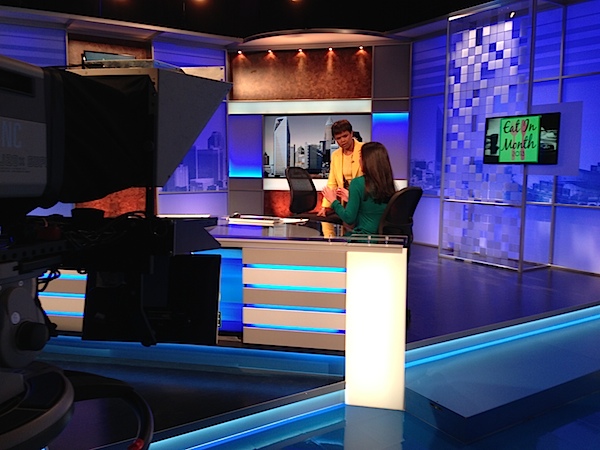 I was ridiculously nervous during the interview, and I felt like I kept tripping over my words. Side note: I've started looking at people on TV (from the news to cooking shows) in a whole new light. Not that I thought it was easy before, but some of these guys look so darn natural. How do they do it!?
I also had no clue where to look as far as the cameras go. Sonja told me I could just look at her, but I felt weird just staring at her. lol 😛 I should have taken a photo of the camera – it was behind a box or something, so I couldn't quite tell where exactly to look. I felt like I'd be like that Mad TV/In Living Color sketch where the newsperson keeps looking at the wrong camera. I can't find the video of that skit, but I did find this other one, which is one of my all time favorite In Living Color clips.
Anywho, I was in awe watching Sonja rock out her portion of the intro and the interview. You can tell she knows what's she's doing!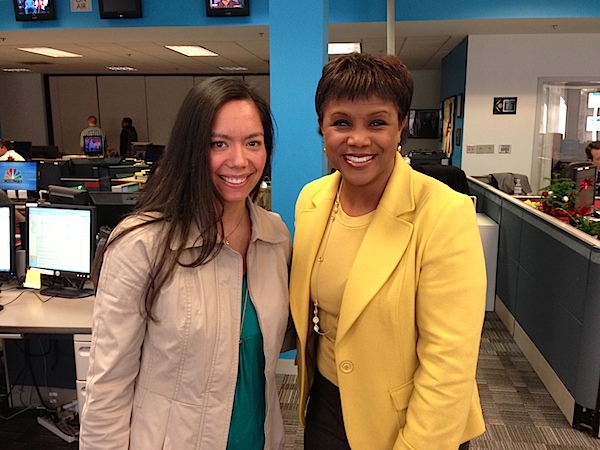 Major thanks to Dion for all her help, to Sonja for being so warm and helping me feel comfortable for the interview, to Caleb for getting that web video up so quickly, and to Robin and WCNC for featuring me at all. Thank you all!
(photos courtesy of Dion Lim at WCNC – you can follow her on twitter here or Facebook here)
Video | News | Weather | Sports
Fri Jan 04 14:02:50 PST 2013
Charlotte blogger starts 'Eat in Month' health challenge
Click the video player to watch the full report. If using the WCNC mobile app, slide to the 'Video' section. view full article
And here's the final interview!
Reader question: Have you been on TV, and if yes, for what?