Hi everyone! Hope you had a great weekend. Mine was packed full of delicious eats, progress on projects, and even some snow (which is a rarity where I live).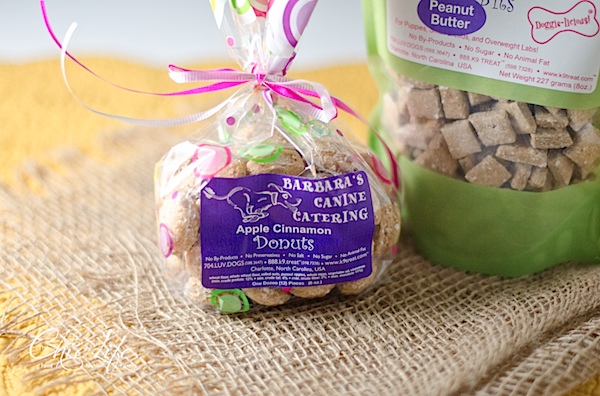 I kicked things off by buying some new treats for Bailey. We got him his usual training bits, but I also spotted these Apple Cinnamon Donuts. The treats are all baked locally by Barbara's Canine Catering, and Bailey loves these things. He seemed especially interested in the new bag when I got home, so I guess that was a good call.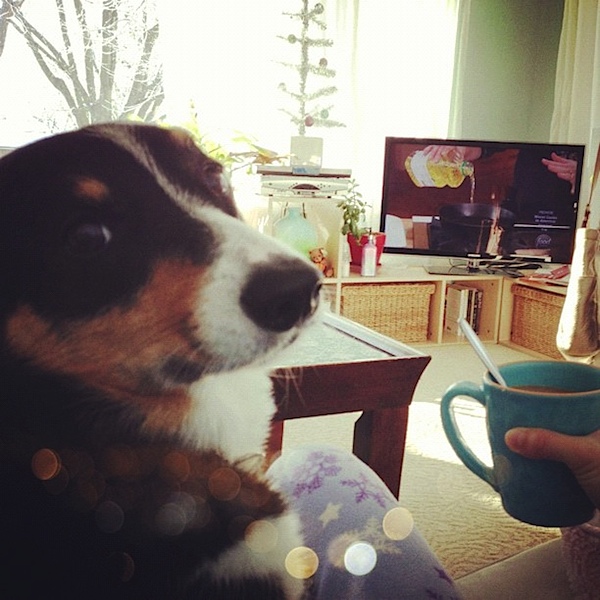 I didn't even know it was going to snow until it actually happened on Saturday. I had an inkling something was up when I saw some event cancellations for local animal rescue groups I follow on Facebook, but they just said "due to weather", etc. It wasn't till the snow actually started coming down that I realized why. I was curled up at home when it first started.
My new weekend morning tradition is hanging out with Bailey, watching Pioneer Woman, and sipping coffee. This usually happens on Sundays, and sometimes I have to watch the DVR'ed version of PW if I sleep in too late, but it's a tradition I'm loving. I was home when the first snow fell, but I had plans to run errands later in the day.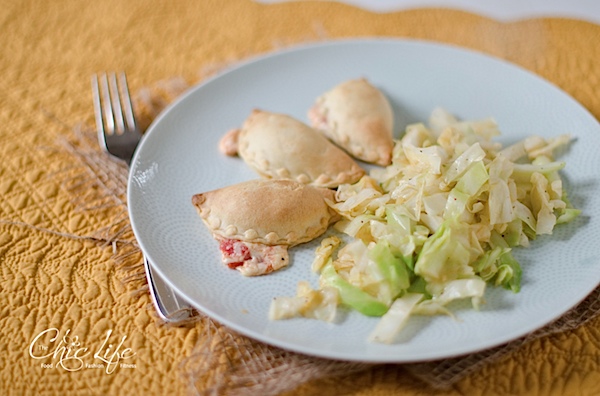 Hubby and I went to Atherton Mills to pick up some eats. We sampled some Empanadas 2 Go (cheese & tomato and guava), purchased the cheese & tomato flavor, and got some fresh veggies – cabbage and broccoli, too.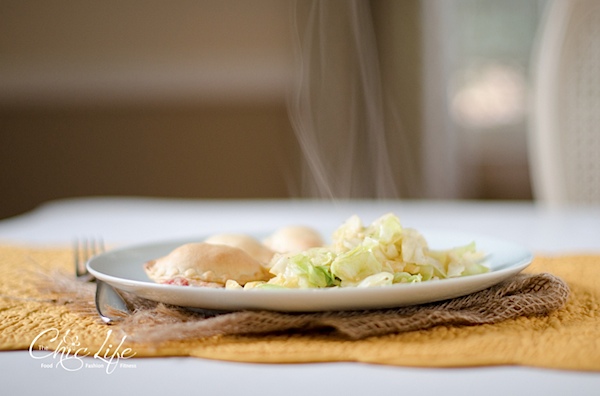 We had the empanadas and cabbage for a light lunch. I just sauteed the cabbage in olive oil and added a little butter and a dash of Homestead Seasoning for flavor.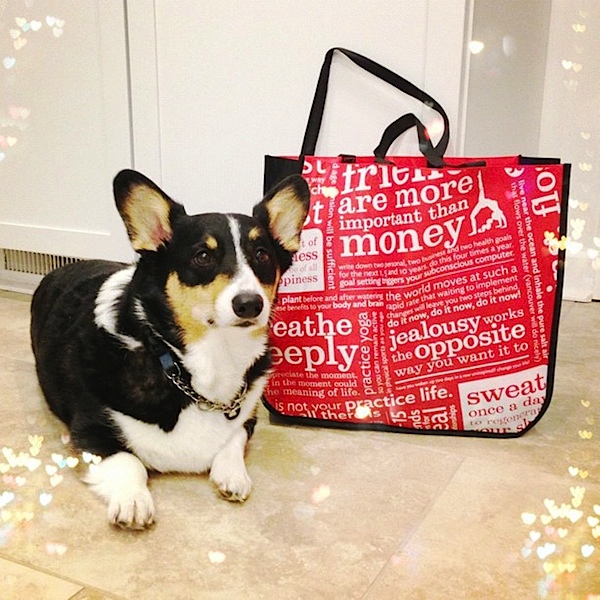 Then, it was time to run errands. I had an appointment at the Mac store at a local mall to upgrade my OS because I thought it would be free. It wasn't, and I hadn't backed up my laptop anyways, so I decided to take care of that when I got home. It felt a bit like a waste of time were it not for the fact that I had plenty of other errands to run while I was there. I also swung by Lululemon (which was probably a mistake since I like so much of their stuff), got new eyeliner at Sephora, found a new Zumba top, and got hubby's Valentine's present.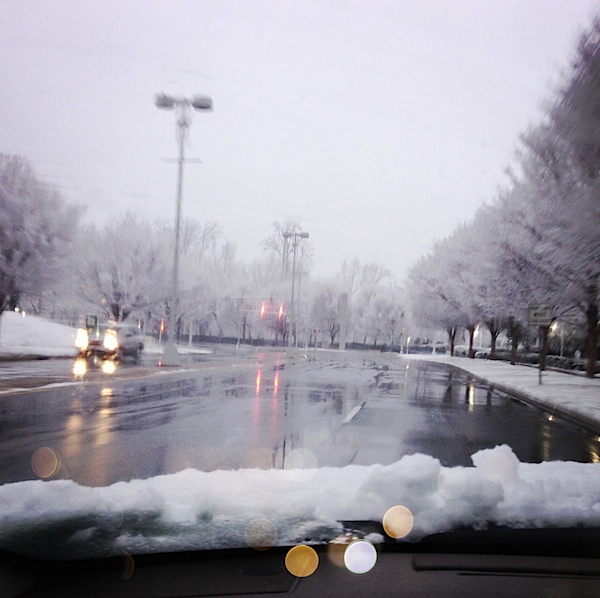 While I was shopping, this (above) was happening outside. Luckily, I follow a local weatherman, Brad, who posts the most amazing twitter updates on local weather, so I knew to expect snow and dressed for the occasion. If you're in Charlotte, I highly recommend following Brad for accurate and timely weather updates.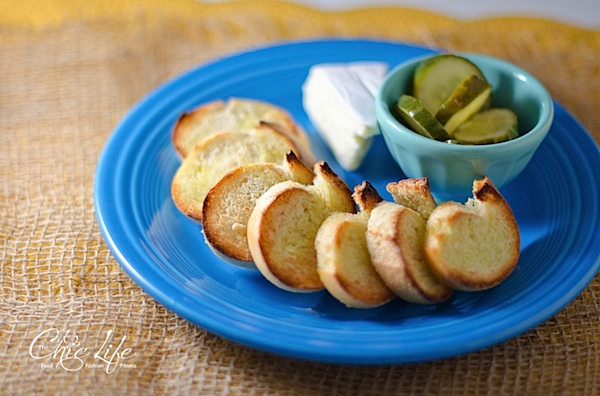 I decided to also get groceries on my way home and picked up some snow day snacks – baguette and brie.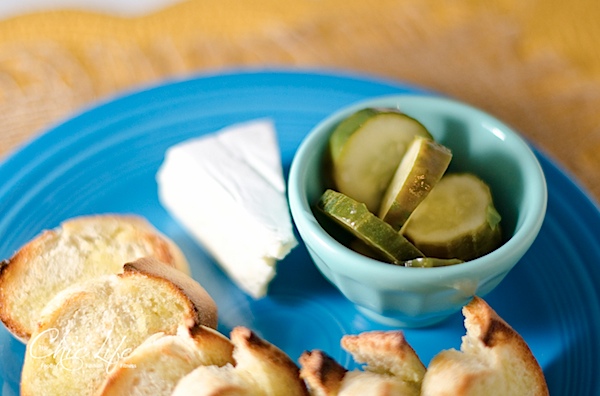 I had those with more Pickleville hot garlics (purchased that morning at the market).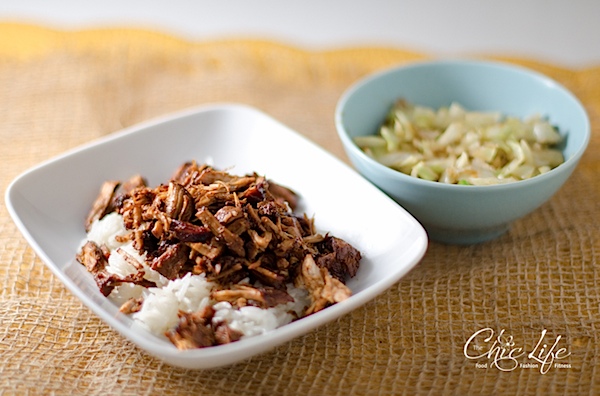 I made mom's pork adobo for dinner, along with more sauteed cabbage (this time cooked in a little oil with a dash of soy sauce).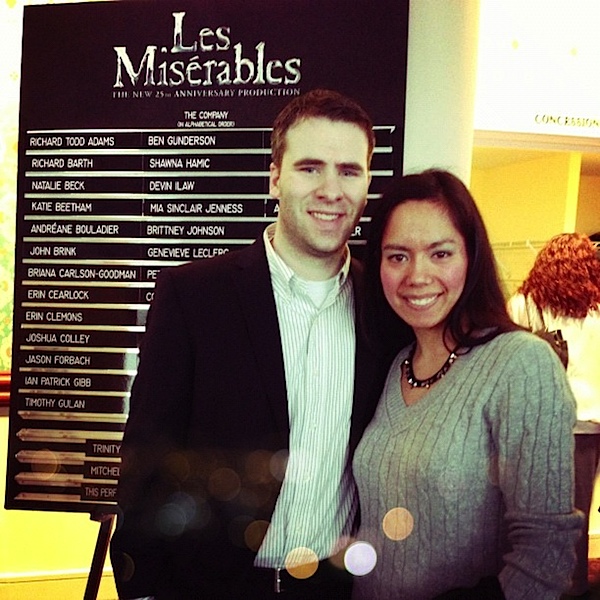 On Sunday, hubby and I enjoyed a delicious brunch buffet at Bistro la Bon. I normally am not much of a fan of buffets, but this one was great. There were so many delicious things on the buffet – from their wonderful pastries to savory lunch-time dishes like beef brisket. I also liked how they did some of the brunch items (scrambled eggs & bacon, chocolate waffles, and french toast) to order. After brunch, we headed uptown to see Les Misérables.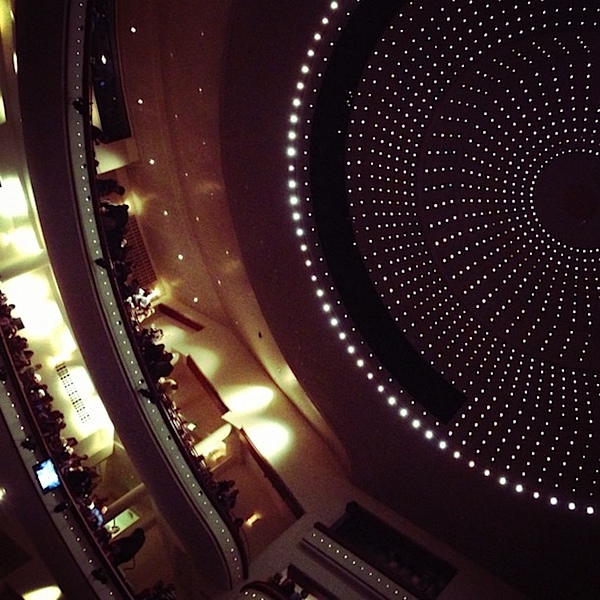 It was such a great, sad, and beautiful performance. I felt a little embarrassed for tearing up a couple times…until I noticed the other people around me sniffling away. It was very moving. I'm a big fan of the song I Dreamed a Dream, so I especially loved that piece, but the whole thing was well done.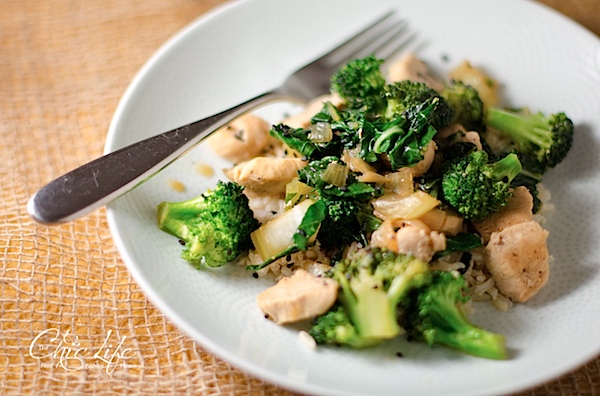 I had Monday off from work, so I spent the day working on personal projects. It was like a 12 hour work day except everything was fun, so it didn't feel like work. I got home around 8:45pm, just in time to whip up this chicken, broccoli, and bok choy stir-fry. Yum! I still have a chicken bok choy recipe to share with you guys. But, I have a lot of recipes I need to share. Personal projects and blogging seem to push and pull on my time, but I'll try to get those recipes out to you soon.
***
In total randomness, they asked on The Chew the other day, "What award are you proud of?" I have to reach way back to elementary school to share mine, but the first one that came to mind was winning photograph of the year from a photography workshop I did. I think I may have blogged about this before. Update – yup – found it here. I still think of that silly little award fondly. And no, I haven't gone back to the school to verify it's still hanging. I should! I'm trying to think of other awards I've received, but nothing is coming to mind!
Reader question: What about you? What award are you proud of?
***
I have a Zumba participant who emails me sometimes and always ends with "Have a magical day." It always makes me smile, so I thought I'd pass that little note on to you guys.
Have a magical day, everyone!