Pots Off Peachtree
I did one of the coolest things I've done in Charlotte this past weekend. I went to a secret, underground dinner. It was wonderful, and I can't wait to share photos (and more details) in my next blog post. But, for now, I have some other cool things to share.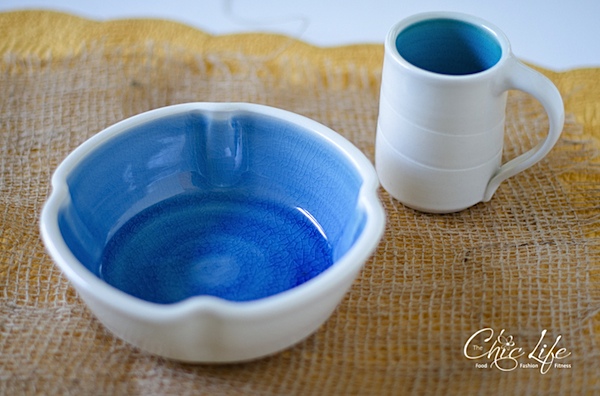 First up – check out this beautiful, handmade pottery. When my friend Ted offered for me to check out his mother-in-law's handmade pottery, I jumped at the chance. Pots Off Peachtree gifted me with this bowl and a mug.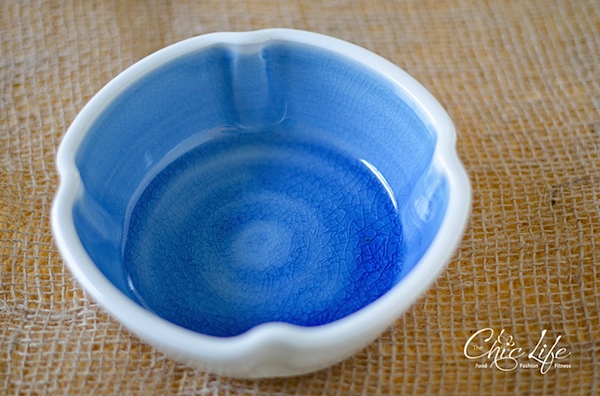 From the Pots Off Peachtree etsy site:
Charlotte DuPre began making pottery in Atlanta over 35 years ago and has sold her work at both galleries and stores including Macy's and Henri Bendel in New York. Back in the 1980's her Manhattan studio was named Pots Off Broadway. Now in Atlanta and after a long break from her craft, she is very excited to be making functional porcelain and Raku pots again, and she has chosen to name her online store Pots Off Peachtree, in reference to Atlanta's most famous street.

Her porcelain tableware is oven proof, microwaveable, and dishwasher-safe. She also fires Raku pots, which are primarily decorative. All of her glazes are lead-free.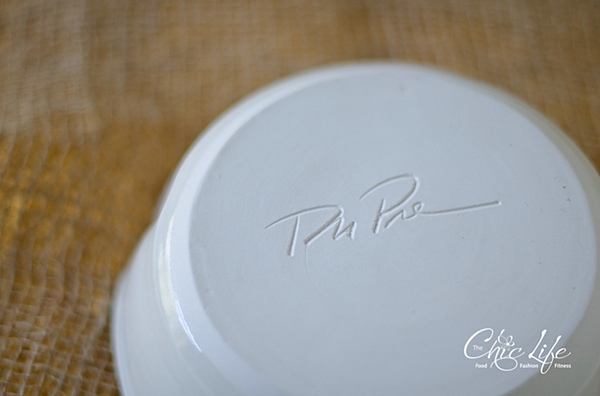 I love Charlotte's signature on the bottoms of her work.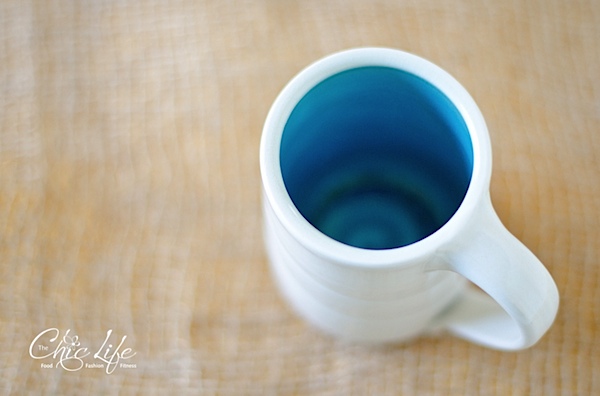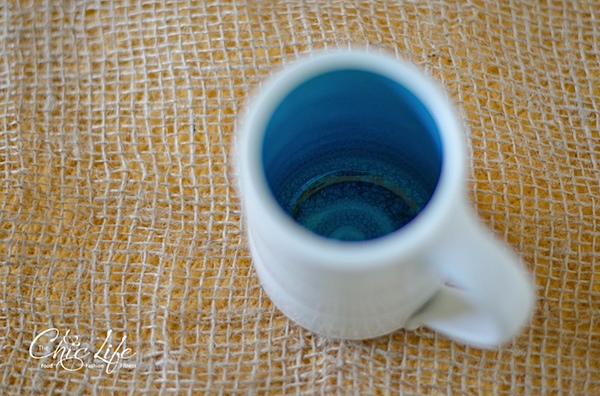 And I really love how the pottery is a pretty, pearly white on the outside and then vibrantly colored on the inside. She has some other pieces that have different coloring, but I think the white outside and colored inside is a signature look of hers.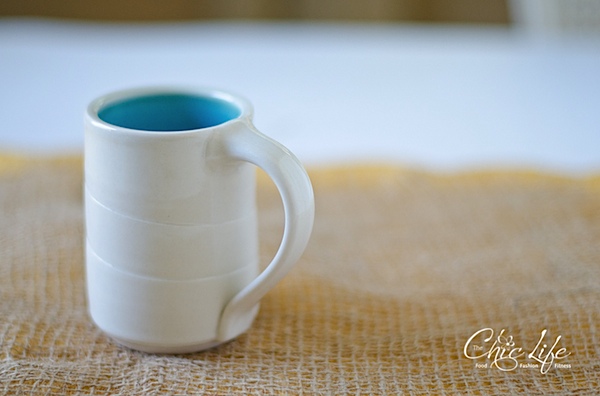 Check out the gentle curves of the mug.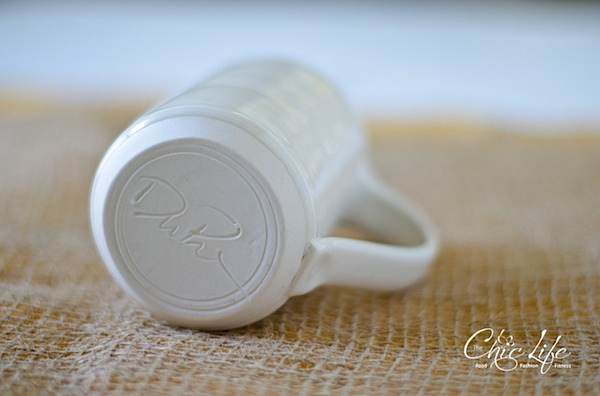 I'm definitely going to have fun using this pottery, and you guys know I love handmade pottery, especially.
If you want to get your hands on some Pots Off Peachtree pottery, you can click here to check out Charlotte's etsy site.
New Use for Old Things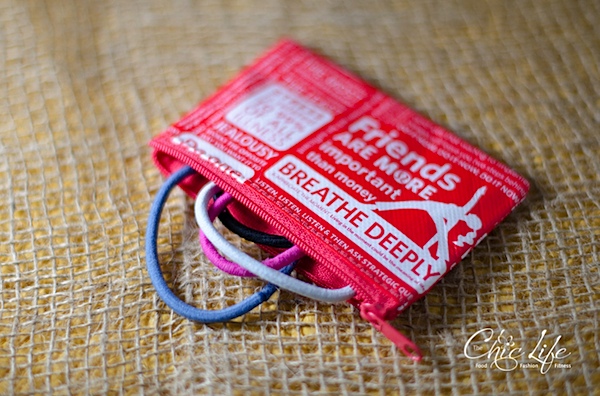 Here's a quick new-use-for-old-things tip. I had an almost-hair-emergency last week when I was teaching Zumba. I had put my hair in a bun using some mini claw clips to wear at work, but I forgot to bring a hair elastic with me for later. I thought I had some in my bag, but I didn't. I realized I didn't really have a good, small bag to put them in, so they never made it into the gym bag (or purse). I recently used some Lululemon gift cards to get a couple new goodies, and I almost turned in my gift card holder to the store to recycle. Good thing I didn't because it makes the perfect hair accessory container for my gym bag. I'm definitely going to need to make sure I have some extra hair ties at all times. Though I like to teach Zumba with my hair down sometimes, it has to be planned. It doesn't always work and putting your hair up can be a must. Luckily, one of my class assistants had an extra in her car. Phew!
Lavender Cookies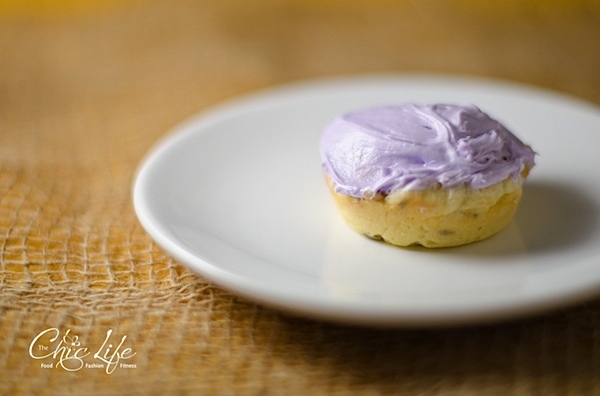 And check out this beautiful creation.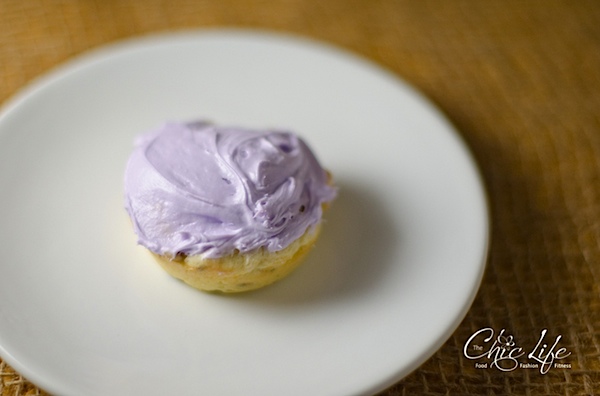 My friend Lindsey made lavender cookies and gave me two to enjoy. They were delicious, and you can find the lavender cookie recipe here if you want to try them yourself.
***
Healthy Eating Book
Are there any fellow non-dieters out there looking for some healthy eating advice? I know I've blogged about this book before, but for new readers, I highly recommend Food Rules by Michael Pollan. It's short, simple, and has easy-to-digest tips. I've found the tips in Pollan's book the most memorable, and I even think of many of them today (almost exactly 3 years after first reading the book). In fact, it's been awhile. I should probably re-read it sometime soon. It's a fast read, and I think it only took me a couple hours to finish. Now that's what I call a good ROI. Of course everyone is different, and what works for one person won't work for the next. But, hopefully, even though we may resonate with some of Pollan's rules more than others, there are some good tips in there for everyone.
The most memorable rules for me are:
#2 – Don't eat anything your great-grandmother wouldn't recognize as food
#6 – Avoid food products that contain more than five ingredients
#7 – Avoid food products containing ingredients that a third-grader cannot pronounce
#22 – Eat mostly plants, especially leaves
#25 – Eat your colors
#39 – Eat all the junk food you want as long as you cook it yourself
***
Check back soon for the secret dinner photos. I took a whole bunch, and I've selected some to share with you guys. I just have to get the full post together. Can't wait to share!
***
Reader question: What healthy eating book is most memorable for you?