I must have jinxed myself when I said that I didn't see myself dressing up for work in the near future. Next thing I know, the project that sent me to Pittsburgh ended, and a new one was starting up. Yesterday, I felt a little like a kid getting ready for their first day of school. I was nervously excited, and I went ahead and picked out my outfit and laid it out in preparation for the big day ahead.
I actually got some really cool silk track pants when I was doing some last minute shopping for my upcoming vacay this past weekend, but I decided to stay conservative for my first look on the job. I wanted to scope out what the other ladies are wearing so I don't wear something totally crazy. I went with simple black cropped pants, a fitted white tea, and a Jackie cardigan. I decided on understated jewelry (studs and a simple pearl bracelet) and added this lightweight coat since it was a little cooler outside than I originally expected. It was a little cooler inside the office than I expected, too, so I actually wore my coat for most of the day. The new work environment is pretty conservative, but I think fun accessories, like my hot pink purse, will work out great. And hey, at least I don't have to wear a suit every day, right!?
Here's what I wore: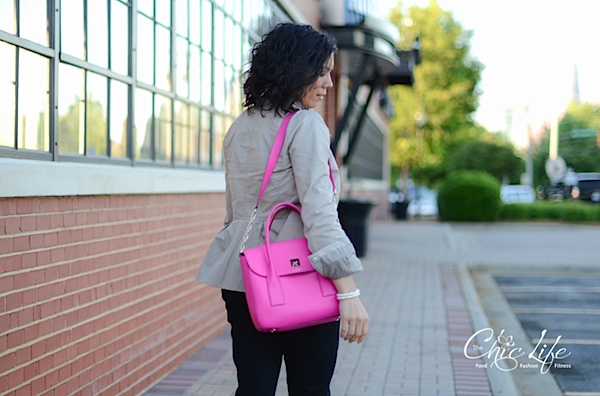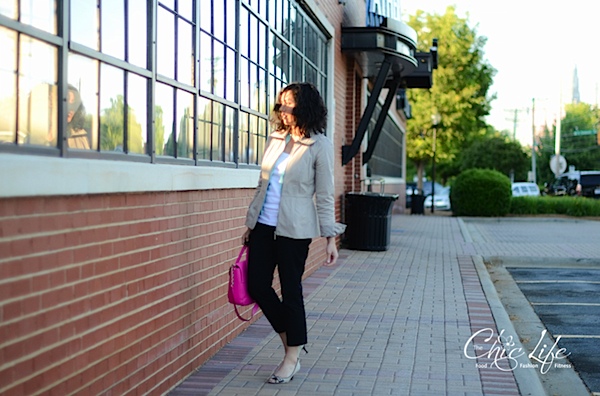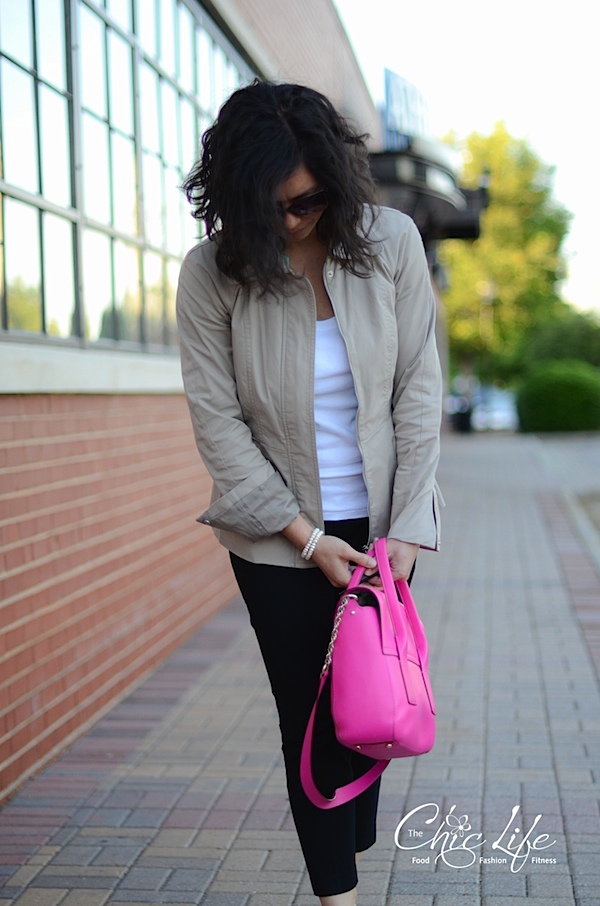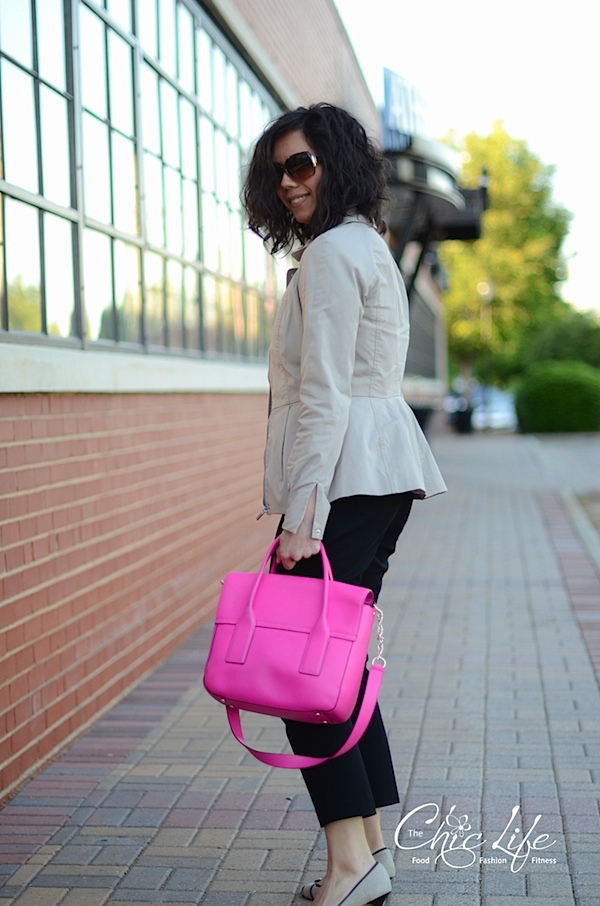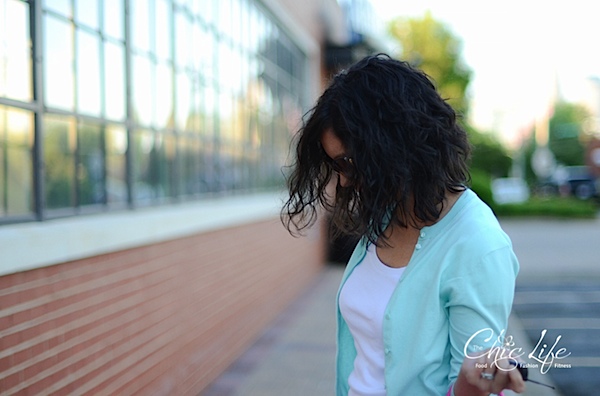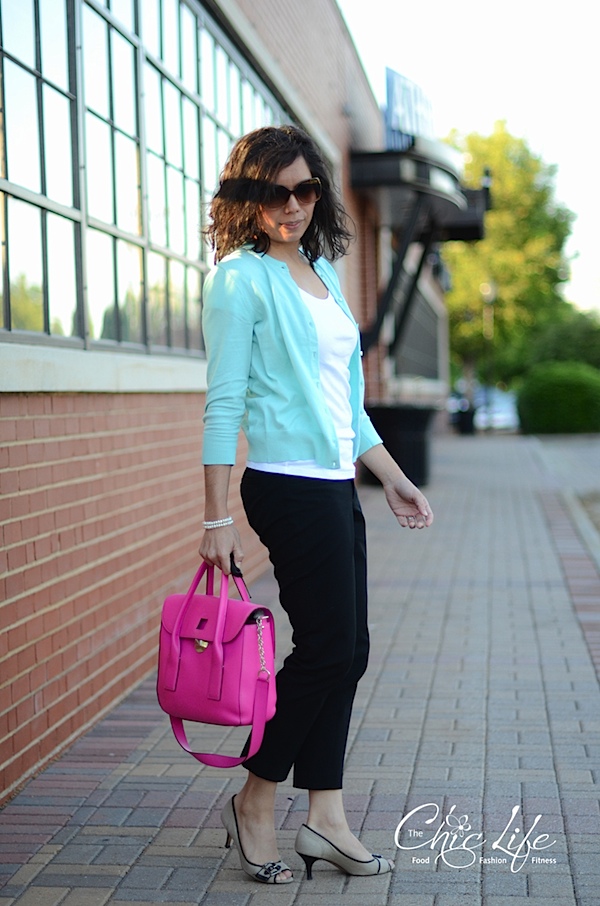 Outfit details:
Cropped black pants: Banana Republic
white t-shirt: Gap
Jackie cardigan: J. Crew (scored on sale recently!)
Jacket: Armani Exchange
Peep-toe pumps: Banana Republic
Purse: Kate Spade
Jewelry: gifts from family
By the way, I recently scored some deals at J. Crew for some work clothes. I'm thinking of doing a "haul video". It sounds like there's some interest based on a Facebook post from the other day, so maybe I'll put one together? Video makes me nervous, but I think haul videos are fun, and I like watching them. Maybe I won't look too ridiculous if I make one, too?
Anywho, I'm actually really excited about putting more work looks together to share with you guys. Does anyone need more work outfit ideas?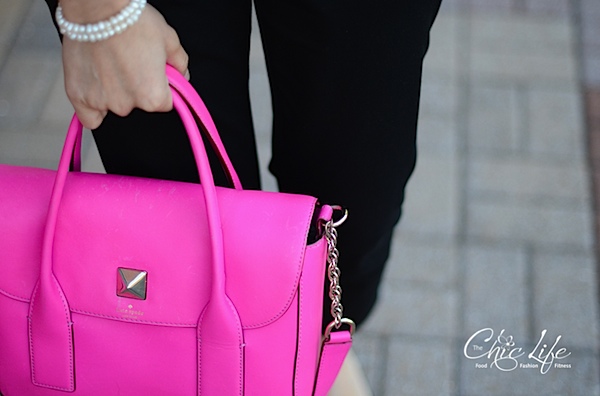 And how great of an "investment" was this purse? I was just thinking today how much I've enjoyed using this purse since I got it. I've been using it almost every day for (I'm guessing) about a whole year! I love it when I can splurge on one quality item and use the heck out of it! Especially when I get that item on sale, like how I scored this purse 50% off! Quality > quantity. It's the Parisian Wardrobe way!
Thanks for reading!