I'm definitely still trying to figure out my new style. I'm not a 20-something, Abercrombie-cut-off-jean-skirt-wearing kind of girl any more, though we've talked about that before. One thing I've recently noticed is that I'm no longer the business professional type working in a formal corporate America environment, and I may not be for awhile (if ever?). As a consultant, I could work in any environment, but more and more companies are relaxing their dress codes. I can't remember the last time I had to wear a pencil skirt to work, and I think I wore a suit maybe three times last year.
All of my clothes lately are trending towards comfy (baggy?) and casual, both at home and work. I'm also noticing that I'm gravitating away from preppier clothes (which seem to be most popular here in the south) towards a more laid back LA-style. I don't think I actually have LA style, I'm just saying that's been my inspiration lately when I've been shopping and getting dressed. Who knows where I'll land style-wise, but I'm going to have fun playing with clothes along the way.
Here's my outfit from when I went shopping with my sister. I really felt like I needed sleep Saturday morning, so let myself sleep in. Sis slept in, too, so I guess it worked out. But, after that, we were under time constraints the rest of the day, so we sort of had to rush to get ready. I threw my hair into a quick bun and skipped make-up to make up for slept lost time. I just got this Sincerely Jules top from ShopBop (LOVE the inspirational message), so I really wanted to wear it since it was new and super soft. I knew we'd be running around most of the day, so comfort was key. I paired my new top with these boyfriend jeans that I almost consigned since they're a bit baggier than I'd prefer. I decided to keep the jeans to try them out a few more times, and I'm actually kind of liking the over-sized fit.
I scored the green Banana Republic jacket on super sale a couple years ago for around $30. It was a great lightweight coat for the spring weather. And, I just purchased these shoes from Summerbird (literally on this day). It was a great weekend for consignment shopping.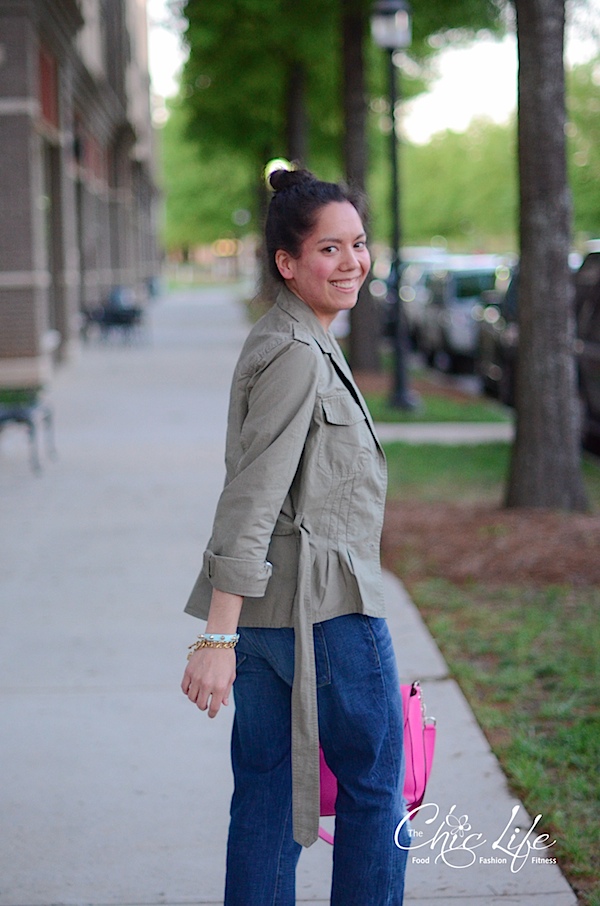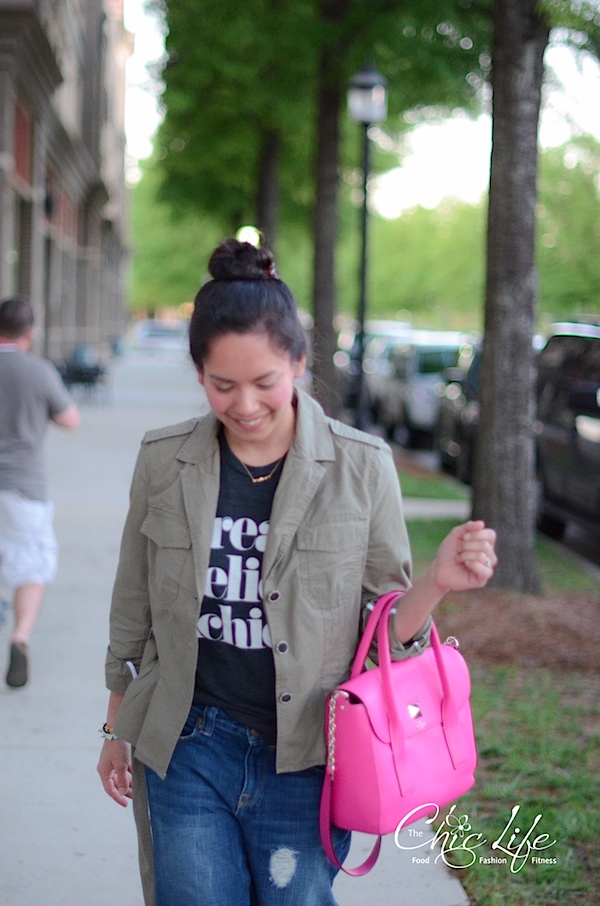 Outfit details:
Distressed boyfriend jeans: J Crew
Jacket: Banana Republic
Shoes: Miss Sixty
Twisted vine necklace: Gorjana via ShopBop
Bracelets: Spiked one found at the Green Jeans sale, chain by Juicy Couture purchased via Piperlime
Purse: Kate Spade
Thanks for reading!
How has your style changed lately? Are you getting more dressy or more casual?