I have a problem when I go on road trips. Although I don't mind eating at chain restaurants, I'd much rather support a small, locally owned restaurant instead. One day, there will be a web site and phone app you can use to find this information…and I'm going to build it. Well, at least the web site part. More on this another time, but I've already started researching…
This past weekend, we went out of town for a short excursion. Since I was the passenger, I decided to use some of the downtime in the car to find a local spot on the road trip.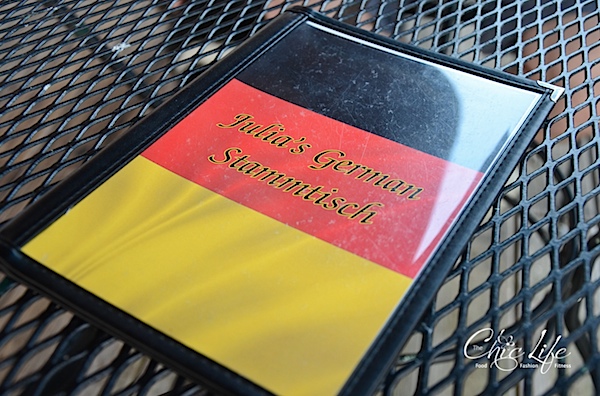 I found Julia's German Stammtisch in Columbia, SC, and it was only one mile from the highway (77).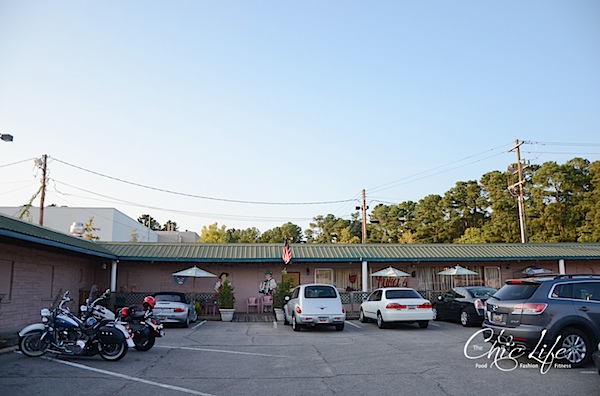 Located in a small shopping center, we actually passed this place originally and had to turn around to get to it.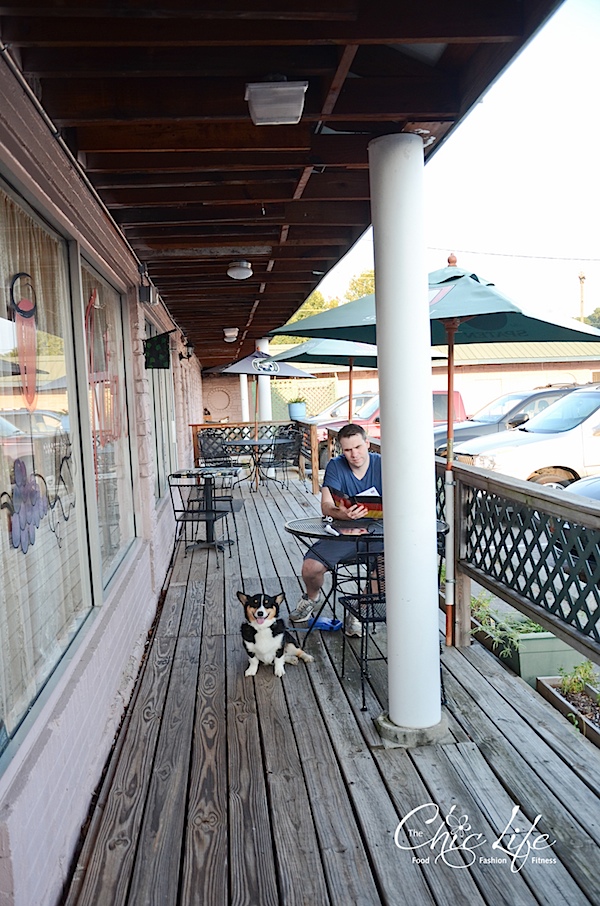 One of the best things was that they let us bring Bailey to hang out on the porch. Everyone was very welcoming to us and Bailey – they showed him lots of attention!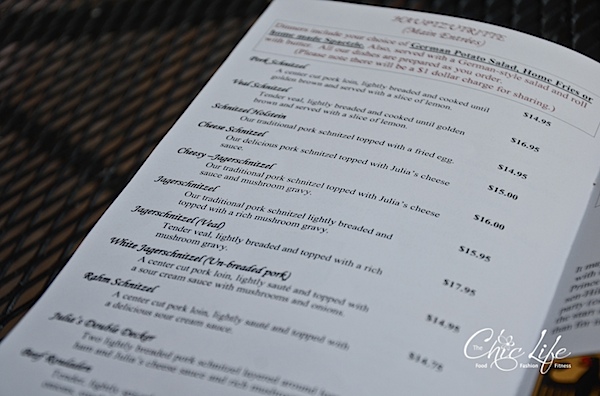 I haven't eaten a lot of German food before, so we requested suggestions. One of the first ones was the Jagerschnitzel – (from the menu) – "Our traditional pork schnitzel lightly breaded and topped with a rich mushroom gravy." I read online that the portions were big, plus hubby wasn't that hungry, so we got a couple salads and split this dish. We wanted to try the soup, but those are colder-weather items for the restaurant, so they'll start offering them in a couple weeks.
A salad was included with the entrée, and we added an extra small salad. The plate was full of pickled deliciousness – beets, green beans with onions, cabbage, and some fresh tomato and lettuce. I've been really into pickled foods lately, so I really enjoyed this. I liked how there was a nice mix of different types of salads in the single plate.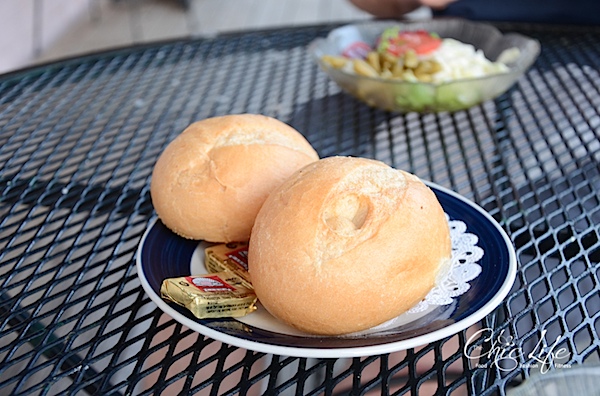 We also ordered an extra roll and butter.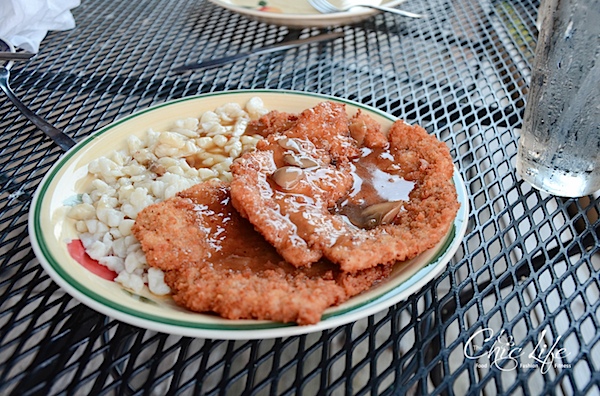 And the entrée didn't disappoint. There was more than enough food for hubby and I to share (pictured above is the full dish pre-splitting). We opted for the spatzel, which is like German pasta, for the side. It sort of reminded me of small pieces of gnocchi in the texture because it was so soft. Everything was delicious, but that pork was killer! The pork was pounded very thin and then breaded. The breading was so nice and crispy…like super-duper crispy. I loved the ratio of breading and crispiness to pork. The mushroom gravy added great flavor and was even poured over the spatzel. There weren't a whole lot of mushrooms in the gravy, but that was fine by me because I enjoy the flavor of mushrooms much more than the mushrooms, themselves. This isn't your lightest dish, but it is tasty and worth trying.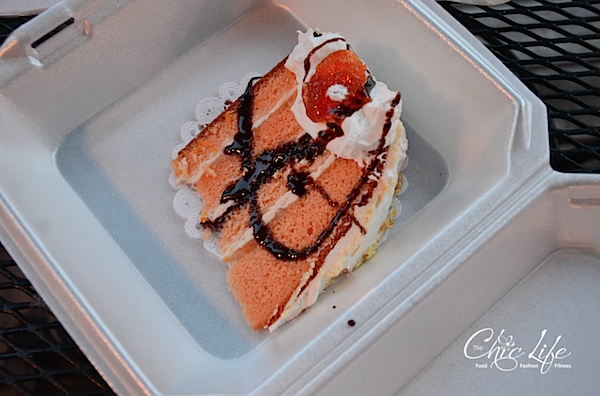 I read online that dessert at Julia's is a must, so we got a slice of tangerine cake "to go." What a joke that was to order it "to go" because we ended up eating it right on the table. Yum!
Not only was the food wonderful, but the service was great, too. A couple members of the staff stopped by to chat with us, and we even got to meet Julia herself! It was so nice chatting with the person whose creations we'd been enjoying all night. Try finding that at a chain!
TIP: Bring cash – they don't take checks or credit cards.
Check Julia's out online: http://julias.vpweb.com
***
Next time on TCL – photos from Kiawah Island!