Hi everyone!
For those doing the 5th annual Eat in Month Challenge, how are you doing? We're just over one week in, and I'm hanging in there. How about you?
I thought I'd check in and share some of my eats, challenges, and triumphs from the first week. Here we go:
January 1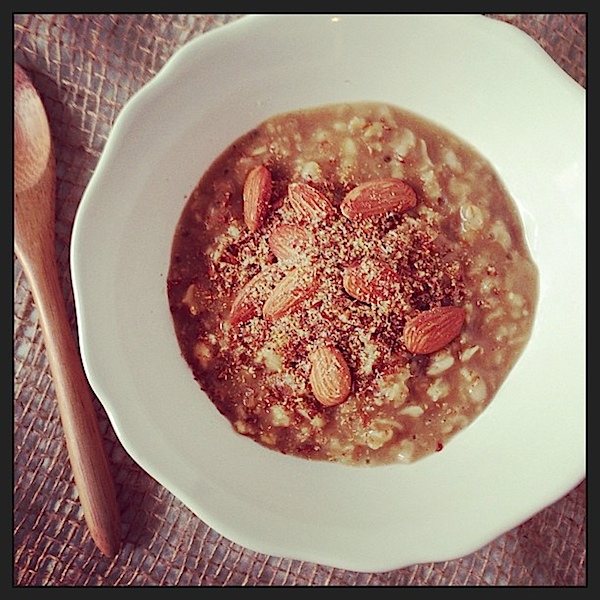 In the past, I've done special breakfasts on New Year's Day, but this year, we were still catching up from holiday travels, and the house wasn't well stocked up. I whipped up this tasty oatmeal with some pantry ingredients, and it was really good! I'll share the recipe since it's a great I-haven't-grocery-shopped-recently kind of breakfast.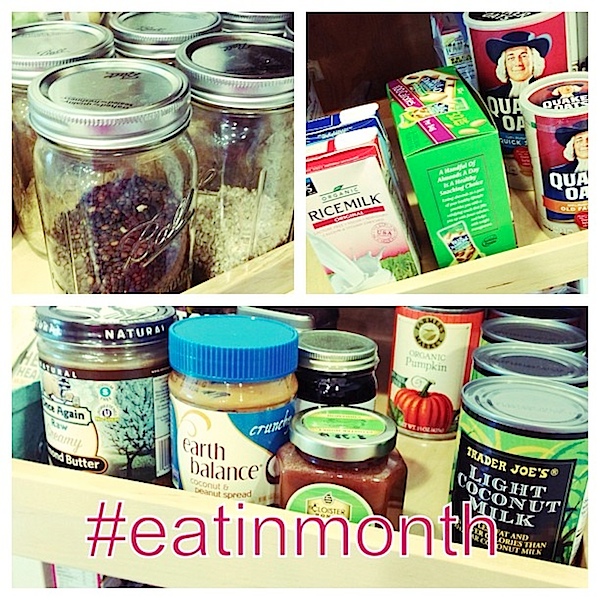 We spent some good QT cleaning out and organizing our pantry, fridge, and freezer. It was a great way to assess what we had before going out and getting more groceries. Sometimes, I get so busy that I don't look through our pantry to know what's in there, and I forget what we have. This was a good reminder that I should look at it more often to help with meal planning.
We got pretty busy doing things around the house, so although we should have done a good grocery stocking trip to prepare for the challenge, we just got what we needed for the day and opted to shop later. Plus, I'd heard at least one grocery store I wanted to visit was closed on NYD.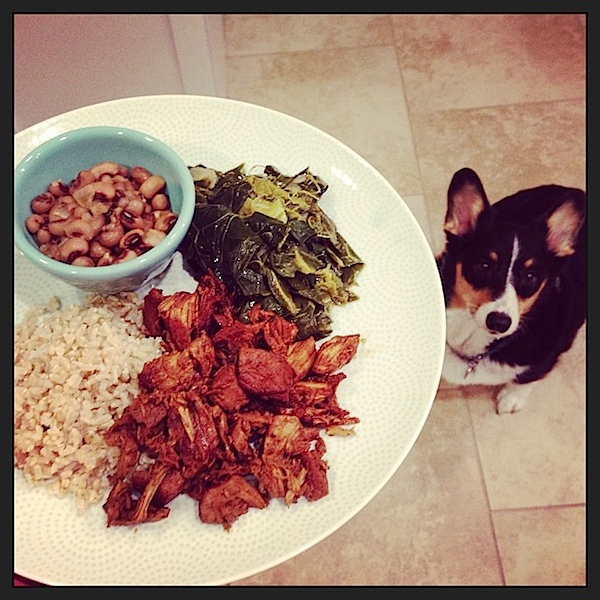 For NYD dinner, we definitely had to have our traditional collards and black eyed peas. We also had brown rice and made my mom's Filipino pork adobo, partially because if you double the batch, you'll get leftovers. I think the pork re-heats really well, so it's a leftover I look forward to. Hello, lunch!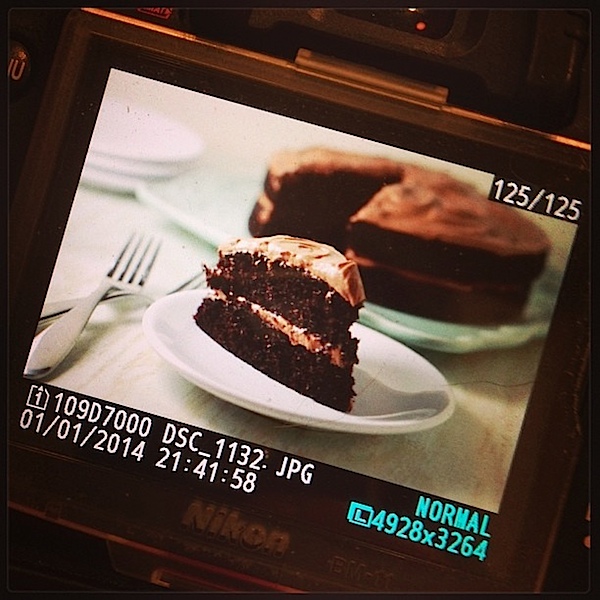 Since I skipped the special breakfast, I opted for a special dessert. I decided to make a bigger version of my chocolate cake minis and did some research and calculations to make one 8-inch round cake. Unfortunately, my numbers weren't quite right, and I ended up with two 8-inch round cakes. Whoops! Luckily, the recipe turned out great, so I'll be sharing that one here on The Chic Life soon.
***
January 2
The second day of EIM was my first day back at the office after my long holiday break. It was a challenge waking up early and having to pack for the day. Plus, I was throwing a glow party at my Zumba class after work, so I had to do extra preparations PLUS figure out breakfast and pack lunch.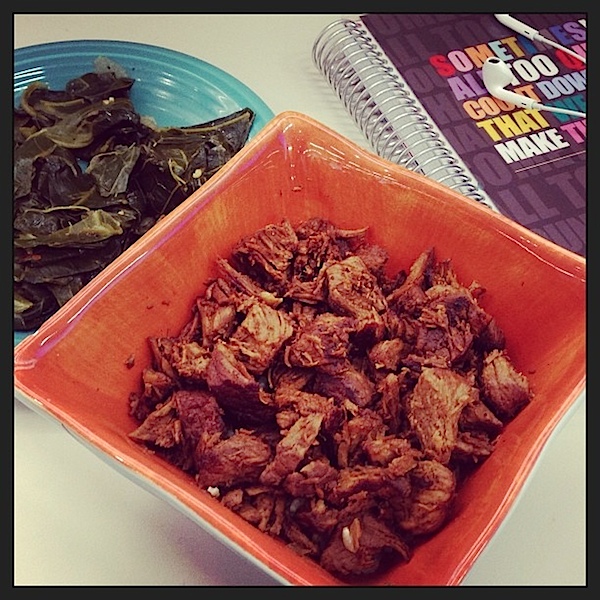 As planned, I had leftover pork adobo for lunch, which I really enjoyed. I also had leftover rice, collards, and black eyed peas, but I was too full to eat the peas, so I saved those for a Friday snack.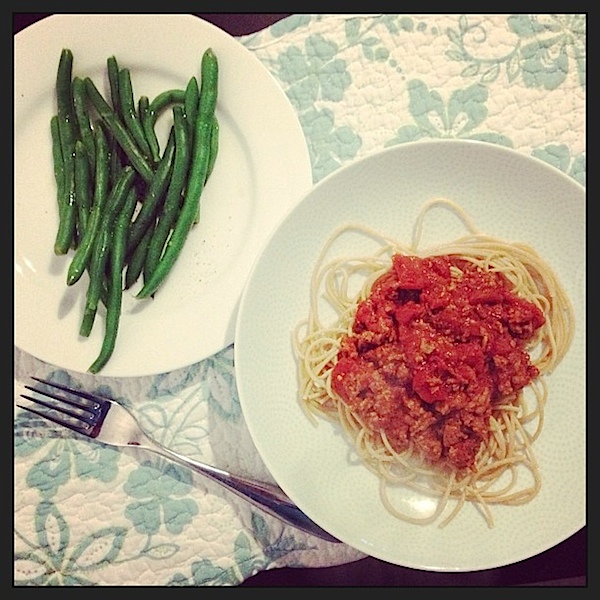 That night, I came home a little later after teaching Zumba and hitting up Trader Joe's (had to restock sometime!), and hubby had cooked dinner! He made spaghetti and green beans. Yum! I was so glad he cooked because I didn't know what I was going to have. I had a bunch of stuff from TJs, but I hadn't really planned a specific meal. I had been thinking I'd have frozen soup, but this was even better! Plus, we had cake leftovers for dessert!
January 3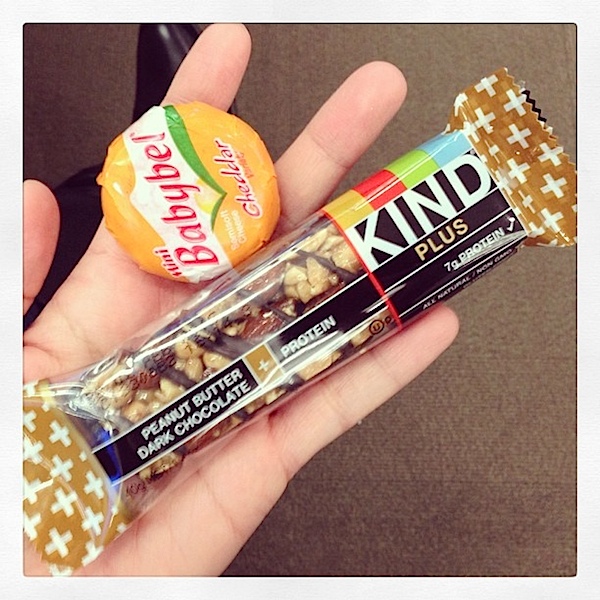 Still struggling to get back into my routine, I woke up a little late and had this grab-and-go breakfast – a KIND plus bar and Babybel cheese. I have a few of these bars at my work desk for these types of mornings. They will be a great back-up.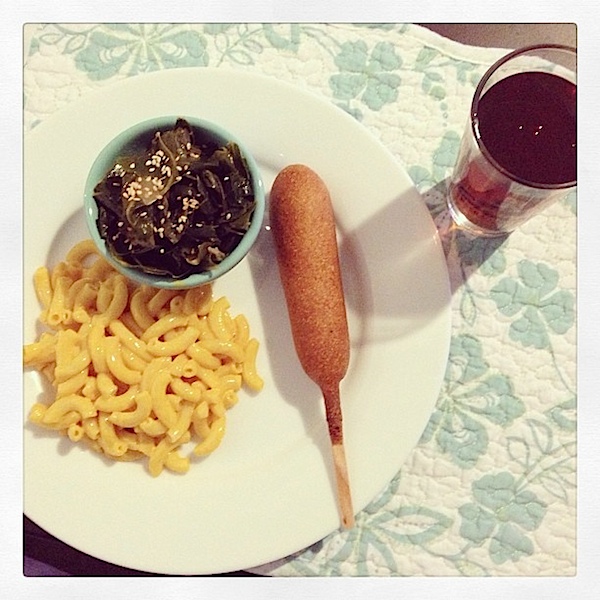 We were feeling pretty tired from the (yes, it was short) work week. Ahh, so #firstworldproblem. Anywho, we opted to make TJ's soy corn dogs, Annie's mac and cheese, and I cooked some collards my friend Angie gave me in my Asian collard style. This is my current favorite way to eat collards. I'll try to share the recipe soon since it would be a good one for EIM. We also enjoyed some of my BIL's home-brewed beer.
January 4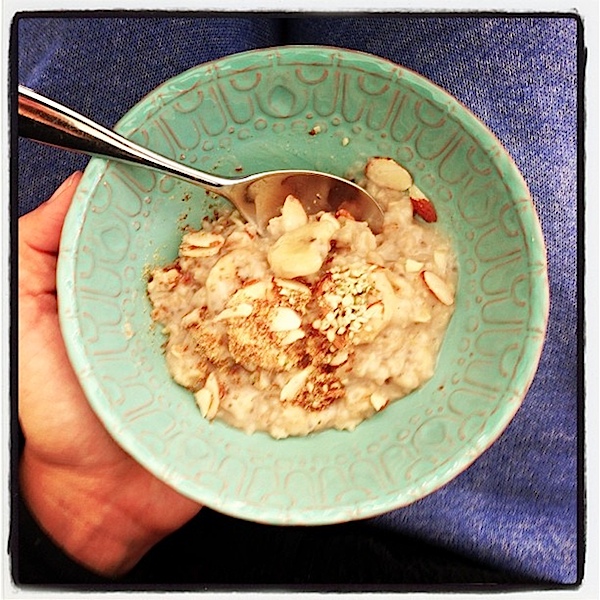 I made some stove top banana oatmeal with flaxseeds, hemp hearts, and almonds for a pre-workout breakfast on Saturday. Oatmeal is my go-to when I work out in the mornings.
I had a great time at class, and hubby picked me up afterwards to do some car shopping. We've been shopping over the last six or so months, but I don't take big purchases lightly (and neither does he), so we're taking our time. We're also struggling to choose between two cars, but I'm sure something will work out. We ended up not buying anything, but the process took longer than I expected. Since we were out and about, I grabbed a granola bar at one dealership and we skipped lunch in favor of an early (really early!) dinner. We really should have planned that one out better, but we made it work.
Post car-shopping, we stocked up on some 9-grain bread at Great Harvest, which was key for our eats the upcoming week.
January 5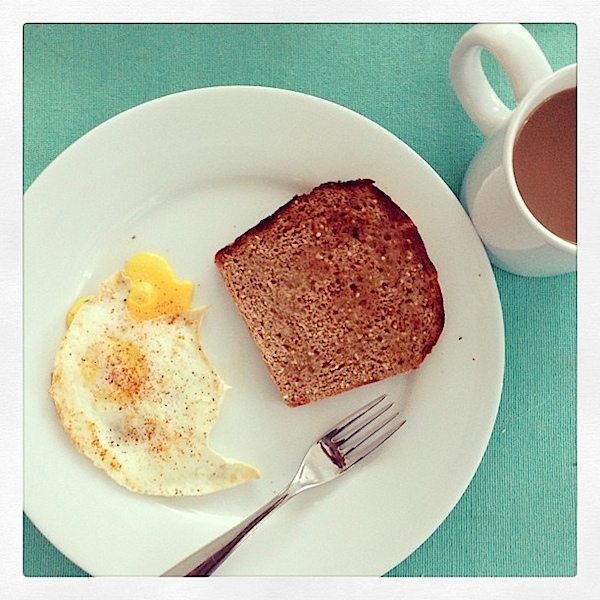 Since we finally had bread again, we had a classic Chic house breakfast – a fried egg and toast. I think I could eat this every day. I like to spice up the eggs with different seasoning blends from our local Savory Spice Shop. I added berebere to this one for some zesty flavor.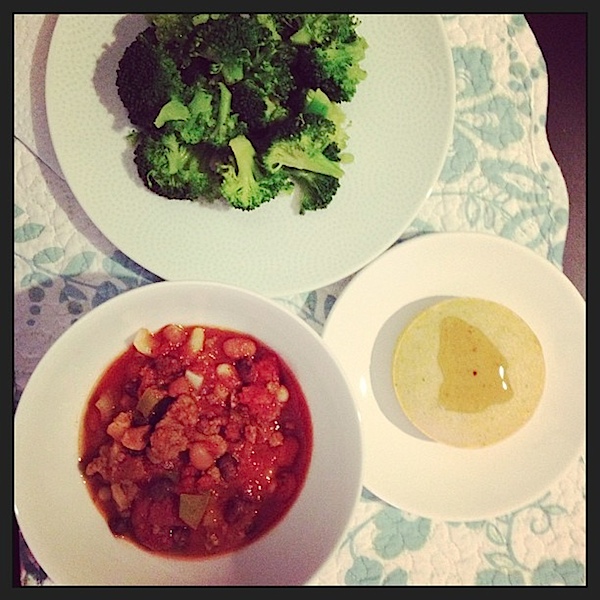 I made my Slow Cooker Beef and 3 Bean Chili for dinner so we'd have plenty of leftovers for upcoming meals. We also had steamed broccoli and my Corn Bread Minis (which make just enough for two people). Perfect!
January 6
Somehow, I forgot to take photos from this day. But no worries, I did manage to eat in the whole day. The plans were easier thanks to the chili leftovers, which made for a great lunch. Monday is usually one of the easier days since I have the previous day to plan and prepare. It's later in the week that becomes a challenge for me.
January 7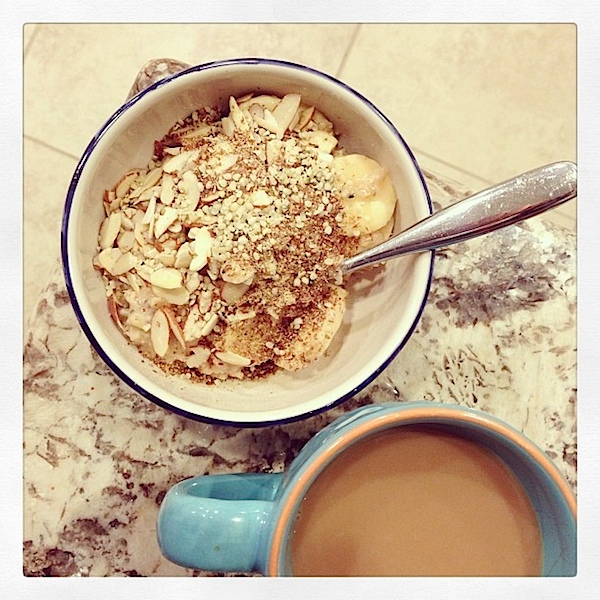 I kicked the week off with stove top banana oatmeal with the same toppings as Saturday, plus Cloister Honey's whipped cinnamon honey stirred in. Love that stuff!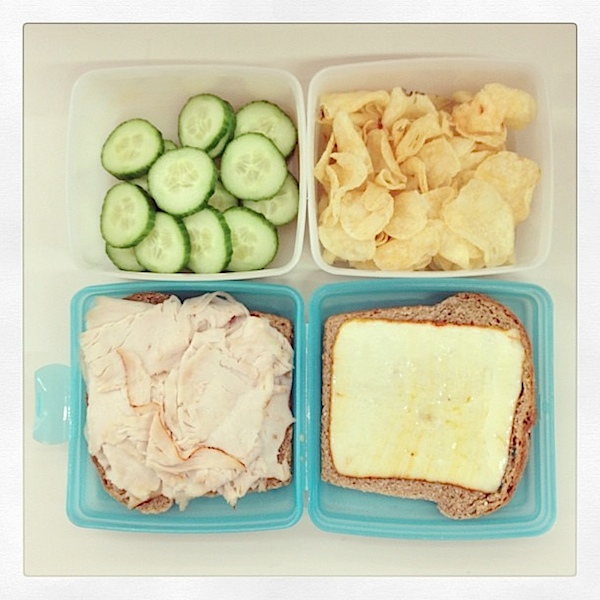 I had a turkey muenster sandwich on 9 grain that I toasted in my office's toaster oven. Toasted sandwiches help me enjoy sandwiches so much more. Def try finding a toaster oven in your office if you're looking to switch things up a little. I just put the bread and ingredients like the photo above (turkey on top of one slice and cheese on the other) and toast away. So good! I had salt and vinegar chips and sliced cucumbers on the side.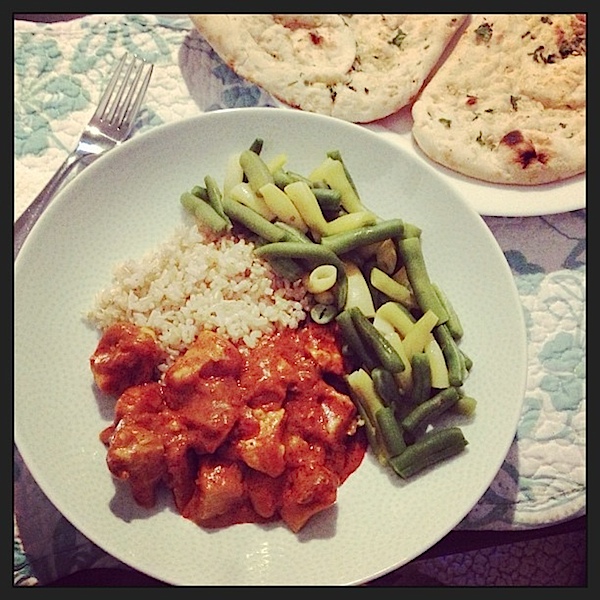 Hubby's gotten into Indian food, which is good for me because I love it! I want to try making tikka masala from scratch, but we just used a jarred simmer sauce for dinner and served it with brown rice, green beans from my family's garden, and TJ's frozen naan (so good!).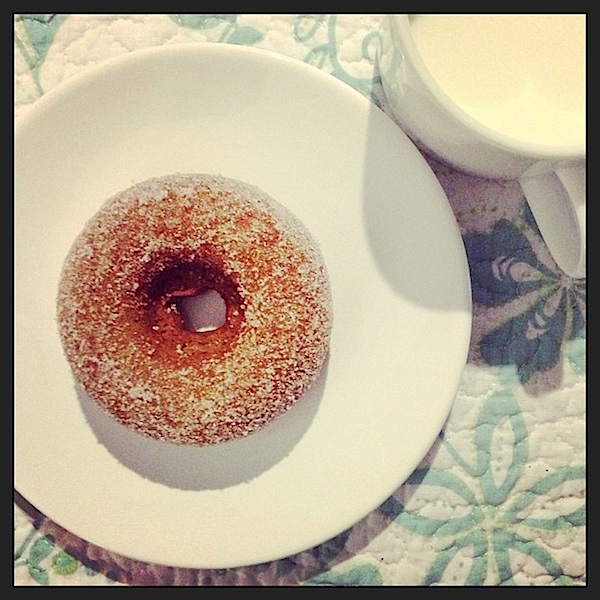 And I tried out a new donut recipe that I created awhile back to recipe-test. These are garam masala baked donuts, and they're great! I'll be sharing this recipe soon, too!
***
So, all in all, a great week! How did you do?
***
In other news, I'm really excited to announce that I'll be a speaker at Fitbloggin 2014 in Savannah, GA. Woohoo! I'm equally excited and nervous. This will be my first time presenting at a conference, which is something I've wanted to do for awhile now. I'm just glad I have a few months to prepare. Phew! I'll be presenting HTML and CSS for non-technical bloggers, so if anyone wants to learn more about coding and has little to no experience, this is the presentation for you! I'm planning to make the session interactive and help people actually write some simple HTML and CSS during the session to empower them to be able to make minor changes to their blog and understand some of their code. I'm really looking forward to it and the conference overall. I've always wanted to go to Fitbloggin, and I'm really glad it's come a little closer to home!
***
Thanks for reading! Have a great rest of the week!