So, I was working from home the other day, scavenging my freezer for something to eat for lunch when I stumbled upon a tupperware of frozen turkey chili. Score! The chili was great, but I needed something to go with it. Luckily, I ended up with the perfect accompaniment: this Cornbread Minis Recipe.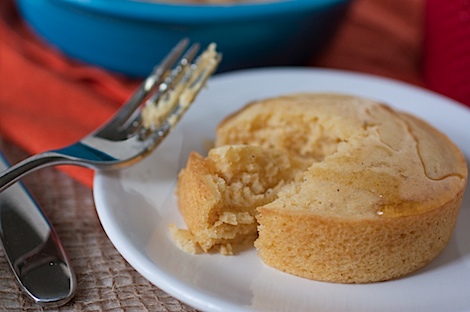 I know a lot of people enjoy various things with chili: tortilla chips, pasta, etc. Personally, my favorite thing to go with chili is corn bread or muffins. I've been baking corn muffins up the last several times because I can be impatient and the muffins just bake faster than bread. Not to mention muffins are easier to share and freeze for later.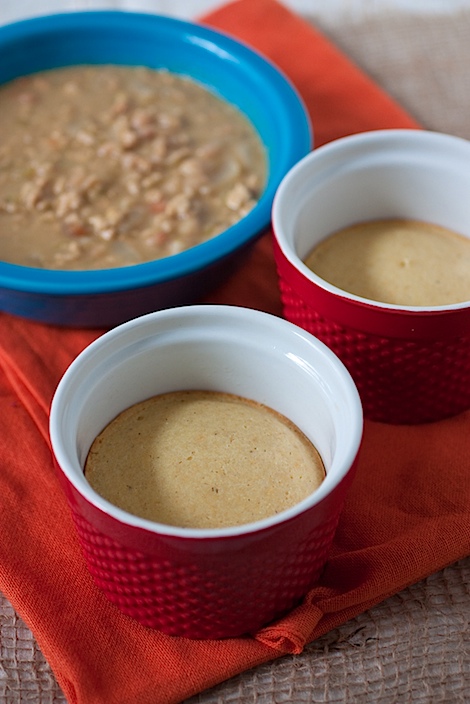 Sometimes, I freeze the leftover corn muffins I make the same day I do the chili, but there were no corn muffins to be found in my freezer. I considered baking a whole batch of muffins. But that seemed like a bit much and my corn meal was running low. That's when inspiration (or curiosity) struck. Could I possibly convert one of my Cake Mini recipes into a Cornbread Mini Recipe?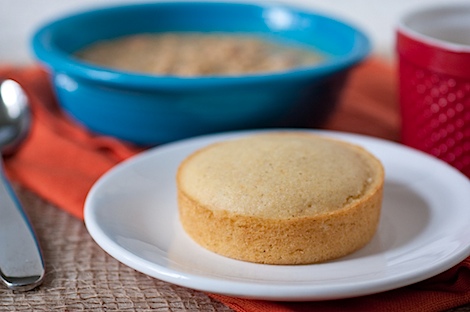 I took one of my Cake Mini recipes, did some simple updates, and decided to test out the depression cake trick (vinegar & baking soda) for leavening.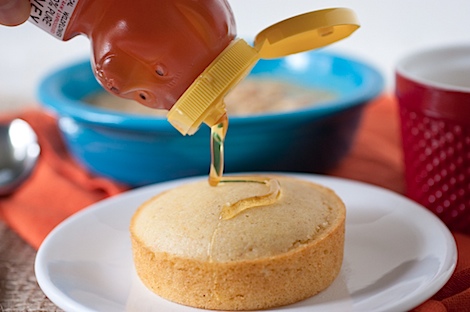 The experiment was a success! So successful, in fact, that I ate both mini corn muffins. I just had to drizzle them with a little local honey first. Mmm…
It's not pictured here, but my favorite local honey is by Cloister Honey.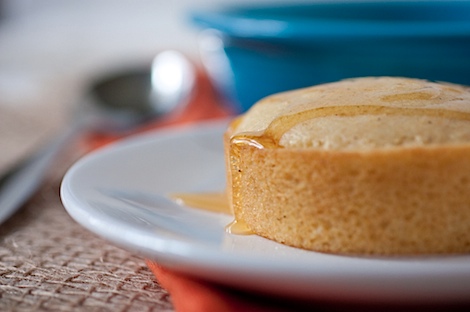 Print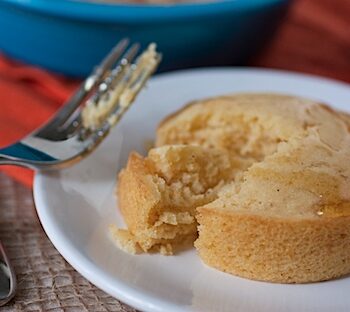 Cornbread Minis Recipe
Author:

Prep Time:

5 mins

Cook Time:

15 mins

Total Time:

20 mins

Yield:

2

1

x
---
Description
If you have the time and ingredients, I'd probably just bake up a whole batch of corn bread or corn muffins. But, if you're ever feeling a little lazy, cooking for just yourself, or running low on baking ingredients, definitely give this recipe a whirl. This Cornbread Minis Recipe is just a little faster and more convenient…and, is even made without eggs or butter, thanks to the Depression-Cake trick I learned recently in my cake mini recipe.
The recipe makes enough for two people who want a small piece of corn bread or for one person who wants a lot (or another for later). They're perfect with chili or even with breakfast.
*Vegetarian* *Vegan options listed below*
---
3 tablespoons

corn meal

2 tablespoons

flour of choice (I like unbleached all purpose for this one)

1 tablespoon

sugar

1/4 teaspoon

kosher salt

1/8 teaspoon

baking soda

3 tablespoons

milk (or use vegan substitute)

1 tablespoon

flavorless oil (for example: canola)

1/4 teaspoon

white vinegar
---
Instructions
Pre-heat oven to 350 degrees F. Prepare two ramekins with non-stick spray.
In a medium bowl, combine and then whisk together corn meal, flour, sugar, salt, and baking soda until even distributed.
In another medium bowl, combine and then whisk together milk, oil, and vinegar until evenly mixed.
Mix wet ingredients into the dry ingredients until just combined, careful to not overmix. Batter will be lumpy. Evenly distribute batter between the two ramekins.
Bake 14-16 minutes, or until top is just golden brown and corn bread is cooked through (when a toothpick inserted into the center comes out clean).
---
Recipe Card powered by
Happy baking! Hope you enjoy this easy Cornbread Minis Recipe 🙂
What's your favorite kind of chili? Turkey, beef, vegetarian, tempeh…anything else?