I decided to order a heart rate monitor last week, and I wanted to share the results of my first heart rate monitor test.
I actually wanted to purchase a heart rate monitor about five years ago, but these things aren't cheap. Not only that, but I remember that the options were limited in the store I visited. Plus, the store employee helping me told me some of the non-traditional options (watch-only at the time) weren't that accurate. He said the ones that do their calculations using the pulse on your wrist aren't as good as the chest straps. So, I decided to wait, and then I got distracted and forgot about it, and now we're here.
***
Calories Burned Estimation
I want to spend some more time researching heart rate monitors, but here's some initial information you should know about using fitness tools, in general.
According to this article in the LA Times:
Arriving at a true count of how many calories you're burning, i.e., your energy expenditure, is not as simple as 1-2-3. To get a direct count while, say, you're ellipting along on an elliptical, you would have to be in a special room where precise measurements could be made of the heat released from your body. This method (based on the fact that burning calories releases heat) is possible but usually not practical.
What I've gathered from this and other similar articles (like this and this) is that fitness tools should be used for estimations only since they're not 100% accurate. I'm cool with that.
My Heart Rate Monitor
I purchased the Polar FT4 from Amazon.com. It was $61.82 (down from 99.95 according to the site) and on prime shipping. After my Clarisonic debacle, I checked the Polar web site and found Amazon listed on their Where to Buy page for online, so I believe it's legit this time. I did send an email to the customer service team to find out more.
At set-up, I was asked to enter:
Weight
Height
Date of Birth
Sex
I feel like the more information you enter, the more accurate your calculations, and this asked for more than other machines and tools I've seen.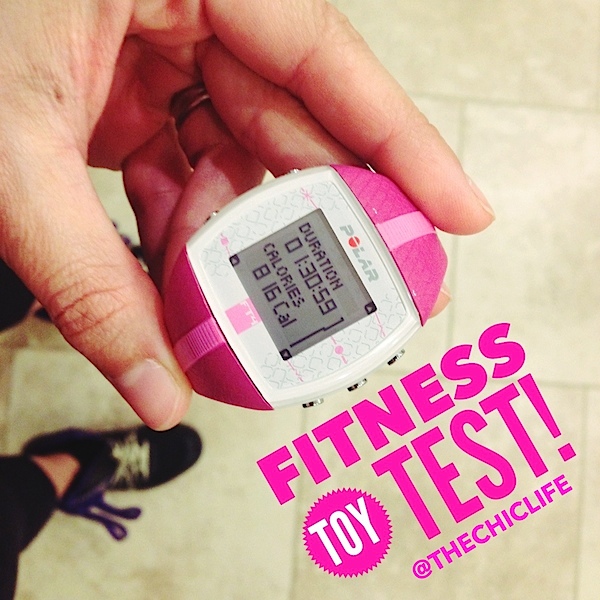 My First Heart Rate Monitor Test Results
So, my estimated calories do not actually match the photo above. Fail. Here are a couple reasons why:
I hit the wrong button. Yep, I ran my first test during a Zumba class I was actually teaching, so my focus wasn't as much on my heart rate monitor as it was on my class. Just after class ended, a participant came up to chat. I quickly hit a button on the side thinking I'd stopped it. I guess I just hit a different view because I looked down a few minutes later to see the calories burned had jumped up. Doh!
After class, I sometimes lead my class in a free mini toning session. We do 3 toning songs and 1 stretch. I turned the heart rate monitor back on for this portion of the workout, which added more to the calories burned number. However, in doing a quick read through of articles on heart rate monitors, most said that you can't really use them for calculating strength training / toning.
Luckily, I did happen to look at the estimated calories burned right after class ended. The number was 658. Not to shabby for just under one hour of a workout. Since this is my first test, and I haven't tried calculating calories burned in any other way, I'm not sure how accurate (or inaccurate) this is. But, I still appreciate the estimation.
***
I'm looking forward to continuing to experiment with and learn more about my heart rate monitor. Even though the studies say the calculations aren't 100% accurate, I still think the information is helpful as a general guideline. My first key number I'm most interested in is the calories burned. But, I'm also interested in paying more attention to the heart rate information and learning how to use that information. Hopefully, I can find some good resources to learn more about how to best use my heart rate monitor. Any suggestions?
***
Any heart rate monitor enthusiasts out there? What tips do you have for this newbie?