I don't know how it happened, but I feel like I've spent the last few years taking life a little too seriously. Like I was focused on work and goals and I had to get everything done before I could take a break and nothing ever seemed quite done enough so the breaks never (or rarely) came. I have a hard time resting when I feel like things are incomplete. It leaves me with this annoying, unsettled feeling. But, I'm learning that sometimes you just have to carve out time for breaks, rest, and…well…fun!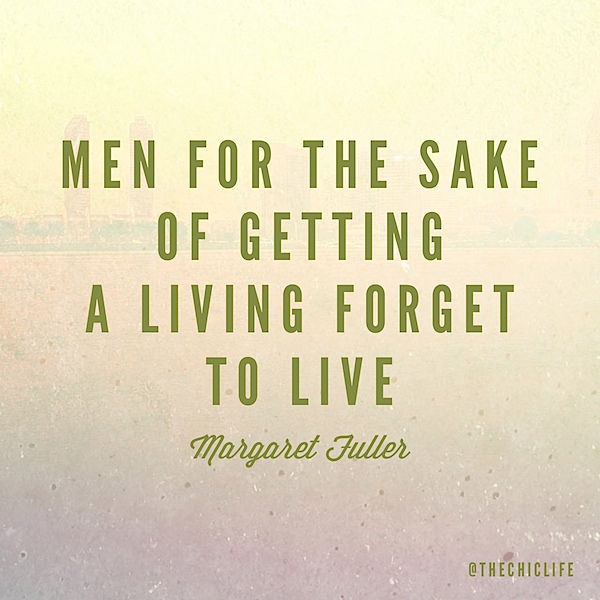 This quote sums up what I'm realizing lately:
"Men for the sake of getting a living forget to live."
~Margaret Fuller
I'm an analytical, Type-A, goal-oriented person. Goal-oriented. Not fun-oriented. If I think back from even college, it seems the goals have been: get a job, get an apartment, get a better job, get a house, work on a bigger project at work, work on the house, etc. Work, work, work! But, what about getting a life? I'm thankful that many of my hobbies, though sometimes crossing over to the work lane, are mostly fun and stress-relieving. But, trying to do much of anything, even good things, can be overwhelming if you don't balance things well or at least remember that hey, these are things you're doing because you enjoy them. Sometimes, it's about your point of view.
I've been immersing myself in a lot of interesting books that are helping me change my perspective on things. One standout is You Are a Badass: How to Stop Doubting Your Greatness and Start Living an Awesome Life by Jen Sincero. I listened to the whole audiobook in my car over many trips to work and a couple road trips afar. I loved it, took many notes, and promised to listen to it again soon. I even got the paperback version so I could reference it and go through some of the exercises. I'd forgotten about it in the last few weeks. But, just as I was having a low moment in the last week or so, I re-stumbled upon this chapter, and it was exactly what I needed to read…especially the last page: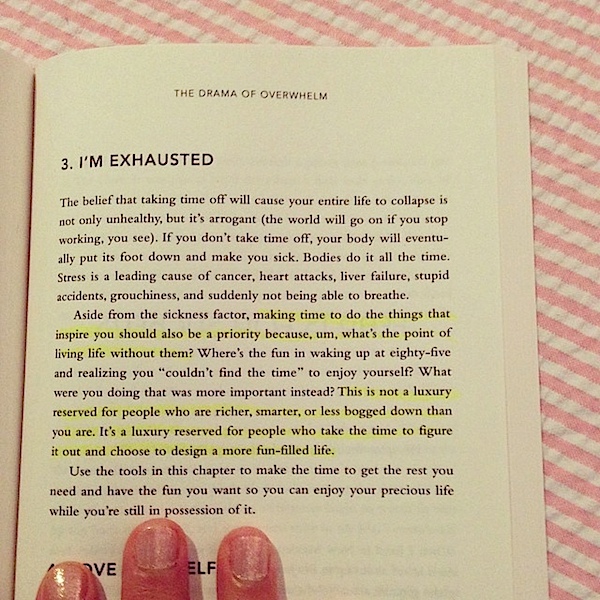 Here are a couple stand-out lines from the chapter called "The Drama of Overwhelm":
"The belief that taking time off will cause your entire life to collapse is not only unhealthy, but it's arrogant (the world will go on if you stop working, you see). If you don't take time off, our body will eventually put its foot down and make you sick."
"…making time to do the things that inspire you should also be a priority because, um, what's the point of living life without them?"
"This is not a luxury reserved for people who are richer, smarter, or less bogged down than you are. It's a luxury reserved for people who take the time to figure it out and choose to design a more fun-filled life."
So, readers, if you're feeling a little overwhelmed like me, remember to make time for rest and fun. I know it's one of those "easier said than done" kinds of things, but I really do believe that you simply have to make the time for it. This is something I find challenging myself, but I'm ready to work on it. What about you? Enjoying life isn't a special gift reserved for everyone else. It's ours if we want it! Let's take it!