As most of you can probably relate, my crazy schedule sends me looking for easy, healthy, weeknight meal ideas. I recently gave farro a couple makeovers so I could enjoy it three times in one week as simple, vegetarian entrées. I present: Farro 3 Ways – Easy Weeknight Meals.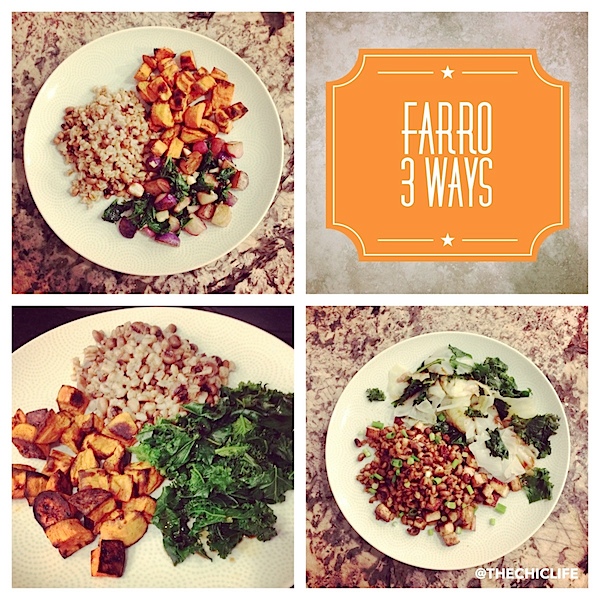 Do any of these meals look intimidating? If you don't cook often, they could. But trust me, they were so easy! If you can make rice pilaf, you can make the main farro dish that kicks off all of the other easy meals.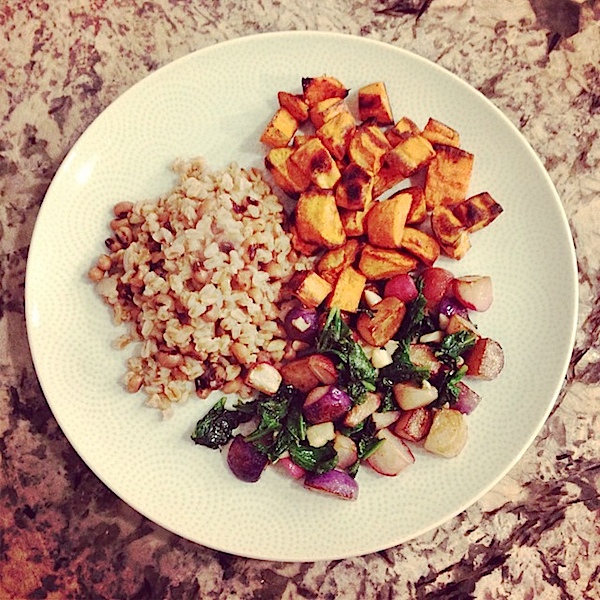 #1 – Black Eyed Peas with Farro
My easy eats began with a trip to the farmers market. I'd had a long day at work and had left a little late. I love going to the market after work because I find it a relaxing place where I can get delicious, local ingredients. The market is full of good energy, so I like to soak that up and start to un-wind after work sometimes. I picked up some radishes, sweet potatoes, kale, onions, and apples without knowing what I'd do with it.
By the time I was finally headed home, I didn't want to stop at even one more place. I decided to make something for dinner out of the pantry and found some Trader Joe's 10 minute farro and a can of black eyed peas. I did a play on my Rosemary Garlic Farro with Chickpeas recipe, except I didn't even bother to chop up some garlic. The 10 minute farro helped speed up the total cooking time. I roasted the sweet potatoes, which didn't take too long since I cut them pretty small. I kept the flavors simple and roasted the sweet potatoes with olive oil, salt, and pepper. I learned a tip from the vendor who sold me the radishes. She said I could sauté the radish bottoms and greens (adding these near the end of the cooking) with butter. She was right. It was good!
The whole meal was pretty straightforward in cooking methods and flavors, but I really enjoyed it. I also thought this was slightly easier for cooking for one, since hubby was having dinner out.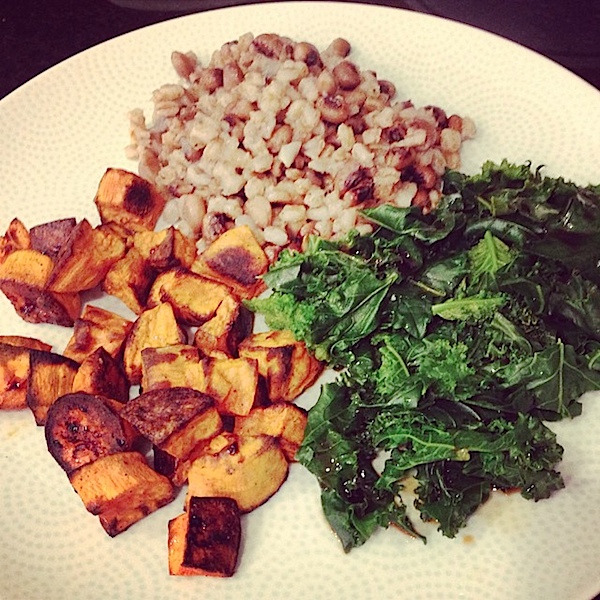 #2 – Sautéed Garlic-y Black Eyed Peas with Farro
I'm not a fan of microwaves, so I decided to sauté the leftover black eyed peas with farro from the night before with a little oil and garlic. I heated the oil in a pan and cooked the garlic till it was fragrant, just under a minute. I added a nice portion of the leftover farro and sautéed the whole thing till it was warmed through. I also roasted another sweet potato and steamed up some kale. We usually put butter and a sprinkle of salt over our steamed vegetables, but I like my kale drizzled with just a little soy sauce instead sometimes.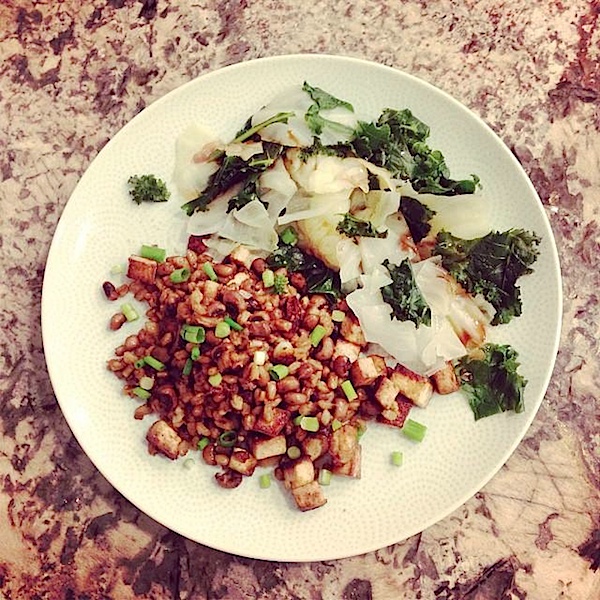 3 – Tofu Farro Stir-Fry
On the third day, I still had leftover farro, so I decided to change the flavor profile by making a quick stir-fry. I swung by the grocery store on the way home from teaching Zumba to get another time-saver item – cubed tofu. No pressing and cutting tofu for me! I started this dinner by sautéing the tofu in a pan with a little oil and soy sauce. I added the farro and cooked everything until the farro was heated through, adding a little more soy sauce, to taste. Meanwhile, I steamed up some cabbage and kale, which I served with a drizzle of soy sauce. This may have been my laziest preparation of the black eyed peas with farro, but I think it was my favorite.
***
Though I prefer eating different things every night, I appreciated how simple and healthy these weeknight meals were. They were a huge relief after a long day of work and teaching my Zumba class. And they were so good too!
Thanks for stopping by!