I've had so much fun sharing my Erin Condren Life Planner Decoration photos on Instagram, that I wanted to figure out a way to bring it to my blog, too. I thought about doing a weekly post but ultimately decided that a monthly recap may be the easiest way to share this content. This way, you can see a few layouts without having to click around too much. We'll see how it goes. Feel free to leave a comment below to let me know if you like it this way or want to see it broken out more. I may experiment with weekly posts in the future till I figure out what's working best. Oh, and I'm planning to set up a Planner page so you can easily access the links for everything later.
I wanted to add it to the blog so the content is available for those who don't have Instagram and also so I can add additional details, like links to specific stickers I used, etc. Let me know if you have any requests or questions in a comment or email.
As I'm just now posting January, I have some catching up to do, but I hope to get on a more regular cadence, work schedule permitting. Without further adieu…here are my layouts for January 2015.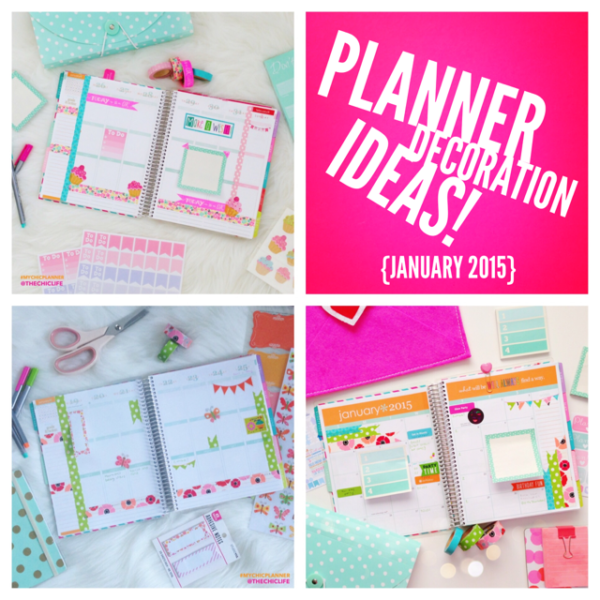 Life Planner Decoration: January 2015 (Weekly/Monthly)
January 2015 Monthly Layout with Decorations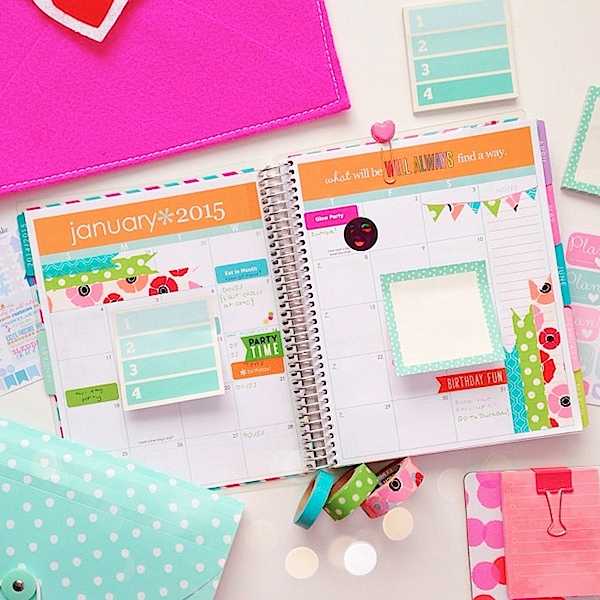 I love using the base colors of the Erin Condren Life Planners in my decorations and adding from there. I played up the two key colors, orange and pastel-turquoise, and then pulled in some other colors from the quote in the top right. I made a banner using the extra triangle cut-outs from the washi tape, as described in my tutorial on How to Decorate Your Planner with Washi Tape.
Planner decoration materials:
January 2015 Weekly Layouts with Decorations
Week of January 1, 2015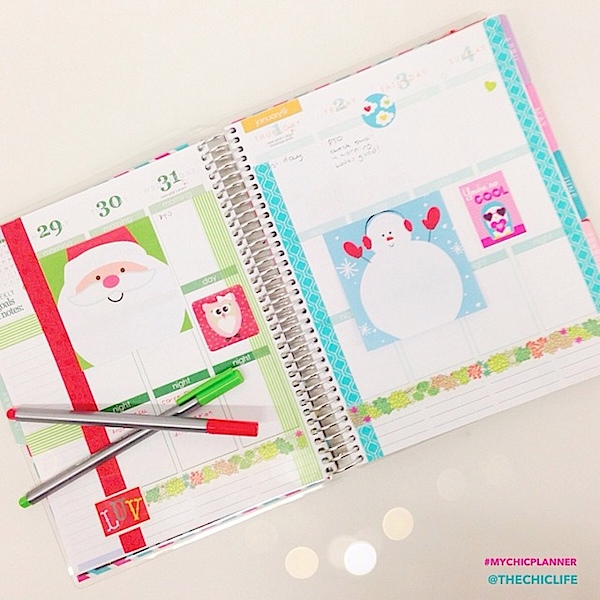 Since I had some Christmas decorations I was still loving, I went ahead and did a Christmas theme for the last couple days of December that shared the first week of January. It doesn't fully make sense (since Christmas was the previous week), but I like it. I used the floral/leaf washi along the bottom to tie the two sides together.
Planner decoration materials:
Week of January 5, 2015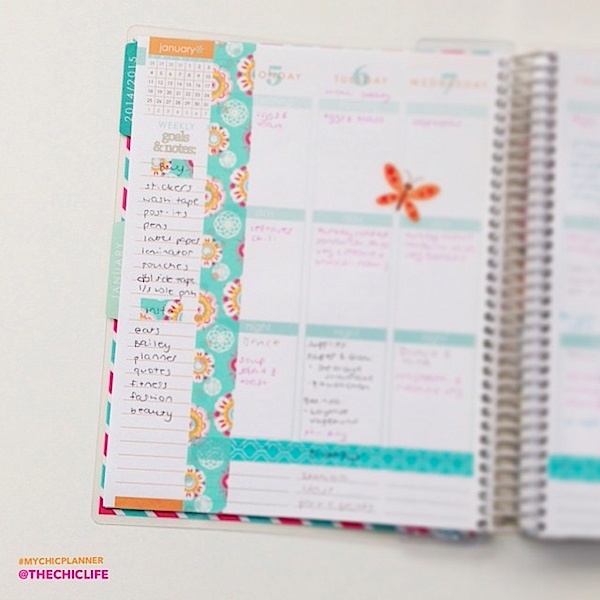 For the first full week of January, I decided to experiment with decorating the planner with just washi tape for a tutorial. It worked out great. I did go ahead and add a couple stickers since I planned to recreate the same look for the next week for the tutorial. See the next week for details. The butterfly sticker is by Me & My Big Ideas.
Week of January 12, 2015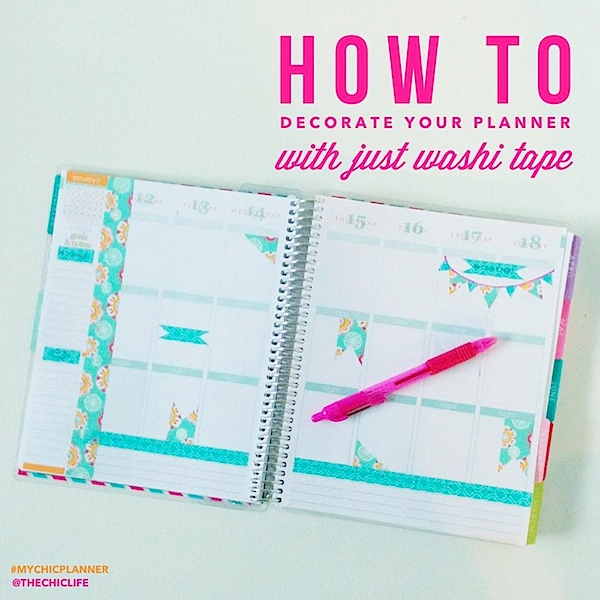 Here's my tutorial week! I wrote a full blog post detailing how I created this look with just washi tape. Click here to view my tutorial for How to Decorate Your Planner with Washi Tape.
Week of January 19, 2015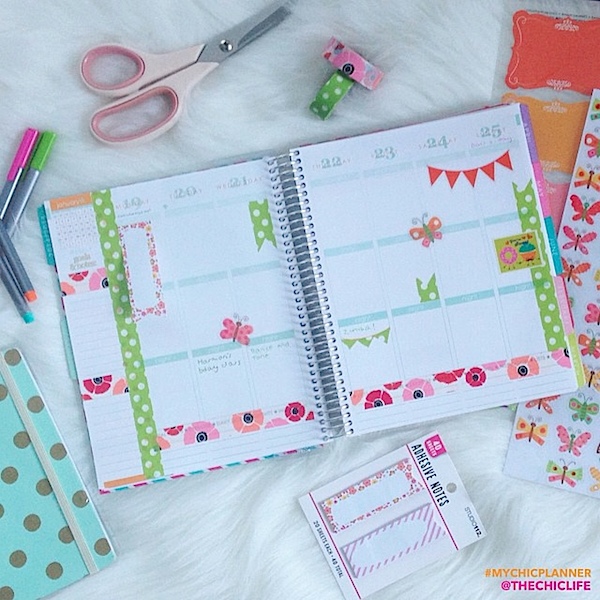 This was my last week before I got really into Etsy planner stickers. I used the top right orange weekend banner sticker, butterfly stickers, sweets sticker, and the page flag to draw some of the melon/orange tones up the pages. I like to try to do an even distribution of color so the look is cohesive across the spread.
Planner decoration materials: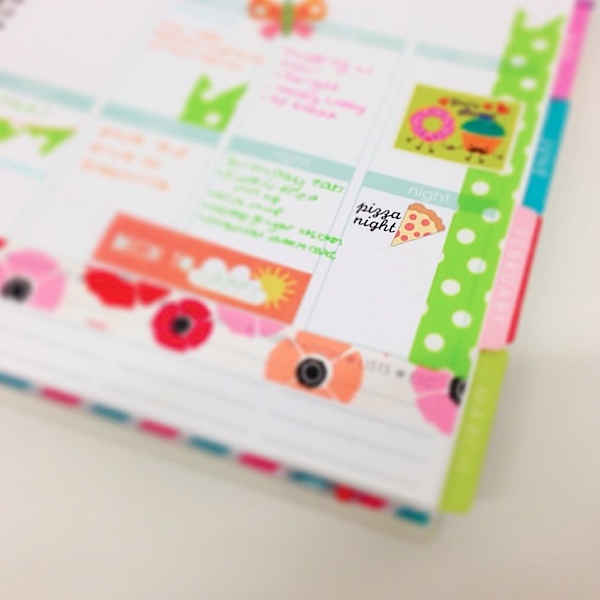 My first Etsy planner sticker order arrived, and I was so excited, I added a "pizza night" sticker by It's Planning Time mid-week.
Week of January 26, 2015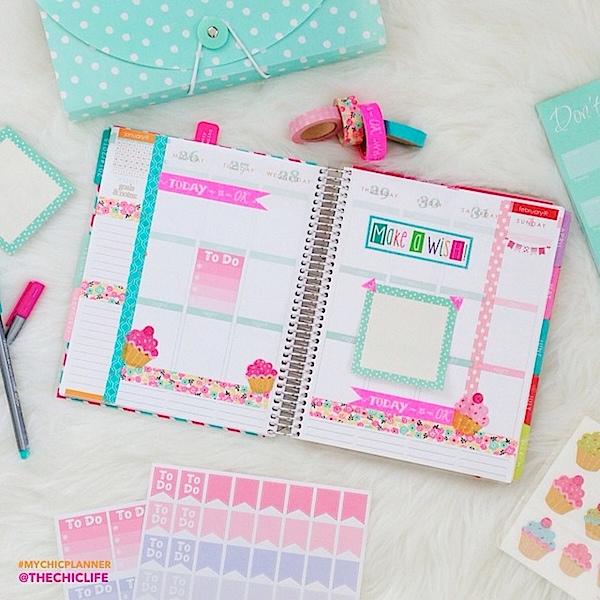 This is still one of my favorite weeks decoration-wise. The floral washi tape was my focal point, and I pulled the colors from there. And cupcake stickers are pretty much always a good idea.
Planner decoration materials:
***
I'll get that Planner page up soon so you can easily reference and find my other planner related posts.
Please let me know if you have any post requests or questions in a comment below.
Thanks for stopping by!