I was hoping to share my family's homemade Honey Lemon Ginger Tea Recipe sooner, but work has been ever busy. Still, this recipe may be even more relevant now since we're currently in that wonky transition period between winter and spring. You know the one where it's gray and 40 one day and beautiful, sunny, and in the 70s the next? Yup. Fun times. The vacillating weather is not only a tad frustrating but can make you more susceptible to catching a cold. Or worse! At least that's what mom always told me. And hubby has proved her case by coming down with a cold recently.
So, here's a little something my family likes to make for this occasion – our DIY Honey Lemon Ginger Tea Recipe.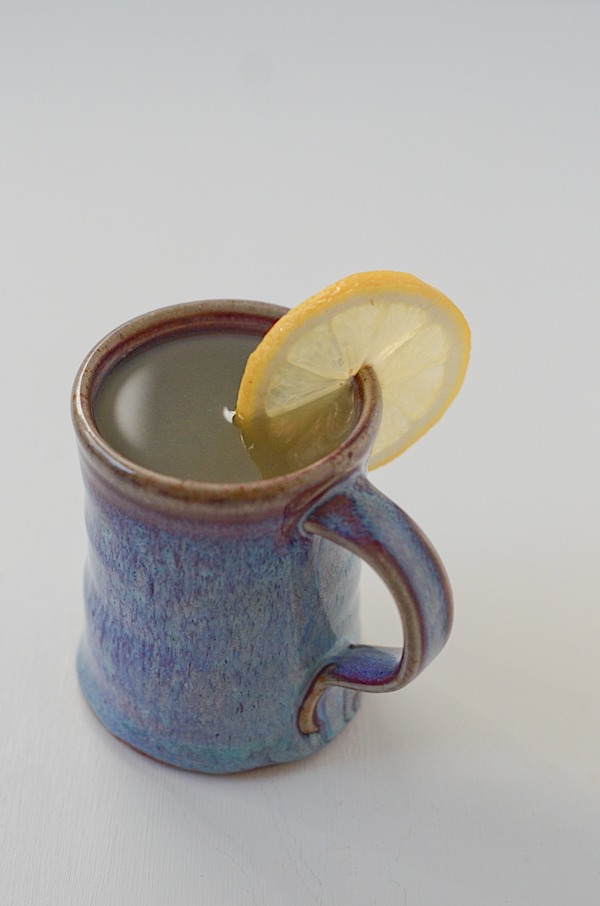 I love turning to natural solutions when possible, and this tea is one I personally like.
This tea recipe is as simple as it sounds, containing only three key ingredients:
Seriously, that's all you need. Just add water.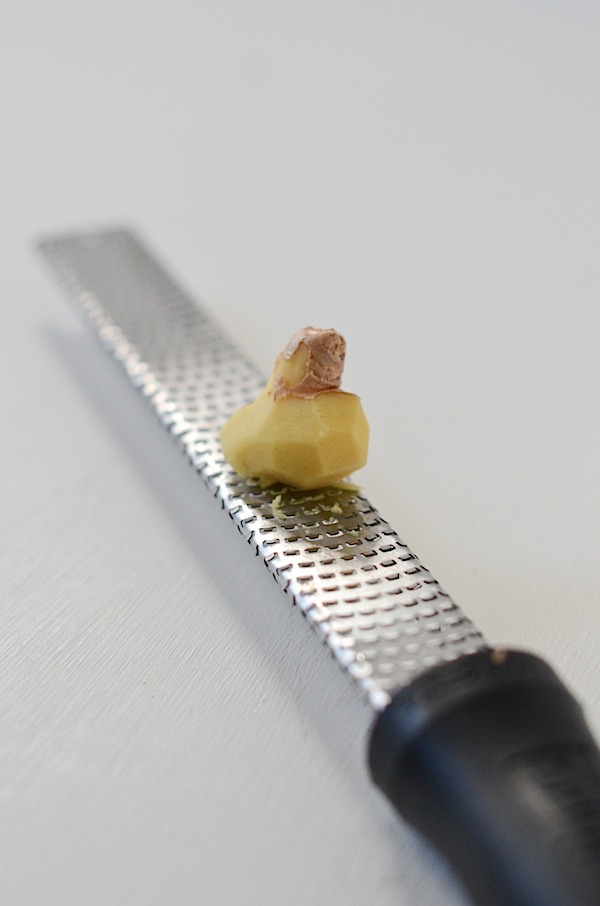 The ingredients may be simple, but the combination in this comforting tea always makes me feel a little better.
Lemon and Honey: According to the Mayo Clinic, "warm lemon water with honey helps loosen congestion and prevents dehydration."
Ginger: This article about cold and flu fighters on WholeLiving.com boasts, "the pungent root can also act as an antihistamine and decongestant, two cold-easing effects embraced by Chinese herbalists for millennia. Tossing some fresh, chopped ginger into your stir-fry or soup can lessen cold symptoms, as can making a strong cup of ginger tea."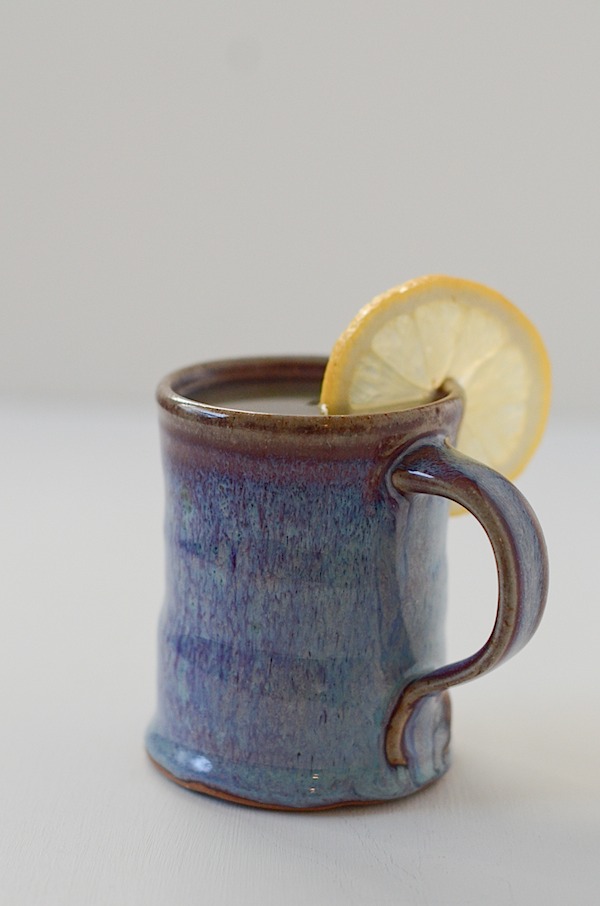 Cold or not, this tea is delicious, and I love that it's made from scratch – no tea bags or crazy ingredients needed. It's delicious as a zippy, hot beverage for everyday sipping. I do like the ginger tea by Yogi Tea, but I think homemade is always better.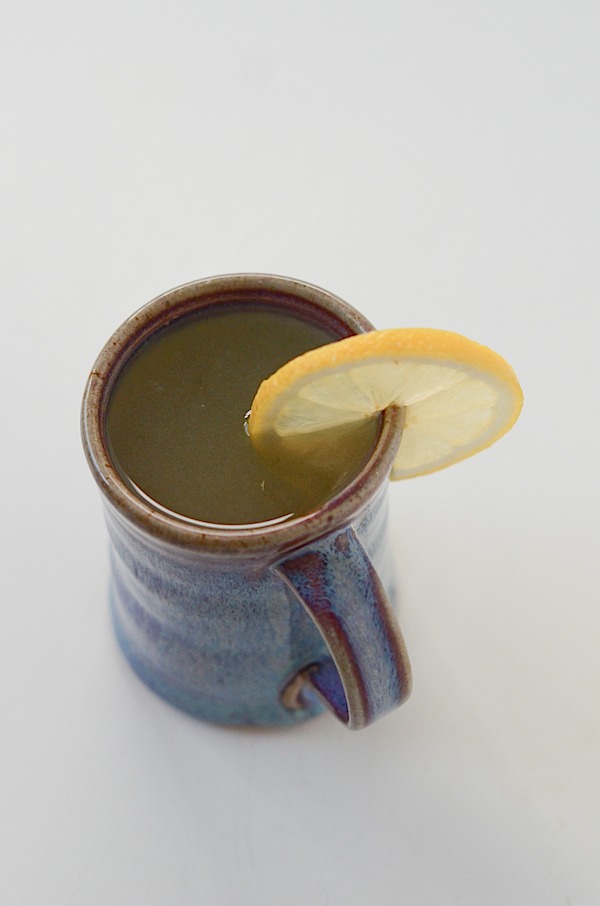 Print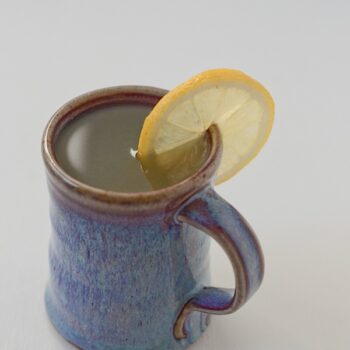 Honey Lemon Ginger Tea Recipe
Author:

Prep Time:

5 mins

Cook Time:

5 mins

Total Time:

10 mins

Yield:

1

1

x
---
Description
Try my family's Honey Lemon Ginger Tea Recipe for a zippy everyday beverage or natural cold relief. Not to mention ginger is well known for its digestive benefits. The measurements don't need to be exact. Just add a little here or there to suit your taste preference. I've added my basic guidelines to the recipe below.
---
ginger root (about 1 inch depending on thickness – you'll need 1 teaspoon grated)
juice of

1/2

lemon

2

–

4

teaspoons honey
boiling water
---
Instructions
Peel ginger root and grate using a lemon zester or other fine grating tool until you have about 1 teaspoon worth. Place ginger into a mug.
Squeeze in 1/2 a lemon and about 2-4 teaspoons of honey, depending on how sweet you like your tea. Add hot water to fill the mug, stir, and let steep for about 5 minutes.
When beverage is safe to drink, serve, and enjoy!
---
Notes
Note: Recipe easily multiplies to serve more.
To make vegan: Try subbing maple syrup or agave. Of course, sugar always works, but I've seen the maple syrup used in similar concoctions.
Recipe Card powered by
Hope you enjoy this Honey Lemon Ginger Tea Recipe. My family loves it, and I hope you do, too!
Thanks for stopping by!