Hello, fellow planner nerds! Aren't planner spreads fun to look at? Sometimes, if I'm waiting in line somewhere or have some idle time, I'll browse some of the popular planner hashtags (#plannerlove #erincondren #planneraddict) for inspiration. I just love seeing all the creative ways others add their own touch to their planners. Here are some of my planner decoration ideas for March 2015 in my Erin Condren (vertical layout).
By the way, I'm not planning to get a new planner till the end of the year. I can't say I haven't been a little jealous seeing all the clean page layouts of the new Life Planners, but I don't want to waste the last half of this one. Anywho, I only have a couple months till it's time to order my planner for 2016! Where did the year go?
Planner Addict? Be sure to check out my main Planner page for more
Please note: Some of the links below are affiliate links. If you make a purchase after clicking on one of those links, I will earn a commission. I used and loved all of the items linked below and provided all the links in this post so you can easily find the supplies mentioned in this post. Please don't hesitate to contact me if you have any questions.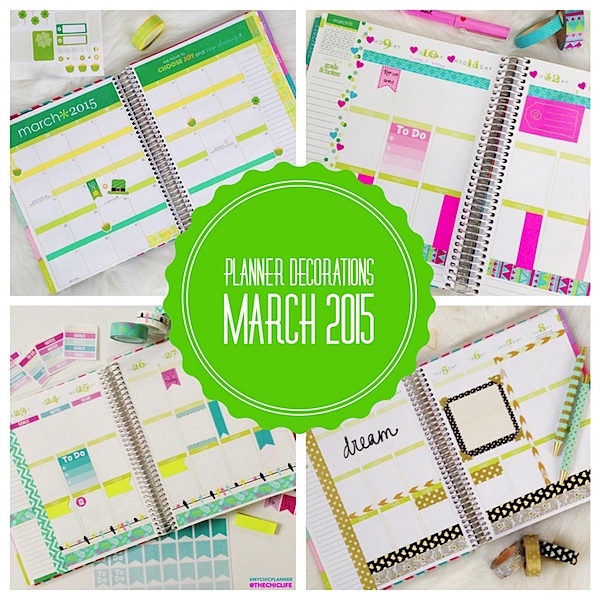 Planner Decoration Ideas: March 2015 (Erin Condren Vertical)
Be sure to pin your favorites!
Many of these layouts were before I got super sticker-happy, so I mostly used washi tape and post it notes. I like to think this shows you can really do a lot with your planner with just a could simple materials. Although, I really do love my Etsy stickers. Overall, I really liked the different color schemes. I felt like the green tones of March were really easy to work with.
Monthly Layout Planner Decorations: March 2015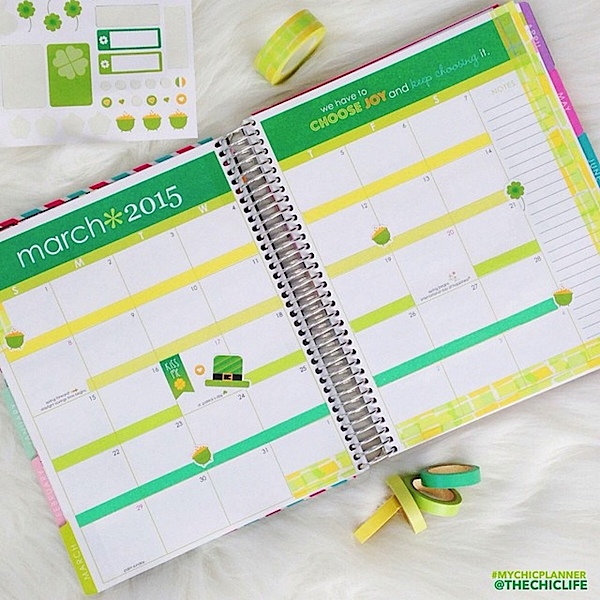 I used one of my first Etsy Planner Sticker Kits by Oh So Pretty Planner. It was fun using the custom theme stickers. I decided to keep the color scheme mostly green for St. Patrick's Day. I added horizontal lines using thin washi tape in a progressive yellow-to-green color scheme.
Planner Decoration Supplies Used:
I used thin washi tape in yellow and green tones. I got a set of multi-colors from Etsy shop pikwahchan
The yellow/green wide washi was also purchased from pikwahchan
And the St. Patricks Day kit was by Oh So Pretty Planner
Weekly Layout Planner Decorations
For March 1, click here to view the layout. I included it as part of the February 2015 recap.
Week of March 2, 2015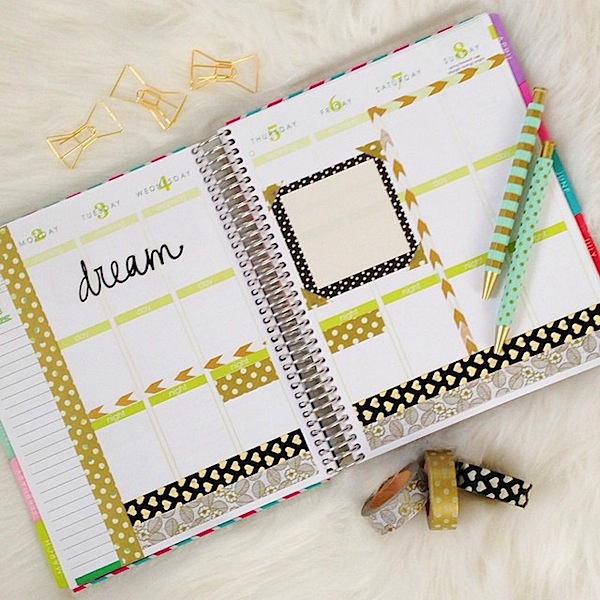 On this layout, I used 0 Etsy stickers. I did use 4 kinds of washi, though. This was my first time trying a more neutral color scheme. I usually play up whatever the background colors are. But I thought the gold and black went well with the green. Not to mention…St. Patrick's Day…gold at the end of the…you know.
This was my first time trying the right angle weekend border with the thin washi tape. I think it turned out nice and was a good alternative to weekend banners. Weekend banners are one of my favorite types of stickers, but it's good to have options.
Planner Decoration Supplies Used:
Skinny washi by Joanns
Washi tapes (I believe the other 3) from pikwahchan on Etsy
Sticky note and pens by Target dollar spot
Bow paper clips by Kate Spade purchased at Paper Source (available online)
Week of March 9, 2015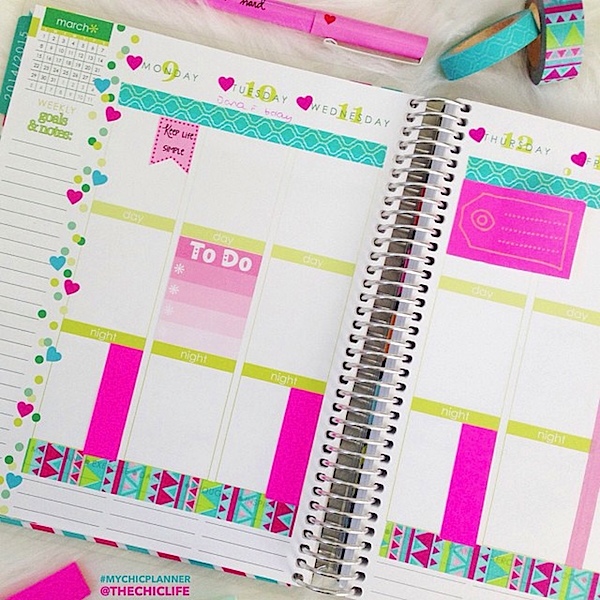 Ahh my favorite color combo – turquoise and pink. I really liked the pops of green too. I'd seen the patterned washi tape on Instagram and thought it was sooooo cute. I easily found it at a local Michaels. I believe it was in a dual pack with another color.
My favorite feature of this week, though, was playing with the left side polka dots by adding heart stickers. I thought it made good use of the polka dots, rather than covering them up. And, it helped tie my color scheme together.
Planner Decoration Supplies Used:
Week of March 16, 2015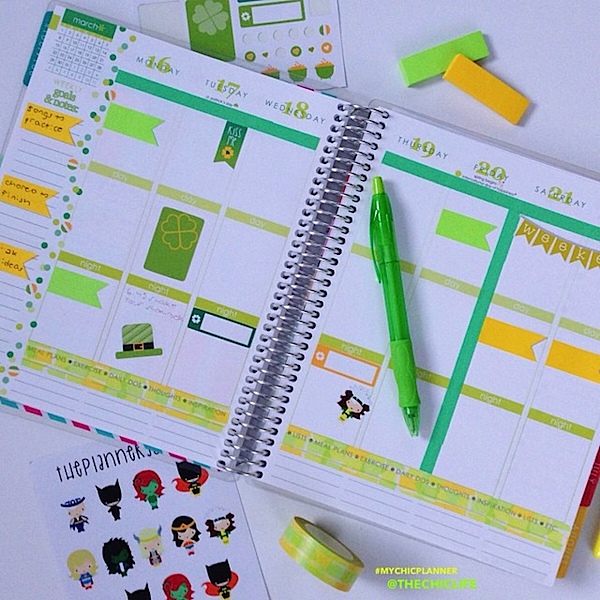 I used more of the same washi tape from the month layout and also a bunch of the Etsy kit stickers. I cut the post it notes into page flags by trimming off some of the ends in a v-shape. These looked good, were colorful, and very easily repositionable. Sometimes I'll put things on these if the plans are tentative or may move.
Planner Decoration Supplies Used:
Week of March 23, 2015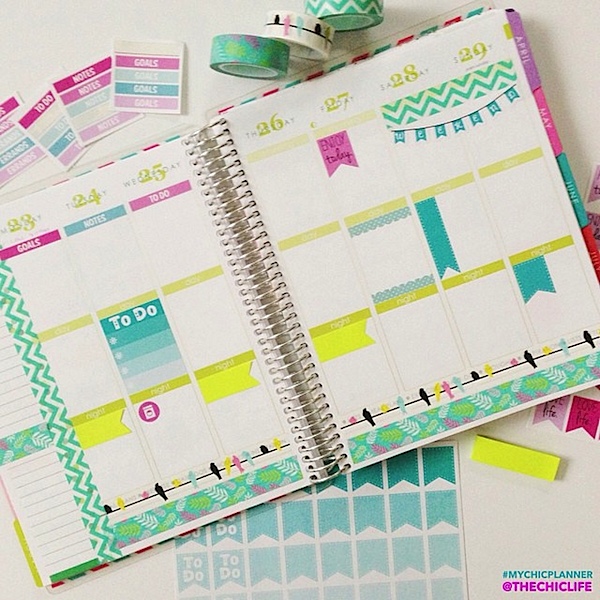 I tried some new things this week. I added custom M/D/N stickers over the left-side morning boxes. I really like the way this looked, even though the colors weren't the same for each day. And I used washi tape with different patterns, but the colors tied them together well. This spread made me really happy.
Planner Decoration Supplies Used:
More Planner Ideas
Click here to view my layouts for February 2015
Click here to visit my main Planner page with links to more tutorials, ideas, and resources
Be sure to follow me on Instagram and twitter for the fastest updates
***
Thanks for stopping by!