There is no shortage of ways you can visit NYC. So, when my friends Lindsey and Aurélie came to visit, I just asked them what they wanted to do. They had a pretty sizable list of things they wanted to see and eat. So, I came up with an itinerary to max out their long-weekend visit. I think I'll share the itinerary in a separate post and include what we planned to do and how the plans went. Could be fun! For now, here's NYC Weekend: Day 1.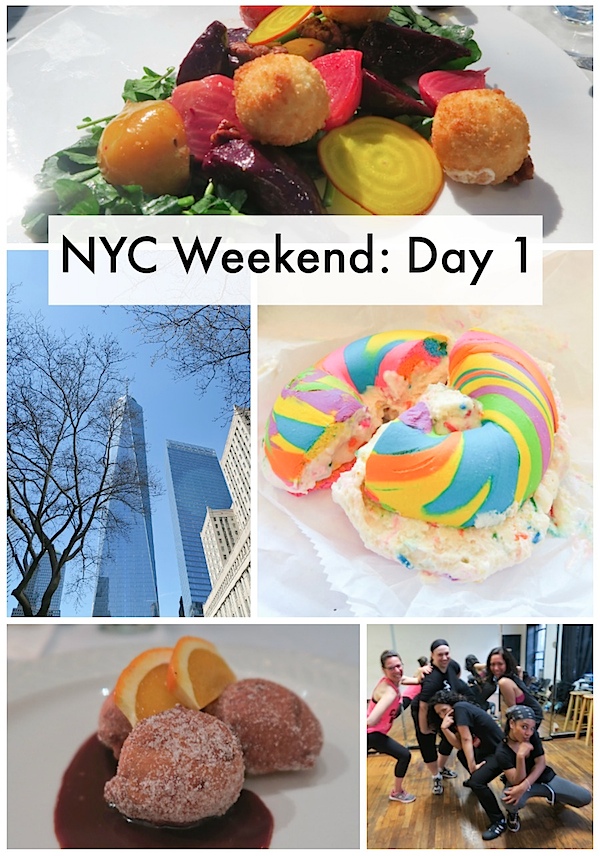 NYC Weekend: Day 1
Rainbow Bagels
World Trade Center
Dance Class
Yummy Dinner
Rainbow Bagels in Brooklyn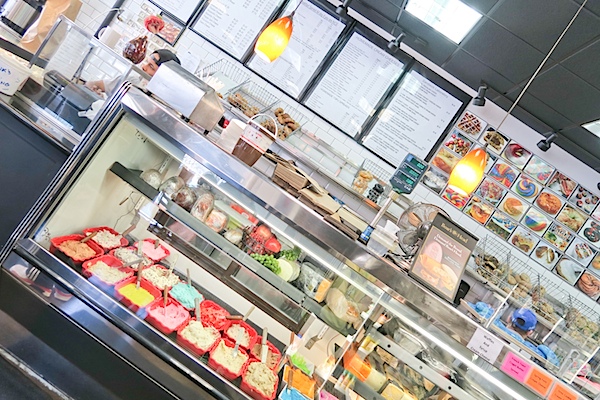 After seeing me post about my rainbow bagel, they both were really excited about getting their very own. To The Bagel Store (and East Williamsburg) we went!
Tip #1: Visit The Bagel Store on a weekday. I still owe a dedicated blog post to my visit to The Bagel Store in Brooklyn, but let me just say that visiting on a Friday was genius. And saved us about an hour…maybe even two! The line was so much shorter. Also, I find the subway to be more reliable (and have more options) on weekdays. 
Tip #2: Bring money. They're cash only.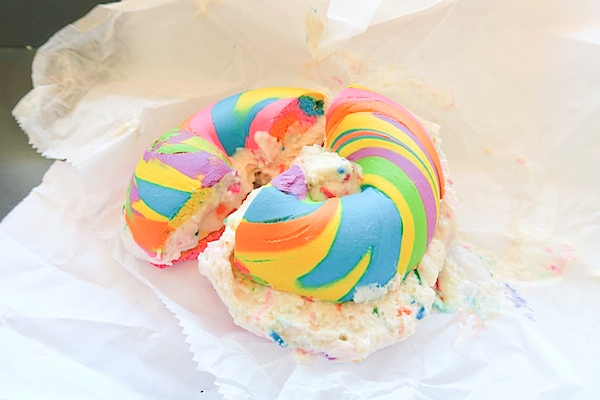 Here's my rainbow bagel in all its glory. I got the classic rainbow bagel with funfetti cream cheese.
Sometimes people ask me about the food coloring. It seems like there's quite a bit in here. As a clean eater, I generally avoid food coloring, but I make exceptions now and again. I don't think one rainbow bagel, in the grand scheme of things, is really that scary, personally.
Another question people ask me: Does it taste amazing? It doesn't taste like magical pixie dust or anything, but it's not just a gimmick. The Bagel Shoppe is known for their delicious bagels. Period. This one just happens to be extra-Instagrammable. If you order the same thing I got, it is pretty sweet. I think it tastes kind of like dessert for breakfast.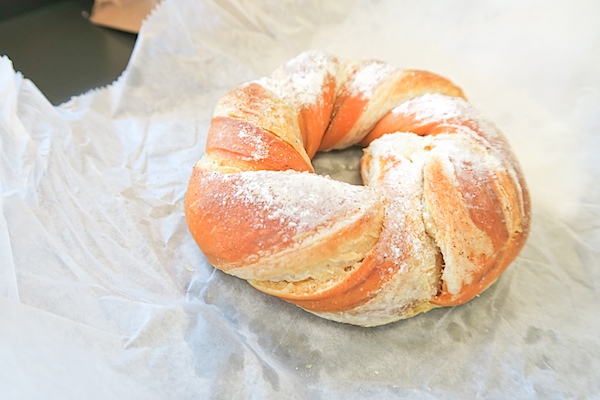 Here's another one of their famous creations – the cragel. Part croissant. Part bagel. 100% delicious. This poor little guy has been overshadowed by the rainbow bagel in recent days. But I actually think it's more unique due to its flavor and texture. It really does taste like both a croissant and bagel in the most delicious way. Though less flashy, I would probably be more likely to order this guy on my next return visit. We'll see how my Instagram feed is looking that day and if I need a pop of color. Kidding.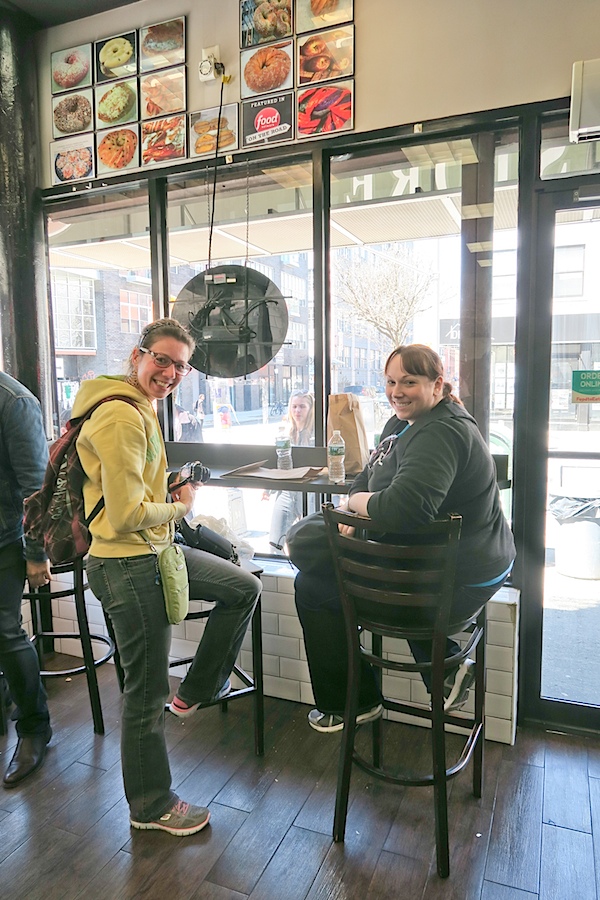 Happy eaters!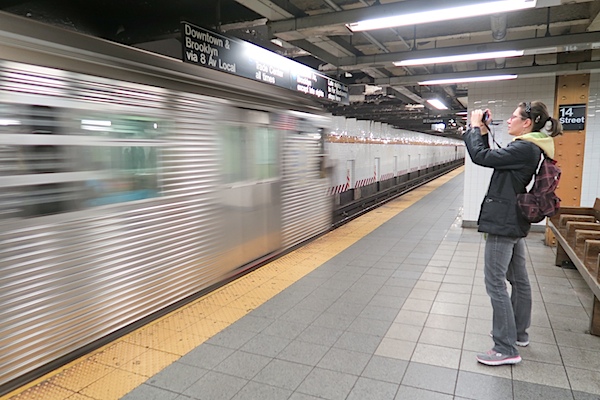 After getting our bagel fix, we headed back to Manhattan and took the L to the E. The E is the only subway to the World Trade Center.
World Trade Center Visit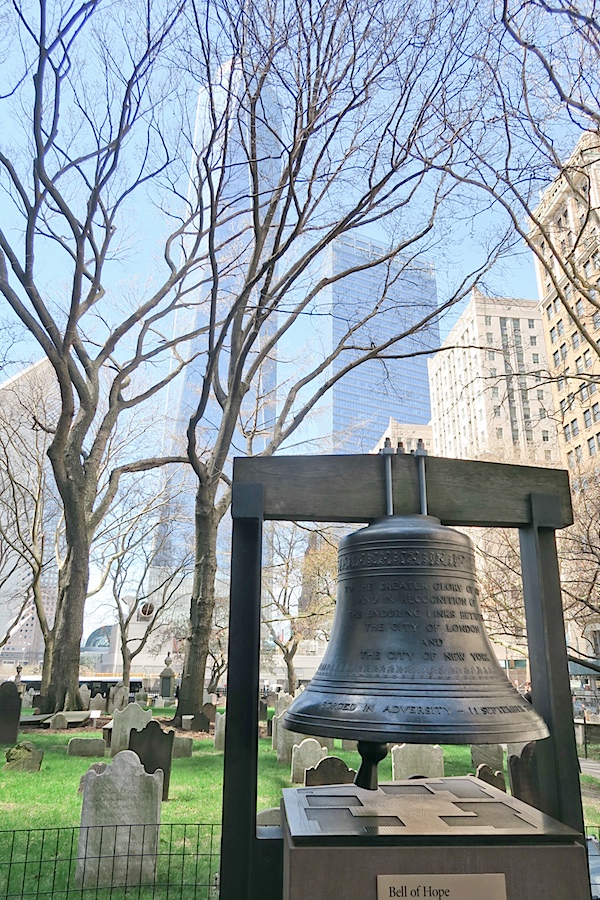 We came up just next to St. Paul's Chapel, so we went inside the gates. We walked up to the Bell of Hope, just next to the chapel.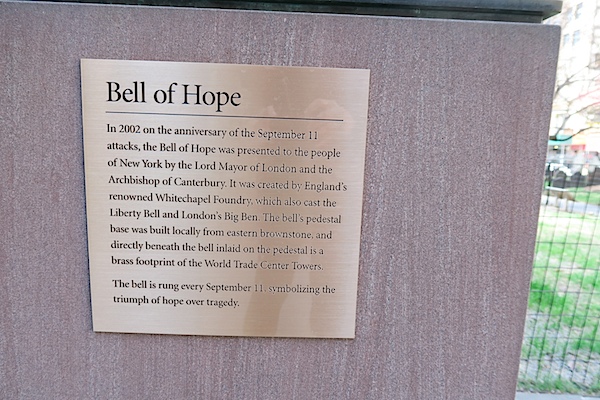 "The bell is run every September 11, symbolizing the triumph of hope over tragedy."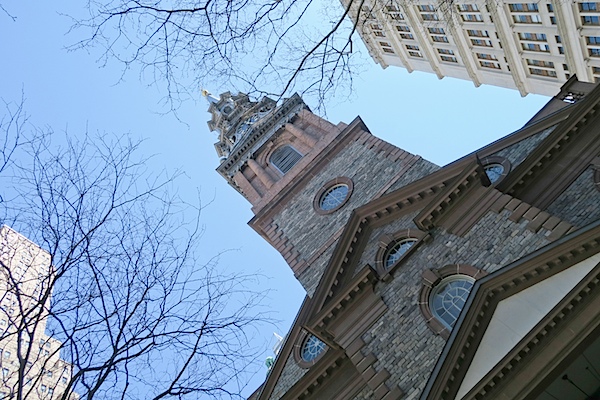 St. Paul's played a vital role in the relief efforts after 9/11. You can read more about it on this article at National Geographic. Within 100 yards of the World Trade Center site, St. Paul's is known as "The Little Chapel That Stood".
We next went up to the One World Observatory and 9/11 Memorial. I took a lot of photos and will be sharing them with my thoughts on a separate post.
Le District for Lunch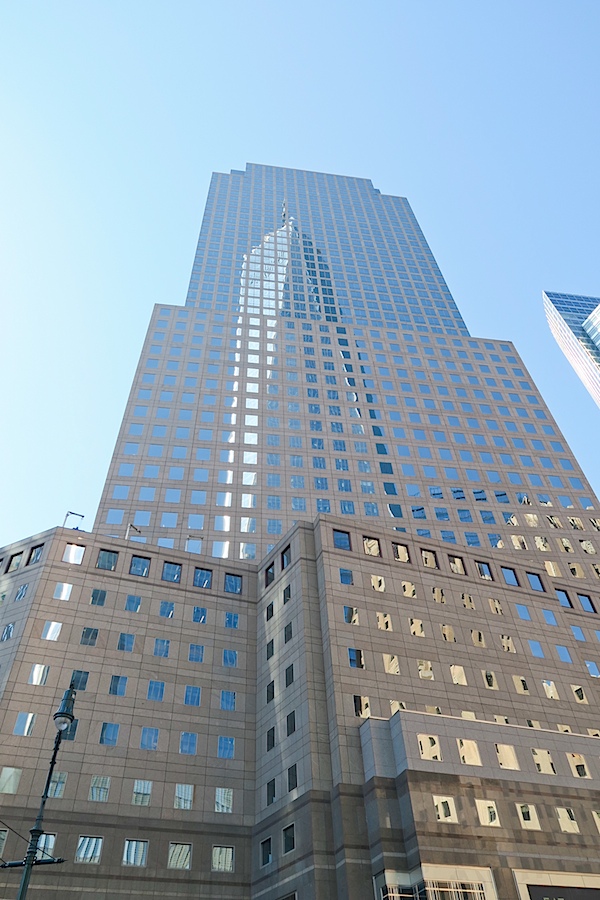 We went across the street, just next to the water for lunch. There were a couple options, but we went with Le District, which is inside Brookfield Place.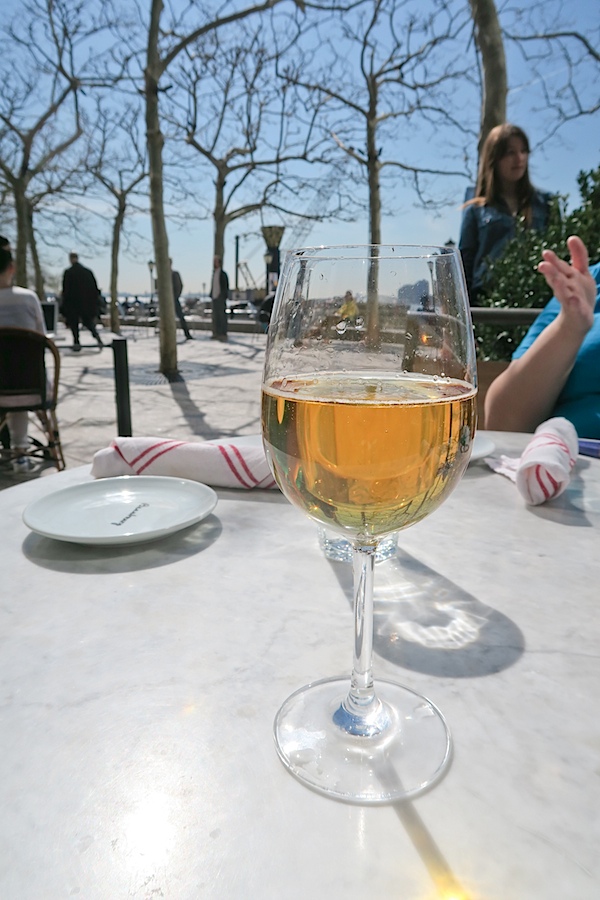 Although it was April, it was warm enough to eat outside. The view of the water was really nice.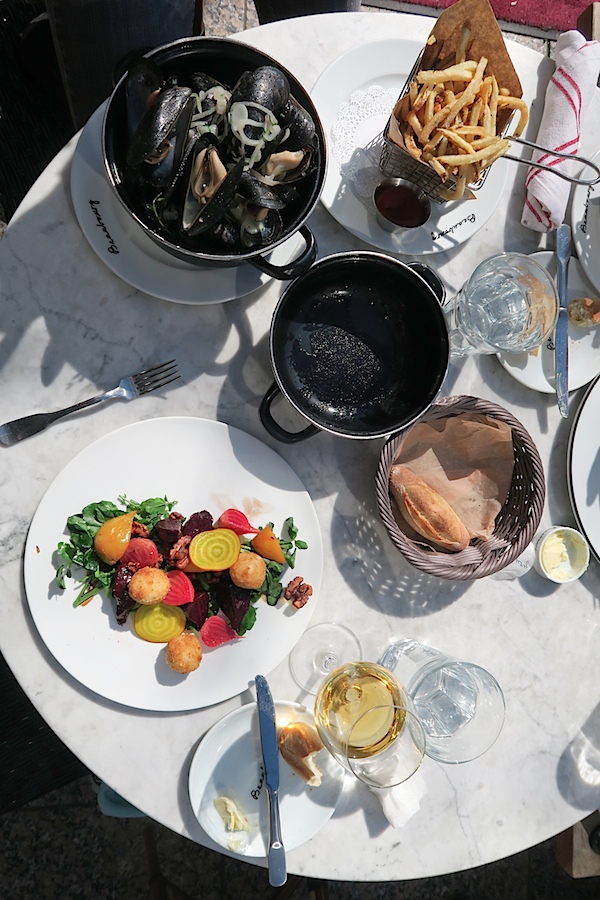 Since we were going to dance class later, I opted for a light lunch with the beet salad. It was really pretty and tasty.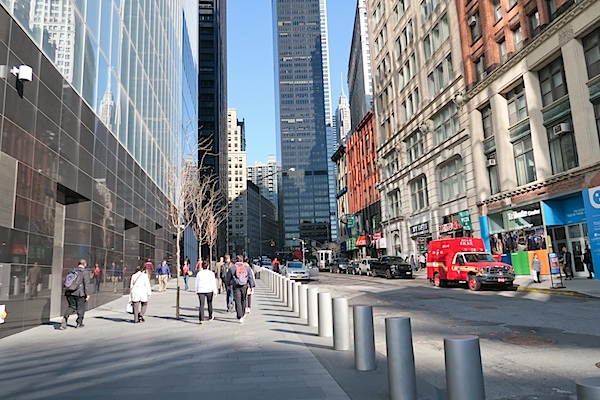 PMT Dance Class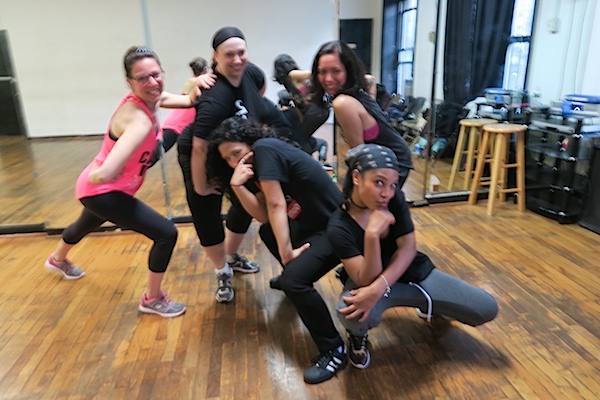 Later that evening, we went to a Beginner Hip Hop class at PMT Dance Studio with Dev and Mo. We did "I'm a Hustla" by Cassidy. Our feet were pretty tired from all the walking we'd already done, but we felt surprisingly great during class. I was so thankful for how much energy we had. It was super fun!
Eolo – A Recommended Dinner Spot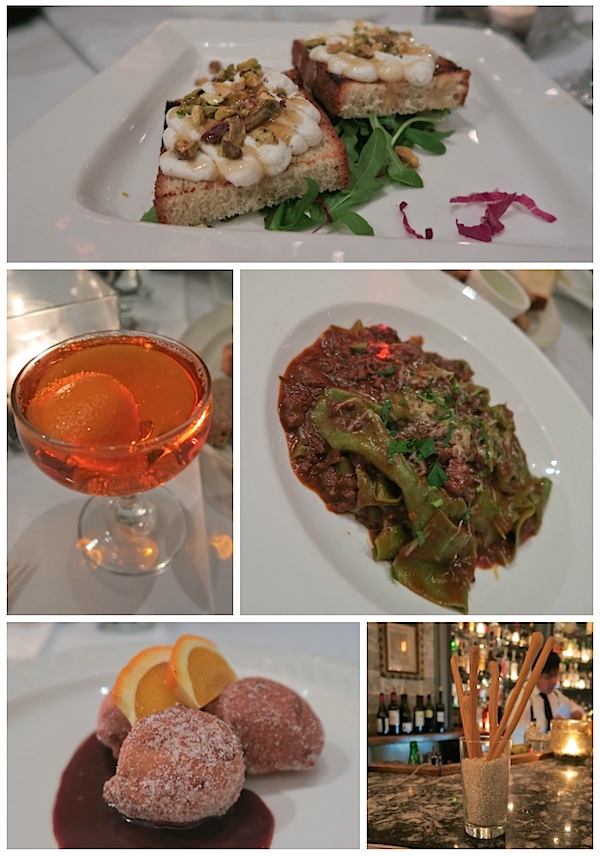 After class, we headed towards Chelsea for dinner. I found a place called Zagara that looked delicious and sounded good to the group. But when we arrived, they were all booked. Luckily for us, the owner recommended a place for us just a block away called Eolo. "Ask for Roberto," he said. "He'll take care of you." I made a mental note to return to Zagara sometime to thank the owner for his recommendation.
So down the street we went, and I did ask if Roberto was there that night. He was. Eolo had a short wait, so we sat at a bar. A little later a man came walking by and looked at me with a puzzled expression. I realized then that I hadn't told the hostess that I didn't actually know Roberto. Whoops! Roberto stopped by later, and I explained what happened earlier. He was like, "Ohhhhhhh!" Mystery solved. And he did take great care of us, and we had a lovely dinner overall.
For food, I ordered the Tagliatelle Bolognese. I loved how I could taste a red wine undertone in this. We shared some ricotta toast as an appetizer. And this plate of delicious doughnuts was the last round of the evening for me. Yum!
Next up – NYC Weekend: Day 2.
More NYC Links
Click here to view my NYC posts
Thanks for stopping by!