So you have your shiny, new planner in your hands, and you're ready to take the new year by storm. If you're newer to planning, you may be wondering what you may need to get started. Well, I have good news. I'm sharing my top 5 Essential Planner Supplies in this post, including how to get your hands on these goodies in 2 days or less.
For me, purchasing planner supplies seemed simple…at first. But as I started shopping, I found there were so many flippin options. While there is an unlimited number of options for supplies, I've found that I reach for the same supplies over and over again. Though I've used an Erin Condren LifePlanner for the last several years, the supplies in this post should be applicable for any paper planner.
So, let's jump in!
Note: This post contains affiliate links. If you make a purchase using these links, I'll make a small commission at no cost to you. I've personally used and love almost all of the products I'm recommending in this post. There are a couple other options I identified as additional options I thought you may like. If you have any questions, please don't hesitate to reach out to me.
*New VIDEO – My 5 Favorite Types of Planner Supplies
Click here to view this video if the above player doesn't work.
My Top 5 Essential Planner Supplies
#1 Pens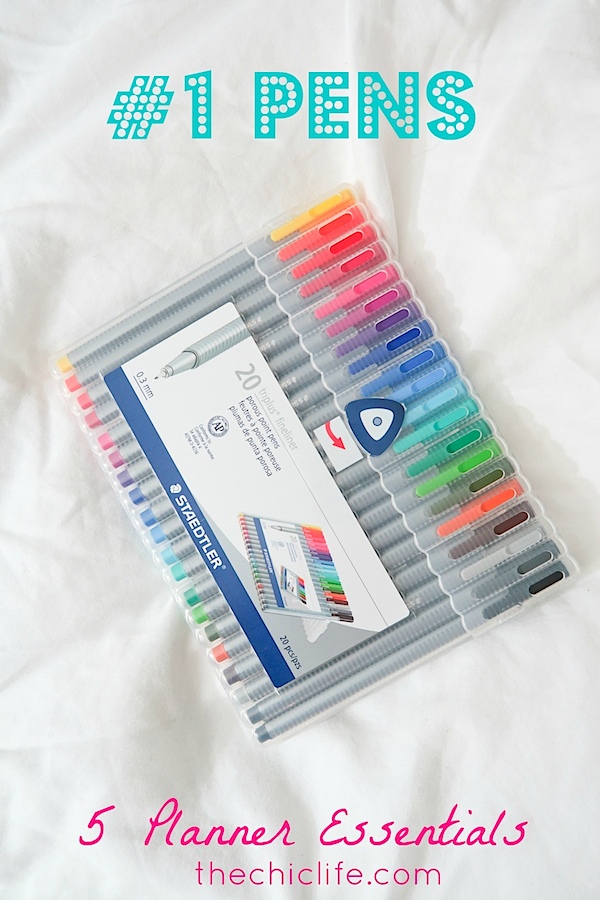 Duh. It would be pretty difficult to plan without a writing instrument. Am I right?
There's an overwhelming number of writing tool options. I use two types of pens the most:
I use a simple black pen the most since I usually get a lot of color in the planner with the washi tape and stickers I typically use. But I do like all the color options in the Triplus set. I can almost always match whatever color scheme I'm going for. Though I'm kind of jealous I purchased my 20-pen set before I knew this one existed: Staedtler Color Pen Set, Set of 36 Assorted Colors (Triplus Fineliner Pens)
.
If you're not into decorating, I've also used colored pens to color-coordinate my planner: green for work, pink for social, etc.
I don't use pencils for tentative planning because the eraser never quite seems to get all the marks out. Instead, I use sticky notes. See next section.
#2 Sticky Notes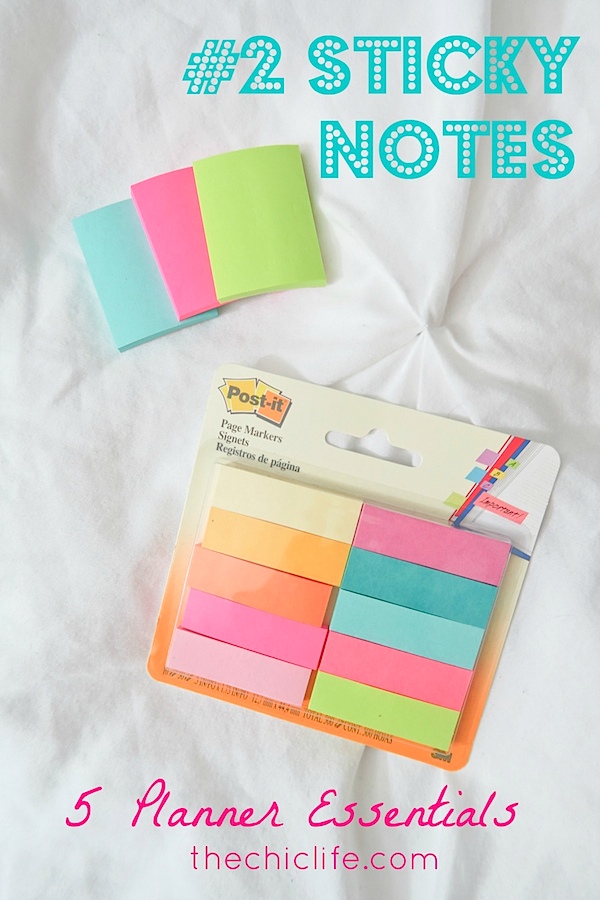 I use sticky notes for two main purposes:
Pre-planning
Events/To-Dos/Notes/Etc. that may move in date or time
My two favorites are:
Pre-planning has been the biggest save. As soon as I find out about an event or to-do with a specific deadline, I usually write up two quick sticky notes – one for the monthly layout and one for the weekly layout of the corresponding date/time. This helps me make sure I don't double-book myself before I've had the chance to plan out that week or month. Especially when the date is fairly far out.
Since post-its come in so many fun colors, shapes, and sizes, I sometimes also use them for decorative purposes, even if the date/time won't move. These hot pink stickies looked great in this weekly spread where I used them as page flags.
I've found the smaller post-it's work best for me. I'll usually use the smallest size that will fit everything I need to write down.
#3 Washi Tape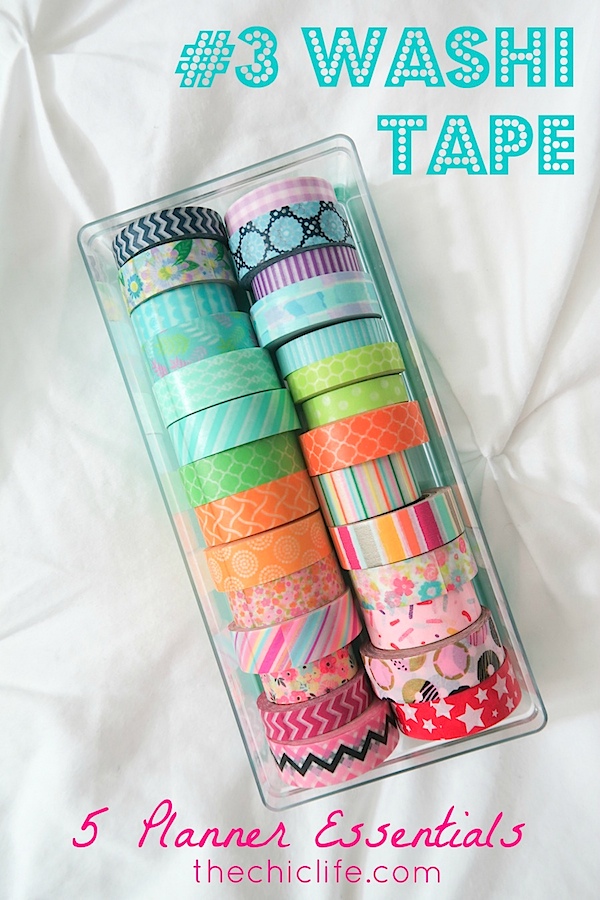 Washi Tape isn't just pretty. In addition to adding color to your planner, you can use it for many functional purposes:
To mark events or appointments
To add a header/column label to a section
To divide sections
To block off durations of time
I've talked a lot about washi tape on this tutorial post, How to Decorate Your Planner with Washi Tape.
Here are some cute washi tape options I found on Amazon:
me & my BIG ideas Washi Tape, Fresh Floral
Scraft Artise 22 Rolls of Washi Masking Tape Japanese Decorative Set, 15mmx10m, approx. 5/8″x 33′, 10 Bright Solids, 12 Vibrant Prints, Fun for Scrapbooking, Journaling, Cards, DIY, Arts & Crafts
My fave washi tape shop is pikwahchan on Etsy. Selection is great but the shipping can be a little slow.
#4 Scissors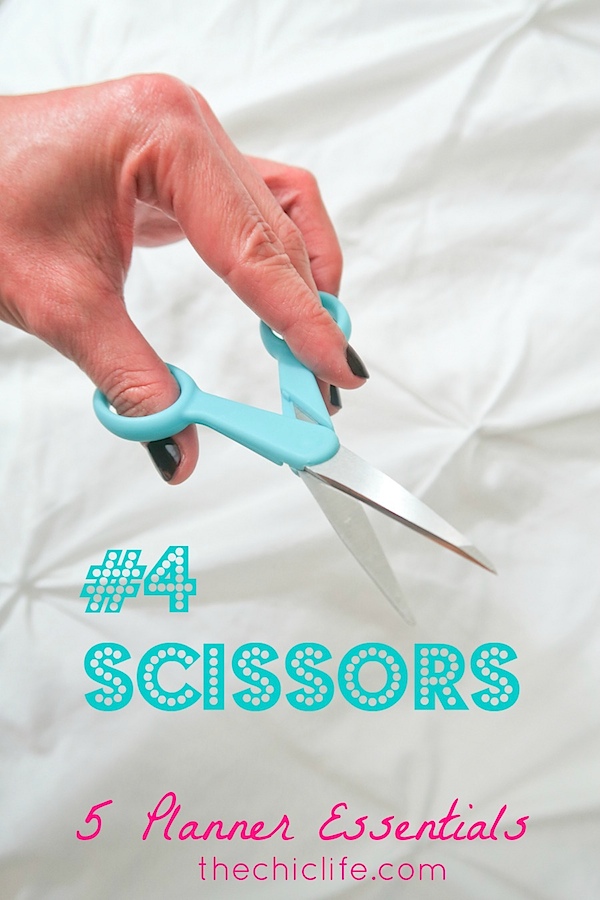 If you've watched many Plan with Me videos, you've probably learned the trick about "cutting" washi tape by laying the side of a credit card/etc. on the tape and quickly ripping the tape up. Some washi rips better than others. After a couple mess-ups with the tear method, I've opted to just cut the washi tape with scissors.
Scissors are also helpful if you want to do any of the fancier options of washi tape decorating as suggested on this highly popular tutorial post about How to Decorate Your Planner with Washi Tape.
I like a smaller pair of scissors, like this Fiskars 5 Inch Micro-Tip Scissors (94817897J)
, since the washi tape is fairly small and the smaller scissors are a bit easier to control.
#5 Stickers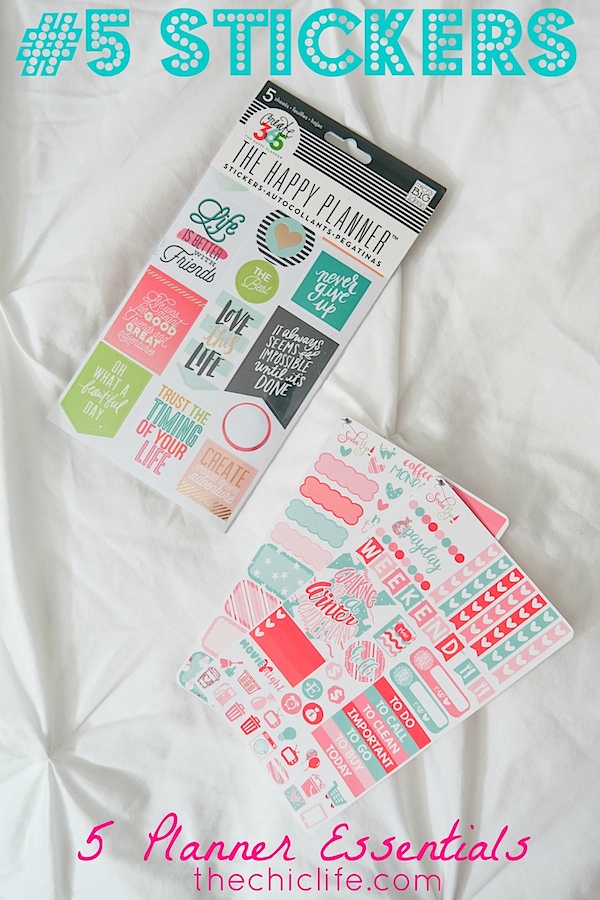 I get my stickers from two main places:
Etsy (for custom-made planner stickers)
Craft stores (for more general stickers) – the above quote stickers are me & my BIG ideas PPS-61 Life Quotes on Amazon, but I got mine at Michael's
I primarily use stickers for decorative purposes. They add color, pattern, and fun. I love adding inspirational quote stickers to have something uplifting to glance at all week. I find the quotes and decorative stickers are easier to get at your local craft shop. I gravitate towards the inspirational sticker options by Mambi. Please note: many stickers at craft shops are not flat since they're more designed for scrapbooking. These will work a little less effectively in your planner (where uneven surfaces can cause trouble when you're writing, etc.).
More functional stickers and sticker sets that are custom made for your planner of choice can easily be found on Etsy. These are designed to fit the dimensions (and in some cases color schemes) of your planner, which is really nice. Tip: Do check the shop's shipping time, since some can take quite some time. I once had some stickers shipped from Hawaii that took almost two months to get to me.
You can see a list of my favorite Etsy shops on my Planner Supplies page. While you can get some craft store stickers on Amazon, the prices are usually higher online. Also craft stores usually have great sales on their stickers. I did include some Amazon sticker options at the end of this post in case you're willing to pay for the convenience, etc.
Get Your Planner Supplies Fast
If you're anything like me, you want your supplies fast. I originally thought a craft store would be the best place to shop, but sometimes they don't have what I'm looking for or I don't have time to go to the store. I've found options for all of the above suggestions on Amazon and selected the following Amazon (including Prime) options for you so you can get them delivered in two days (or less in some cities!) for free:
If you don't have Prime, you can click here (Try Amazon Prime 30-Day Free Trial)
to sign up for a free trial. I've been a Prime user for longer than I can remember. Seriously, I don't remember when I signed up. But, I love it for the convenience. I've also been doing a massive Sex and the City marathon and thanks to the nifty Video app on my iPad, I can watch all the SATC I want when I'm traveling for work, even without wi-fi! Mostly, I love the fast shipping, but the movie/TV shows are a nice bonus.
More Planner Tips
How to Store Your Planner Supplies for Under $20
Get more planner tips and tutorials on my dedicated Planner page
Click here to view all my Planner-related blog posts
***
If you found this post helpful, please share it with your friends. There are some sharing buttons at the end of this post where you can easily pin any photo from this post or email these tips.
Thanks for reading!