Hello friends!
Read/scroll on if you'd like to see the Erin Condren packaging and LifePlanner unboxed and also get a look at what the vertical and neutral layout looks like on the inside.
Erin Condren LifePlanner 2017 Unboxing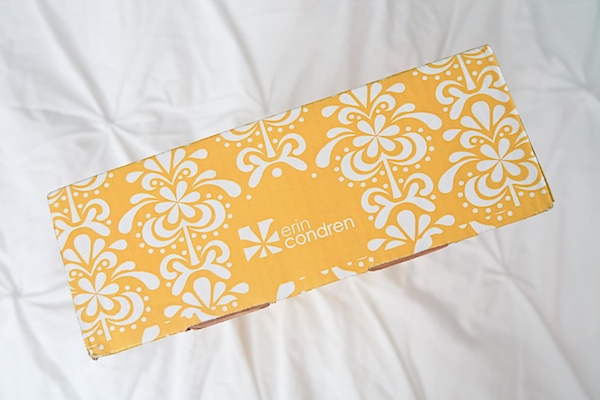 I love how colorful the Erin Condren boxes are. It's definitely fun to see this package arrive.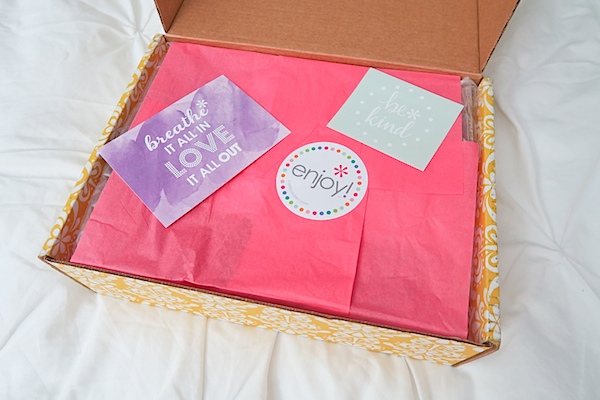 Erin Condren always does a stellar job with their packaging. It's both pretty and functional. Just like their Planners.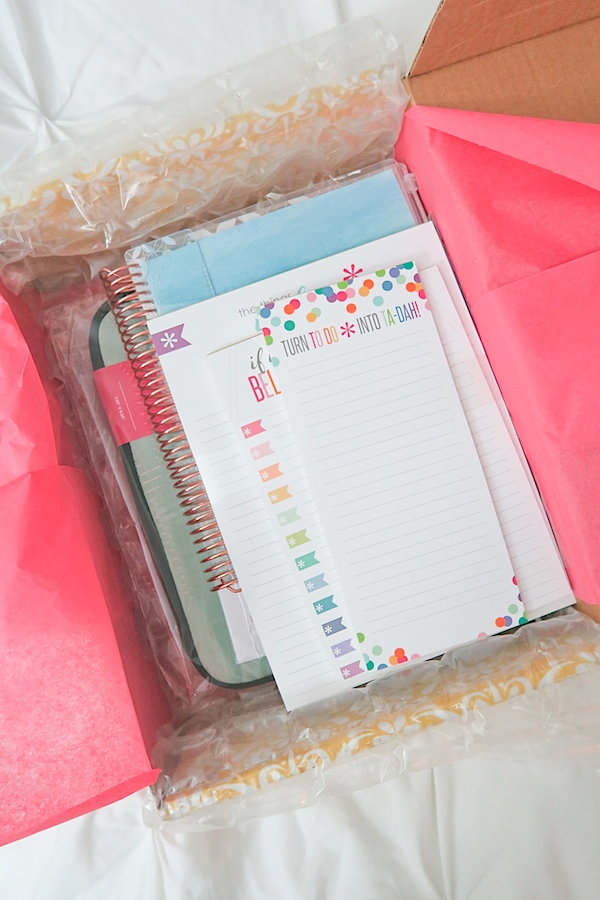 All the items were carefully secured so they weren't damaged during mailing. The top 3 notebooks had a little sleeve of plastic keeping them tightly stacked. Bubble wrap covered the bottom and wrapped up to the top of the order.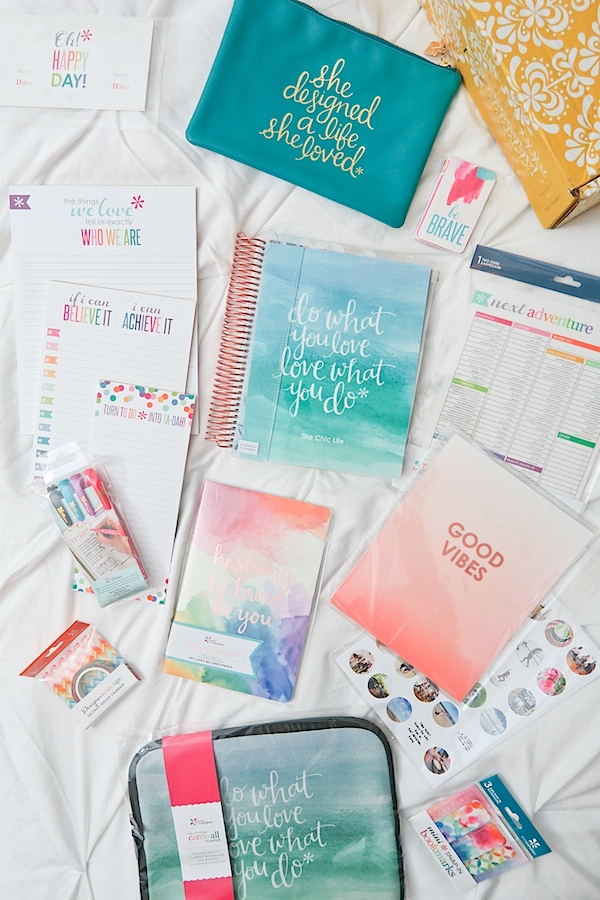 And here's the full spread of what I ordered this year. I went on a bit of a shopping spree, and it's all thanks to you. So many of you used my referral link (which gets both of us a credit for Erin Condren orders), I was able to get all of this with just credits. I love being able to provide the content of The Chic Life free, but it's definitely a nice perk when I can get some fun goodies too. Thank you again! I'm feeling the planner love!
I ordered:
2017 LifePlanner (vertical and neutral layout)
planner pouch
bookmarks
sticker sheet (made with Instagram photos)
a couple notebooks
washi tape
dry erase trip planner insert
dry erase markers
cards
an extra "Good Vibes" cover
gift labels
accessory pouch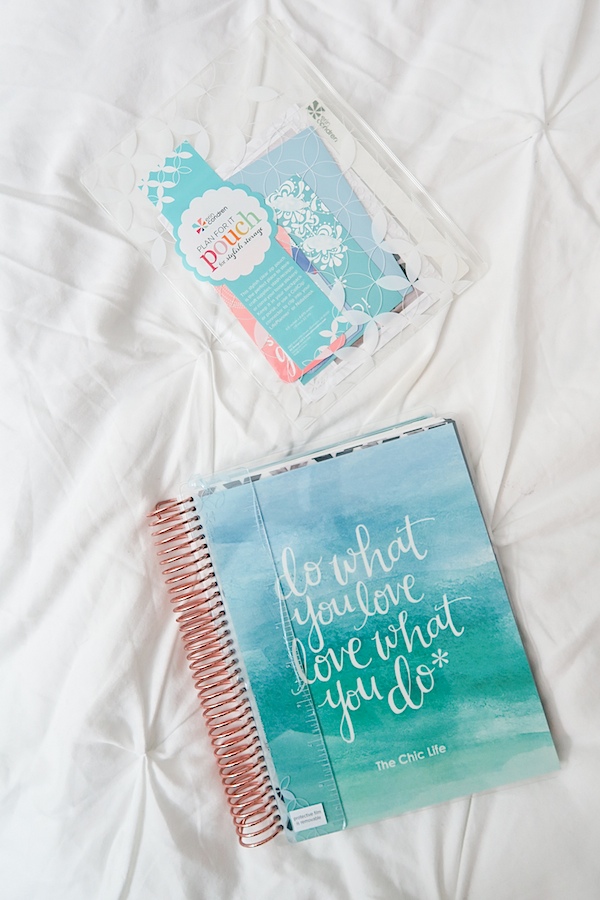 It's been interesting to see how the planner changes from year to year. Especially since I've been using the LifePlanner for so many years. I never thought to blog about the differences, but I've found myself wondering when some changes happened. So, no time like the present to begin documenting the changes.
Here are some key changes for the 2017 LifePlanner:
Clear accessory pouch now comes unattached (pouch includes a clip-in you can use to attach it to the planner)
New color option (for the paper): neutrals (see photos below)
Rose gold coil as standard option (I think this changed this year, but it could have been last – I know they did a special rose gold limited option one year, but now it's a standard)
Black coil option (new color – don't remember seeing this before the 2017 planner)
The planner is relatively large for carrying day-to-day (for me, at least). So, I don't mind having the option of taking things out. I've actually thought about removing the pouch in previous years.
Erin Condren Neutral Color Scheme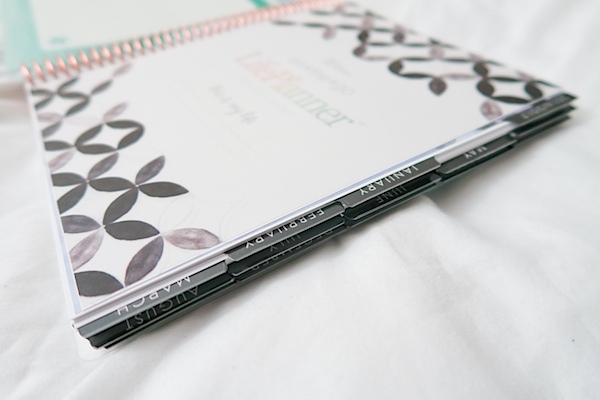 The neutral color way features black month tabs. I like how the tabs look very uniform since they're all the same color.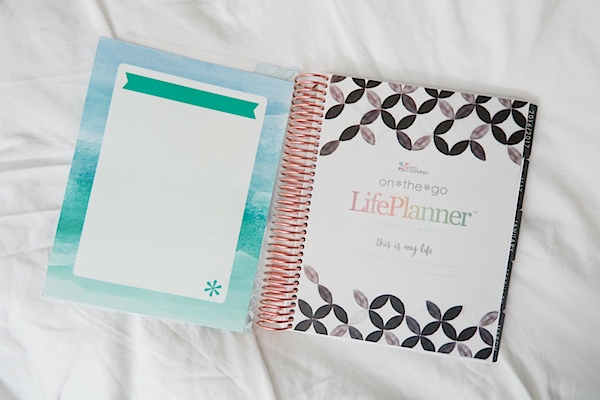 The planner isn't only black and white inside. There's a little color on the first page in the logo and LifePlanner wording in standard Erin Condren colors.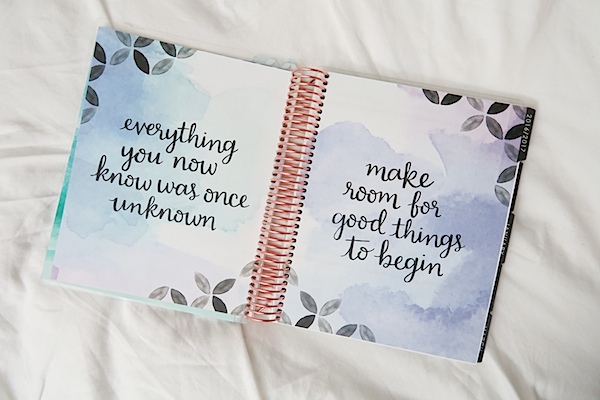 These quote pages have a light colored background.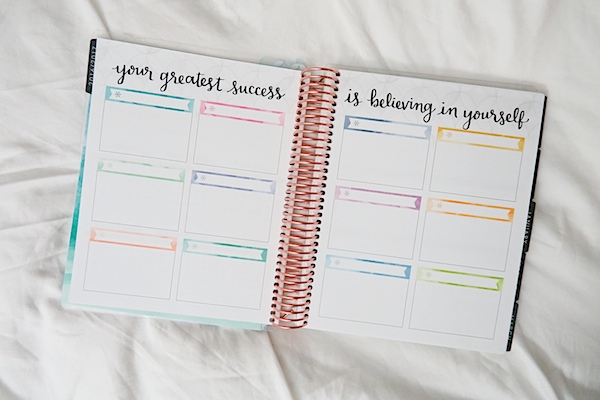 I wasn't immediately sure what the above section was for. But I checked the Erin Condren web site, and this is called the "Goal Setting" section.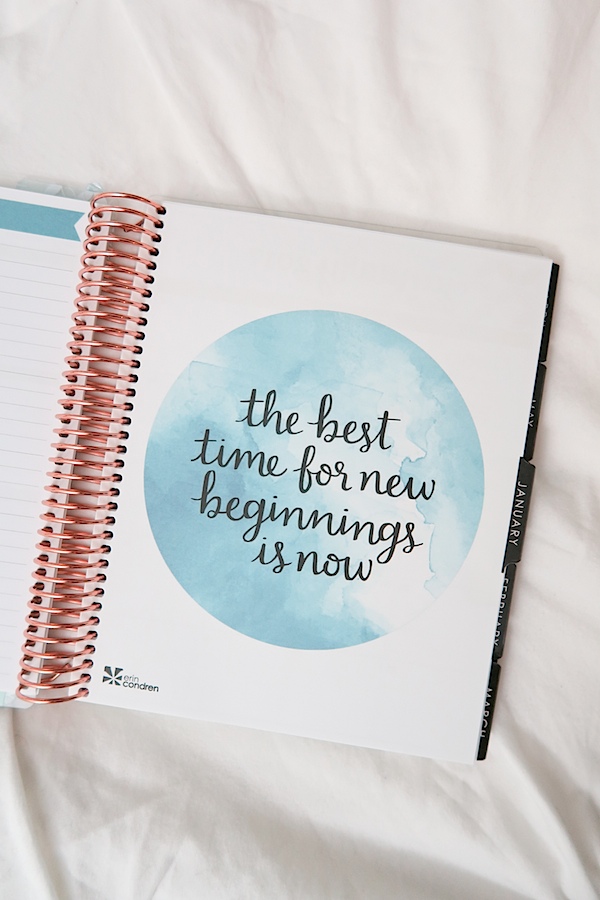 There are also quotes on each month tab page with colored backgrounds.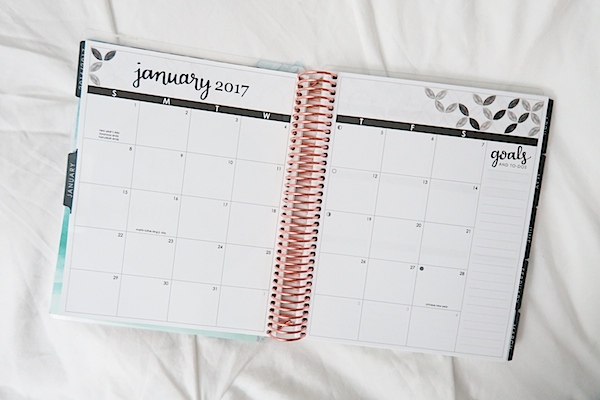 The month layout is full on neutral.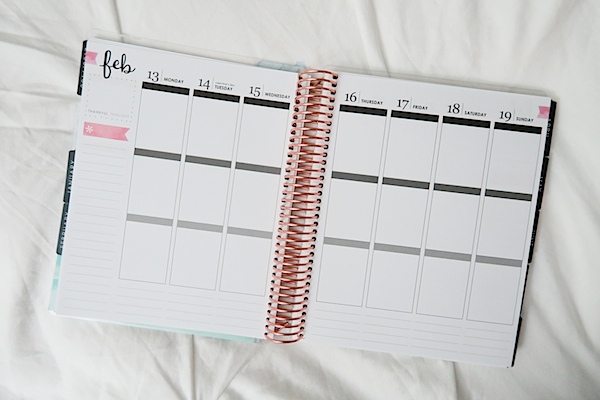 But the weekly layouts have a wee bit of color. Note the little page flag shapes in the top left and right of the page. And then the horizontal page flag at the top of the list section on the lefthand side. The colors vary month to month. For example: January is a light turquoise. February is pink. Etc.
I haven't seen the inside of the hourly or horizontal layouts, so I'm not sure about those. But, you could probably find some good Plan with Me videos on YouTube if you want to get a good look.
While I love wearing black and white, I like having color in my planner. My hope with the neutrals is that I have a little more flexibility with which colors I use week-to-week and month-to-month. With past years, I tried to match the existing color scheme. So now I have a nice neutral base to begin with.
While I'm not going to post every layout this year, I definitely plan to share some here and there. And I'll let you know my thoughts on using the neutral color way. Honestly, my layout strategy is pretty much the same these days, so you can get an idea of how I decorate using the links on this Planner Decoration Ideas page.
My 2017 LifePlanner Order
While I've used the LifePlanner for years, I haven't varied my order very much.
This year I ordered:
12 months (I tried 18 month once, and it made the planner too heavy for me)
Vertical layout (what I've used the last several years)
Neutral color option (my first time without colors – I'll let you know how I like it)
Rose gold coil (new-to-me – I missed the limited time option for this last time)
An extra cover*
I've ordered extra covers in past years, but I usually forget to switch them. Hoping to remember this year. The good thing is, you can switch the covers from year to year, so now I have even more options. Upside? Lol!
More Planner Links
New to planning? Get my list of Top 5 Essential Planner Supplies here.
View my planner-related blog posts by clicking here.
Get to tutorials, photos of my planner decorations, and more on my main Planner page here.
***
Thanks so much for reading!
Do you use the Erin Condren Life Planner? What did you order? How do you like it?