My dad has been getting on me for years about taking my vitamins. Since I'm still in recovery from a recent injury, I figured this may be a good time to start. This will be my vitamin regimen for general wellness, but I'm hoping a side benefit is that this helps move my healing along.
Please note: I'm not a doctor, nutritionist, RD, etc. Please don't take this as medical advice. Be sure to consult your health care provider before making any changes to your diet and/or starting new supplements.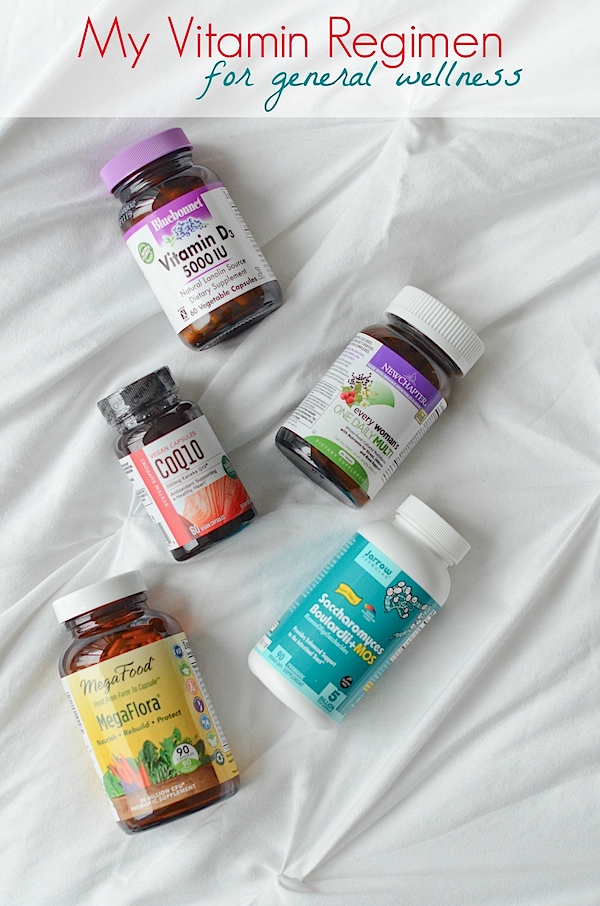 My friend recently told me that they're saying in California that vitamins cause cancer. I find the conflicting information out there really confusing. Many sources say they're good. Many say they're bad. It's hard to know who to trust, but I think I'll take my chances.
My Vitamin Regimen
Multi-vitamin
Brand: NewChapter
Type: Every woman's one daily multi
Frequency: Daily
Quantity: 48 tablets
Price: $30.99 (Whole Foods had a $5 off coupon!)
About: Can be taken on an empty stomach – whole food cultured – non-GMO Project verified – ICS Certified Organic (which the girl at Whole Foods explained is a tougher certification to meet than some that are US-based) – includes immune & stress support
CoQ10
Vitamin D3
Brand: Bluebonnet
Type: 5000 IU*
Frequency: every other day
Quantity: 60
Price: $9.49
About: In general terms, low vitamin D levels can cause fatigue, sadness, and chronic pain among other symptoms, which you can read about on Dr. Axe here – also, I tested low for vitamin D somewhat recently
*My dad warned me that too much vitamin D can be toxic, so I plan to get my blood tested to ensure my levels aren't too high.
Probiotic #1
Brand: MegaFood
Type: MegaFlora (20 billion CFU probiotic supplement)
Frequency: every other day
Quantity: 90
Price: $42.99
About: non-GMO in addition to the benefits listed for probiotic #2
Probiotic #2
Dad said the lady he spoke to at his local health food store recommended these two probiotics, which are the ones he's taking too.
Where to Buy Vitamins
Since I prefer whole-food based vitamins that are as natural as possible, I decided to get them all at Whole Foods. They have a pretty big selection, and the staff was really helpful in making suggestions on which multi-vitamin to take. While only the multi-vitamin is whole-foods-based, I appreciate the level of quality of the products offered at Whole Foods.
***
What are your must-have vitamins?