Hello friends!
How about a bonus What I Ate post?
Avocado "Toast" and Personal Development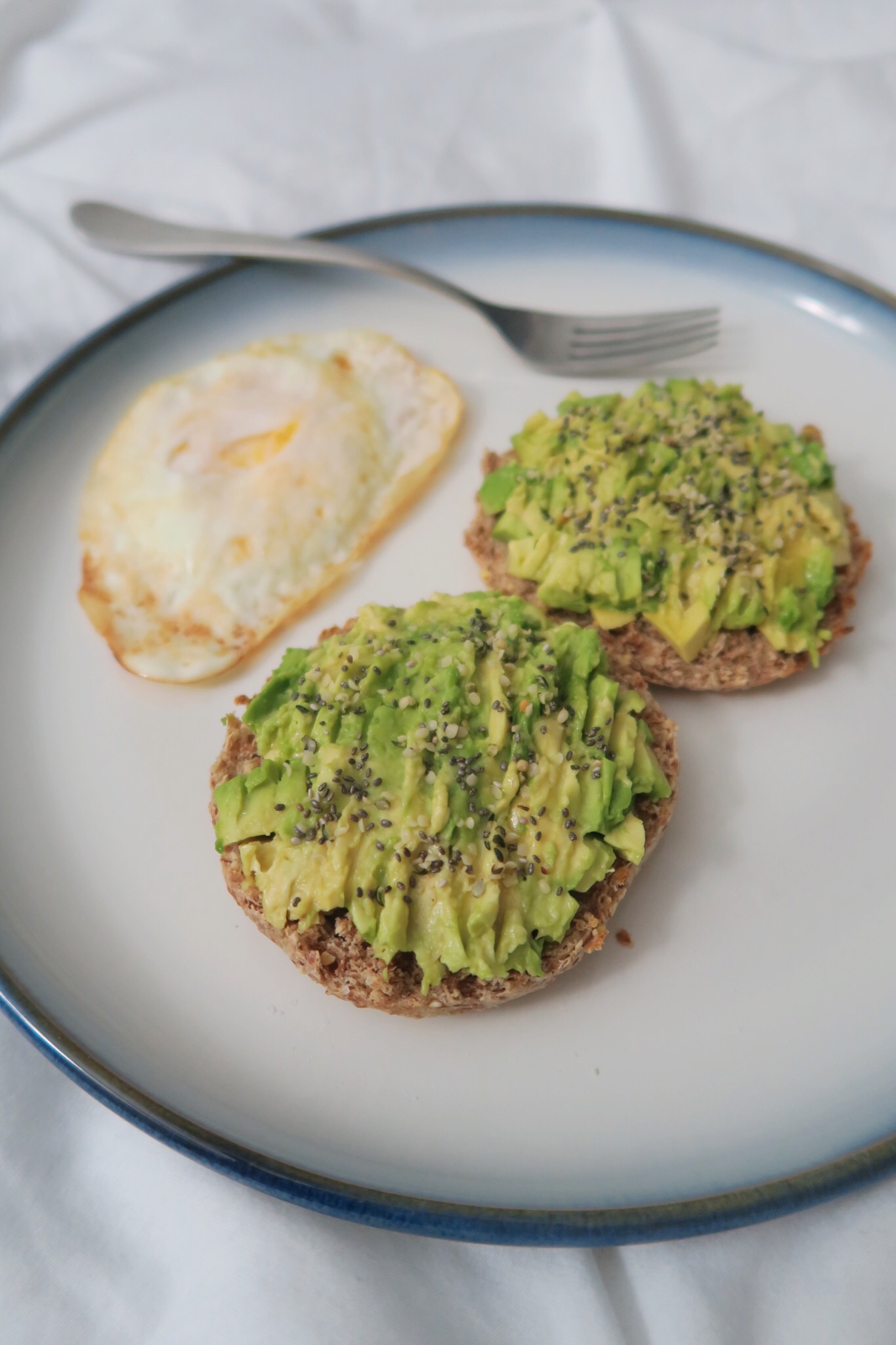 For breakfast, I enjoyed an egg fried in coconut oil and avocado "toast". This is really mashed avocado on a sprouted grain English muffin. Not sure if English muffins count as "toast". I topped it with kosher salt, hemp seeds, and chia seeds.
As you guys know, I've been attempting one Eats post per week. So, since I published a What I Ate Wednesday already, I wasn't planning to take any more Eats photos this week. But, I was pretty proud of myself for pulling together this breakfast despite my busy morning.
Mornings have actually become much more challenging now that I'm doing physical therapy twice a day. I'm spending an extra hour every morning and evening on this. The evenings aren't as tough since I was already used to working out or doing restorative classes most nights of the week. But the mornings have been a real struggle. Though I could wake up earlier, I've been attempting to keep my same schedule. I feel like I need the sleep to help my body repair. So, cutting out sleep wouldn't really help me in the long run. Instead, I've been doing a lot of breakfast bars and breakfasts out.
Another thing this has cut into is my personal development. I love starting the day by learning something interesting. I used to read books, listen to podcasts, and/or watch videos and take notes. While I've cut back on that, I've found I'm still able to do some video watching and podcast listening. The tough part is hearing something I want to take note of and being in the middle of a set of an exercise. Or stuck in a stretch pose. I'm all…*hears something really interesting* ooh! Try to remember this, self. *hears something else noteworthy* And this! *hears another gem* And this too! Gah!
The struggle is real.
Whole Foods Overage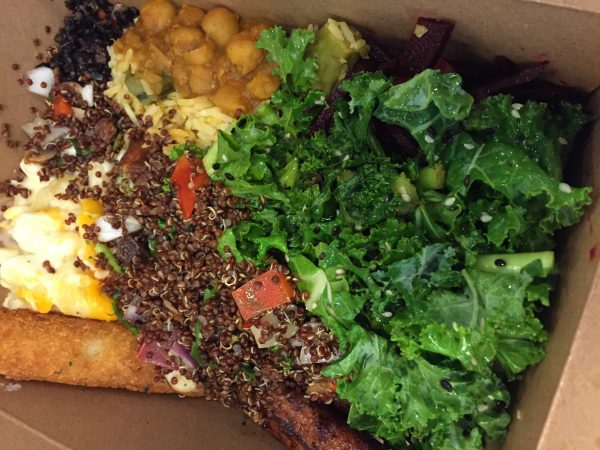 I managed to put together one of my heaviest Whole Foods boxes yet. This bad boy was $15! #oops
My Go To Airport Meal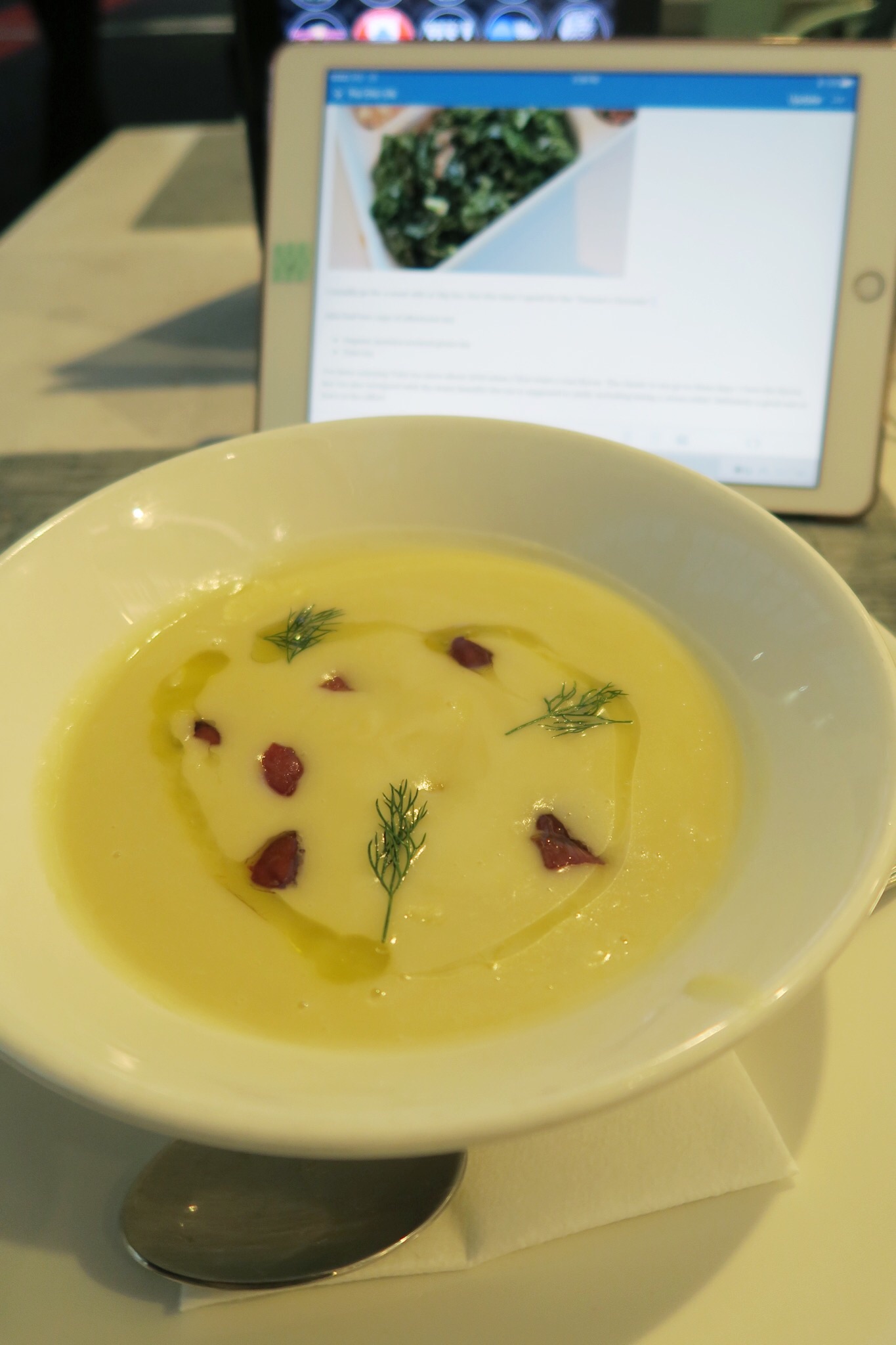 I've developed an interesting travel meal since I've been working in NYC. I usually fly out of Laguardia, and they have these cool iPads that you use to order your meal. They're very efficient. Anywho, on my first flight out of LGA, I ordered soup, French fries, and prosecco. It seemed to work really well, so I've been ordering it ever since.
They change the soups pretty often. I've had some repeats, but this was the first time I tried the flavor shown here. It's non-dairy, creamy cauliflower. I was thankful this was pretty settling because I somehow managed to get into a cab (on the way to the airport) that smelled really weird. Like smoke and…something else? Thanks to the rain, I was stuck in that cab for about an hour. It's usually a shorter trip. I started feeling kind of nauseous mid-way and kept rolling the window down here and there to get fresh air, but the rain was sprinkling through.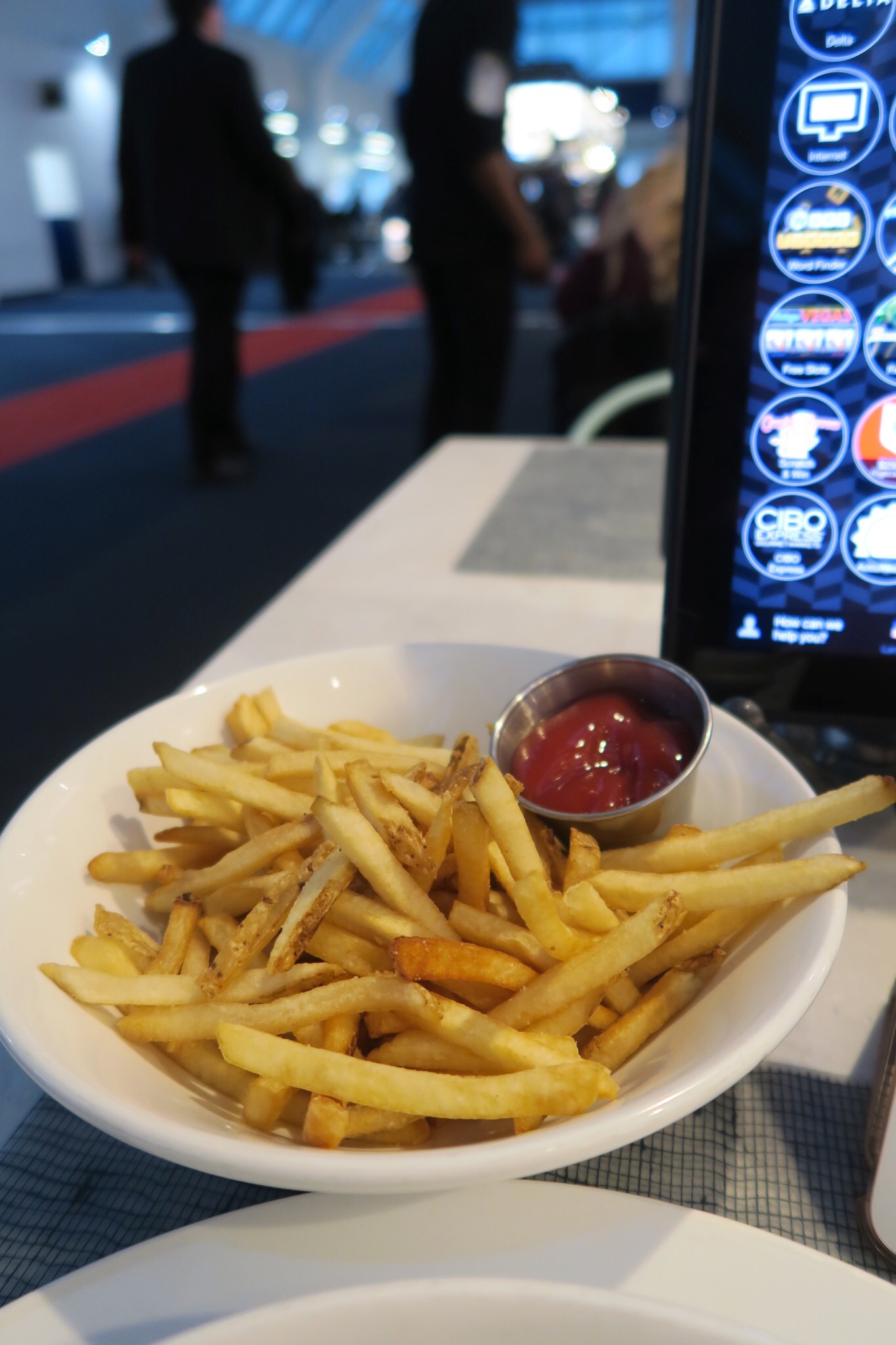 The side of fries is always much more than I can eat. Not very settling, but somehow it worked.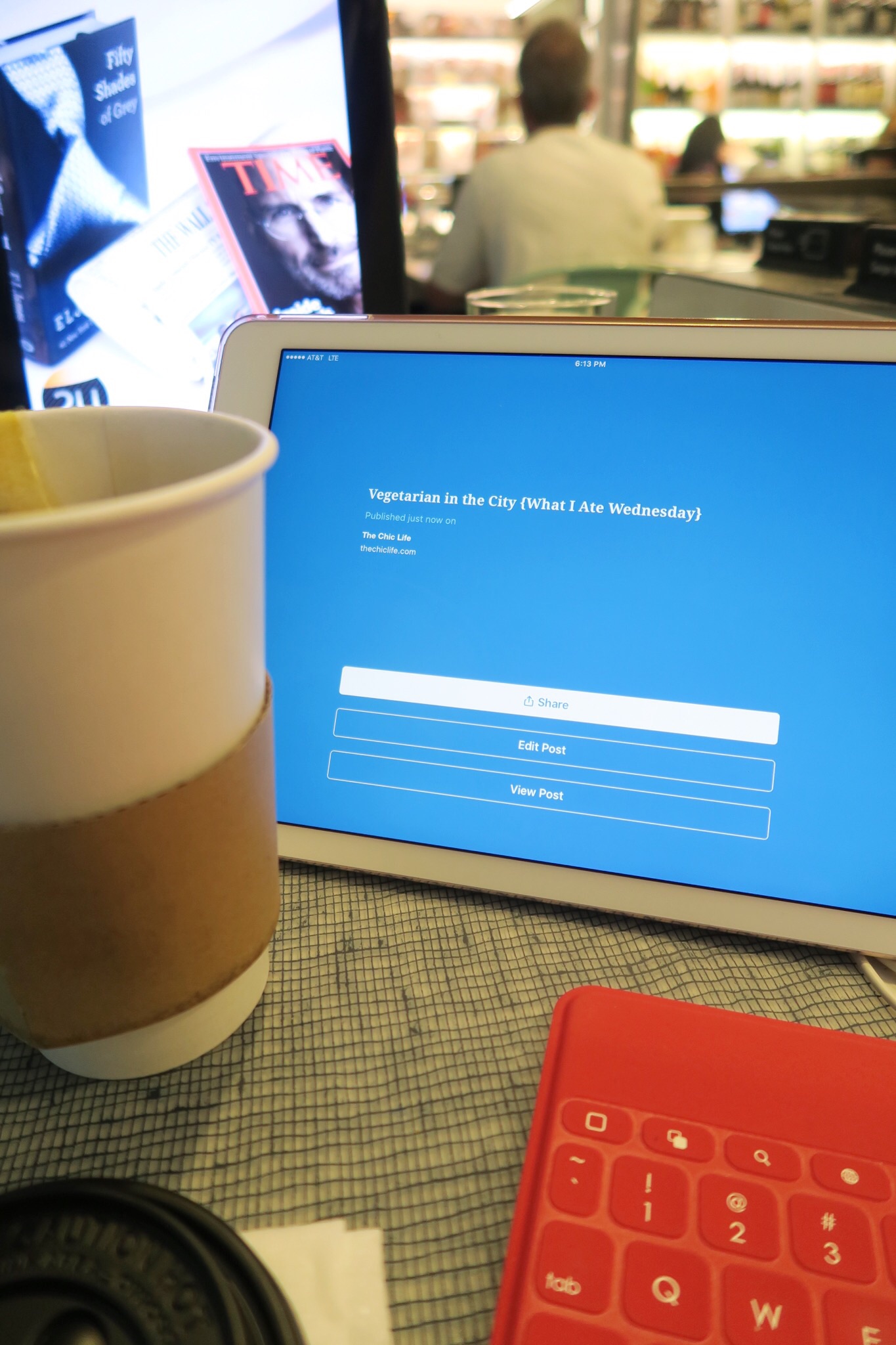 And since I was feeling a little off, I decided to skip the prosecco in favor of the Aviator (or was it Aviation?) blend. This has a lot of ginger in it, which is great for an upset stomach.
Luckily, I felt so much better after dinner. I was nervous about how I'd be on the flight, but I was fine.
How to Calm Air Travel Nerves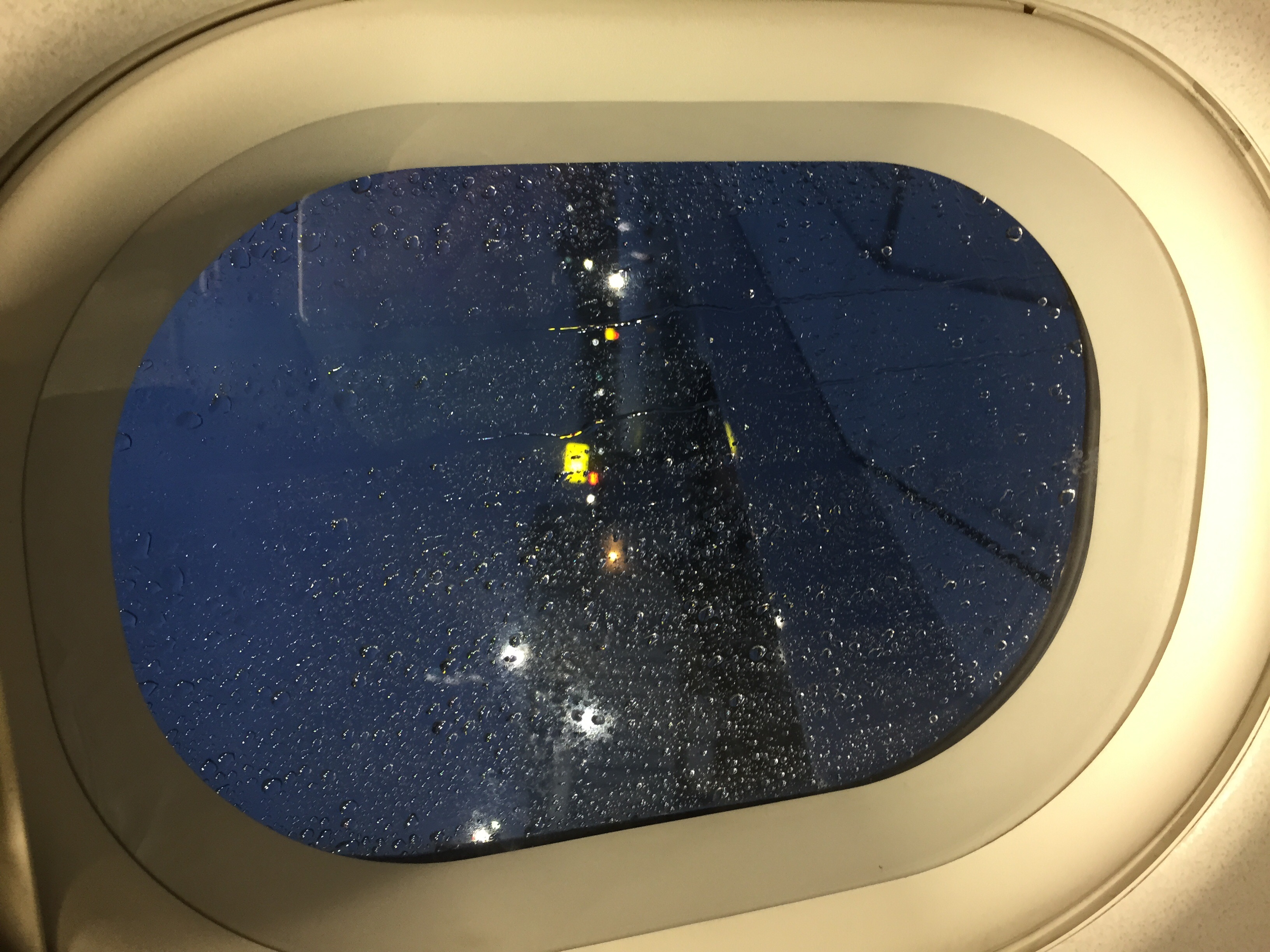 Many of the flights were delayed due to the rain and windy weather. After we all boarded, the flight attendants announced that the captain had asked everyone to remain seated for the duration of the flight due to turbulence. Not exactly what you want to hear before taking off. Though, I guess on the flip side I'd rather be prepared. And then after take-off, the captain came on and told us that due to turbulence, they wouldn't be doing beverage service. I've never heard this before on a flight, so I was starting to get antsy about how bad things would be. I hoped for the best and decided to distract myself with Dave Chappelle's latest stand up, which I downloaded via my Netflix iPad app.
One of the ways I calm my travel nerves is by watching something funny. I figure if I'm laughing, it's hard to be nervous at the same time. It's worked like a charm so far. I was laughing my way through the bumpiness.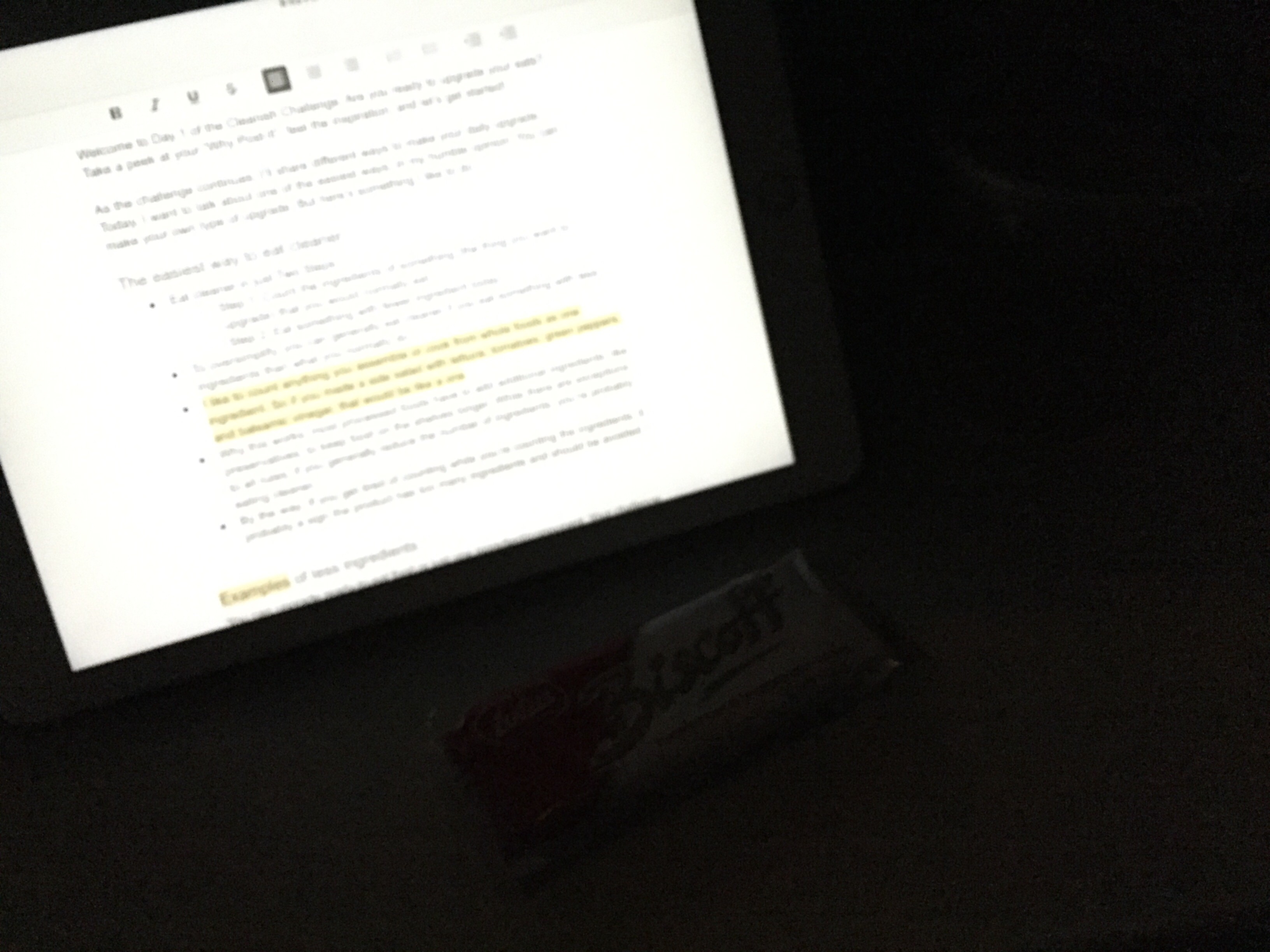 Once we were all the way up, things seemed to smooth out. Enough so, that the flight attendants announced they were going to attempt beverage service, but sans hot beverages. It seemed to go well, and I didn't really notice too much turbulence.
I paused my video watching to work on one of the draft emails for my upcoming healthy eating challenge. This challenge will run for a short 14 day period, and I'll be sending daily email newsletters with fun tips and information. I really want this challenge to be as helpful and well-executed as possible. So, I'm having a couple close friends review my emails. Not to mention I'm personally spending at least a couple hours on each one first. I'll also be doing a test run with a small group to make sure that everything flows well and actually works.
I'll be announcing the challenge soon, so stay tuned. And if you're subscribed to my newsletter, you'll be the first to hear about it! Woop! There's a box in the sidebar as well as the footer where you can subscribe if you want to sign up.
Anywho, we landed safely and soundly in Charlotte. Our flight was only a little delayed, so we were only about 10 minutes behind the original estimated landing time.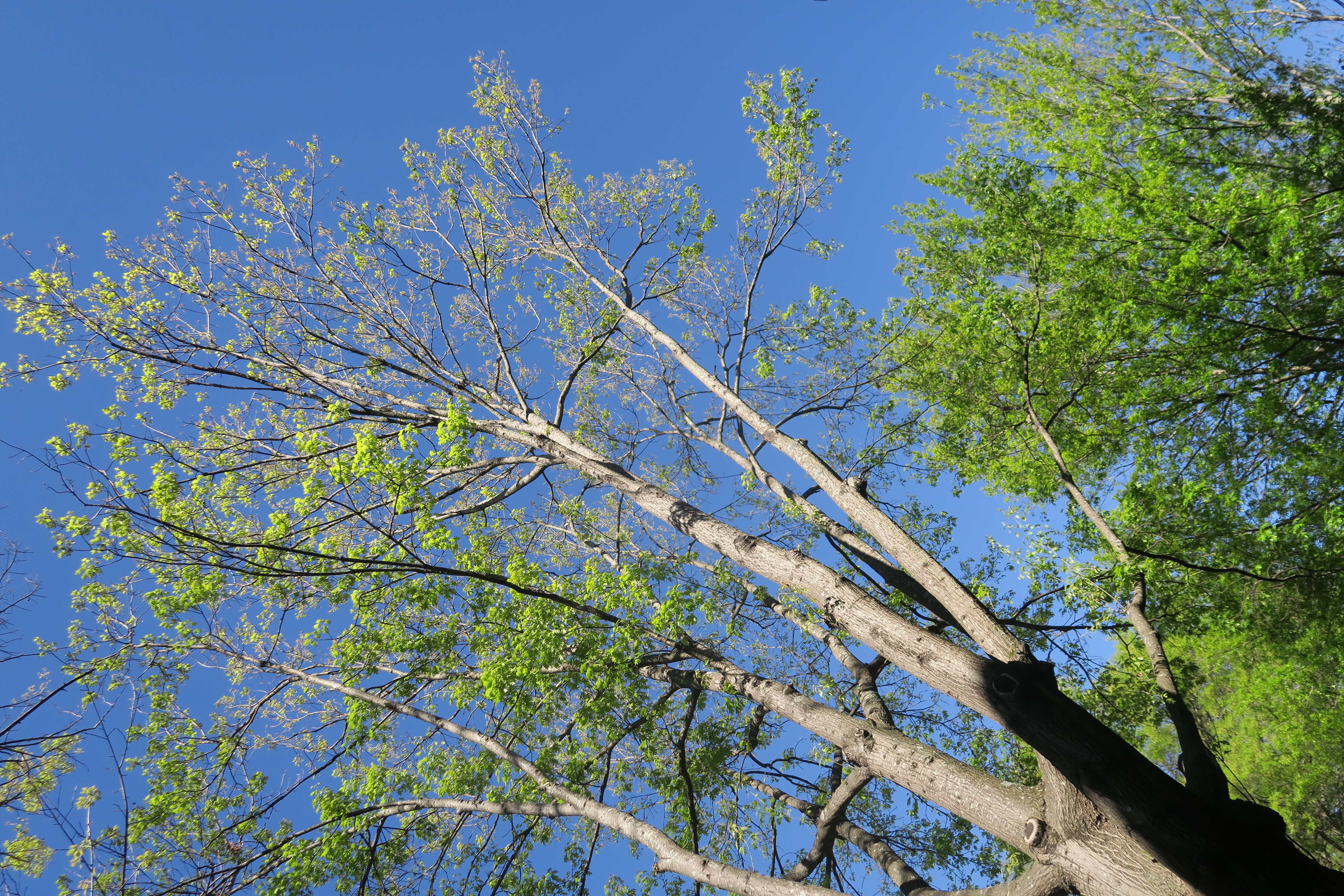 It's going to be a beautiful weekend in Charlotte. I can't wait to enjoy the sun, big blue skies, and greenery galore!
I'm currently blogging in one of my favorite Charlotte spots, Sunflour Cafe. The day is off to a great start!
Hope you all have a great weekend!
More Eats
Click here for more What I Ate posts
Thanks for stopping by!