Hi friends! Time for another WIAW. Let's jump right in…
Testing Out Collagen Peptides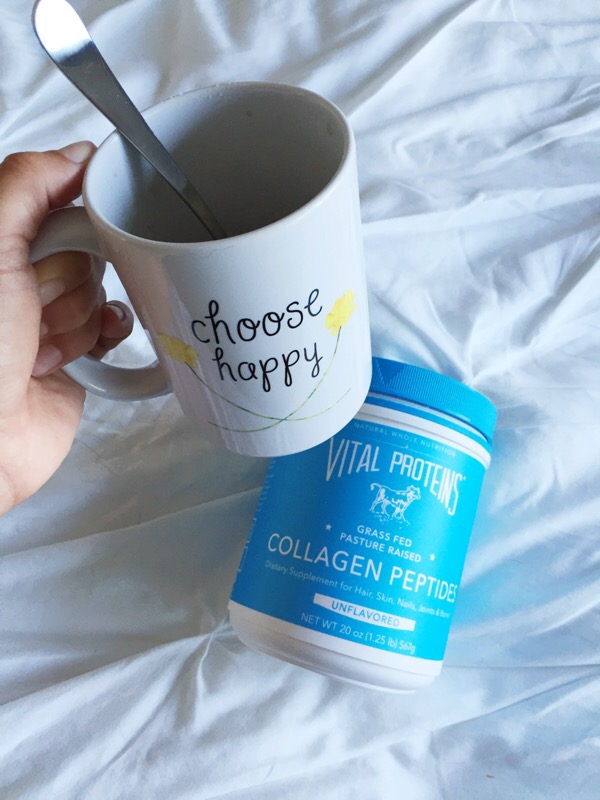 Have you guys heard about collagen peptides yet? I'm guessing yes, but who knows since I only learned about them fairly recently. So maybe you haven't? I'm testing them out for an upcoming blog post. This is one of those supplements I sort of rolled my eyes abou initially. But after semi-accidentally having some and noticing some positive results, it got my attention. More details soon!
New Jam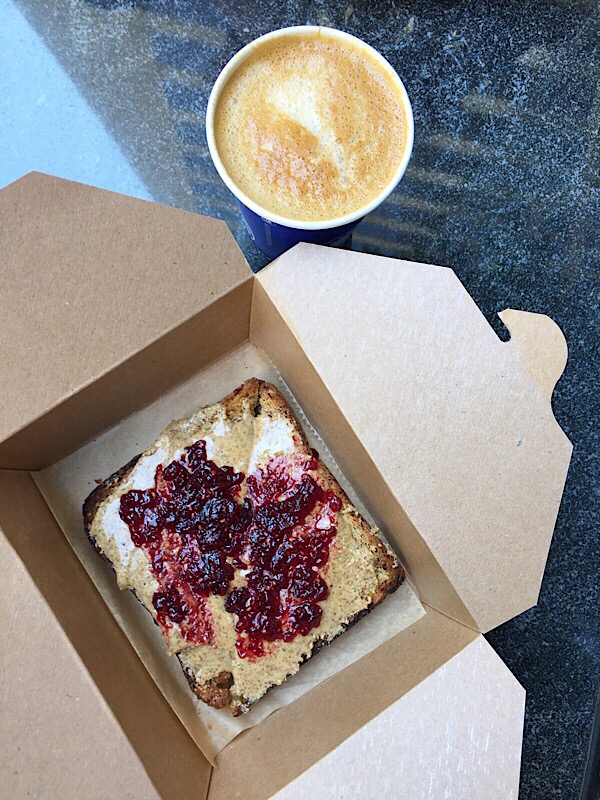 Had my usual almond butter and jam toast at Bluestone, except they've switched up the jam. I think it was strawberry before now. Now it's raspberry and it's much less sweet, which I love! You guys know I love my Not So Sweet treats. Still rockin almond milk in my flat whites. I think the dairy tastes better, but I'm seeing if I notice a big difference inflammation-wise. Not that you can measure that, but I'm sort of gauging how I feel without the dairy in my life.
Vegging It Up for Lunch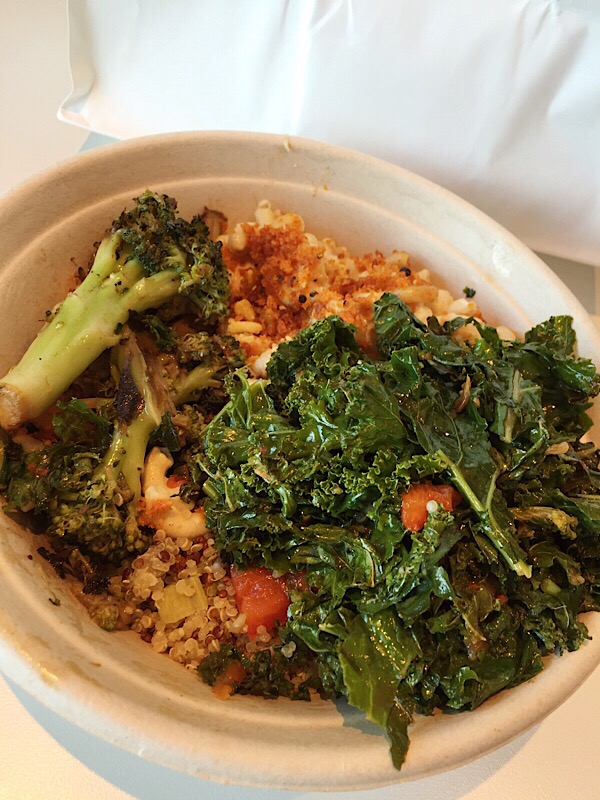 The weather was nice, so I went out in search of vegetables so I could get a mini walk in. I hit up Dig Inn for some tasty cooked vegetables. In the bowl: quinoa, mac and cheese, broccoli, and kale with tomatoes. So filling, so good! If you're someone who's looking to experiment with having meatless meals, this one would satisfy.
Tim Tams and Tea
My friend J's family is in town and look what they brought with them – Tim Tams! Direct from Australia!
J explained these are best enjoyed dipped in hot tea. I've been loving this Organic Vanilla Rooibos tea. It's made with real vanilla extract! No beaver butt for me! Haha. Hopefully you've all read about the whole beaver butt controversy and don't just think I'm weird now. Though some of my friends hadn't yet heard about such things as the salmon-wheel (for dyeing farm-raised salmon) and other interesting tidbits I've covered here on The Chic Life before. Though, maybe it's time to revisit. I do have some health-oriented topics in the works!
Cheers!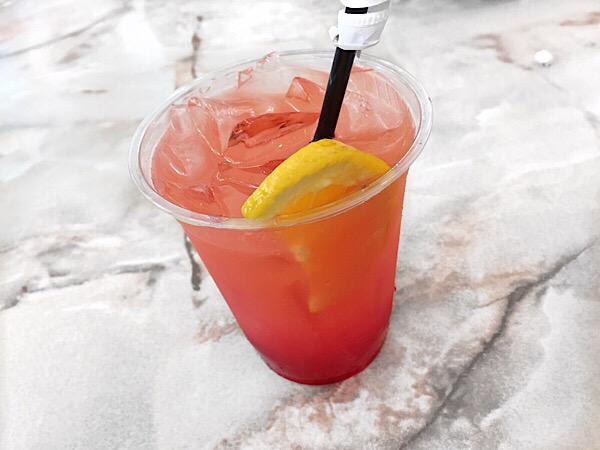 I had a quick cocktail with some co-workers after work. We sat outside and enjoyed the beautiful weather. It's been so nice in NYC. Thank goodness! The heat wave broke and we had some reasonably warm days. Perfect for a cold beverage enjoyed outdoors.
Burger Delivery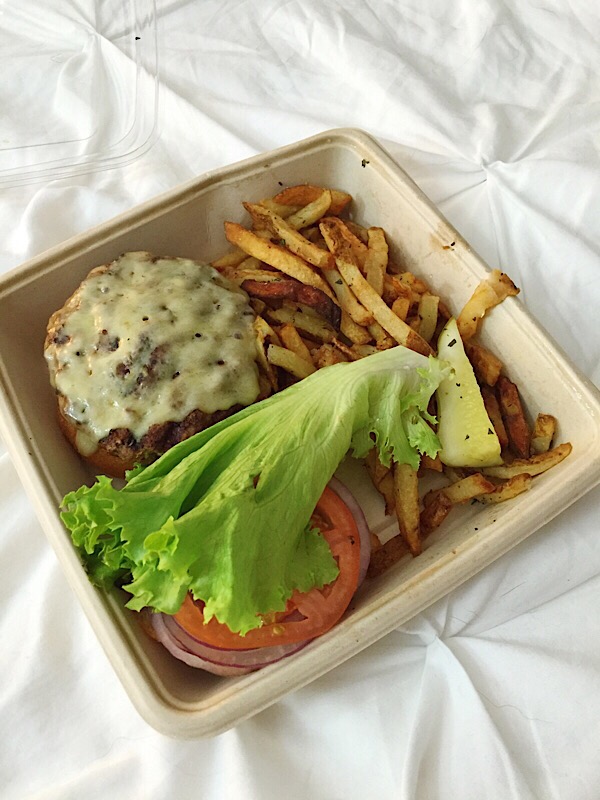 And I was craving a burger for dinner, so I ordered one delivery. I remember when I worked in NC and some of my NYC teammates told me how everyone in NYC orders their food via delivery. It didn't make any sense to me at the time, but it totally does now that I'm in the city. I get it!
Dragonfruit Nice Cream Boat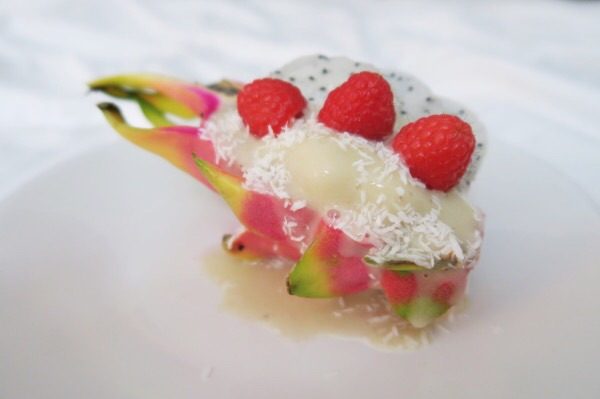 And I actually made this unusual looking treat. It's "nice cream" in a dragonfruit "boat" with organic coconut flakes, dragonfruit slices, and fresh organic raspberries on top. This was actually super easy to make and would be fun to entertain and impress your guests. Let me know if you want me to work up a recipe post! I'm also considering putting some videos together, and I think a video would really help you guys step through how to put this one together.
Fashion Posts Coming Soon
Also…I have some fashion posts coming soon! I've been trying to decide if I should include them here on The Chic Life or put them on a new blog. I'm leaning towards the latter. Even though I've posted fashion here before, it's been awhile. And it seems like TCL readers like food the most. Right? 🙂 I'm not sure if I can manage multiple blogs, but I am trying to keep your reading experience in mind. There are pros and cons for you either way, so I'm spending a lot of time working out which option is best. Stay tuned if you're interested!
***
Thanks for reading!