Hi friends! My original plan for this week's What I Eat in a Day was to feature healthy comfort foods. But I realized I didn't have pumpkin pie spice (a key ingredient for reasons I'll cover in a minute) and my closest grocery store didn't have any for sale. Doh! So, I opted for focusing on good sources of iron since I've been feeling like I could be lower on the iron side. And I experimented with a new dessert recipe that was a winner. I posted the recipe for those Healthy Pumpkin Oatmeal Chocolate Chip Cake Minis already.
As far as the pumpkin pie spice, it's one of my time-savers for my pumpkin pie oatmeal. Granted, it doesn't save that much time, but every bit counts, right? Anywho, hopefully I can get my hands on some before next week so I can film. A healthy comfort foods day would be fun to do!
Ok, so let's jump into this post and video…
*Video* Healthy Pumpkin Oatmeal Chocolate Chip Cake Minis and Iron Sources
Click here to view the video if the above player doesn't work.
Breakfast Iron
I forgot to take a photo of my breakfast, though there is a fun clip of it (with Bailey eyeing my eats!) in the above video. I've read online that eggs are a good source of iron. Compared to other foods, I wasn't all that impressed with the iron content. But, in addition to eating intuitively and sort of craving eggs, I do recognize that eggs could still easily have more iron than other choices I could have made. And similar to my time-saving spice, every bit adds up!
My egg went into a breakfast sandwich with muenster cheese on a bialy. Yum! Bailey was definitely eyeing my breakfast, as evidenced in the video.
Lunch Iron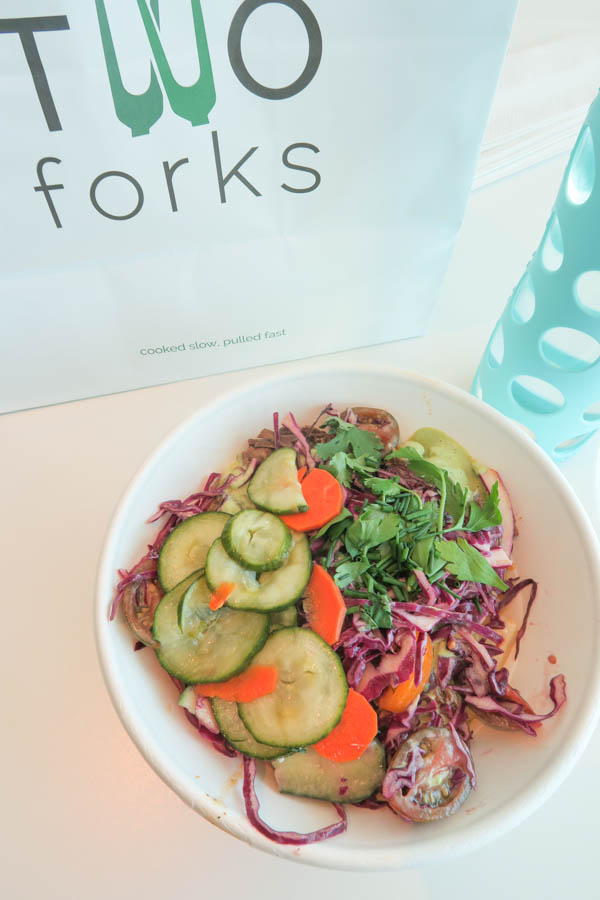 Sticking with the iron theme, I opted for a Niman ranch shredded beef bowl for lunch at Two Forks. As I like to do, I got half rice and half roasted veggies as my base. And on top, the cucumber tomato slaw, green herb sauce, pickles, and fresh herbs.
I'm so glad to have found so many great lunch options where I can really veg it up. I feel so much better overall when I'm basically eating as many vegetables as I can. So every time I can sneak some into a meal, I go for it. Half and half base is an option? Sign me up!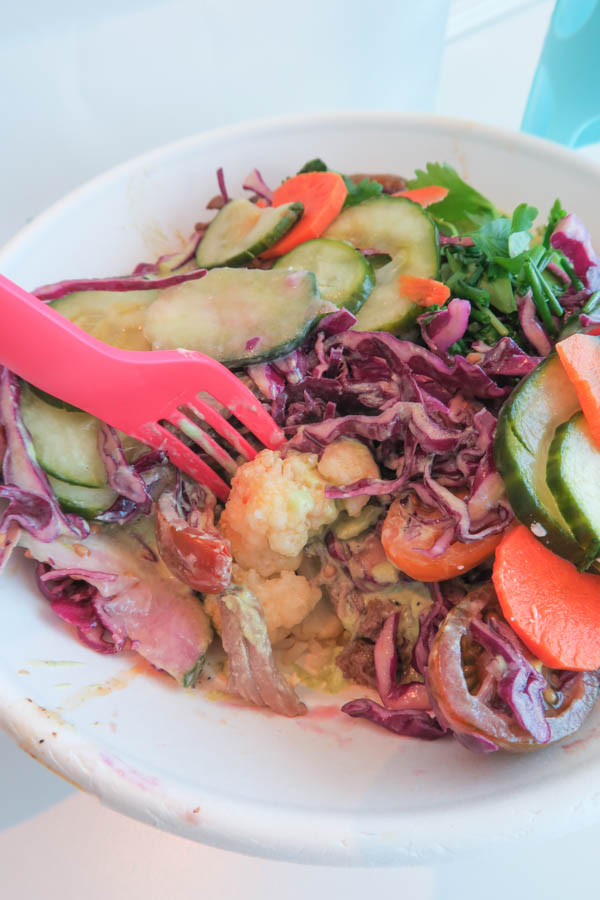 Two Forks does a nice job of switching up their roasted veggies. This week, I enjoyed cauliflower and I believe carrots.
Dinner Iron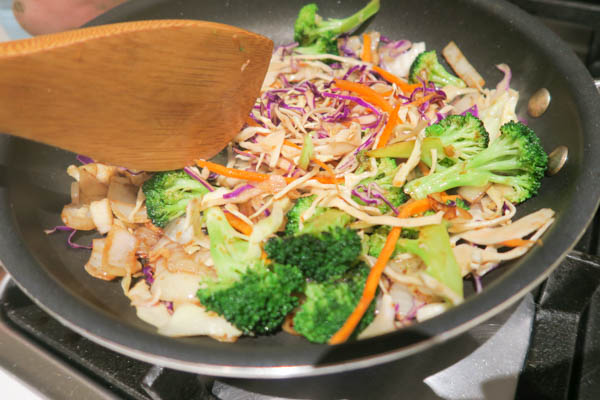 For dinner, I tried to add veggies with good iron levels to a simple stir fry. Broccoli was a nice add, but I totally forgot to add the edamame, which I read also has a good amount of iron in it. I added cabbage because a) I already had it in the fridge and b) I read that cabbage is high in vitamin C. Consuming vitamin C with iron apparently helps you absorb iron better.
Oh and I sprinkled tons of black sesame seeds on top because sesame seeds are another good source of iron.
One of these days, I'm going to sign up for a more detailed food tracker. I haven't entered my eats into a tool since I calorie-counted back when I blogged during my weight loss journey. But, there are now more sophisticated options out there that will show me how my vitamin intake is looking each day. And that could be fun to see!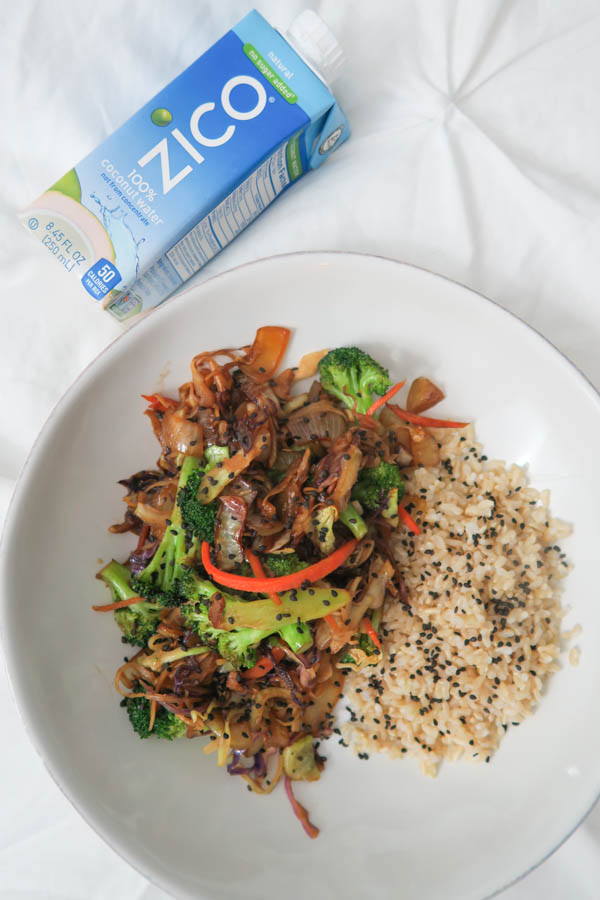 And because I've been feeling a bit dehydrated despite doing my best to consume as much water as a I can each day, I opted for a coconut water to go with dinner. I really like this Zico brand because the only ingredient is coconut water. Not sure if you've read the ingredient list on yours, but many sneak in added sugar. Ick! Coconut water is sweet enough, so I prefer mine straight up.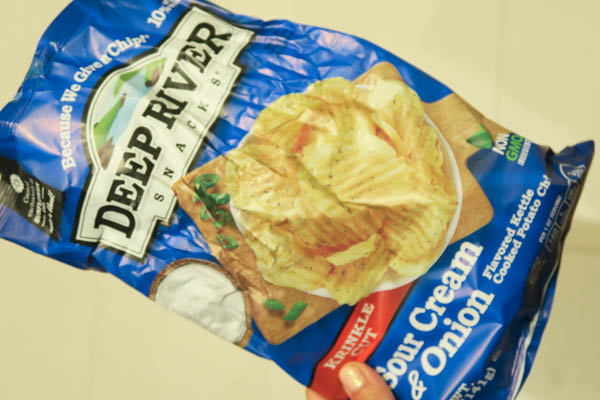 I wasn't planning to eat chips, but I think this bag was right near the ingredients for dessert. There was a small serving left, so I finished off the bag. I like some of Deep River's chips (though they're not my favorite kettle chip brand), but these chips were a little too hard for me. I appreciated the slightly cleaner ingredient list, but I think I'll stick with my salt and vinegar for now.
Healthy Fall Dessert Idea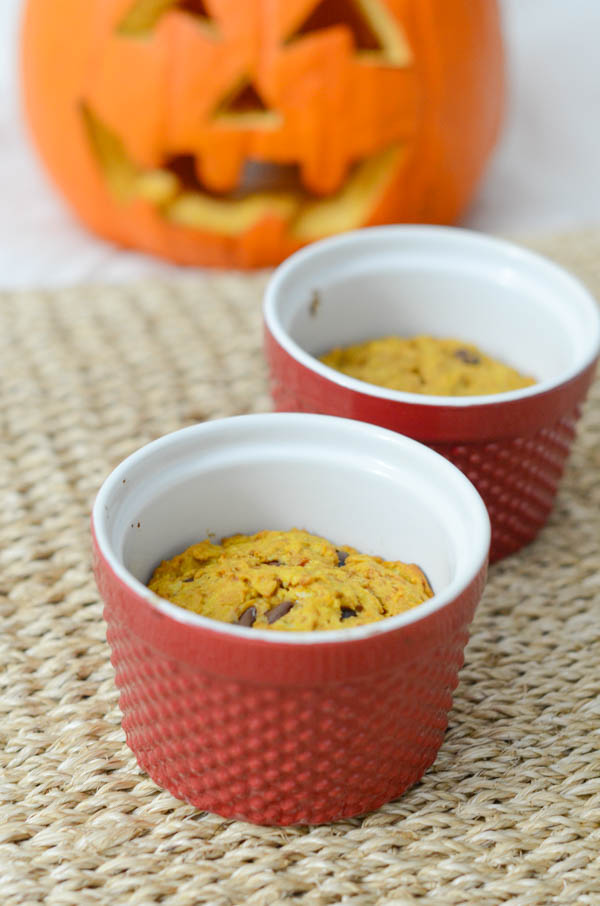 And since I haven't been making as many healthy desserts as I used to, here's a new one. Healthy pumpkin oatmeal chocolate chip cake minis. You knew a pumpkin recipe was coming soon, right? It's that time of yearrrrr! The recipe (click to view) makes just two small cakes, so you get built in portion control. Plus you get the health benefits from the pumpkin and oatmeal. The oatmeal was generally unnecessary in the recipe, but I addd it bulk up the recipe a bit. Oh, and oats are a good source of iron!
Small Changes Big Results
Speaking of my weight loss journey, I was relying primarily on the plan outlined in Small Changes, Big Results by Ellie Krieger. But you know, small changes really do add up to big results. That's exactly how I lost my weight and have managed to maintain it while still eating freely and loving my food choices.
So, if you're feeling overwhelmed abou something, remind yourself that every step in the right direction (for whatever goal you're working towards) really does make a difference. You may not be able to see it now or even ever. But given the choice between a small step in the right direction and doing nothing, I hope you'll choose the small step.
PS Does anyone remember those original SCBR posts? If yes, you're a serious TCL veteran! Thanks for sticking with me!
More What I Eat Posts
Click here for more what I eat posts
Click here for my other (mostly healthy) dessert recipes
Thanks for reading and watching!