It's the return of the cake minis! This time with a fall flavor twist. I give you my Healthy Pumpkin Oatmeal Chocolate Chip Cake Minis Recipe. And you'll be seeing another angle of this recipe in my next What I Eat in a Day video on my YouTube channel, which I'll be editing (and hopefully) uploading tonight after my post-work workout. Update: I linked the video at the end of this post, just before the recipe.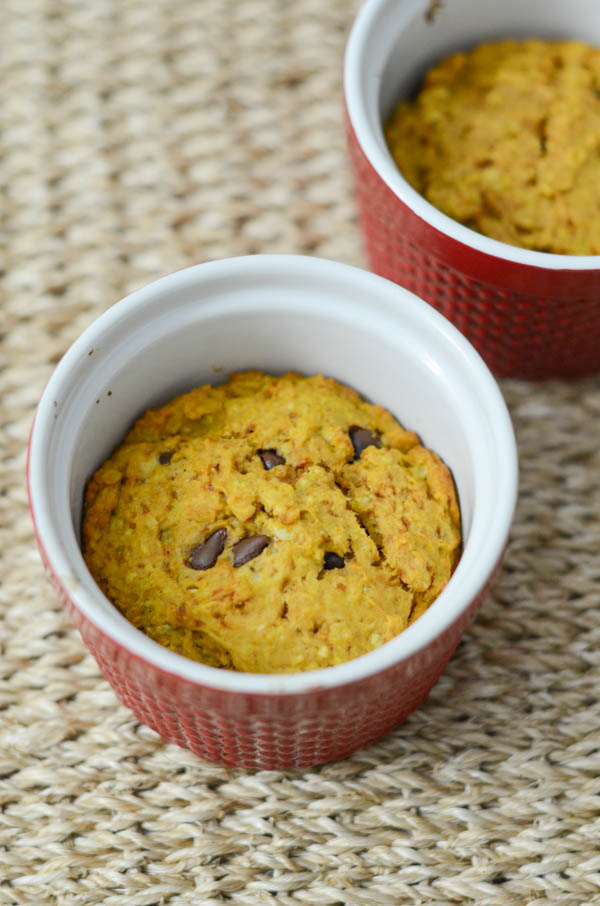 Healthi-fying Recipes via Canned Pumpkin
I've tried many canned pumpkin recipe experiments of the years. The thing is, you can use pumpkin to make a recipe healthier. I've seen canned pumpkin touted as being a substitute for both eggs and oil. And while I did use that trick (on both accounts) in this recipe, it does come with some impacts to the result.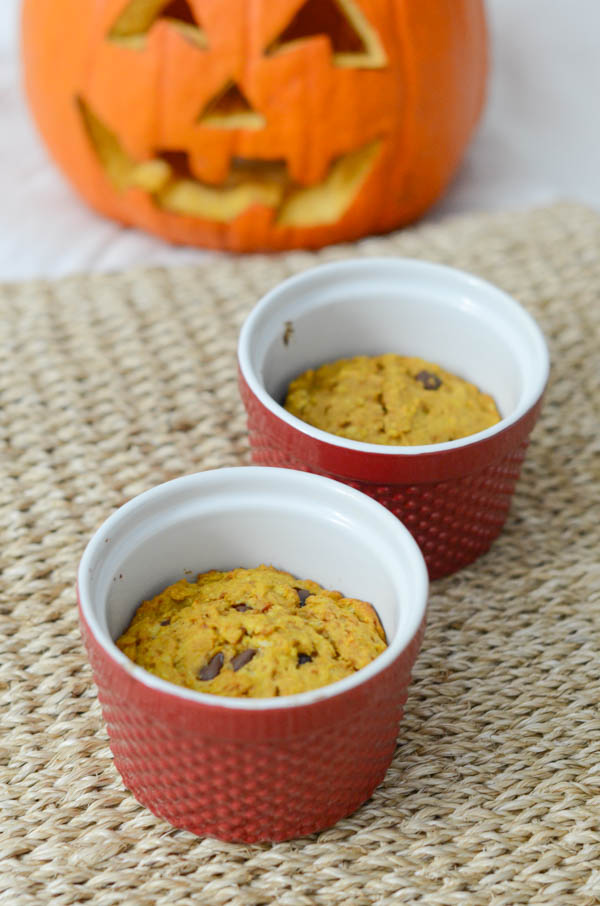 Primarily, the cake is quite dense. In the past, I had some recipe experiments that seemed to never quite bake all the way through. It was like the pumpkin overwhelmed the flour or something. Lol. This time, I got a cooked-through center. But it's still pretty dense. Almost brownie like.
Side note: pumpkin in cookies will make it almost impossible (and I haven't seen it done yet) to get that nice, chewy-crispy cookie texture. They're almost more like…muffin tops! Lol. But if you know of a chewy-crisp pumpkin cookie recipe, send it my way please!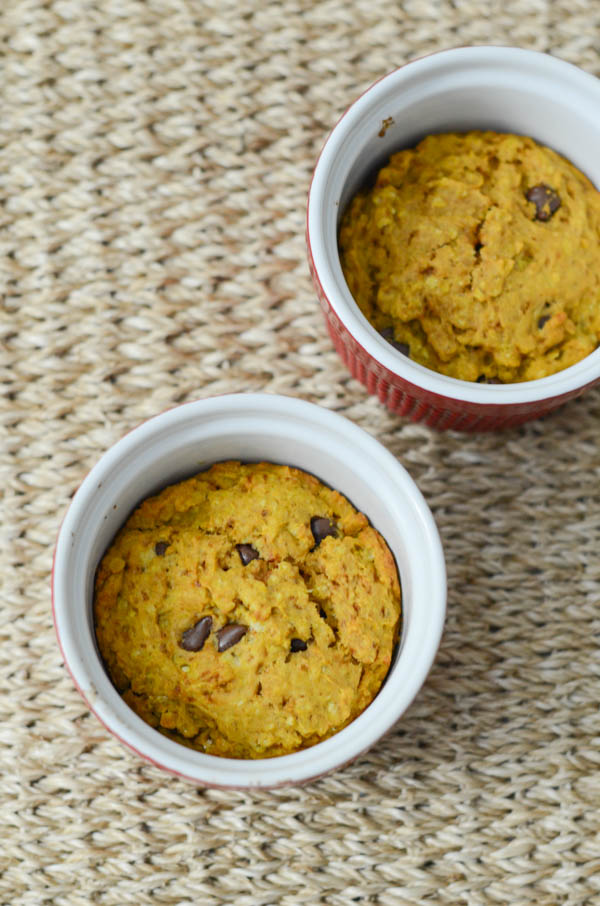 Also in the past, I considered these recipes a fail. But I think pumpkin desserts kind of are what they are. And especially if you're eating this cake straight out of the ramekin while it's still warm (which I recommend), you probably will hardly notice.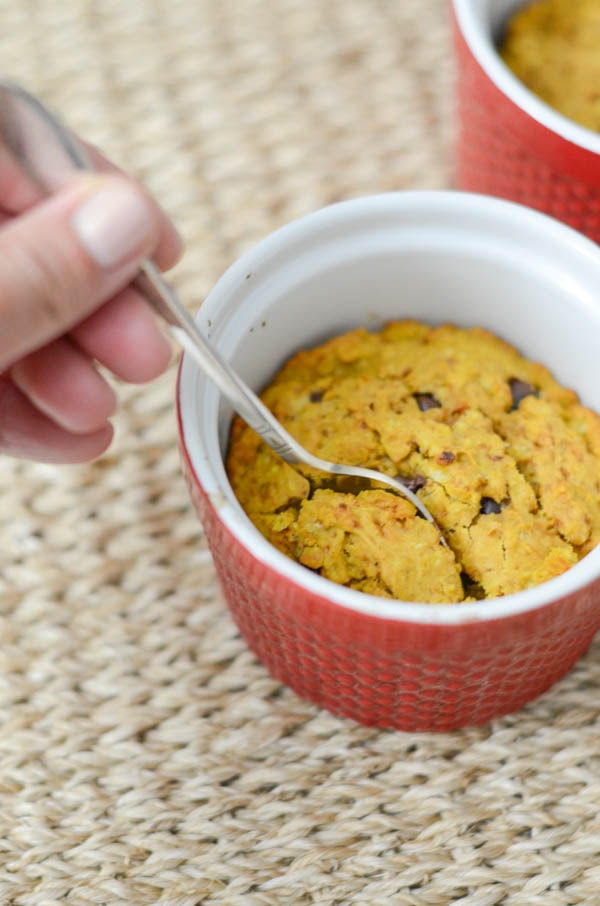 Healthy Pumpkin Oatmeal Chocolate Chip Cake Minis Recipe – a Winner
So, instead, I'm calling this cake a winner. Though I do want to set expectations.
One thing I've noticed over the years as more and more healthy desserts come around is that it seems understood that healthi-fied versions of desserts do come with some side effects. But, I did want to give you a heads up in case you try out this recipe expecting something that has the same flavor profile as a cake made with tons of butter and sugar. This one is different. And I think in a good way!
It's rich without making you feel bad after you eat it. And hey, I even snuck in oatmeal and pumpkin in there. So, there are some good things you can add to your diet with this one. Woop!
Why "Cake Minis"?
Oh and in case you haven't tried my cake minis before, I love making these because the whole recipe yields just two cakes. While this isn't good if you're entertaining a large group, it's perfect if you're baking for just you or two people exactly. Gone are the days of having cake in the fridge begging you day after day to "eat just one more slice". You know what I'm talking about! Haha
Now you can make this, enjoy your cake, and move on to the next round of eats. Easy!
Video Preview of This Healthy Pumpkin Oatmeal Chocolate Chip Cake Minis Recipe
Though it's not a "recipe video", I do feature this Healthy Pumpkin Oatmeal Chocolate Chip Cake Minis Recipe in my latest What I eat in a Day video, which I'll share here. You'll want to skip towards the end if you're only interested in the cake.

Click here to view the video if the above player doesn't work.
Okay, on to the recipe…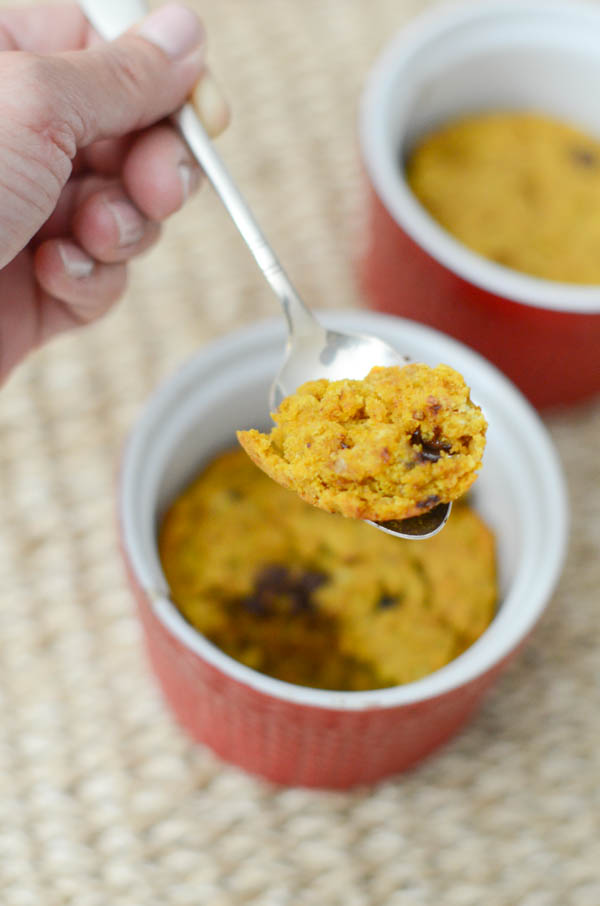 Print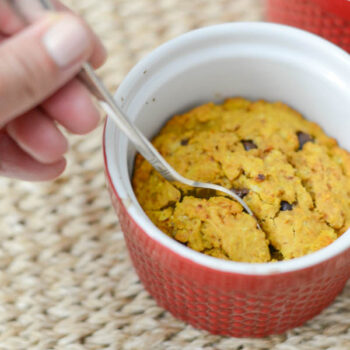 Healthy Pumpkin Oatmeal Chocolate Chip Cake Minis Recipe
Author:

Prep Time:

7 mins

Cook Time:

18 mins

Total Time:

25 mins

Yield:

2

1

x
---
Description
This Healthy Pumpkin Oatmeal Chocolate Chip Cake Minis Recipe is delicious without being overwhelming. Enjoy this any time of year, though I do especially enjoy it in the fall.
Note: this recipe is vegan if you use vegan chocolate chips.
---
6 tablespoon

unbleached all purpose flour (or sub flour of choice)

1/4 cup

quick cooking oats (or rolled oats)

1/2 teaspoon

baking powder

1/8 teaspoon

ground cinnamon
pinch salt

2 tablespoons

chocolate chips

2 tablespoons

canned pumpkin

2 tablespoons

almond milk

2 tablespoons

sucanat (or sub sugar)

1 tablespoon

oil (I used canola), plus more to prep the ramekins

1/2 teaspoon

vanilla extract
---
Instructions
Pre-heat oven to 350 degrees F. Prepare two ramekins by brushing the inside area with oil.
In a medium bowl, whisk together flour, oats, baking powder, cinnamon, and salt. Stir in chocolate chips.
In another medium bowl, whisk together pumpkin, almond milk, sucanat, oil, and vanilla extract.
Mix wet ingredients into dry ingredients, careful to not overmix.
Bake for 18-20 minutes, or until the cakes are cooked through (test by inserting a toothpick inside the center of the cake – if it comes out clean, they're ready. If batter sticks to the toothpick, they need to cook a bit longer).
Let cool until safe to eat and then scoop straight out of the ramekin to enjoy!
---
Notes
Note: I used ramekins that 3″ diameters. I got them at Crate and Barrel.
Recipe Card powered by
More Healthy Dessert Recipes
Breakfast Apple Crisp (Individual) – a dessert so healthy, you can enjoy it for breakfast!
Healthy Baked Pumpkin Doughnuts
Thanks for reading! Hope you enjoy this Healthy Pumpkin Oatmeal Chocolate Chip Cake Minis Recipe!