Hi friends! Hope you enjoyed seeing my picks for Catbird jewelry in yesterday's blog post. Today, I'm sharing The Chic Life Ultimate Gift Guide 2018. This guide is full of my favorite things for the girl (or guy!) who values quality over quantity and is all about that good vibes lifestyle. And I'm covering bath & body, books, natural wellness, kitchen/cooking, and a wee bit of style. These would make great gifts for a friend, family member, loved one, or even…yes, yourself. #treatyoself I'm currently about 35,000 feet in the air somewhere over the middle of the country. Airplane blogging. Gotta love it! Did snap some cool photos from the air if you want to check my Insta stories. Anywho, let's jump into the gift guide, shall we?
Best Bath & Body Gifts 2018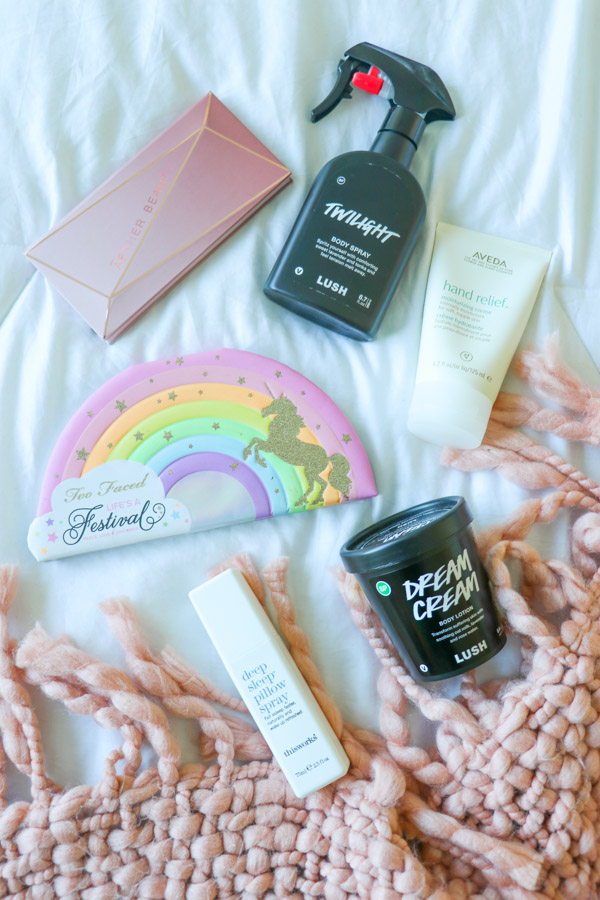 I'm extremely picky about my bath, body, and beauty products. I usually find something I like and stick with it. Forrrreeeeeeverrrrr. Here are some of my faves I've accumulated over the years.
Starting at the top left and circling down and to the right. Like a clock! Going clockwise. I should have just started with that. Lol!
Best Books & Paper Gifts 2018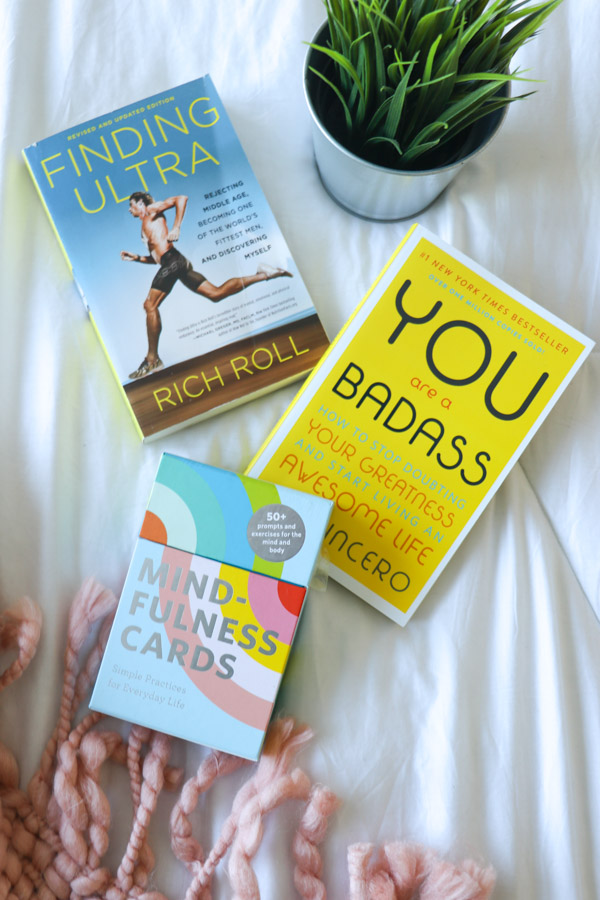 Most of the books I read are business or personal development books. I rarely read fiction, though I do like reading inspirational stories by cool peeps.
Clockwise again:
Finding Ultra: I've just started this book and am loving it so far. Rich's story about becoming one of the world's fittest men late in life is very motivating and interesting. Proof it's never too late to get healthy or make big life changes. Rich also talks about his journey going plant-based.
You Are a Badass: This is one of the books that has most impacted my life and helped me go from being negative to positive. From thinking in a scarcity mindset to thinking in an abundance mindset. And from feeling like the world was against me to thinking the universe works for me. For anyone needing uplifting and encouragement, this is a great read. I've been wanting to blog about this for awhile, so consider this the tip of the iceberg. I have so much more to say, but I'll leave that for another post. This book is like a hug you can carry around and read. Jen Sincero herself reads the audiobook version, which is another great option.
Mindfulness Cards: As my journey for a good vibes life continues, I've been working on adding more gratitude, meditation, and mindfulness to my life. And I stumbled upon these awesome Mindfulness Cards at my local Paper Source. These give you an easy direction for a mindful thought of the day. Also the packaging and graphic design on this is really stylish.
Best Essential Oils for Natural Wellness and Good Vibes 2018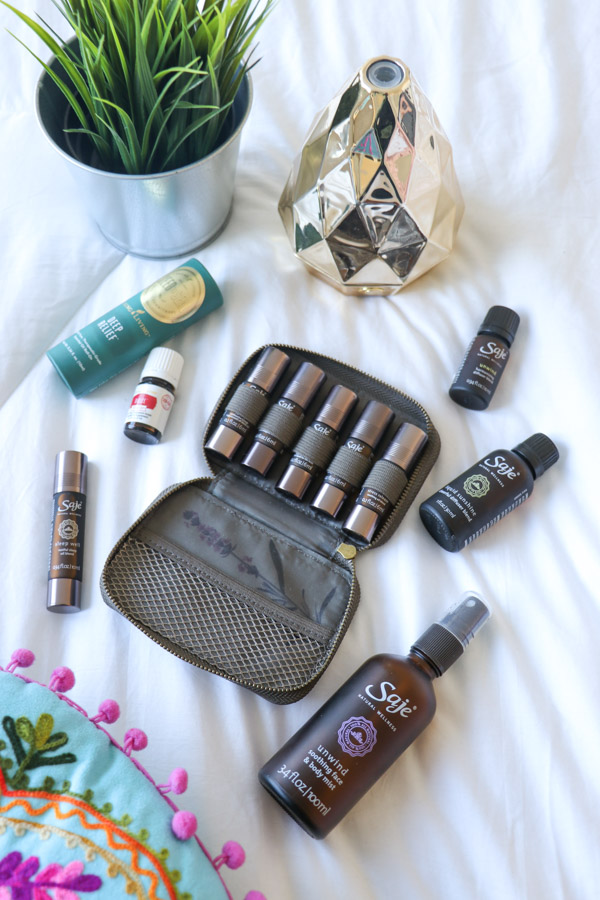 My friend Angie introduced me to essential oils back in…I dunno…maybe 2013? It's been awhile! I resisted using them because I was totally skeptical. It wasn't until Angie happened to have two essential oils that massively helped me when I was desperate that I took interest. A story for another day, but I needed help, and they did just that. Since I'm working towards a more natural lifestyle, these are a great alternative to many commercial products. Not to mention essential oils are great for helping add rest and relaxation to your life. Hint: Shopping for a stressed loved one? Looking to drop a passive aggressive message to your boss? Kidding!
There are two main essential oil brands I use and love: Young Living and Saje. And I basically have half of the above products in my carry-on luggage.
Young Living
Angie had already done a ton of research on essential oils, and I trusted her judgement. So I signed up as a Young Living seller to take advantage of the amazing starter package. It's basically the way to go, even if you don't intend to sell anything, so you can get the discount. And if you're ever looking to make some extra cash, you have it as an option. I've been a seller since 2015, but I rarely blog about this because I'm more of a YL user than seller. Anywho, if you're interested in the products, you can use my shopping link or find someone else who sells it. It's pretty popular these days.
Young Living Essential Oils I Love for Gifts (left to right)
Deep Relief: This roll on provides a tingly and cool feeling of relief to areas of stress and strain. I use it when my neck is aching. Plus, I used it when I was recovering from my back-injury. The mix of oils seems to be naturally anti-inflammatory.
Digize: This is one of the oils that convinced me to sign up for Young Living. I'd gotten food poisoning and had to help with a charity Zumba event the next day. Feeling still a bit uneasy, I forced myself to lead a couple songs. And it wasn't until after the event that my friend Angie told me to rub a couple drops of this on my stomach. I felt better in a few minutes and was sold. I keep this in my carry-on / with me on trips in case I need fast relief.
Saje
My friend Ashley introduced me to Saje in NYC. At first I wasn't that interested in Saje since I already had plenty of oils from YL. But, I found that Saje had some blends, especially the chill options, that I hadn't seen before. And I was definitely keeping an eye on stress-relieving options at the time. Earlier this year, I met one of the co-founders at an event in San Francisco. Thanks to getting 20% off everything in the store and feeling more connected to the brand from the event, I went a little ham. But I regret nothing and am happily enjoying my purchases.
Saje Essential Oils/Etc I Love for Gifts (clockwise-ish)
Best Kitchen Gifts 2018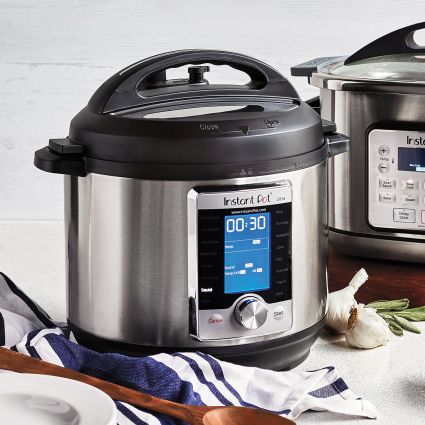 Instant Pot: Still holding strong as a popular kitchen item. I actually just got one as a birthday gift from my wish list. Looking forward to testing it out more for you guys. It's said to make super fast meals, perfect for busy peeps on the go. Everyone I know who has one LOVES it. With a passion. Seems like a pretty sure fire win to me. Consider getting one of the smaller sides if your friend is short on space. I have the 8 quart, and it's GIGANTIC! I don't even know where I'm going to put that thing. But that's another challenge for another day. Ha! But seriously, where do you store yours? Where?!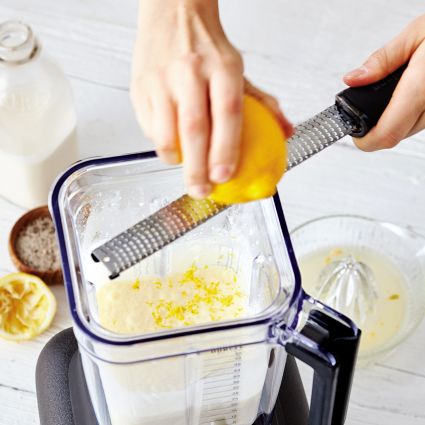 Microplane Soft-Handle Zester: When I first got into cooking, this was one of the first "fancy" kitchen tools I got. Adding zest to recipes seemed like magic. Lemon zest in pasta? Yum! Orange zest in cake? Yes! And it sort of still does. This would be great for your foodie friend / family member. Great for zesting citrus and grating hard cheese, like parmesan.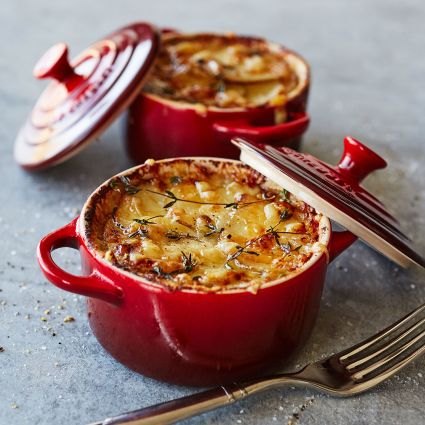 Le Creuset Signature Petite Cocotte, 8 oz.: These tiny Le Creuset dishes are so adorable. Perfect for single serving eats like mac and cheese, fruit crisp (click for recipe), baked oatmeal…and the list goes on. This is one of those silly things you want to get but feel shy about getting for yourself because it seems frivolous. It is, and it isn't. Somehow it makes food more fun to eat. Plus you get a tiny lid to keep the food warm! It's functional too, people!
Note: images in the Kitchen section are by their respective sites.
Best Style Gifts 2018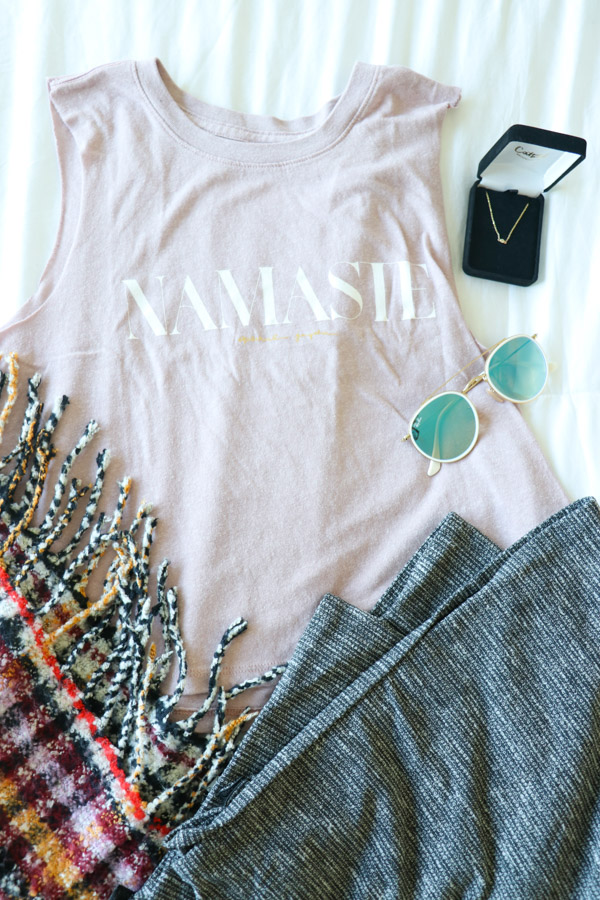 Over the years, I've dialed back my clothes and accessories shopping in lieu of other, more life-improving (to me) goodies. But I still love my clothes shopping. I'm working on being more selective, though.
Let's keep that close-wise thing going:
Another fun purchase that I actually picked up in NYC was these metallic rose gold sneakers by Gola via J. Crew. In NYC and SF, chic sneakers are a thing. I think because we have to walk so far. Heels aren't practical for most of us. These are comfortable while still being a step up from athletic sneakers. Perfect for the sporty-chic girl!
Best Good Vibes Gifts 2018
Crystals came into my life when I was going through one of the most difficult times of my life. I knew I needed healing, and I was trying as many natural solutions as I could. Though I'm still feeling my way out with crystals, they do add happiness and peace to my life. And they're gorgeous too! They remind me of the yoga studios I visited in NYC where I sought sanctuary and peace. Maybe the association has helped me find them so life-improving.
While chances are good that you can find a great crystal shop in your town, since I've been out of that car lifestyle over the last couple years, I've been shopping more and more online. And I found a great shop on Etsy where the crystals are infused with Reiki energy. I'm not really sure what that means, but I'll take whatever good vibes I can get. This shop, Flower Moon, also offers other high vibe products, like balms, bath products, and roll-ons.
Here are two picks:
Crystal starter set: Perfect for anyone just getting into crystals or needing a boost of good vibes. This has a nice collection of crystals for various purposes. I love picking whichever one suits me most at the time and holding it in my palm while I read or am hanging out.
Clearing spray: This is great for apartment dwellers or those avoiding burning things inside. It's like a flameless palo santo cleanse in a bottle. It smells nice and grounded and soothing.
Crystal Quartz Palm Stone: If you want to get something a little smaller, you can get yourself the starter set and add on this palm stone for a friend / loved one. *wink*
More Shopping Ideas
I'm working on a planner-specific gift guide, so keep an eye out for that.
Check out my simply-chic jewelry stunners on my Catbird gift guide
Click here for my other Shopping posts
***
Thanks for checking out this year's The Chic Life Ultimate Gift Guide 2018!
What's on your holiday wish list this year?