Hi planner friends! Here's a super easy Easter theme in my 2019 classic Happy Planner. These decorations were fun to do because they were so colorful and simple with just a mix of washi tape and Happy Planner sticker books. Let's jump into these April 2019 planner decorations!
*VIDEO* Easy Easter-Themed Plan with Me
Be sure to give the video a thumbs up if you enjoy it because that will really support my channel.
Click here to watch the Easter Plan with Me video if the above player doesn't work.
Planner Decoration Photos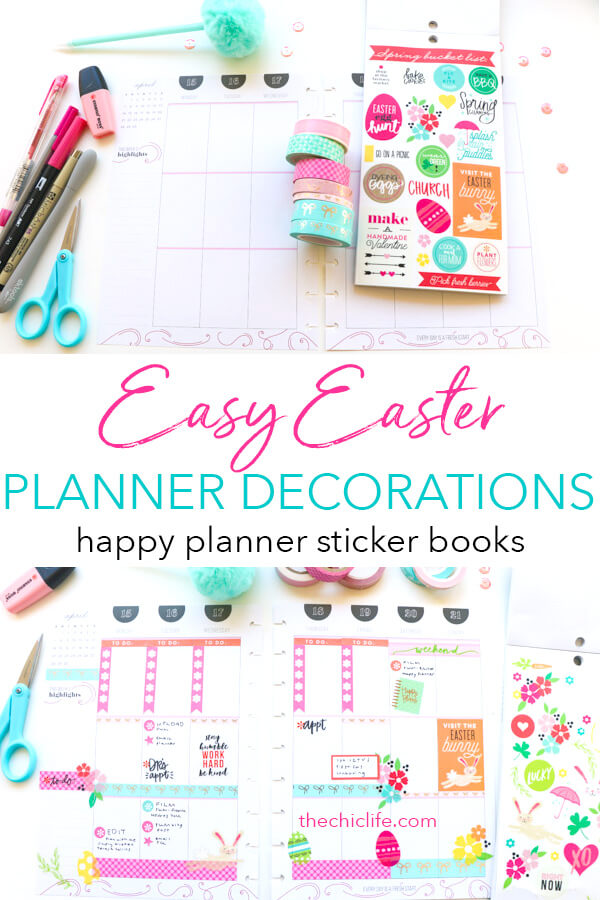 So for this Plan with Me, I wanted to do a super colorful Easter look using washi tape and my Happy Planner sticker books.
There was one sticker book in particular that had a page of bunnies, flowers, and Easter eggs, and this was my main inspiration for the layout. After that, I looked for additional stickers in my other Happy Planner sticker books that had coordinating colors.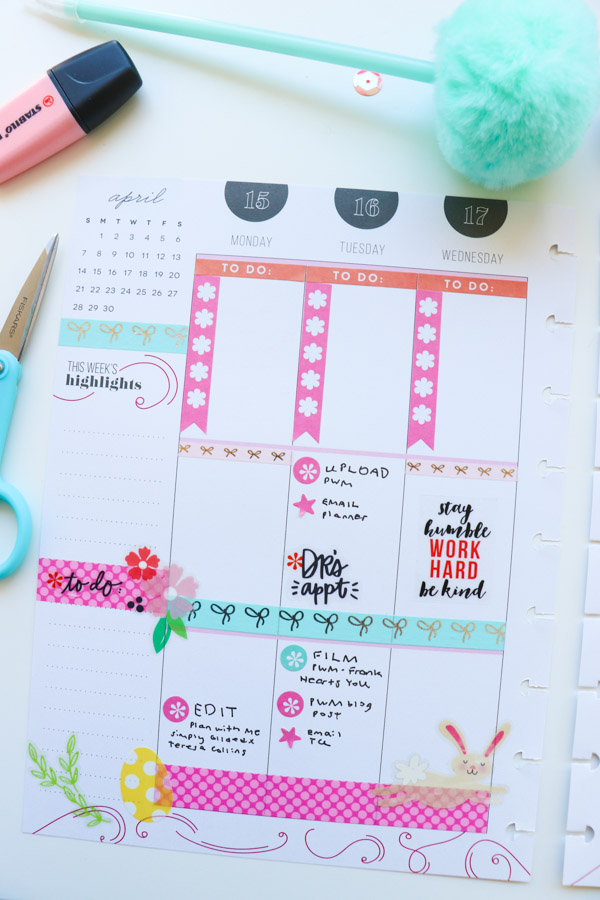 You can see here the pages have been removed from the discs for easier planning.
The Easter stickers ended up being a bit more translucent than I originally expected, so I sort of wish I'd layered them a bit less. Instead, I should probably have put the bunny a little higher on top of the washi and the yellow egg a little more to the left.
But…planner peace, y'all. Don't let perfection be the enemy of done. And certainly don't let it stop you from enjoying your planner and having FUN! That's why we're decorating, right?
Although I did start writing in some areas of the planner, I left plenty of white space in case I want to go back and add more notes, etc.
Additionally, the Happy Planner is my blog/YouTube/social planner, so you'll note it's pretty focused on content creation. I wasn't sure how using multiple planners would go, but so far so good!
More Planner Fun
Click here for more Plan with Me videos and blog posts
Click here for more Planner Decoration inspo
And click here for my latest Planner blog posts
***
Thanks so much for reading and watching my Plan with Me Easter Theme | Happy Planner Decorations | April 2019. Cheers!