Want to relieve stress, manifest with ease, let your inner beauty shine from the inside out, feel amazing, and MORE! Gratitude is the gift that keeps on giving. Join this FREE 5 day Gratitude Glow Up Challenge 2020 and see what gratitude can do for you!
Introducing…
🌟The Gratitude Glow Up Challenge 2020 🌟
"When you are grateful, fear disappears and abundance appears."~Tony Robbins
What You Get with the Challenge
🌟 5 EASY daily Gratitude Prompts
🌟 Live high vibe trainings
🌟 Scientifically proven benefits, super high vibe energy, PLUS the ability to manifest more quickly and easily thanks to the energy of gratitude?
Join the Challenge Here
We start this coming Monday, November 23! Who's excited?
Gratitude is my secret for massive upleveling and dream life living!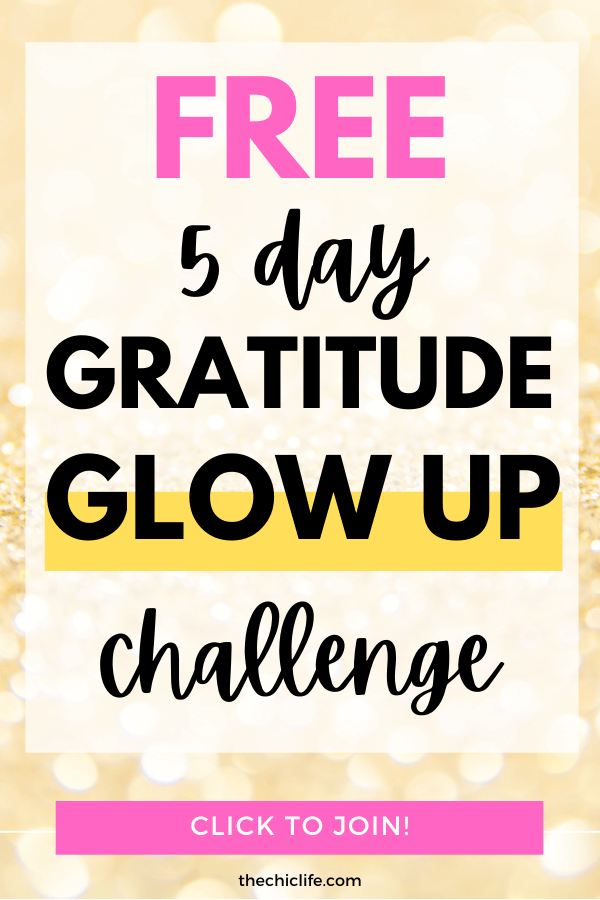 Benefits of Gratitude
Practicing gratitude is about more than checking off your list of to-dos. When you really feel into the energy of appreciation, magic happens:
Relieve stress
Shift into a positive mindset
Manifest more quickly and easily
Feel good
Attract abundance
and more!
Who wants in on this goodness?
PS: Check the thank you page after signing up for a special offer to help you shift into high vibe energy. ❤️
***
This is gonna be AMAZING!
Join directly here:
Thanks for stopping by to check out my Gratitude Glow Up Challenge 2020. If you miss it this time around, definitely follow me on Instagram and subscribe to my email so you find out when the next challenge is happening! I host multiple challenges throughout the year to help you with Mindset, Manifestation, and High Vibes – anything to help you live your DREAM LIFE!